What Should I Do After I See or Find Storm Damage?

If you live in an area where storms are a frequent occurrence, then you're probably used to the protocols that are to be followed after a devastating storm. If not, you may find yourself in a spiral of confusion if you recently moved to a place where storms are a part of everyday life. To mitigate the damage and reduce the risk of secondary damage, there are a few tips and steps you can follow. Here's what you should set out to do after you notice or find storm damage on your property.
1. Inspect Your Home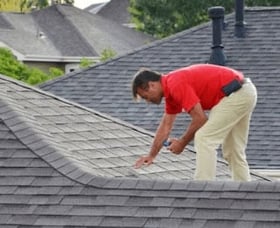 The first thing you want to do is walk around your property and identify any damage. Check the roof for any damaged shingles or broken gutters. In many cases, your roof may be partially or fully blown away. Here you want to be careful while checking the attic. There may be substantial water leakage into your attic or home as well.
All in all, inspect the damage incurred. Your landscape may be compromised as well. Fallen trees, debris, dents in your lawn, and broken windows and doors add to the list as well. You do not want to leave any stone unturned here before calling in your preferred local storm damage contractor.
Pro-tips to follow:
Ensure your and your family's safety going forward. If the structural foundation of your property has been weakened, stay outdoors till help arrives. This is because the roof or walls may crumble and collapse.
Check your pipes and water line for any damage. Close all valves and faucets in your kitchen and bathroom if needed. Avoid using the water if you suspect the waterline has been damaged and become infiltrated with greywater.
Broken and damaged objects such as glass shards and exposed nails can be hazardous. Wear proper shoes while going outside to inspect.
Avoid water bodies. This may be your flooded basement or even the water that has accumulated outside. Greywater can be full of bacteria and water-borne diseases. That's not all, a downed powerline may make the water body even more unsafe to go near, so make it a point to stay away and re-locate your children to a safe spot immediately.
Open all windows and doors if you suspect a gas leak and get in touch with the relevant authorities right away.
2. Assess And Document
You want to document by taking photos of all the damage you can see and then get your homeowner's insurance paperwork handy. This will help make it easier to file the claim on your homeowner's insurance. Being proactive here can go a long way so keep this important step in mind before getting in touch with your local storm damage contractor. If you are unsure of roof damage, we recommend that you call your preferred local roof contractor prior to filing a claim with your insurance provider.
3. Contact Your Insurance Provider
After the damages have been confirmed by a professional that the repairs will exceed your deductible it's now time to call your homeowner's insurance provider and inform them of the damage incurred. Share the pictures and assessment of the damage without delay. The insurance claim department will then send you your claim number and assign a field adjuster to come out and assess the damage and begin the settlement process so that you can get your home put back to pre-storm damage condition.
4. Hire A Professional Contractor Or Repair Service Company
Pick a reputable contractor that has experience with doing insurance claim work. Professional storm damage contractors are not only experienced in insurance mitigation, they are also efficient, prompt and helpful in reducing the overall stress that happens after your home gets damaged. Most experienced contractors coordinate directly with your insurance provider as well, reducing your added stress of ensuring everything is streamlined, in order and not left off the claim.
Moreover, just be wary of scammers, often door knockers. There are a lot of service providers that are not certified and seek to benefit from vulnerable homeowners after a storm. If any service provider asks for payment upfront, avoiding having them restore the damage for you.
5. Mitigate Risks Going Forward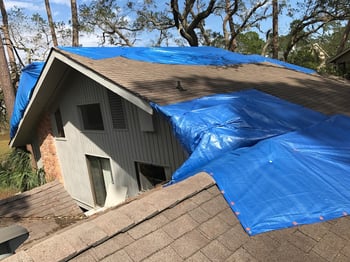 To prevent the same roof storm damage from incurring again, invest in a great professional service provider. One that uses the best products, latest tools and installation methods to make the repair to restore your home – especially when it comes to roof repair.
You can even have emergency measures in place for the next storm as follows:
Invest in sandbags before the next storm arrives to prevent water from accumulating or coming indoors. You can even cover your windows and doors with a tarp to prevent seepage.
Check for mold in warm and damp conditions a few days after the storm and have it removed right away. Mold outbreaks can be hazardous to health if left untreated.
Protect your circuit breaker by having an impermeable structure built over it. This will prevent water leaks from coming in contact with the circuit breaker and increasing the risk of fire.
Regularly trim and prune your trees. If you have trees that are prone to being uprooted and falling, have them removed by a landscape service provider.
Invest in a high-quality submersible water pump – this can help you draw out large amounts of water that may have seeped into your home during a storm or heavy rain spell.
The Bottom Line
By knowing what to do after storm damage, you can save a lot of additional and unnecessary costs and worrying. Acting immediately and not letting the repair and restoration process get delayed can play an important role in maintaining the structural integrity of your property. This is exactly what you want if you wish to keep yourself and your loved ones safe.
So, you can sit back and have all the steps ready before the storm. Keep your insurance provider and professional contractors' number handy and give them a call as soon as the storm has passed. If emergency tarping is needed to keep water out, your local roofing will be able to provide this service for you so that you mitigate further roof storm damages and keep your property safe. If you still have questions about insurance related to roof replacement, check out our article:
Insurance Roof Replacement Questions You Should Know