What Does a Storm-Damaged Roof Look Like?
December , 2022 | 6 min. read
By Joe Martinez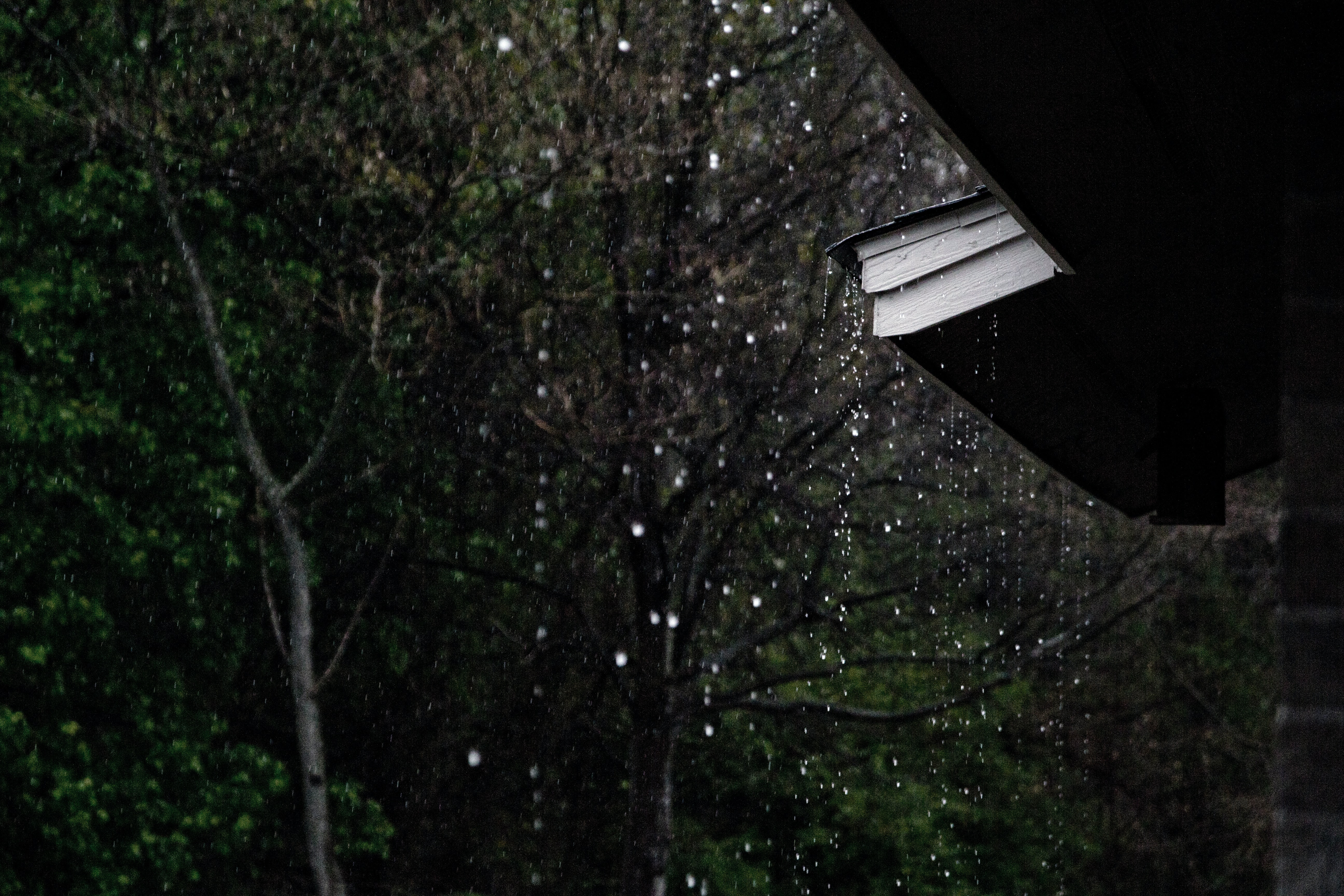 When it comes to horror, the boogeyman has nothing on a fallen oak tree that has gone through your roof. Storm damage can be extremely scary, not to mention stressful to deal with. When we think of storm damage, we usually imagine a fallen limb, missing shingles, or broken gutters.
RoofCrafters knows that storm damage can show itself in many different ways. Sometimes in ways that a homeowner would never imagine. We've been repairing storm-damaged roofs for nearly 30 years, so we've seen a thing or two.
Okay, so what does roof storm damage look like? If you're asking this question, you probably suspect you've got damage to your roof. While the damage itself can take several different forms, we are here to help you identify some of the most common signs, and what the next steps in the process look like. Let's jump right in!
What Does Roof Storm Damage Look Like?
There are a few different forms that storm damage can take depending on the weather conditions, all of which can be frustrating nonetheless. The good news is that roof storm damage is typically covered by homeowner's insurance. That being said, let's begin with hail.
Hail
If you have ever experienced a hail storm, you know how destructive it can be. When hailstones strike your home, they can cause tremendous amounts of destruction to your siding, windows, and roof.
Signs of a roof damaged during a hail storm include: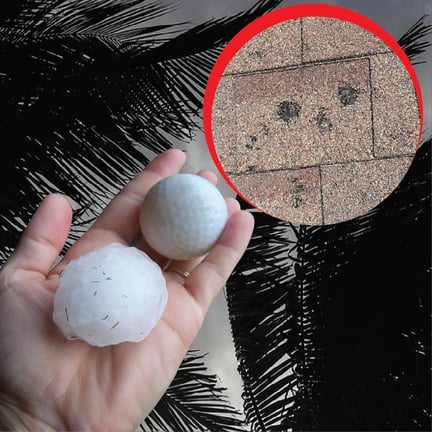 Divots and dents on shingles

Dings on the metal flashing and gutters

Broken shingles

A large number of broken granules in the gutters
Hail damage will lead to water damage and this is why your homeowner's insurance covers the roof damage caused by the hail storm. If you suspect hail damage on your roof over a certain room, be proactive and relocate your things to avoid any water damage in the case of a leak.
Wind
Wind damage can expose your roof to more potential problems. The worst part about wind damage is that it can go entirely unnoticed. The most common indicators of wind damage are:
Curled or broken shingles

Missing shingles

Horizontal lines on the shingles
Since wind damage might be difficult to detect, we advise you to call a professional roofing contractor to inspect your roof after the heavy winds subside.
T
ree Damage
Storm damage can occur from a tree falling onto your home. This is one of the most severe cases of storm damage, and you and your family must evacuate your home immediately. Less severe and slightly less terrifying than the whole tree falling on your roof is a tree limb. Depending on the size and the severity of your damage, it may be unsafe to remain in your home.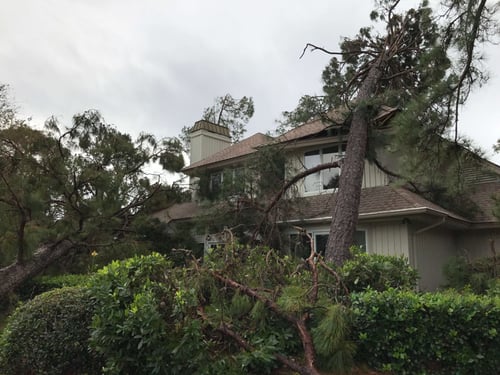 In both cases, it's best to vacate your home and allow a professional roofer to assess the damages. Tree limbs can add extra weight to the roof and building's structure, making it more likely to leak and even collapse in extreme situations.
Rain
Rain damage is extremely common and can cause a lot of property destruction. The most common consequence of rain damage is leaking roofs, which if not taken care of promptly can significantly drive up the overall repair cost. Usually, rainstorms are accompanied by strong winds, which can wreak havoc on the roof. Some indications of rain damage are:
Broken or missing shingles

Mud-colored puddles on the ceiling

Peeled or discolored paint

Bubbles of water in the ceiling
Other commonly associated signs include water dripping from the roof for you to gather in a bucket; however, most leaks go unnoticed. In some cases, you might face intermittent leaks during storms. Although this isn't a sign of storm damage, it does indicate an improperly installed or failing roof. Always choose a great contractor to install your roof because insurance doesn't cover damages caused by improper roof installations.

Storm-Damaged Roof Tips
Although stumbling upon a storm-damaged area of your roof is usually something not worth sweating over, if you happen to have a natural disaster occur in your area, it's incredibly important to remain safe and be a diligent homeowner. Here are some tips to follow in the event of emergency-level damage:
Ensure the safety of your loved ones. If the structural foundation of your property has been weakened, stay outdoors till help arrives. This is because the roof or walls may crumble and collapse.
Check pipes and water lines for damage. Close all valves and faucets in your kitchen and bathroom if needed. Avoid using the water if you suspect the waterline has been damaged and become infiltrated with greywater. Broken and damaged objects such as glass shards and exposed nails can be hazardous. Wear proper shoes while going outside to inspect.
Avoid water bodies. This may be your flooded basement or even the water that has accumulated outside. Greywater can be full of bacteria and water-borne diseases. That's not all, a downed powerline may make the water body even more unsafe to go near, so make it a point to stay away and re-locate your children to a safe spot immediately.
Open all windows and doors if you suspect a gas leak and get in touch with the relevant authorities right away.
How Should I Fix My Storm-Damaged Roof?
Now that you know what storm damage looks like, you should have a pretty good idea of what sort of damage you may have. The next step is treating your roof. You should first start by calling a professional roofing company, and setting up an inspection with one of their contractors.
Your contractor will conduct a thorough walk-through and figure out the extent of your damage. From there, you'll be given a repair estimate, and before you know it, your storm damage will be fixed before your very eyes!
If you're ready to take the plunge and get your storm-damaged roof repaired, drop RoofCrafters a line on our contact us page. As soon as you submit your form, one of our friendly experts will give you a call to set up a time for your inspection. If you're not quite sure if you need an inspection just yet, determine the extent of your damaged roof in our article. "Should You Repair or Replace Your Roof?"
At RoofCrafters, our mission is to provide job opportunities for others to thrive and grow while making a meaningful impact within our communities.