What Does Roof Storm Damage Look Like?
February , 2022 | 10 min. read
By Joe Martinez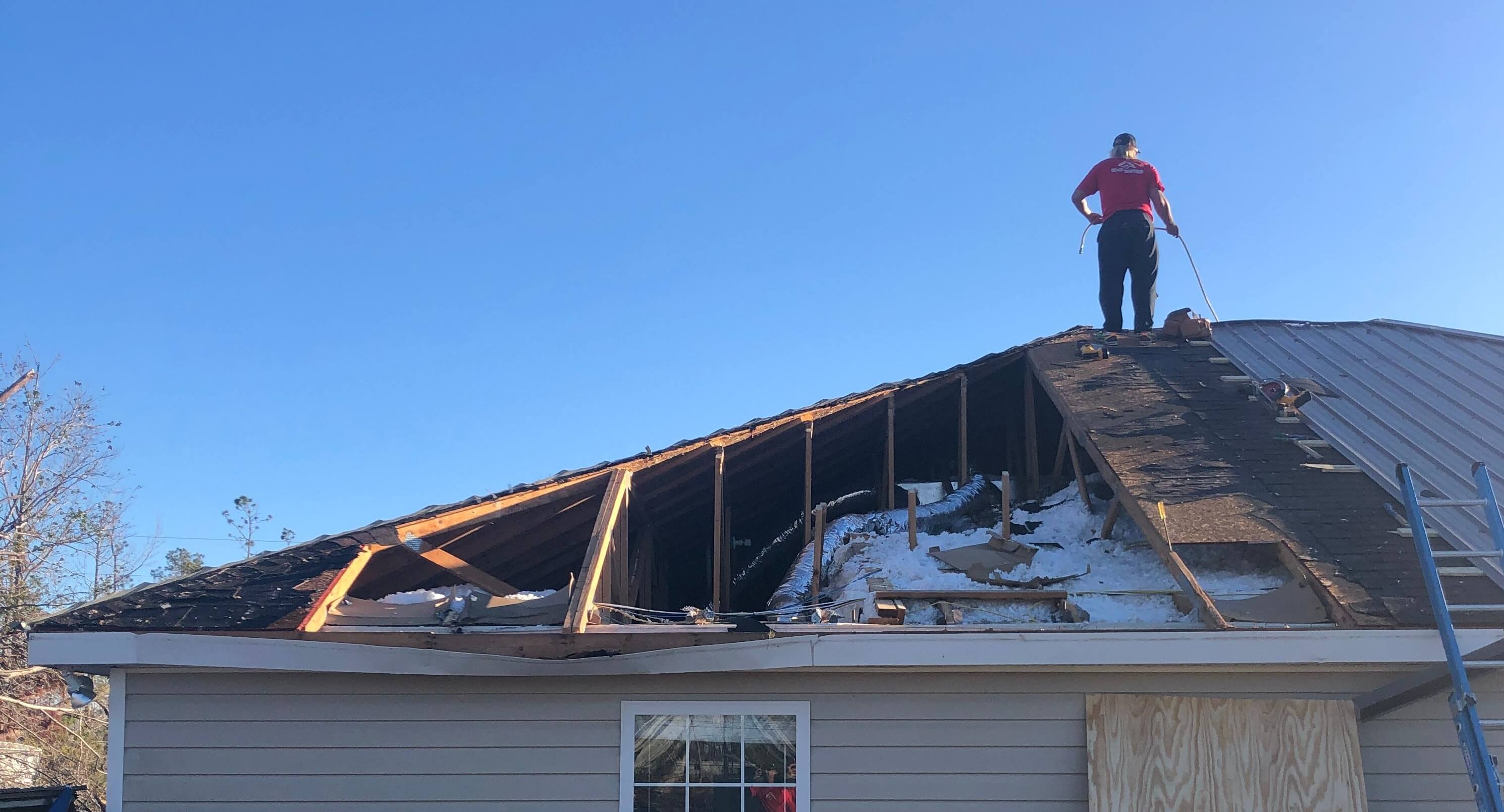 When it comes to horror, the boogeyman has nothing on a fallen oak tree that has gone through your roof. Storm damage can be extremely scary, not to mention stressful to deal with. When we think of storm damage, we usually imagine a fallen tree or limb, missing shingles, or broken gutters.
RoofCrafters knows that storm damage can show itself in many different ways. Sometimes in ways that a homeowner would never imagine. We've been repairing storm-damaged roofs for nearly 30 years, so we've seen a thing or two.
Okay, so what does roof storm damage look like? If you're asking this question, you probably suspect you've got damage to your roof. While the damage itself can take several different forms, we are here to help you identify some of the most common signs, as well as what you can do to minimize future damage. Let's jump right in!
We've also put together a short video to show some examples of roof storm damage, which you can watch below:
What Does Roof Storm Damage Look Like?
There are a few different forms that storm damage can take depending on the weather conditions, all of which can be frustrating nonetheless. The good news is that roof storm damage is typically covered by homeowners' insurance. That being said, let's begin with hail.
Hail
If you have ever experienced a hail storm, you know how destructive it can be. When hailstones strike your home, they can cause tremendous amounts of destruction to your siding, windows, and roof.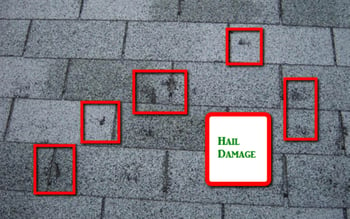 Signs of a roof damaged during a hail storm include:
Divots and dents on shingles

Dings on the metal flashing and gutters

Broken shingles

A large number of broken granules in the gutters



Hail damage will lead to water damage and this is why your homeowner's insurance covers the roof damage caused by the hail storm. If you suspect hail damage on your roof over a certain room, be proactive and relocate your things to avoid any water damage in the case of a leak.
Wind
Wind damage can expose your roof to more potential problems. The worst part about wind damage is that it can go entirely unnoticed. The most common indicators of wind damage are:
Curled or broken shingles.

Missing shingles.

Horizontal lines on the shingles.



Since wind damage might be difficult to detect, we advise you to call a professional roofing contractor to inspect your roof after the heavy winds subside.
Tree Damage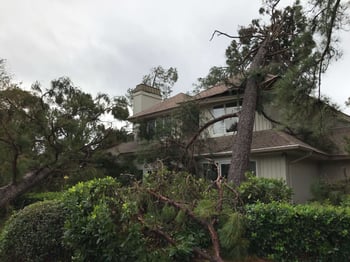 Storm damage can occur from a tree falling onto your home. This is one of the most severe cases of storm damage, and you and your family must evacuate your home immediately.
Less severe and slightly less terrifying than the whole tree falling on your roof is a tree limb. Depending on the size and the severity of your damage, it may be unsafe to remain in your home.
In both cases, it's best to vacate your home and allow a professional roofer to assess the damages. Tree limbs can add extra weight to the roof and building's structure, making it more likely to leak and even collapse in extreme situations.
Rain
Rain damage is extremely common and can cause a lot of property destruction. The most common consequence of rain damage is leaking roofs, which if not taken care of in a timely manner can significantly drive up the overall repair cost.
Usually, rainstorms are accompanied by strong winds, which can wreak havoc on the roof. Some indications of rain damage are:
Broken or missing shingles.

Mud-colored puddles on the ceiling.

Peeled or discolored paint.

Bubbles of water in the ceiling.



Other commonly associated signs include water dripping from the roof for you to gather in a bucket; however, most leaks go unnoticed.
In some cases, you might face intermittent leaks during storms. Although this isn't a sign of storm damage, it does indicate an improperly installed or failing roof.
Always choose a great contractor to install your roof because insurance doesn't cover damages caused by improper roof installations.
How Do I Minimize Storm Damage?
1. Visual Inspections
If there's one thing you should always do is keep tabs on your roof's condition. Since your roof faces natural elements head-on, it experiences more wear that can be problematic if not addressed on time. At times, you might come across damage, which you should immediately call a roofer to inspect.
2. Maintenance
While visual inspections are an important indicator of roof damage, there's only so much that you can see. An experienced roofer can pick up problems that might not be visible initially but could potentially damage or cause your roof to leak.
You should set up a maintenance schedule and call your roofer at least twice a year to conduct necessary inspections and roof repairs to prevent the most common roof damage and roof leaks.
Always call your contractor if you notice any signs of roof damage or after a storm to ensure that your home is safe. Remember that a lack of maintenance can result in mold and water damage that can spread throughout your home and really increase the repair cost.
3. Never DIY It
Roofers charge money based on their skills and experience. Opting for a budget roofer or treating your roof as a DIY project might not be the best solution.
Although it may seem straightforward, roofing requires training and field expertise to execute the correct way. Choosing a greatly skilled roofer means that your roof will protect you and your family and you will avoid unwanted repair costs.
4. Roof Replacements
Every roof has a limited lifespan due to the conditions it faces. On average, most roofs have a life expectancy of 20 years, after which you should be planning to replace them.
A well-maintained roof can last longer than its expected age; however, older roofs are more likely to develop problems that can lead to more maintenance costs.
Most insurance companies also offer limited or no coverage for roofs older than 20 years, so in case something goes wrong, you have to bear the costs.
How Should I Fix My Storm Damaged Roof?
Now that you know what storm damage looks like, you should have a pretty good idea of what sort of damage you may have. The next step is treating your roof. You should first start by calling a professional roofing company, and setting up an inspection with one of their contractors.
Your contractor will conduct a thorough walk-through and figure out the extent of your damage. From there, you'll be given a repair estimate, and before you know it, your storm damage will be fixed before your very eyes!
If you're ready to take the plunge and get your storm-damaged roof repaired, drop RoofCrafters a line on our contact us page. As soon as you submit your form, one of our friendly experts will give you a call to set up a time for your inspection. If you're not quite sure if you need an inspection just yet, determine the extent of your damaged roof in our article:
At RoofCrafters, our mission is to provide job opportunities for others to thrive and grow while making a meaningful impact within our communities.