What You Need to Know about Insurance and Roof Replacements
November , 2022 | 8 min. read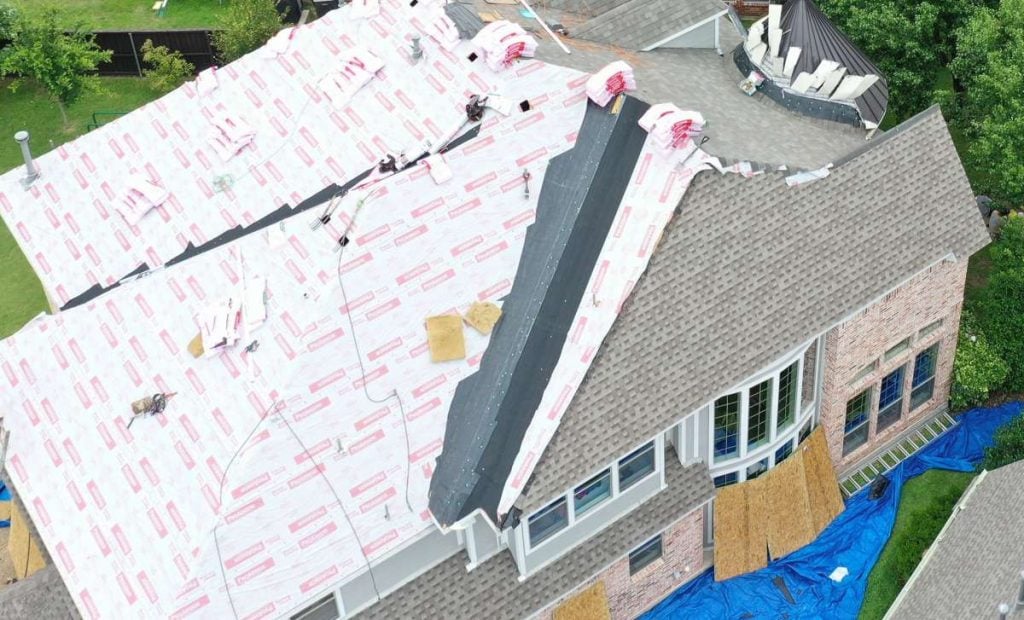 Homeowner's insurance is fairly common and attainable, and it's imperative that every homeowner has a policy. Think of it in terms of health insurance. You never expect to get sick or break your arm until you do. If you don't have insurance, that hospital bill is going to be pretty hefty.
The same goes for homeowner's insurance. If unexpected damage to your home occurs and you lack proper coverage, that bill is bound to break your bank. Not to mention, many homeowners haven't had to face a situation where they have to make an insurance claim for their homes before. At the time of an insurance claim, knowing what to do can be tricky.
To make this process a little easier, our team of experts at RoofCrafters has gathered the most commonly asked insurance roof replacement and repair questions. We've been doing this for nearly 30 years, so if we included all of the questions we get asked regarding insurance, we'd have to write a novel. So, for time's sake, we'll keep it simple.
If you've recently stumbled upon some roof damage, or you have some concerns about future damage that may occur, you're in the right place. By the end of this article, you'll learn what damages aren't covered by insurance, how to remain covered, insurance-covered roof replacements, and when it's time to call your insurance company. Let's jump right in!
Insurance Roof Replacement Frequently Asked Questions
Some of our commonly asked questions by homeowners are:
What damage does insurance cover?
How to remain covered by my insurance?
Will my insurance company replace or repair my roof?
When should I call my insurance company?
Does the roofer I choose matter for insurance?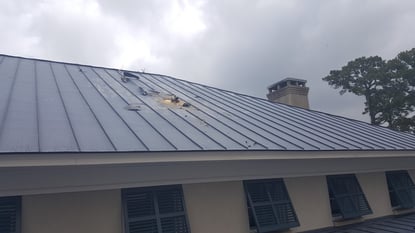 So, which instances out of this list are covered by insurance, and which ones aren't? The damage covered varies depending on the policy and insurance company you choose. Generally, most insurance companies provide coverage against the following factors:
Accidents: If your roof is damaged during an accident, your insurance will cover the damages.
Natural disasters: Not all policies cover all-natural disasters, so check with your insurance company and pick the right one for your needs.
Falling objects: Roof damage by falling objects during storms or otherwise is covered.
Fires: Insurance covers damage caused by a fire, even if it's caused by a natural disaster not covered by your policy.
Vandalism by a third party: You can claim insurance if a third party vandalizes your property.
Storms: Your

insurance covers damage caused by storms

such as roof leaks, broken roofing, missing shingles, and impact damage by hail.
Weight of snow: Your insurance company covers roof damage caused by the excessive weight of snow.
However, insurance companies do have certain terms you have to comply with to remain eligible for coverage. For example, if your roof caves in because it's significantly past its working age, insurance will not cover your replacement.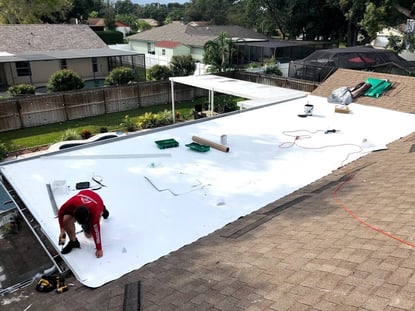 The same goes for neglecting maintenance. If you have forgotten to schedule your yearly maintenance checks and damages occur, insurance likely won't cover any proper repairs. The most important takeaway from this article is to take care of your roofs, people!
How Do I Remain Covered by My Insurance?
Knowing how to remain covered by insurance is one of the most important insurance roof replacement questions which people do not ask. Insurance companies are businesses and cannot hand out money to anyone with a damaged roof. The first thing you should consider for your insurance claim is the age of your roof.
Age
Like everything else on this planet, your roof also has a limited lifespan. Most insurance companies offer limited or no coverage for roofs older than 15 – 20 years because they are more prone to developing problems that will increase the liability of your insurance company.
Replacing your roof on time helps protect you and your property from potential harm and often is accompanied by a discount on your insurance premium. Also, keeping up with proper yearly maintenance can extend the lifespan of your roof.
Maintenance
You cannot claim damages if your insurance company finds that the damage was due to neglect. Maintain a proper schedule where you call a roofer bi-annually to conduct inspections and important repair work. Besides proper maintenance, you should frequently inspect your roof for visual damage. You should look for damaged or missing shingles on the outside roof, or stains, discoloration, peeled paint, and moss on the inside ceiling.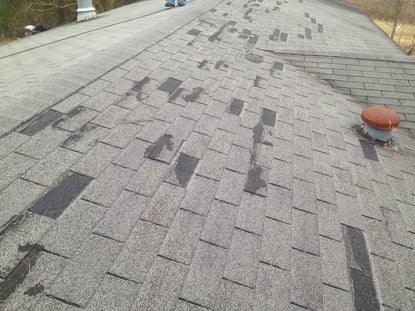 Whenever you notice any signs of damage, immediately call a roofer to patch it up to prevent the damage from spreading. Your insurance company won't pay damages for a poorly maintained or old roof, so ensure that you keep these things in mind and take proper care of it.
Will My Insurance Company Repair or Replace My Roof?
Insurance companies offer comprehensive coverage for roof repairs and replacements. However, what they do depends on the extent of damage to your property. Your insurance company will cover repairs for a few damaged shingles. Although, if there is extensive damage to your roof, they will cover you for a roof replacement.
Since repairing a majorly damaged roof isn't feasible for the company due to the higher repair costs that follow, replacing the roof is a more viable option for them. If the damage on your roof is extensive, it is best to look into a total roof replacement anyway.
When Should I Call My Insurance Company?
Once you notice any signs of damage, you should contact a great roofer to do an inspection to confirm the damages and then notify your insurance company. However, make sure to save yourself and your possessions before calling up your insurance and booking an inspection. Insurance companies have a timeframe from the moment the incident occurs for you to claim damages.
You should try to maintain a photo album that shows the roof before and after the damage to strengthen your case. After your insurance company comes over to document and inspect the damage, call to get the leak fixed immediately as tarps are only temporary.
Does the Roofing Company I Choose Impact My Insurance?
Oddly enough, yes, the roofer you choose has an impact on whether your insurance will cover damages or not. Outsourcing roof installations or repairs to an unskilled or budgeted contractor can be catastrophic and lead to more long-term costs. You should also never treat your roof as a DIY project and attempt to replace or repair it yourself unless you are skilled enough to perform the work.
Roofing is a highly specialized field and requires years of experience to develop the right skillset. While any roofer can get the job done, only an experienced one can give you the peace of mind that the work will be done correctly and if there is a problem they will be around to honor their workmanship warranty.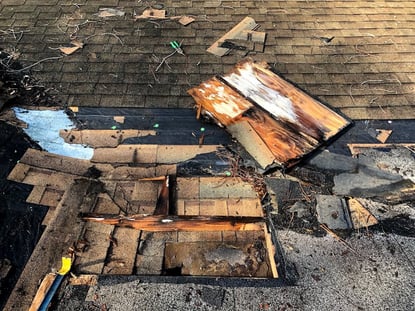 Inexperienced roofers might not seal the roof properly which can cause potential leaks. To make things worse, insurance won't pay for damages caused by an improperly installed or repaired roof, so be diligent with the roofing contractor you choose.
Should I Have My Insurance Cover My Roof Replacement?
There's no harm in using your insurance to your advantage, that's what it's there for. In the end, the decision should only be influenced by the damage that is on the home. Just remember to keep track of the damages, and do your part as the homeowner to make sure your roof qualifies for insurance coverage.
When you're ready to move forward with the process, make sure you look for a professional roofer who demonstrates integrity and will provide a great experience. When you get a roof replacement, you don't want only the best quality materials, but the best quality of workmanship as well.
At RoofCrafters, we have an experienced team of professionals that would be happy to help you. So, if you're looking for options, we can show you different material types, go over the different levels of warranty, or walk you through the insurance process. If you have some more insurance questions, check out our article, "Is Your Roof Covered by Homeowner's Insurance?" or drop us a line on our contact page. We're always happy to help!
My name is Anthony, and I am the lead estimator of RoofCrafters' Georgia/South Carolina division. The roof is the most important part of a structure, and people count on that to protect themselves and their families. That is one of the many reasons why I love my job and enjoy coming to work every day. The continuous training, honesty, and providing the customer with the Roofcrafters experience is what makes me the best in the business.