Will My Insurance Company Pay for My Roof Replacement?
October , 2022 | 6 min. read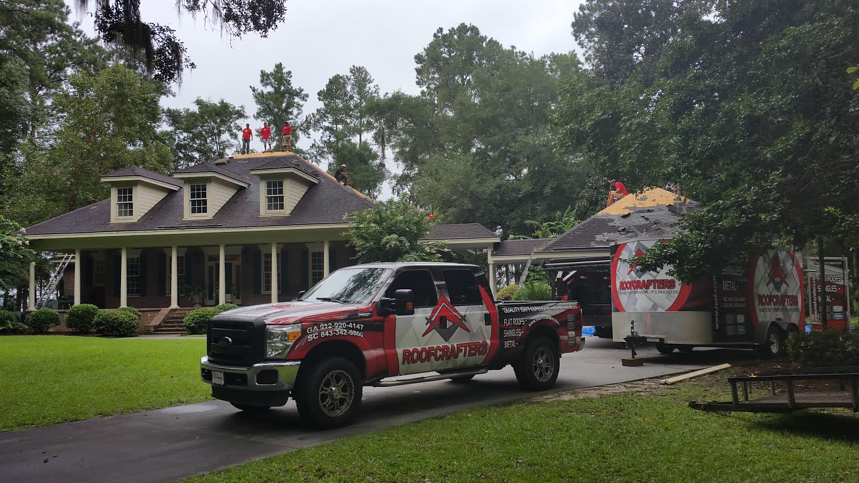 Roof replacements are oftentimes an overlooked responsibility of owning a home for many people. Even the best quality materials wear and tear over time, causing this once neglected duty to become the main priority. In addition, you have unpredictable weather that can also affect the roof life cycle. Just one bad weather such as hail, heavy rains, and wind storms can pull the shingles off your roof in just one day. If nothing is done after a certain amount of time, the storm-damaged roof becomes exposed to further damage.
The good news is, every homeowner has to pay insurance on their property to cover this type of situation in the future. So when it is time to replace your damaged roof due to unpreventable circumstances, most insurance companies will cover the cost of your entire roof replacement or a least half of it.
RoofCrafters has over 28 years of experience plus thousands of satisfied customers who have had their roofs replaced with homeowner's insurance. That being said, standard homeowner's insurance doesn't always cover all the different types of damage. Many homeowners think their home insurance company will cover anything that happens to their home when sadly, this is not always the case.
We can all agree that the last thing you want to hear when it is time to replace your roof is the insurance company denying your claim, which is why it is important to understand the specifics of your policy before any type of damage happens. This can help you get an idea if your homeowner insurance will cover your roof replacement. In this article, you will learn what roof replacements you can expect your homeowner's insurance to cover.
Roof Replacements That Homeowner's Insurance Pays For
The point of having homeowner's insurance is to cover losses and damage to your property if something unexpected happens, like a fire or burglary. That also includes roof storm damage caused by extreme weather such as hail storms. snowstorms, thunderstorms, and tornados, which all lead to different types of damage.
Missing Shingles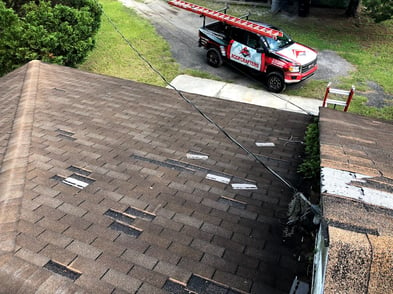 Missing shingles are a common type of damage that can result in significant water damage if left untreated. Oftentimes, wind storms will blow the shingles off the roof. When this happens, sometimes the shingles fly off taking the tar seal along with them. Depending on the extent of the damage, some insurance companies will pay for the entire roof replacement while others will pay for a quick patch job. Getting a professional roofing contractor involved can help determine whether the damage is critical to justify the roof replacement insurance claim.
Hail Damage
Many roof replacement claims are also associated with hail damage. Hailstorms can cause significant damage to roofing materials. The impact from a hailstone can bruise or crack asphalt shingles, cause gutters to fail, and affect things like skylights and chimneys, leading to potential water damage in your home.
How Can I Tell if I Have Hail Damage on My Roof?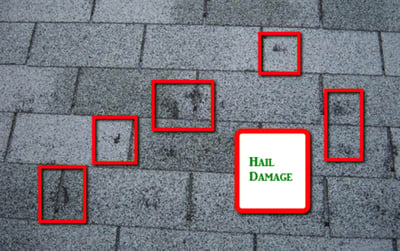 There are 3 major signs of hail damage, which include bruising, cracking, and missing asphalt granules from your shingles. You can check for missing pieces in the asphalt of the roof. Look for areas on the shingle that have exposed, black substrate. This means the granules of the asphalt have been compromised or knocked off by a chunk of ice, a tree limb, or other falling debris. The best way to be certain of the state of your roof in the aftermath of a hailstorm is to have a professional involved.
Snow and Ice
Snow and ice can seriously affect the condition of your roof. During the frigid winter, the heavy weight of snow and ice will cause some stress on your roof. If the weight exceeds the roof's snow load rating, the roof can cave in or collapse. Also, if it rains during this time, the rainwater will naturally flow to the lowest point of your roof and form large ice blocks once the temperature drops below freezing. As snow and ice continue to build up, they create a barrier and prevent the water from draining properly. This can cause moisture.
Additionally, when melted snow and rain may not properly drain from the roof, they can find their way underneath the shingles, ultimately creating even more damage. If this happens continuously without proper care, it can lead to a big disaster. As always a professional can help you target the problem and determine if your insurance policy can cover the roof replacement.
Other Common Roof Replacement Claims the Insurance Will Pay For
In addition to your roof, the weather can also damage the gutters and the flashing. During a strong wind storm, the gutters can blow off the house or some tree branches can break them while landing on your home. As far as the flashings, they are designed to protect the structure of the roof, but harsh winds can pull the flashing off leaving your home exposed and vulnerable. In these cases, your homeowner's insurance may cover this type of damage.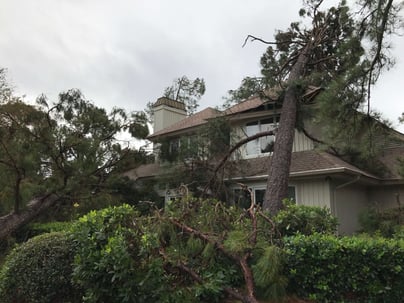 Another roof replacement claim that your insurance will cover is when trees or branches fall on your roof due to severe weather. This can cause a few missing shingles and create large holes in the surface of the roof. Depending on the extent of the damage, you can get the entire roof replaced or a partial. If the damage is small, the insurance company may just patch the damaged portion or provide partial payment.
Roof Replacements That Homeowner's Insurance Won't Pay For
When it comes to paying for a roof replacement, homeowner's insurance can come in handy. However, the insurance will not cover all types of damage. For example, roof leaks are only covered in certain situations. Usually, the insurance will cover leaks if they are caused by a risk that is covered in the policy. Also, if the leak happened suddenly and didn't accumulate over the years. You may or may not get the insurance to cover that.
The age of the roof can also determine if the insurance company will approve your roof replacement claim. Typically the insurance will deny your claim if the roof is 15-20 years old. Unless the roof was well-kept and passed the inspection criteria, other companies will pay you the actual cash value of the roof. Meaning, if your roof only has a few damages and has passed the 20 years mark, you will get what the roof is worth after 20 years of depreciation.
In case of damage caused by pests like squirrels, or damage that may not have a negative impact on your home, the insurance company may deny your claim. Regardless, you should always consult with a professional roofing contractor because there are some exceptions.
Will My Homeowner's Insurance Pay For My Roof Replacement?
At the end of the day, you won't know for certain if your homeowner's insurance will cover your roof replacement until you consult a professional roofing contractor. Once you have a roofing expert inspect the damage done to your roof while taking into consideration the various reasons why insurance may or may not pay for your replacement listed in this article, then you know if you will be approved for your claim or not. For more information regarding insurance and your roof, check out our article, "Insurance Roof Replacement Questions You Should Know".
RoofCrafters values each and every one of our customers, and we hear your concerns. If you need a contractor to inspect your roof for damage, help explain what your homeowner's insurance may or may not cover, or need help deciding how to proceed, contact us today! We are eager to help.
My name is Anthony, and I am the lead estimator of RoofCrafters' Georgia/South Carolina division. The roof is the most important part of a structure, and people count on that to protect themselves and their families. That is one of the many reasons why I love my job and enjoy coming to work every day. The continuous training, honesty, and providing the customer with the Roofcrafters experience is what makes me the best in the business.