Does Insurance Cover Storm Damage to a Roof?
November , 2022 | 8 min. read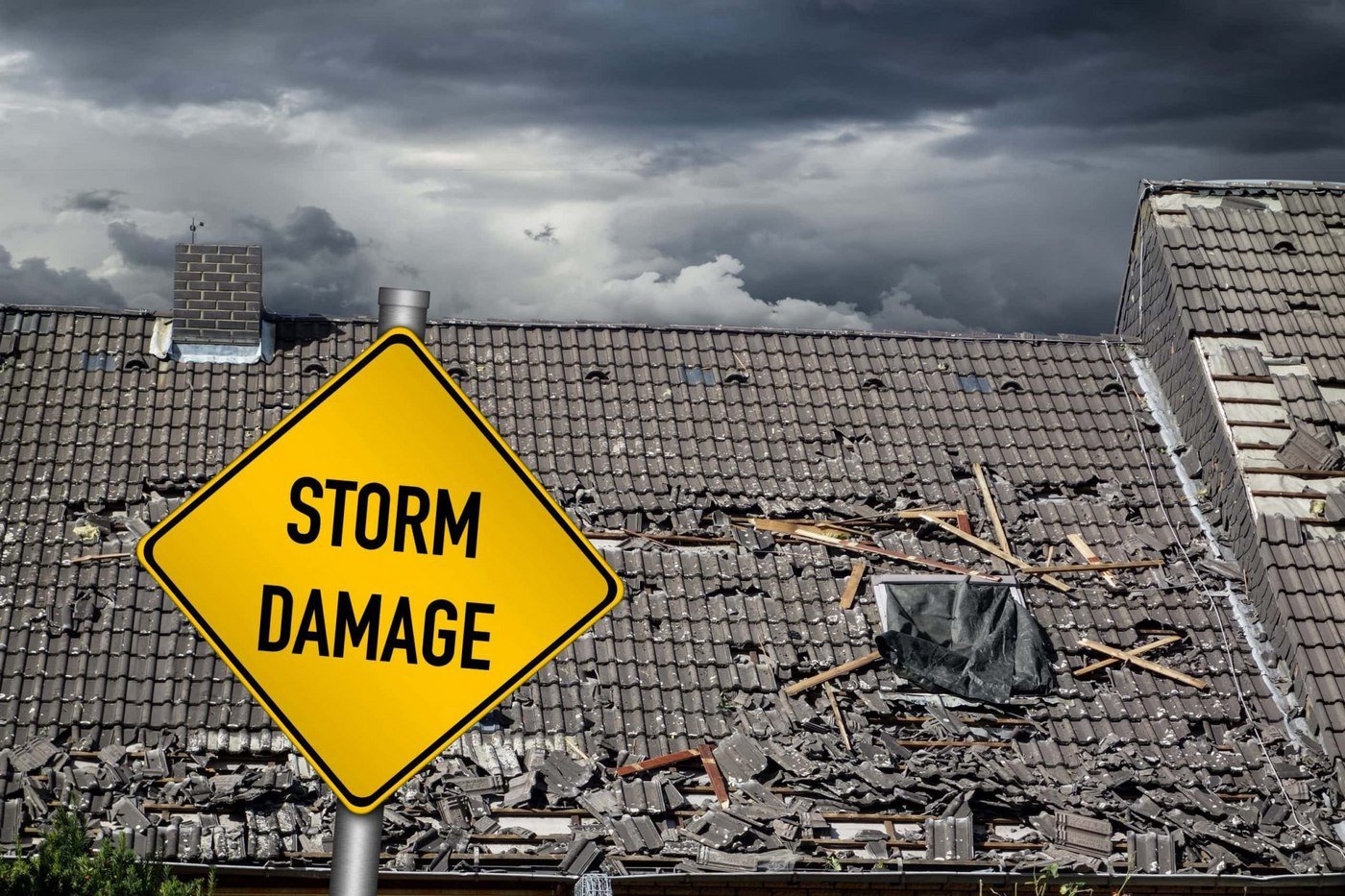 Living in a region with tropical climates has its perks, but it also has its downsides, with one of the biggest ones being storms. The extreme weather in the southeastern regions of the United States can wreak havoc on your city and town, not to mention, your home.
Does this mean you have to sell your cottage in Florida? Or vacate your home in South Carolina? Of course not! This is exactly what insurance is for. RoofCrafters has been repairing storm-damaged roofs for over 29 years, so if there's anything we know, it's what type of damage is eligible for insurance coverage, and what damage isn't.
We understand that roof storm damage is one of the most annoying and frustrating things to have to deal with. While roof repairs and roof maintenance might not be the first things you normally think about, a storm-damaged roof is something that you must address immediately.
You already know that though, since you're reading this article. You're in the right place! In this article, you'll learn when insurance covers storm damage, when it doesn't, and how you can claim coverage when you need it. So, let's jump right in!
When Does Insurance Cover Storm Damage to a Roof?
Insurance covers roof storm damage in most cases. Essentially, anything that is seen as out of your control will likely be covered by insurance. The cases most commonly covered by insurance include damage due to:
Fires

Acts of nature

Storms, hurricanes, or tornadoes

Vandalism

Falling objects, tree limbs, or hail

Wind-driven rain



When Does Insurance

Not

Cover Storm Damage to a Roof?
Insurance companies will deny paying for damages in certain conditions. Your insurance provider typically mentions the terms and conditions before you purchase your policy. While most policies cover storm damage to a roof, you have to meet certain requirements to be eligible to have an insurance claim get approved.
Okay, so how do you stay eligible? Maintenance! Routine roof repairs are essential for prolonging your roof's life, as well as making sure you remain eligible for insurance claims. You should hire a professional roofer for roof maintenance at least twice a year to prevent the most common potential problems.
You can visually inspect your roof for any signs of damage and promptly call up your contractor to address anything that you may see out of place.
These signs include: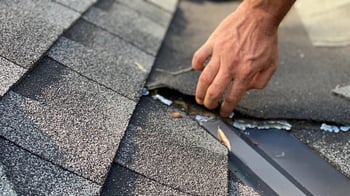 Leaks

Discoloration or peeling of paint

Broken or curled shingles

Mold or pest infestations

Tree limbs on your roof




Remember that insurance doesn't cover any damages caused due to lack of maintenance, including any damage to life, property, or personal possessions.
You should always follow a maintenance schedule and keep track of the work done to make sure your home is ready to weather the next storms. If you need to make an insurance claim in the future, they will not be able to say you have neglected to conduct routine maintenance and use that as a reason to deny the claim.
Roof Has Outlasted its Lifespan
It may seem pointless to replace your roof when it is as old as the rest of your house. However, roofs face more extreme weather conditions and wear out faster, and the older your roof gets, it becomes weaker and less resistant to the winds and storm conditions it faces.
Most roofs require you to replace them every 15-20 years. So even if your roof seems to be in good condition after its expected lifespan, we recommend you start planning to have it replaced to avoid bigger problems.
Old roofs have a higher tendency to leak or collapse, making them a liability for your insurance company. It is not the roof that your insurance company is concerned with, but all the contents inside your home that they are liable for replacing should you have storm damage to your roof.
For this reason, most insurance policies either offer limited or no coverage for roofs that are around 15 to 20 years old. Besides, older roofs often require frequent repairs and we know roof leaks can be frustrating and a good reason to install a new roof.
Faulty Installation
Never treat your roof as a DIY project or source it out to a cheap roofing contractor. Roofing is a highly specialized field, and roofers charge according to their skills and experience level.
Improperly installed roofs tend to leak or even collapse in extreme cases. The most common sign of an improper roof installation is intermittent or random roof leaks. These roofs are not sealed properly and leak under certain weather conditions such as horizontal rain.
Even if your policy normally covers the type of damage your roof has, they won't approve your claim should you void any of these conditions.
How Do I Claim Insurance for Storm Damage?
Anyone lucky enough to never file an insurance claim can find it to be a daunting task the first time they do it. Here is how you can claim insurance for a storm-damaged roof:
1. Maintain a Photo Album
We cannot stress how important it is for you to keep a photo album of your roof for insurance claims. This record helps your insurance company track your roof's condition over a period of time, making it easier to diagnose what caused the damage.
Pro Tip: Make sure that you take photos of your ceiling inside as well.
2. Call a Professional Roofing Contractor

Immediately inform a professional roofing contractor of the damage as soon as it occurs so that they can come out and inspect your roof to make sure that the damages will exceed your deductible before you file a claim.
This is important as we do not want you to file a claim that is not needed as it will go against you when it's time for renewal, even if the claim is denied.
Also, a professional roofer can mitigate any further damages by installing a tarp or making a temporary repair until the work can be scheduled.
3. Call Your Insurance Company
Call your insurance carrier and inform them of the damages so that they can start the claim process. They will then schedule an adjuster to come out to do an onsite inspection. Typically they'll contact you within 72 hours to schedule the onsite visit.
4. Have Your Local Roofer Meet the Insurance Adjuster
After the insurance company has assigned a field adjuster to come out and document the damages, call your local roofing contractor to come out with the adjuster to review the damages together to go over the scope of work on your behalf.
By doing so you will be assured that nothing is missed or left out of the storm damage claim.
Will Insurance Cover Storm Damage to my Roof?
It depends! When instances out of your control occur, while accompanied by a big storm, your insurance will cover your repairs. However, if you've had an old, leaky roof for a few years, and a storm finally brings it down, you'll be hard-pressed to find insurance coverage in this case. That being said, it is of the utmost importance you remember to take care of your roof in the meantime.
Now that you've reached the end of this article, and are knowledgeable in all things storm-damage-roof-insurance-coverage, you should be feeling relaxed and stress-free knowing that your roof repairs will be covered by insurance should a storm cause damage, as long as you are taking proper care of it.
RoofCrafters knows how stressful roof damage can be, which is why we provide a start to finish claim process solution for you. If you're unsure of where you're at in the process, check out our article on if you should file a storm damage claim. For more clarity, feel free to drop us a line on our contact us page.
My name is Anthony, and I am the lead estimator of RoofCrafters' Georgia/South Carolina division. The roof is the most important part of a structure, and people count on that to protect themselves and their families. That is one of the many reasons why I love my job and enjoy coming to work every day. The continuous training, honesty, and providing the customer with the Roofcrafters experience is what makes me the best in the business.