How Much Does It Cost to Tarp a Roof?
September , 2022 | 6 min. read
By Kevin Mills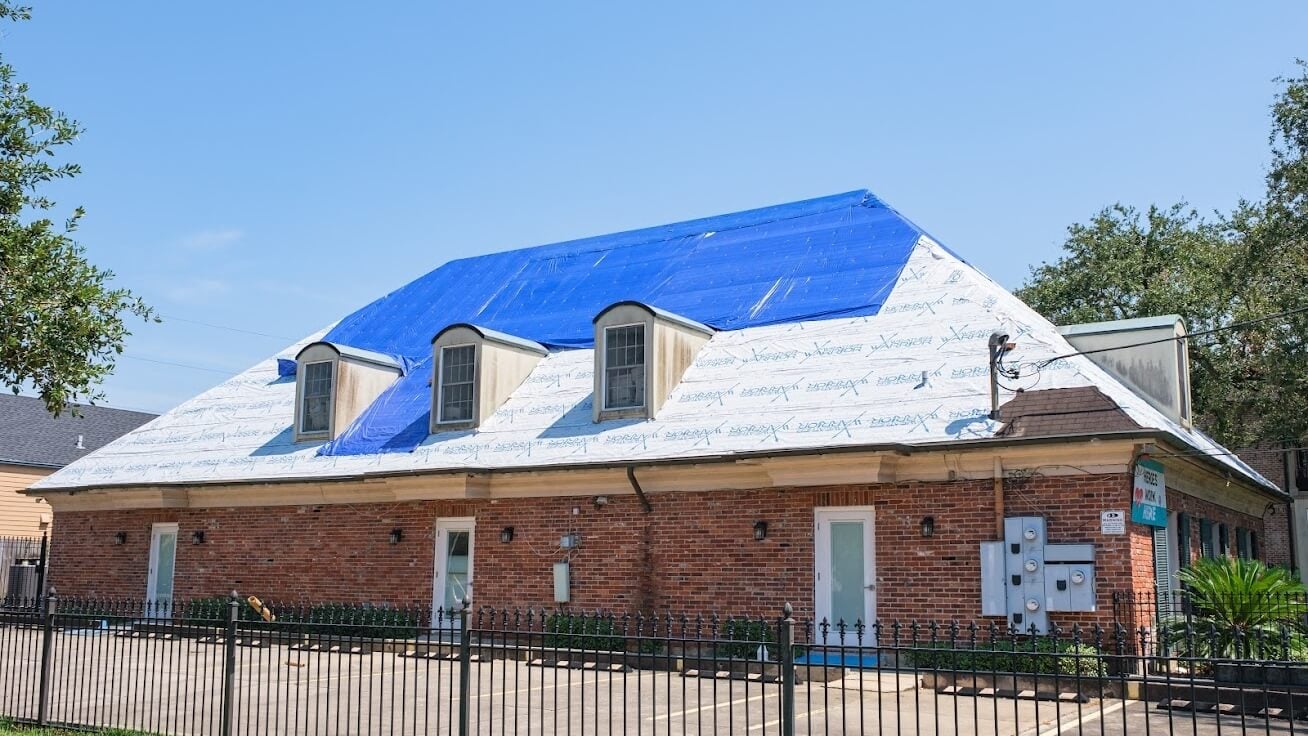 With Hurricane Ian rapidly approaching Florida's west coast, he's sure to bring catastrophic damages along with him. With nearly 155 mph, every homeowner's roof is at risk for damage. Now, I don't necessarily mean your roof will be blown off from over your head, but with extreme winds come airborne objects, damaged shingles, and even impairment to the structural integrity of your roofing system. Do you know what your next steps are in this situation?
Once this storm passes, who knows what the aftermath will look like? RoofCrafters has been repairing and replacing storm-damaged roofs for nearly 30 years now, and we believe that knowledge is power. The more you know about roof tarping, the better. If your roof sustains damage during the hurricane, you're at risk for water infiltration, damaged possessions, mold, and mildew. In this case, you'll need an emergency roofing repair, and that starts with tarping.
If you're reading this article, you're either being diligent before the storm hits your area, or you believe you've suffered some damages after the fact. Either way, it's a good thing you're here. In this article, you'll learn how much it costs to tarp your roof and the variables which affect the costs. Let's get started!
DIY Roof Tarping Costs
Most roofing companies will generally stray away from advising homeowners to complete DIY projects, however, if you've got an emergency on your hands and need to get a tarp on your roof ASAP, do what you must to protect your home.
A DIY project usually saves the homeowner a bundle of money, which is why they're so appealing to most. The thing about DIY projects though is that you need to know what you're doing, or else you could potentially cause more damage to your roof which results in more money being spent on repairs down the road. That being said, a tarping DIY means that you only really need to worry about the costs of the materials, as well as the size of the area that you'll be covering.
If you're covering a few small holes in your roof, this will be pretty inexpensive. Sometimes, this process is even less than $100. If you need to tarp your entire roof, you'll need to factor in its size and make adjustments accordingly. Let's say that the average roof is approximately 1500 square feet. If you purchase a tarp from your local Lowes, you can expect to spend anywhere between $150-$350.
In retrospect, you'll be saving a lot of money by completing this project yourself, but I advise you to only attempt tarping your roof if you're confident that you'll complete the task without injury to yourself, or creating further damage to your roof. It's always advisable that you contact a professional roofing contractor first.
Professional Roof Tarping Costs
If you're not the DIY type of repairman, your trusted local roofing contractor is always eager to help out. In this case, you'll be charged for the materials costs, hourly rate, size and reason of damage, standard or emergency service, and accessibility to your roof.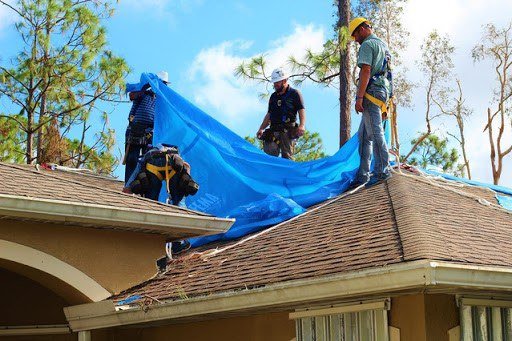 The costs of the labor itself will vary depending on the company as well as the region, but the average cost typically falls around $60 an hour, plus your materials of course. When you factor in the cost of the tarp itself, the tarp securing materials, and the accessibility of your roof, the price to tarp a 1500-square-foot home can range anywhere from $1200-$1500. If the damage is smaller, and you only require a partial tarping, the cost can range between $400-$600.
What Variables Affect Roof Tarping Costs?
So, what variables affect the cost of professional roof tarping? There are a few different components that influence the final price, including:
Material costs
Hourly rate
Reason and size of the damage
Standard or emergency service
Accessibility to roof
Material Costs
The material themselves affect the cost of your roof tarping service, although prices will vary from company to company, as well as region to region. The size of your roof or the damage itself plays a large role in the cost of materials, too.
Xactimate allows for 1.33 square feet for tarping using nails, 3.17 per foot using sandbags, and if tarped during emergency service hours, it's 1.85 per foot additional. Most insurance policies allow for up to 1% of the total policy for temporary repairs. So, for a $300,000 policy, your roofing company can only recover $3,000 for tarping and emergency repairs.
Hourly Rate
Standard hourly rates will vary depending on the city you live in and the average cost of living. If you're able to, contact your local roofing companies and compare their prices, as well as how many hours they believe it will take to complete the job. The costs will range, but remember that cheaper prices don't always equal quality work.
Reason and Size of Damage
The reason and the size of the damage are quite frankly the most important considerations for the final tarping costs. In the case of a hurricane, if you have lightning damage or electrical burns, these areas need to be removed before tarping can even occur. If a tree struck your roof during the storm, there will be additional costs factored in to remove the tree.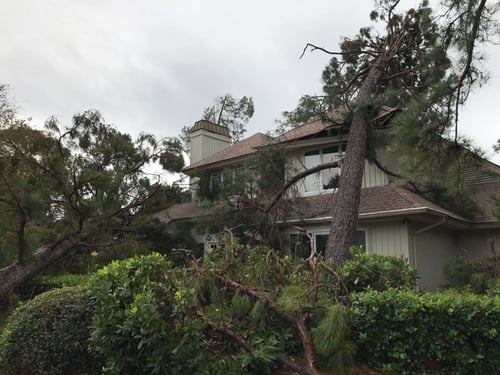 That being said, if the damage is small or large, the cost will vary vastly. If you're tarping a small area post-storm, the price will be less. If your roof has sustained major damage and the weather is still questionable, it will ultimately come down to the square footage of the damaged area.
Emergency Service
Standard rates vs. emergency service rates are another important factor to take into consideration. If you decide to get your roof tarped during normal business hours, your costs will be considerably less than if you need an emergency service. Typically, emergency service work is paid for by 1.5X the company's standard hourly rate.
Accessibility to Roof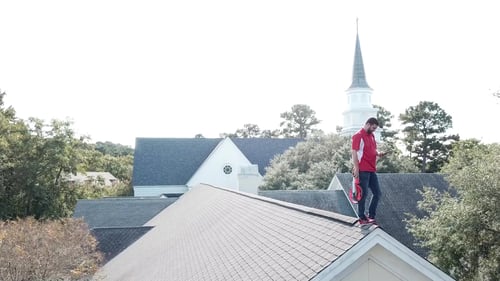 The last component that's taken into consideration is the accessibility of your roof. How easy it is to climb and walk on your roof. Do you live in a single-story home with a slightly slanted roof? Or do you have 3 stories will a steep roof? The prices will vary depending on the pitch of your roof. If your roof is less steep, it will take less time to tarp the area. If the pitch is steeper, it will take more time to tarp your roof because the crew needs to take their safety into account. The last component that's taken into consideration is the accessibility of your roof.
Do I Need to Tarp My Roof?
If you're concerned your roof will sustain minor or major roof damage during Hurricane Ian, it's incredibly important that you reach out to your local roofing contractor as soon as possible. Whether your roof is tarped during standard or emergency hours, the most important thing is making sure your family and your belongings remain safe and secure.
If you're struggling to find the best contractor for the job, be sure to download "The Top 10 Most Critical Questions You Want to Ask Your Potential Roofing Contractor". This checklist includes several different prompts to ask your roofer to prepare you to hold the company accountable for its quality of work and services when it comes to tarping your roof.
In the meantime, stay safe and remain diligent. Heed any evacuation warnings, and take care of yourself and your family. Hurricanes are frightening, and the thought of losing your home and precious belongings is harrowing. However, your safety is more important than any material item. Take care of your well-being, and rest assured that RoofCrafters will do everything in our power to aid you in hurricane relief efforts should your roof sustain damage of any kind.
My name is Kevin Mills, and I am the lead estimator for RoofCrafters' Tampa division. I'm originally from Michigan, and I enjoy hunting, fishing, and spending any free time outdoors. What I'm most passionate about, though, is helping business owners and homeowners alike achieve their roofing goals, all while providing a seamless customer journey.