How Do I Deal With a Storm Damaged Roof?
January , 2023 | 11 min. read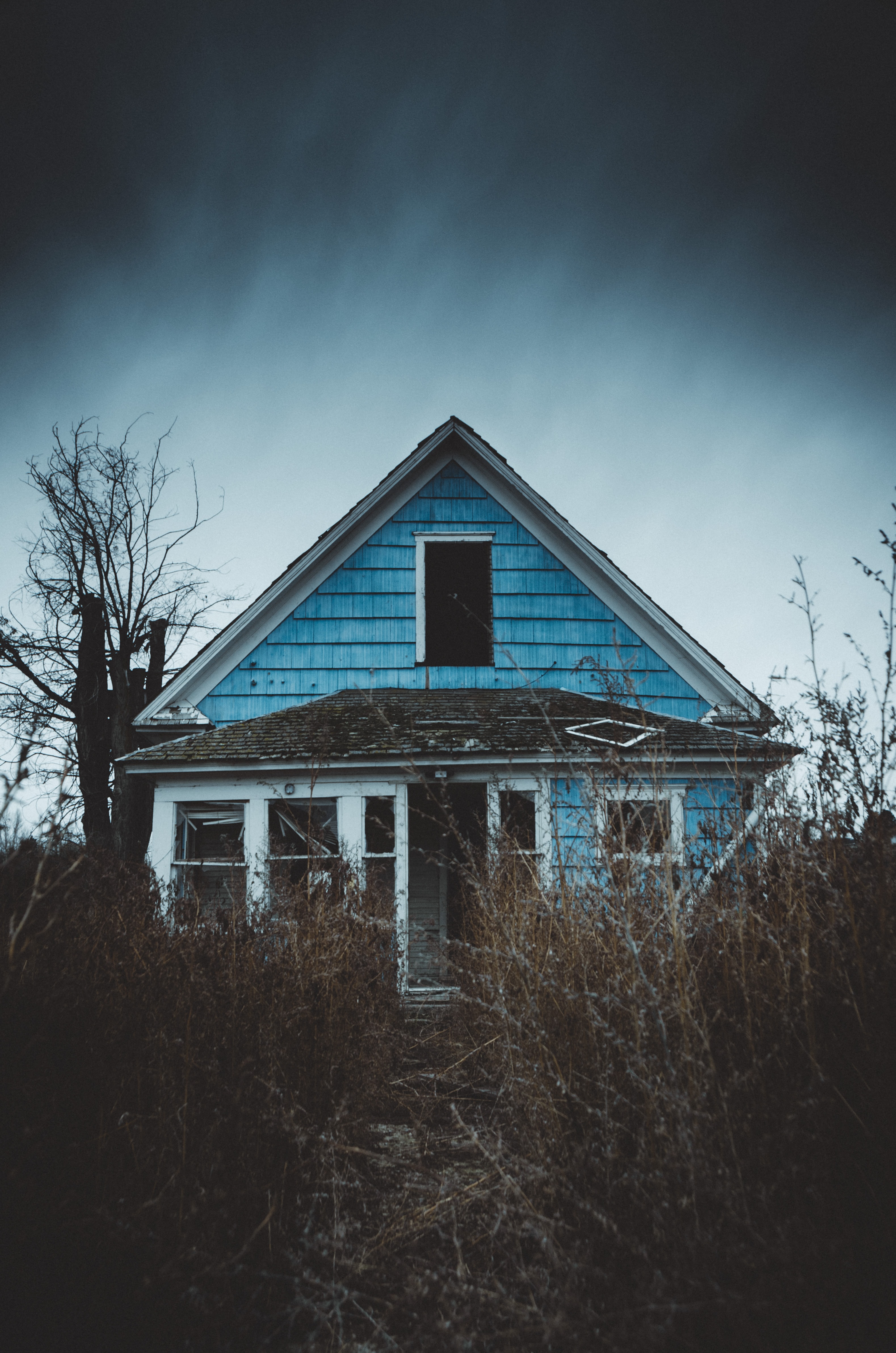 There's nothing like enjoying a good thunderstorm through the window in the comfort of your own home. That is until the roof above you starts to crack, and before you know it, the water's leaking all over your living room. Kids, get the pots and pans, and hurry!
At RoofCrafters, we know this must feel like a nightmare that has become reality. We've been helping homeowners mend their storm-damaged roofs for nearly 30 years, and we've heard all the horror stories. We believe that where there's a will, there's always a way. If you're suffering from a storm-damaged roof, RoofCrafters has you covered with any service you made need, whether it's a roof repair or a total installation. We've got your back.
Storm damage is a pressing matter that has to be dealt with promptly to avoid any further damage to your roof and your home in general. If you're reading this article, it's safe to say that you're experiencing some storm damage and unsure how to navigate it. In this article, you'll learn about the different types of storm damage, and how to address the repair process. Let's jump right in!
Types of Storm Damage
Several types of roof storm damage can arise depending on the nature of the storm. Regardless of the damage from nature's fury your roof has faced, most insurance companies will take care of any damages incurred.
The 4 most common types of roof storm damage are:
Rain damage

Tree damage

Wind damage
Hail
Hail is common in areas where temperatures dip low, although it can occur anywhere. Hail can be a force to be reckoned with. These chunks of ice can wreak havoc on everything around them, including your roof. After a hailstorm, inspect your roof for the following signs of damage: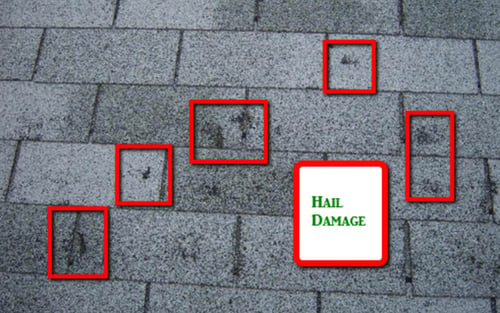 Divots and dents on shingles
Broken or cracked shingles
Unusual amounts of granules in the gutters
Dented metal on the flashing and gutters
It's important to be proactive and check for damages before they have the chance to worsen. Hail can damage the roof's surface and make an entry point for pests and moisture, causing problems like mold and infestations, making your bad day worse within minutes.
Rain
Few things are as soothing as rain rhythmically falling on your roof unless that light rain turns into a thunderstorm that causes damage to your home. In that case, rain is a nightmare and can lead to extensive property damage by flooding your house in extreme situations.
Common signs of damage by rainstorms to look out for are:
Broken, missing, or curled shingles

Discolored or peeled ceiling paint

Water bubbles in the ceiling

Stains or puddles on the roof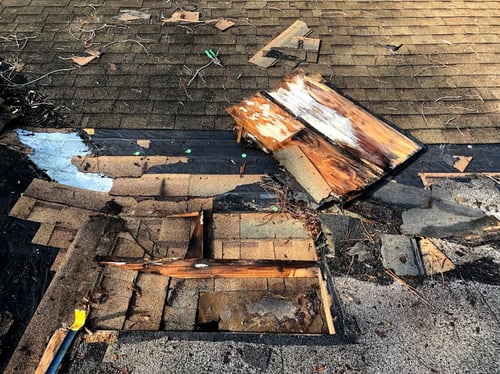 A roof leak might be significant enough to require you to collect water in a bucket in extreme cases. You might experience random leaks if your roofer didn't install it properly, which also can void your insurance coverage. Always invest in a credible roofing contractor. By doing so, you can keep your long-term costs down.
Tree Damage
During heavy windstorms, you might have a tree limb fall on your roof that not only can puncture the roof materials and decking but can also add extra stress to the structure. The added weight can cause the roof to leak or even collapse, which can be a treacherous ordeal.
Wind Damage
Contrary to popular belief, it's not just strong winds that can cause damage to a roof. If your roof is made with lighter materials, such as asphalt shingles, even moderate winds can cause severe damage. In addition to forming cracks, your roof may also be missing a few shingles here and a strong wind storm after that. Unfortunately, minor damage is comparatively harder to spot after wind storms. So, you may need to look closely at the shingles for signs of creased and torn shingles. If you see loose granules from the shingles, consider calling a professional roofer for an inspection.
After a significant wind storm, it's not uncommon to see cracks and holes in your roof or even a water leakage. This is something that a professional roofing contractor can help you with. They'll make temporary repairs to keep the damages at bay until your insurance company agrees to pay for the repairs. If your property has a metal or slate roof, however, the chances of a wind storm causing any damage to your roof are extremely low.
How to Address Storm Damage Roof Repair
When you experience roof damage during a storm, you should first turn off the power supply to reduce the risk of electrical fires. Then, if there's a leak, ensure that you remove any furniture, electronics, expensive clothing, and personal belongings away from the leaking water.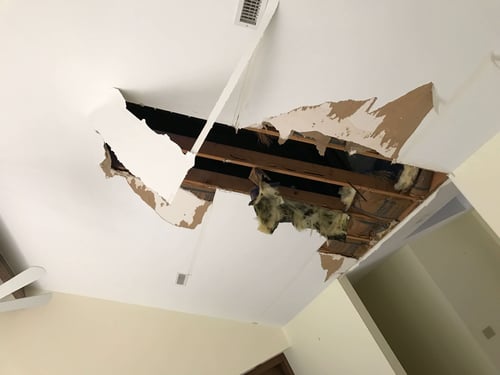 Always ensure that you and your family are safe and evacuate your home if necessary. After you have dealt with the crisis, call up a professional roofer to deal with the problem. At times, you might be unable to get a same-day appointment with your roofer, so you should try to minimize your losses.
Call Your Insurance Company
Granted that you followed the terms of service, your insurance will cover damages that occur during storms. Call your insurance company after you call a roofer to make sure it is in fact storm damage that will qualify for repairs or replacements covered by your insurance carrier and document the damage.
Make sure that you do the following things to remain eligible for insurance claims:
Pick the right roofer. Insurance won't cover you for improper roof repairs or installations that a budget contractor might do. Roofers charge according to their experience and skills, so picking the right roofer is an investment.
Never fix or install roofs yourself. Roofing is a highly specialized field, and you probably do not want to try to tackle roof installation or roof repairs yourself.
Maintain your roof. Bi-annual inspections from a great roofer will help you to diagnose and fix problems before they rack up expensive interior repair
Conduct visual inspections. While visual inspections won't tell you the whole story, you can get an idea of whether anything is out of place by looking at your roof.
Replace your roof on time. Every roof has a certain lifespan after which it starts developing problems. Most insurance companies offer limited or no coverage for roofs that are over 15-20 years old.
Always call a roofing contractor to inspect the roof after impact damages caused by hail or tree limbs falling because there might be structural damage that isn't visible to you. It's better to be safe than sorry in this case, as insurance doesn't pay for anything they deem to have arisen from negligence.
Check for Leaks and Other Damage
For leaks, you can conduct a temporary storm damage roof repair. Identify the source of the leak and temporarily cover it up with a tarp that exceeds the leak's size by at least 4 feet in all directions. This is only a temporary fix until your roofing contractor can schedule the permanent repairs. Leaving the leak open can cause water to enter your house, damage your belongings, seep between the roof's layers, and cause widespread damage that might warrant an expensive roof replacement.
If a storm causes extensive damage to your roof, then you should call your roofer immediately, and then your insurance company after getting to safety. Severely damaged roofs tend to collapse and can be hazardous to life.
What Process Can I Take To Alleviate My Storm-Damaged Roof?
There are a few things you can do to alleviate your storm-damaged roof! The first thing you should do is understand what type of damage you have. As stated in the article, the most common damages are hail, rain, wind, and the results that come from those types of storms. Once you recognize the type of damage you have, you should move forward with contacting a professional roofing contractor.
After your contractor comes out for an inspection, you'll know for sure what sorts of damages have occurred, even the damages that weren't visible to you. Go ahead and take photos, and speak with your insurance provider. They'll give you clarity on the situation, and help you with the next steps.
If you have further questions about your storm damage, or you're unsure about what your insurance will and won't cover, be sure to check out the resources located in our learning center. If you'd rather nip your storm damage in the bud and speak with the professionals, drop us a line on our contact page and one of our friendly representatives will reach out to you shortly.!
My name is Cassie, and I'm the Content Manager here at RoofCrafters. I was born and raised in Chicago, Illinois, and made my way out to Florida post-college graduation. I'm incredibly passionate about writing and creating valuable content that helps others with the collaboration of my marketing team. When I'm not working, I enjoy shopping (a little too much), spending time at the beach, and reading!