How Do I Get My Homeowner's Insurance to Pay for a New Roof?
February , 2022 | 6 min. read
By Joe Martinez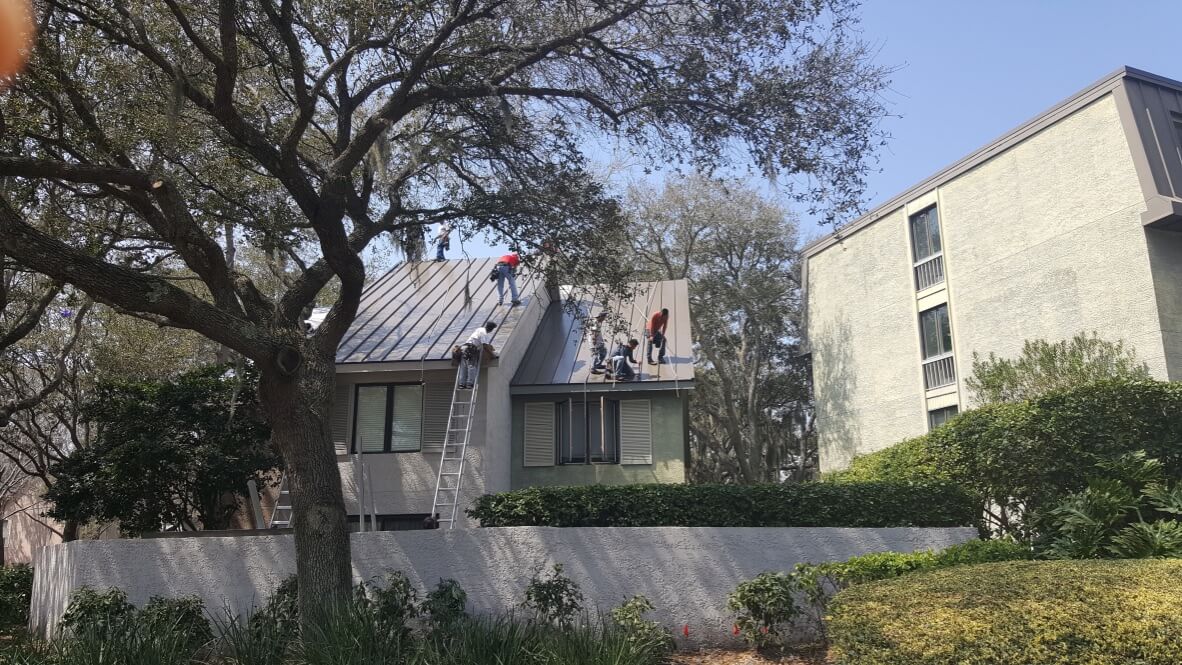 Roof damage is one of the most frustrating things to discover, other than your kid's new art project on your freshly painted kitchen walls. Not only can roof repairs be expensive, but they can lead to other parts of your home getting damaged. In the case of roof leaks, you can end up with water damage to objects in the house, a pest infestation, or even worse, mold. Let's just say roof damage is bad.
If you are covered by insurance, then you're in luck. Investing in the right insurance policy is critical to ensuring that it covers your needs. In addition, some insurance policies offer added protection against some factors that other policies don't cover. Although, sometimes, homeowner's insurance won't cover your damages. Confusing, we know.
RoofCrafters has been repairing and replacing damaged roofs for over 29 years, so when it comes to homeowner's insurance policies and what they will and won't cover, we're basically gurus.
If you're reading this article, it's safe to assume that you have some roof damage, and you're wondering how to get your homeowner's insurance to pay for your new roof. Or, you're just bored. Whoever you are, you can trust that you're in the right place. By the end of this guide, you will have learned how to get homeowner's insurance to pay for your new roof, and what instances you won't be covered.
How Do I Get My Homeowner's Insurance to Pay for a New Roof?
While it isn't too complex, insurance claims can be a daunting task for many homeowners. So, let's go over some of the steps to help you file an insurance claim for a new roof, starting with maintaining a photo album of the damages.
1. Maintain a Photo Album
You should always maintain a photo album to get the most out of an insurance claim. To do so, take photos of your roof regularly to document its condition and present the record in case you ever need to make an insurance claim.
Don't forget to take photos of the roof from the outside as well as the ceiling inside. At times, the problem is only apparent on one of the surfaces.
2. Keep a Maintenance Record
To claim insurance, you may need to prove that you have taken care of and have properly maintained your roof. So, make entries every time you call a roofer over for bi-annual maintenance.
3. Document the Damage
Regardless of what caused the damage, take photos of it to strengthen your case. After a storm or strong winds, inspect your roof for loose, broken, or missing shingles, and check for any impact damage due to flying objects.
4. Call Your Roofing Contractor
The moment that you notice any damage, ensure that everyone on the property is safe, move your belongings to a different location, and evacuate if needed. Then, call up your professional roofing contractor to have them come inspect the damages and make a temporary repair to mitigate any further damages.
Also, you want to make sure that the damage or the necessary repair will exceed your deductible before making an unwarranted claim. While talking to the insurance provider, tell them precisely what happened and schedule an appointment for them to come over for an inspection.
5. Contact Your Insurance Company
After your professional roofer confirms that the storm damage will exceed your deductible, then you can feel free to call your insurance company to start the claim process.
What Types of Damage are Covered?
Typically, insurance covers damage caused by: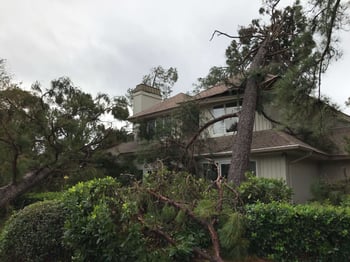 Storms or heavy rainfall
Strong wind
Vandalism
Falling objects, hail, and tree limbs
Fire
Natural disasters
However, depending on your policy and insurance company, the exact coverage may vary.
When am I Not Covered?
Even if you have comprehensive coverage, your insurance company doesn't cover any damage if you void their policy. There are a few situations where the insurance won't cover you:
1. Negligence
How do I get my homeowner's insurance to pay for a new roof if I haven't conducted maintenance? The short answer is, you may not.
Insurance companies cover damages if you have conducted due diligence and kept up with all maintenance. You should conduct frequent visual inspections of your own and call a professional roofer bi-annually to check for any potential damages.
A skilled and experienced roofer can easily diagnose problems that you might not be able to find. Additionally, if you suspect any roof damage after a storm or due to falling objects, call your roofing contractor immediately.
2. Age
Every roof comes with a timer due to its continuous exposure to natural elements. As a result, the most common roofs tend to wear out faster and have an average life of 15- 20 years.
While a well-maintained roof can last longer, insurance offers either limited or no coverage for older roofs. Therefore, it is in your best interest to change your roof when it is getting near the expected lifespan to prevent roof leaks, possible cave-ins, and expensive long-term repair costs.
3. Improper Installation
For anyone who thinks that they saved money by choosing an inexpensive contractor, we have news for you. Insurance companies won't cover damages caused by improper roof installation or repairs.
Roofers generally charge according to their experience and skill level. Opting for a budget or the cheapest roofing contractor or conducting DIY installations or repairs may even void your insurance. If any property damage occurs due to an improper roof installation, you will likely have to pay out of your pocket. Insurance companies will send out engineers if they believe that the roof was improperly installed to do a thorough investigation.
Intermittent leaks are a common sign of improper roof installation caused by faulty installation methods. Contact a professional roofer and address them to prevent mold growth and other damage to your property.
Will Insurance Pay for a New Roof?
If you've kept up with your routine maintenance and taken proper care of your roof, you have a pretty good chance of being approved for your insurance claim. If you've neglected your roof, and have skipped out on your bi-annual inspections for a while, you may be hard-pressed to get your claim approved for a roof replacement.
It's extremely important to take care of your roof and be diligent about documenting any concerning conditions. RoofCrafters provides annual or bi-annual maintenance specific to your needs. See our maintenance options through the image below.
If you're ready for an at-home inspection and for a professional roofing contractor to break down the damage for you, go ahead and drop RoofCrafters a line on our
contact page.
If you're not quite there yet and have a few more questions, feel free to browse the extensive resources listed in our
learning center. We recommend checking out our article:
At RoofCrafters, our mission is to provide job opportunities for others to thrive and grow while making a meaningful impact within our communities.