How Much Does a Roof Inspection Cost?
March , 2023 | 8 min. read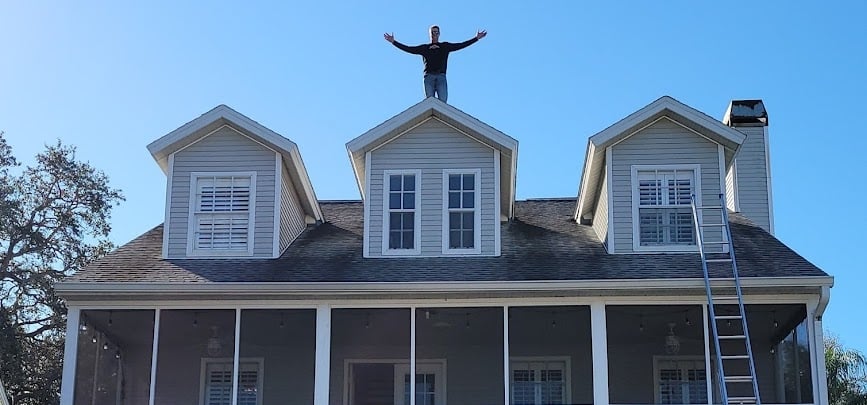 There could be several reasons why you could need a professional roof inspection. The most common reasons for needing a professional roof evaluation typically fall into one of three categories.
You have a roof leak.
You have storm damage or an older roof that may need replacing soon.
You are in the midst of a real estate transaction or need for insurance purposes.
Of course, there could be many other reasons to have a roof inspected but these are the typical reasons that we get called out to do a professional roof inspection.

No matter what the reason is, you come here looking for the cost of the roof inspection, right?

Well, I can assure you that you have come to the right place because we want to help you by answering all of your roof inspection questions.

Our family here at RoofCrafters Roofing has been providing professional roof inspections for nearly 3 decades. And we want to share our roof inspection experience and knowledge so that hopefully you have a better understanding of what is included in a roof inspection and what you can expect a professionally written roof inspection to cost you.

By the end of this article, you will know:

How much does a roof inspection cost?

What impacts the cost of a roof inspection?
What are the different types of roof inspections?
What a professional roofer looks for during a roof inspection?
How long does a roof inspection take?
And hopefully, by the end of this article you will have a clear understanding of roof inspections and also have the fairest answer to, "How much does a roof inspection cost?"
If you have a roof leak and are wondering can you claim it on you insurance we put together a short video you can check out below.
Let's get started on our roof inspection educational journey, shall we?


How Much Will a Roof Inspection Cost?
Well, depending on what type of roof inspection you are needing your cost can vary between $250 and $800.
And this is assuming that you are looking for a professionally written roof inspection, not a roof inspection by "Tank-Top-Tommy" or "Chuck-in-a-truck."
Now you may be thinking, well that is a big price difference and you are not wrong, so stick with me and let me go over the factors that will impact the cost of a professional roof inspection.
What Impacts the Cost of a Roof Inspection?
The cost of your roof inspection will be determined by the type of roof inspection your local roofing contractor performs, the size and type of materials on your roof, and the difficulty of the inspection.
The bigger the roof, the more it may cost you.
The steeper and more difficult the access to the roof, the more it may cost you.
The more detailed the inspection, the more it may cost you.
What are the Different Types of Roof Inspections?
There are 3 types of roof inspection for residential and commercial roofs.
Physical Inspection

is the most popular. This is where your local roofing contractor will go on your roof and do a visual roof inspection. They will document all their findings for you. The average cost of a physical roof inspection is $250 to $500.





Drone Inspection

s have become more popular as technology has gotten better. Drone inspections are popular on homes that have `specialty roofing. Such as barrel tiles, wood shakes, and slate roofs. This removes the chance of causing damage to the roofing during an inspection. Drone inspections are great on very steep roofs and hard-to-walk roofs too. The average cost of a drone roof inspection is $350 to $650.




Infrared Inspections are commonly done on commercial roof inspections to determine if the roof has been leaking and has any water-damaged insulation under the old roofing. They can be used on residential roof inspections if needed. Sometimes areas with no attic will require infrared inspections to determine if the property has active leaks. The average cost of an infrared inspection can cost between $500 to $800.
5 Things Your Professional Roofing Contractor Will Look for During a Roof Inspection
During the roof inspection, your local roofer will be looking for signs of wear and tear on any of the roofing components and the overall lifespan remaining on your roofing materials.
They will also check to determine if your roof needs repairing or replacing to avoid any future roof leaks.
Condition of your decking & framing from the attic, going inside the attic to see the condition of the framing and decking ensures that your roof is solid.
Condition of your penetrations (pipes, chimneys, skylights & vents) these items are typically what require maintenance. Often times your roof does not need replacing to get more life out of it. By

performing maintenance

on these items you can prolong the life of your roof.
The integrity of your flashings, your metal flashings is what keeps all of the rain out of your home. Making sure that they are sound and secure and that they have not started to deteriorate or rust is essential to the health of your roof.
The lifespan left on your existing roof materials is a judgment call that takes an experienced professional roofer to estimate how many more years may or may not be left on your roofing materials. Having experienced and knowledge of different roof types is essential in getting a thorough and honest roof inspection.
Now that you know what your local roofing contractor will be looking for, let's discuss the time it will take to perform your roof inspection.
How Long Does a Professional Roof Inspection Take?
Great question. On an average-size home, a professional roof evaluation will take somewhere between 1 and 2 hours depending on the difficulty and accessibility.
On larger homes or commercial properties, you can expect a professional roof inspection to take 2 to 3 and even up to 4 hours depending on the type of inspection and all of the different factors we have discussed.
Remember, your professional roofing contractor will also need time to provide you with all the photographs and written documentation supporting all their findings. Many contractors will label the photos to highlight or point out any deficiencies so that you can easily see them and get them repaired.
Choosing the Right Roofing Contractor for Your Roof Inspection
Now that you know the 5 main things that your local professional contractor will be looking for and the time they will need to do a thorough roof inspection, keep in mind that there may be other conditions that they will need to cover during their visit to your property.
So, whether you have a roof leak, storm damage, or an older roof. Or maybe you need a written roof inspection report for your insurance company or a real estate transaction, we are here to help.
We know this is an important task and you want to choose the right contractor for the job.
If you are ready to schedule your roof our team here at RoofCrafters Roofing has been providing honest and thorough roof inspections for 29 years and you can count on our family to be transparent and professional. Our team will provide you with an honest roof evaluation. Followed by a written roof inspection report. If this sounds good and you are ready to move forward, go ahead and schedule your roof inspection here.
Or check out these resources:
At RoofCrafters, our mission is to provide job opportunities for others to thrive and grow while making a meaningful impact within our communities.