Can I Finance My Roofing Project?

Roof replacement is a big investment for most homeowners whether they have planned on it or not. The reality is that replacing your roof is one of the most expensive home improvements a homeowner can face.
Sooner or later you will have to replace your roof because even the best asphalt shingles can only last about 20 years. The problem is sometimes there are unexpected situations such as storm damage or faulty installation that may cause us to replace the roof sooner than expected.
Sadly, many homeowners who find themselves in these situations are unprepared. There's good news, though! Financing is available for your roof replacement.
When a roof replacement can't be put off any longer, many homeowners consider financing the new roof with the options of installments. The cost of an average roof replacement is around $7,000-$9,000, an expense many American homeowners can't afford out of pocket.
If this sounds familiar to your situation, don't worry! You're not alone. Since 2005, RoofCrafters has had ample experience helping homeowners finance their roof replacements. We are more than happy to walk you through the process.
The price of a new roof varies from one home to another, depending on several factors such as roof size, complexity, roof material, geographical area, and roofing contractor. This ultimately makes it even more difficult for some homeowners to save the right amount of money for a roof replacement.
The idea of financing a large and expensive home improvement project may seem overwhelming now, but by the end of this article, you will have mastered the ins and outs of financing a roof replacement, and what the next steps will look like for you.
We've also put together a short video to provide an overview of the financing options and the requirements needed to finance your roofing project, which you can watch below:
Consider Financing Your Upcoming Roof Project
Many Americans use financing options for all types of expensive purchases, and a roof replacement is no different. Even though the roof is one of the most important parts of the home, homeowners tend to forget about it. Far too often, they put off the necessary maintenance, repairs, and replacement until serious signs of damage appear.
If you have been saving for the "rainy days" that's great! However, for the most part, homeowners are unprepared when they have an emergency roof situation. In some cases where the insurance can cover some of the damage, you may still have to pay out of pocket with a hefty deductible that's not in your budget. When in this situation, consider financing your roof replacement.
The average homeowner likely has many more options for financing a roof replacement than they might realize. Government programs, home equity loans, and private financing are just a few of the options out there. Before you commit to any of them, it's essential to do your research to make a responsible financial decision for your new roof.
Benefits of Financing Your Roofing Project
There are many great benefits to financing your next roofing project including the following:
Low monthly payments. This allows you to make smaller payments you can handle over time rather than a large lump sum that might drain your available savings all at once. Depending on your payment terms and credit history, you may also be able to benefit from low-interest rates during the life of the loan.
Defer an upfront payment without interest. This gives you the option to delay a lump sum payment while still avoiding interest. These are loans with 0% financing up-front with no prepayment penalties. However, the loan should be paid off during a certain time period.
Delay payments. Some loans will allow you to put off payments for a set period. But once the time is up, you'll start making regular payments with an interest rate. This option comes in handy if you don't have the cash but need to take care of a roofing project as soon as possible for safety concerns.
Quick approval process. When you apply for roof financing, the process can be easy and seamless thanks to modern technology. You can apply online, through mobile apps, or call in. This completely takes away paperwork, but you have to provide an electronic signature. Once your information is reviewed, you'll get the approval notices within minutes.


Any homeowner who is interested in a roof replacement through financing should do ample research before making any financial commitments that they might later regret.
Gather Quotes From Different Roofing Companies
When you are looking to finance your roof replacement, you should consider getting at least three different quotes from your local roofers with solid credentials. If you notice a huge gap between all of the different quotes you got, find out the reasons behind these differences.
It is important to do some research because some roofers may use a different material than another, and while it may be more expensive, it would offer a higher quality roof that can sustain its lifespan.
A high-quality warranty can be cause for a price increase as well. On the bright side, you'll have peace of mind knowing the company stands by its work and will be available to fix it if something goes wrong.
Always be thorough when reviewing the quotes to determine the exact amount you must finance to complete your roof replacement, no matter how great the company may appear to be.
Determine The Available Financing Options For You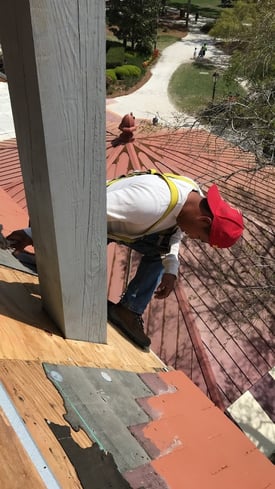 After you gather a few quotes from local roofing companies and have a better idea as to what your roof replacement can cost you, the next step is to look at your available financing options.
Typically the options with lower interest will be the go-to just like with any type of financing. Those options will give you lower monthly payments, making it easy for you to afford the payments over a period of time.
With financing options, it is also vital to consider prepayment penalties. Paying off the loan too early could result in penalties with certain financing agreements which is important to look out for. The early payoff can offset the interest the lender would have otherwise earned from your loan.
In that case, if you think you might be able to pay off your loan faster than the loan's term, choosing a financing option that does not have any prepayment penalties might be the best choice for you.
Will You Finance Your Next Roofing Project?
One last thing to help you make a decision - before you decide which financing option would work for you, find out how soon you need the money. It will also help to know how quickly you can secure the financing you need.
A good roofing contractor can tell you how soon you need to arrange your roof replacement to avoid further damage to your home. This information will give you a better idea of what you are risking if you wait longer for your preferred type of financing.
RoofCrafters offers financing options, and we're eager to help you get started on your next roofing project. If you're inquiring about financing your roof, curious as to what the best option is for you, or simply have a few questions, drop us a line on our contact page, and one of our friendly experts will be in touch.