What You Need to Know About Professional Roof Inspections
September , 2023 | 6 min. read
By Kevin Mills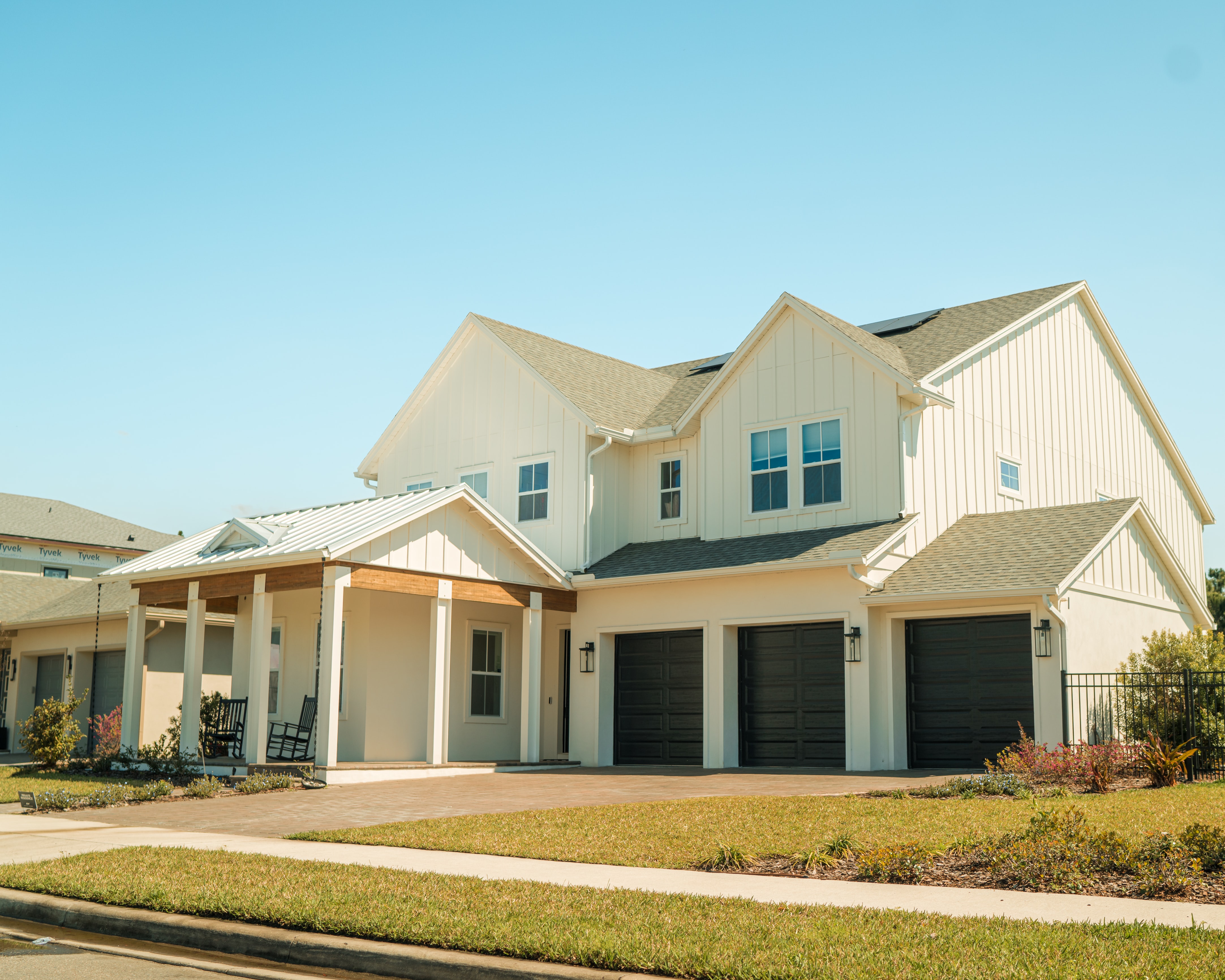 Out of sight out of mind has always been a favorite philosophy of mine, and it works for the most part. Until it doesn't. The same philosophy can be applied to your roof. It's all the way up there, you can only see certain parts of it, and if the parts you can see look decent, you put the priority of roof upkeep at the bottom of your list. I get it, we've all done it.
That's all fine and dandy until you're lying in bed after a long day at work and start to feel water drip, drip, dripping onto your forehead from the ceiling above you. I'll bet that roof inspection will go to the top of your list now, right?
At RoofCrafters, we've been inspecting, repairing, and replacing roofs for nearly 3 decades, and we know all too well that the better half of the roofing issues we see could've been avoided by having a proper professional inspection that then allows your contractor to catch these pesky problems before they worsen.
So, what happens now? If you're ready for your next roof inspection, but you're not quite sure what to expect, rest assured that you're in the right place. In this article, you'll learn why professional inspections are so important, when to schedule them, and what occurs during and after your inspection. So, let's get started!
Why Are Professional Roof Inspections Important?
Professional roof inspections are important for many reasons. The main reason is that your contractor can spot problems that you, as the homeowner, cannot. Sure, your neighbors and you can see the visible issues like missing shingles or a damaged ventilation system, but what about the damages that you can't see without climbing the roof?
Do you risk it and get on the ladder yourself without proper safety equipment? I think not. I am confident that you're trained and talented in your line of work, however, unless you're a professional roofing contractor yourself, you won't know what to look for while you're up there anyway, because most damages are not visible to the untrained eye.
Professional roofing inspections are incredibly important to the health of the rest of your home as well. When your contractor enters your attic, they'll be able to diagnose if your ventilation system is working properly or not. They'll also be able to conduct a comprehensive inspection on top of your roof to make sure everything is up to par. If you believe your roof to be damaged, it's important that you reach out to a reputable roofing contractor as soon as possible for an inspection, and remember not to partake in a DIY project.
When Should I Schedule My Roof Inspection?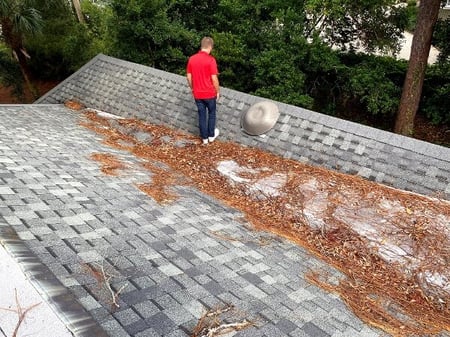 It's always a good idea to schedule a roofing inspection after a significant weather event, such as a hail storm, wind storm, or even a thunderstorm that you feel could've caused some damage. However, bad weather isn't the only time you should be considering the health of your roof.
It's kind of like going to the doctor for a checkup. You use this as a preventative measure to make sure your body is working the way it should be. Well, inspections are the same way. You should have your roof "checkup" at least once a year, but ideally, every six months if possible.
The most vital time of year to have your roof inspected is before the cold sets in. RoofCrafters is a tri-state company based in the Southeast, but believe it or not, we see some frigid temperatures of our own in the winter seasons. Dropping temperatures can impact the success of fresh roof repairs or installations by affecting the sealing rate of the shingles. If falling temperatures are cause for concern by your contractor, they may opt to wait until spring to fix your problem, and that helps no one. So, schedule that inspection as soon as possible, people!
What To Expect During Your Roof Inspection
Alright, so what happens during the inspection? Here are the steps your contractor will take during their inspections:
Visual inspection
Structural inspection
Material inspection
Workmanship inspection
Visual Inspection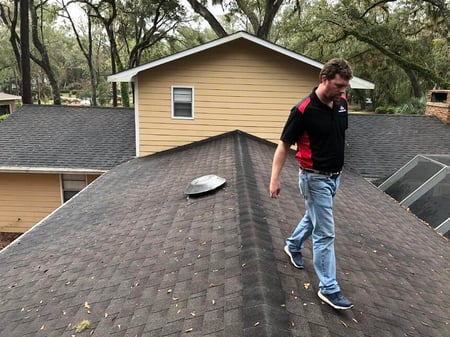 Your contractor will start with a visual inspection. They'll look for leaks, out-of-the-ordinary wear and tear, windblown or storm damage, organic growths such as moss and other debris, and other problems that may have occurred during the shingle installation or by other repairs you may have had.
Structural Inspection
During the structural inspection, your contractor will enter your attic as well as walk the top of your roof. During this part of the inspection, they'll check for signs of sagging and uneven roof planes. In addition to this, they'll examine the condition of your gutter systems, as well as the fascia and the soffit. If you have a masonry chimney, this should also be inspected at this time and thoroughly checked for cracks, damaged chimney caps, and crumbling grout. While in the attic, your contractor will check for proper venting. If the vent system is operating improperly, this can cause moisture and heat to build up, which in turn will decrease the lifespan of your roof.
Material Inspection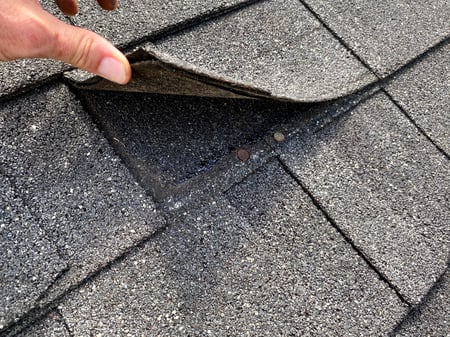 During the material inspection, your contractor is going to walk your roof and look for any loose, curled, or missing shingles. They'll also keep an eye out for staining, rusting, moss growth, and any missing fasteners or damaged flashing. If they see any loose mineral granules or aggregate from your shingles settled into the roof valleys or even in your gutters, this is a sign that your roof is nearing the end of its life and it may be time to consider a replacement. Lastly, they'll check to make sure the rubber boots and seals around your vent pipes are in good working condition, and that there isn't any deterioration or visible gaps.
Interior Inspection
Your contractor will check inside of your home for any signs of roof damage. Roof leaks ultimately cause damage to your home, so on top of your attic, they'll want to check your interior ceilings and walls for any mold, water staining, rotting, and other signs that water could've made its way into your home.
Workmanship Inspection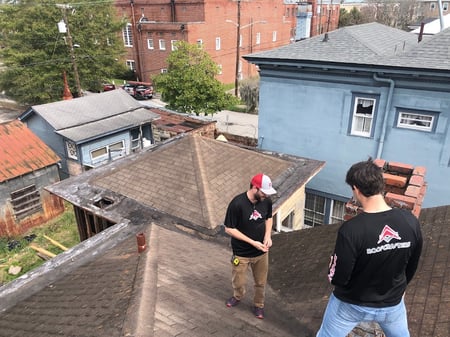 Last but not least comes the workmanship inspection. Any thorough contractor will want to examine your roof for problems in workmanship. No, we're not just scoping out the competition's work. We want to see if your roof was installed or repaired properly, that the repairs are holding, and that the installation is up to par. If not, this could mean that you're at risk for future leaks or other damage due to shoddy workmanship. If your contractor sees something such as incorrect flashing around your vent pipes, chimney, or skylights, this may be cause for concern.
What Happens After My Roof Inspection?
After your inspection is complete, your contractor will either give you a clean bill of health, or they'll give you a rundown of any problems they may have come across during their walkthrough. Don't panic! The good news is that you were proactive and had your roof inspection on time, and because of that, your contractor has detected damage before it has the chance to worsen.
In turn, you'll be saving a lot of money down the road when you have your professional inspections completed on time, and who doesn't like saving money? Now that you know the ins and outs of what to expect before, during, and after your roof inspection, it's time to give that local contractor a call. If you're in the Georgia, Florida, or South Carolina areas, drop us a line on our contact page. Our experts are eager to help you understand your roofing needs.
In the meantime, be sure to check out our learning center. There, you can find all of the hot topics your neighbors are talking about. That's right, you have access to insider roofing information right at your fingertips, anytime, anywhere. I recommend reading "Should I Maintain My Roof?" next so that you can learn how to prevent roof damage before it has the chance to happen.
My name is Kevin Mills, and I am the lead estimator for RoofCrafters' Tampa division. I'm originally from Michigan, and I enjoy hunting, fishing, and spending any free time outdoors. What I'm most passionate about, though, is helping business owners and homeowners alike achieve their roofing goals, all while providing a seamless customer journey.