What Does a Roof Leak Look Like?
December , 2022 | 7 min. read
By David Toth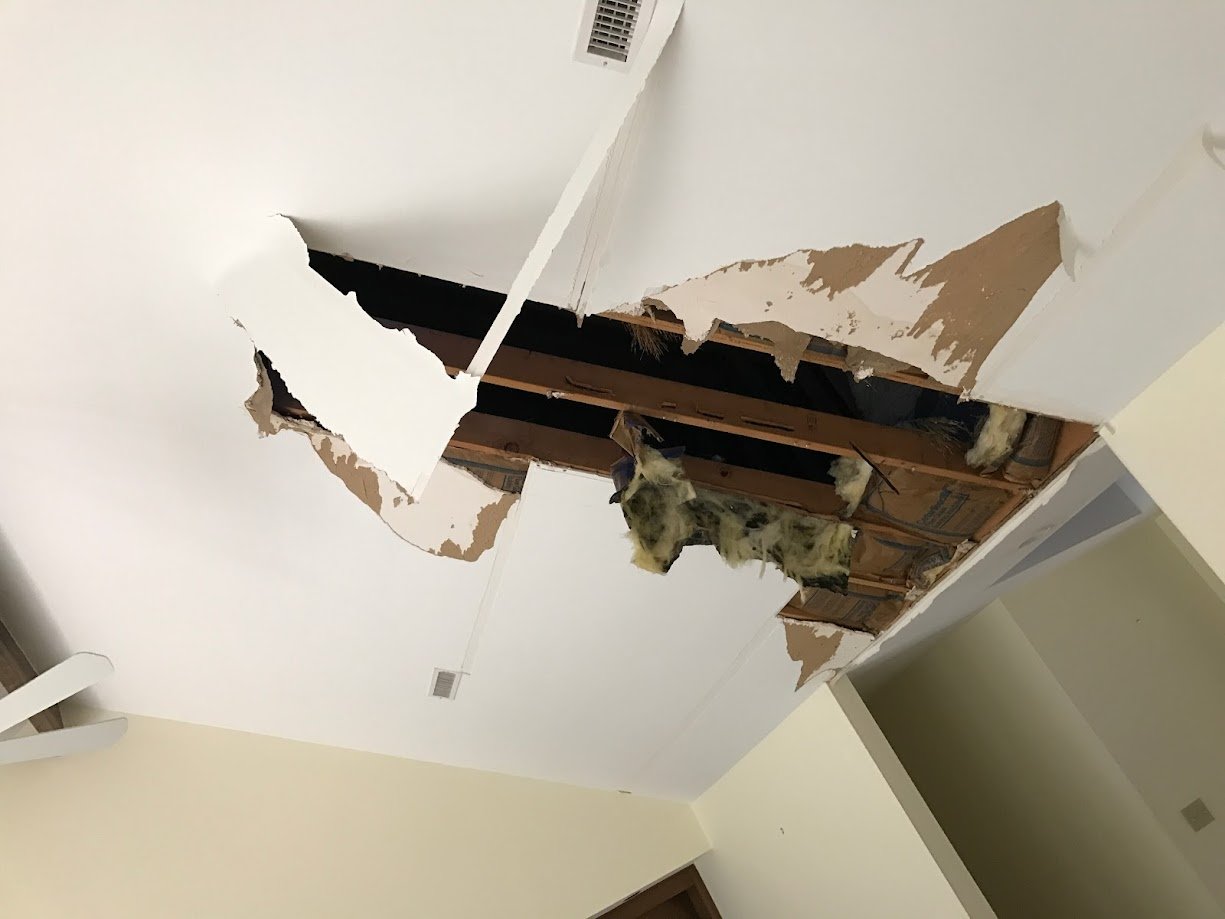 When we think of roof leaks, we tend to think of all kinds of pots and pans collecting water under several different spouts coming out from the ceiling. Although this is certainly a possibility, roof leaks rarely show themselves in this dramatic of fashion. Oftentimes, they're slow-moving and creep up on us when we least expect them to, kind of like Aunt Linda at Thanksgiving.
At RoofCrafters, we know that roof leaks can come in all different shapes and sizes, as well as give us all kinds of warning signs. We've been helping homeowners like you repair their roof leaks for nearly 30 years, so we've pretty much seen it all.
If you're reading this blog post, you probably suspect you have some sort of leak, and you're wondering what to look out for. Lucky for you, you're right where you need to be. In this article, you'll learn what a roof leak looks like, and some warning signs you may have a leak. So, let's jump right in.
What Does a Roof Leak Look Like?
There is no unified sign that you have a leaky roof. Depending on a roof's age, maintenance, and material, it can show many signs of leaking. Regardless of what it looks like, a leaking roof can damage the interior of your home, short out electrical wiring, and cause mold. Here are some of the most common indicators you have a roof leak:
Mold on Your Roof or Ceiling
One of your house's biggest enemies is mold. Mold build-up occurs during the rainy season and grows on your roof's surface or on the junction where the exterior wall meets the roof. Over time, this can lead to wood rot and damage the interior of your home.
In some cases, mold starts growing in window frames and goes unnoticed while it continues to destroy your home. Be proactive and make sure to inspect your home frequently.
Clogged or Rusted Gutters
Any damage to the gutters hampers their ability to drain water away from your roof. To prevent water from pooling on the roof, inspect the gutters and ensure they aren't rusting. If the gutters get clogged, water will stagnate on your roof and soak into your home.
Stains on the Ceiling
Ceiling stains are easy to identify as they are discolored spots that may have a bumpy texture. They are also a sign that water has leaked in through your roof, and you should call a roofer to prevent further damage to your home.
Wet or Rusty Pipes
Look for any wet or rusty pipes inside your house. Damp pipes indicate a gap in their installation that allows rainwater to enter through the roof. If you notice wet pipes in the attic of your home, call a roofer immediately.
Missing or Curled Roof Shingles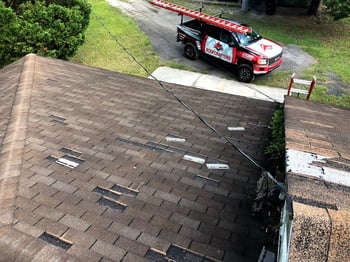 Ideally, you should call a contractor to inspect your roof twice a year to ensure that everything is in good shape. However, we advise visually inspecting your building every month and calling a roofer to inspect it after harsh weather conditions.
If you notice a roof shingle missing or deformed during a visual inspection, call a roofer to avoid any further roof leaks. Without shingles, your roof will lose its waterproofing, so make sure that you replace missing or damaged ones on time.
Water Drips
The most obvious sign that your roof is leaking is if it drips. During rainstorms, your roof might start leaking, sometimes even requiring you to bring a bucket to collect water. However, leaks are not always consistent; some might occur during specific weather conditions.
Regardless of the type of drip, immediately call a roofer to come and inspect the roof and ensure that you take preventative measures such as covering the leak up with a tarp until the work can be scheduled.
Damaged Roof Vents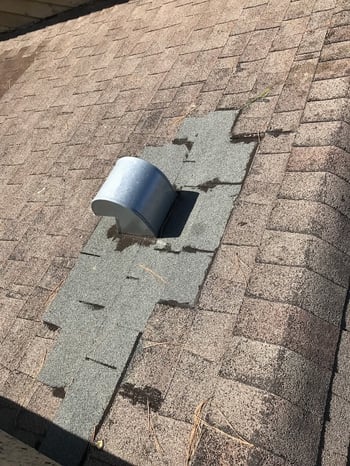 Vents are great for keeping air circulating through your house, but you know what's not great? Broken vents. It might seem tempting to repair broken vents; however, this is a short-term solution and can cause your roof to leak. Moisture and rainwater seep in through broken vents and damage your home, so you should have a contractor replace them at the earliest to prevent further damage.
Improper Roof Installation
Always ensure that you hire an experienced roofer for the job. An inexperienced roofing contractor might get the job done at a lower price; however, they might damage the roof or install it incorrectly, leading to expensive and time-consuming repairs.
Signs of improper roof installation include:
Poor alignment
Gaps in the roof
Stains
Lack of symmetry
Missing roofing
Holes in roof
It is common to drill holes in shingles to mount outdoor HVAC units, solar panels, or satellite dishes. In any case, these holes allow moisture to seep into the roof and collect below the shingles, causing mold, mildew, and leaks.
Damaged Chimney Flashing
Ensure that you inspect the chimney when you inspect your roof to diagnose and prevent chimney-related issues. This inspection includes checking the chimney cap, looking for cracks on its siding, and inspecting the flashing.
Lack of Maintenance
If you asked us, "What does a roof leak look like?" In its most obvious state, we'd say it looks like some form of water getting into your home. You should have a maintenance schedule for your roof and follow it because a failing or poor maintenance roof can be dangerous for your home and all your belongings.
Always have a professional inspect your roof to ensure that everything is alright and will be ready and healthy enough to weather the next rainstorm. Remember that you can't claim damages for anything damaged by a faulty roof installation or a leaking roof if your insurance provider finds the cause to be negligence.
Roof's Age
Every roof has a lifespan. Most roofs last for 20 years; however, more premium materials can last up to a century with the proper maintenance. Ensure that you change your roof when it reaches its expected lifespan to prevent possible leaks.
Do I Have a Roof Leak?
If you thought "hey, that sounds like my home!" to any of the tell-tale signs mentioned above, there's a pretty good chance that you have a roof leak. If you're unsure, it's better to be safe than sorry. Learn the expected cost of your leak in our article, "How Much Does It Cost to Repair a Leaky Roof?" Nip this potential problem in the bud and call a professional roofing contractor to come out and have a look at your roof.
Now that you have a pretty good idea of what a roof leak looks like and what some of the warning signs are, you should be feeling confident about your next steps. When you're ready to schedule your inspection, go ahead and drop RoofCrafters a line on our contact us page. One of our friendly experts will be in touch with you shortly.
If you're not quite ready to schedule an inspection, feel free to browse through the extensive resources available to you in our learning center.
My name is David Toth and I am the lead estimator in North Florida with RoofCrafters Roofing. Originally from New Brunswick, I have called Florida home for the past 47 years. I enjoy cooking along with traveling to different historical areas in Florida when I have free time.