Roof Loans 101: Rates, Payments, and How To Get Financing
September , 2022 | 7 min. read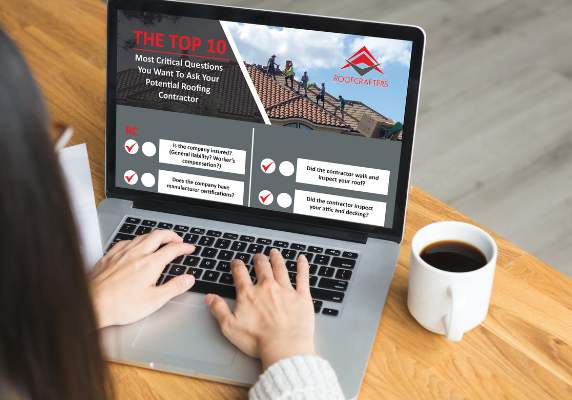 A roof replacement can be an unexpected and expensive project.
If you are considering a residential roof replacement and have a realistic expectation of how much it will cost. The next step is to explore the various roof financing options available to you.
Here at RoofCrafters Roofing, we've helped thousands of homeowners over the past 3 decades. By protecting their assets with the roof of their dreams without breaking the bank. No less, a challenge with roofing being so expensive.
We did this by installing high-quality roofing materials. Such as metal roofing, tile, synthetic slate, or lifetime asphalt shingles. However, we also helped them by answering their roof financing questions. And then directing them to the right financial institution that specializes in home improvement loans.
If you find yourself in need of more information about roof financing, you're in luck. We're going to answer the most common question we get asked about roof loans.
Let's dive right in!
What Should I Know About Roof Loans?
Roof loans are available in amounts up to $50,000. The loans are no money down, simple interest with no early payoff penalties.
Roof loan interest rates range from 5.99% to 9.99%. The loan terms are 60 months, 120 months, or 144 months. For example, for a roof that cost $20,000, your monthly payment would be $464 for 60 months, $268 for 120 months, or $238 for 144 months with no down payment.

For a roof that cost $15,000, the monthly payment would be $318 for 60 months, $198 for 120 months, or $179 for 144 months, with no down payment.

Most homeowners in the United States go with a 10-year loan which is a 120-month term loan. It's the most popular roof loan. This loan provides homeowners with more flexibility. Remember, there is no penalty if you choose to pay the loan off early. A roof loan is a simple interest loan.
To provide homeowners living in Florida, Georgia, or South Carolina, we've partnered with Sunlight Financial. We can offer some of the best roof loans available. Sunlight provides flexible payment options and a frictionless home improvement loan experience. They also give elite support from loan approval to project completion and beyond.
As I mentioned, Sunlight loans can be paid off early with no prepayment penalties.
What are the Interest Rates for Roof Loans?
Roof loan interest rates have remained stable even in our super-inflated post-pandemic conditions. Roof loan rates with our partners at Sunlight Financial start at 5.99% and go up to 9.99% for most roof loan rate plans.
The rate that you qualify for will be determined by your credit score and your household debt-to-income ratio.
What do Roof Loan Financial Lending Companies Consider "Good Credit"?
Instead of only discussing "good credit" in this section, let's go over the brackets used for credit score standings. This will provide you with a broader understanding of credit score standings.
720 and up is an excellent credit score
You shouldn't have any trouble getting your roof financed with this credit score in this range.
You'll also qualify for a roof loan with lower interest rates.
660 to 719 is a good credit score
You will be approved to borrow more money, which may result in a no-money roof loan.
You'll also qualify for lower interest rates.
600 to 659 is a fair credit score
You may not be able to borrow as much money as a good credit customer, which means you may be required to put some money down to qualify for your roof loan.
You will still get better interest rates than a poor credit customer.
599 and under is a poor credit score
You may be required to put more money down
You'll likely only qualify for particular loans at higher interest rates
Keep in mind that lenders want to see a positive payment history with only a few late payments. Lenders will also consider your debt-to-income ratio. To make sure you are not overleveraged for your total family household income. A good number for the debt-to-income ratio is 55% debt to your total household income.
One of the best parts about applying for a roof loan through RoofCrafters Roofing using our partners at Sunlight is they offer pre-qualifying. That means they are able to conditionally approve you without any impact on your credit score.
Sunlight is able to do this by doing what is called a soft pull, which is a "soft credit" check. No social security number or financial documents are required to do a soft credit pull. In most cases, your name, your address, and your phone number are all that is required to get you pre-qualified for your roof loan.
Once you have been pre-qualified, you will be ready to proceed with the roof loan. After being pre-qualified we can determine your monthly payments. Once we have a plan that fits your budget we will have them proceed with the full application.
What to do if You Have Poor Credit?
Raise your credit score
Apply for a "special" poor credit loan
Find a co-signer or co-applicant
Get a secured loan
1. Raise your credit score
It's good to get your credit score as high as you can. The higher your credit score the lower your interest rate will be for your roof loan.
The fastest way to raise your credit is to pay off debt. You can check for errors and dispute them or hire a credit repair service and allow them to handle increasing your credit score.
2. Apply for a "special" poor credit loan
There are some lending companies that offer special loans for borrowers who have low credit. You can expect to pay higher interest rates for these roof loans. The good news is you can still get the new roof. And when you pay off these higher-interest loans it'll raise your credit for the next time you need to borrow money.
To make financing available for applicants with lower credit scores. Our partners at Sunlight Financial have a special program. If you get denied roof financing because of your credit score or your debt-to-income ratio you may still be eligible for a special loan. You'll be required to meet their qualifications for this loan type.
3. Find a cosigner or co-applicant
If you have a cosigner or co-applicant that person can help you qualify for the roof loan. They may help you qualify to get a better interest rate too.
Having a cosigner is another way to get your roof financed. They could help you get a much better loan agreement if your credit score is too low.
4. Get a secured loan
You could get a secured equity loan from your local credit union or your bank using the equity in your home, auto, or some other collateral.
Home equity line of credit (HELOC)
Borrow against your 401K
Auto line of credit
These are just a few of the more frequently used options for getting a secured loan.
What Information is Required to Get Approved for Roof Financing?
Full legal name
Address of your home
Social Security # matching legal name
Total Household Income (may require W-2s or tax returns)
Can I Finance a Portion of my Roofing Project with a Roof Loan?
Yes, many of our clients choose to finance only a portion of their roofing projects. Once you are qualified, you can finance as much or as little of your roofing project as you prefer.
Keep in mind, If you choose to pay off the roof loan early there are no prepayment penalties with this type of home improvement loan. Paying off a simple interest loan early will save you money in the long run.
We hope the information we've provided you has helped you understand more about what's involved with roof loans and roof financing. If you decide you are ready to move forward and want to get pre-qualified, visit our financing page and click the get pre-qualified button. Then fill out the short form and submit your info and one of our service representatives will contact you right away.
If you'd like to learn why so many of our clients are changing to metal roofs check out what is the best metal roof to install on your home.
If you have any other questions about financing your roof, our family at RoofCrafters Roofing is here to help. We want to be a part of helping you make the best decision for protecting you and your family.
At RoofCrafters, our mission is to provide job opportunities for others to thrive and grow while making a meaningful impact within our communities.