Which Type of Roof Is Best for My Home?
May , 2023 | 9 min. read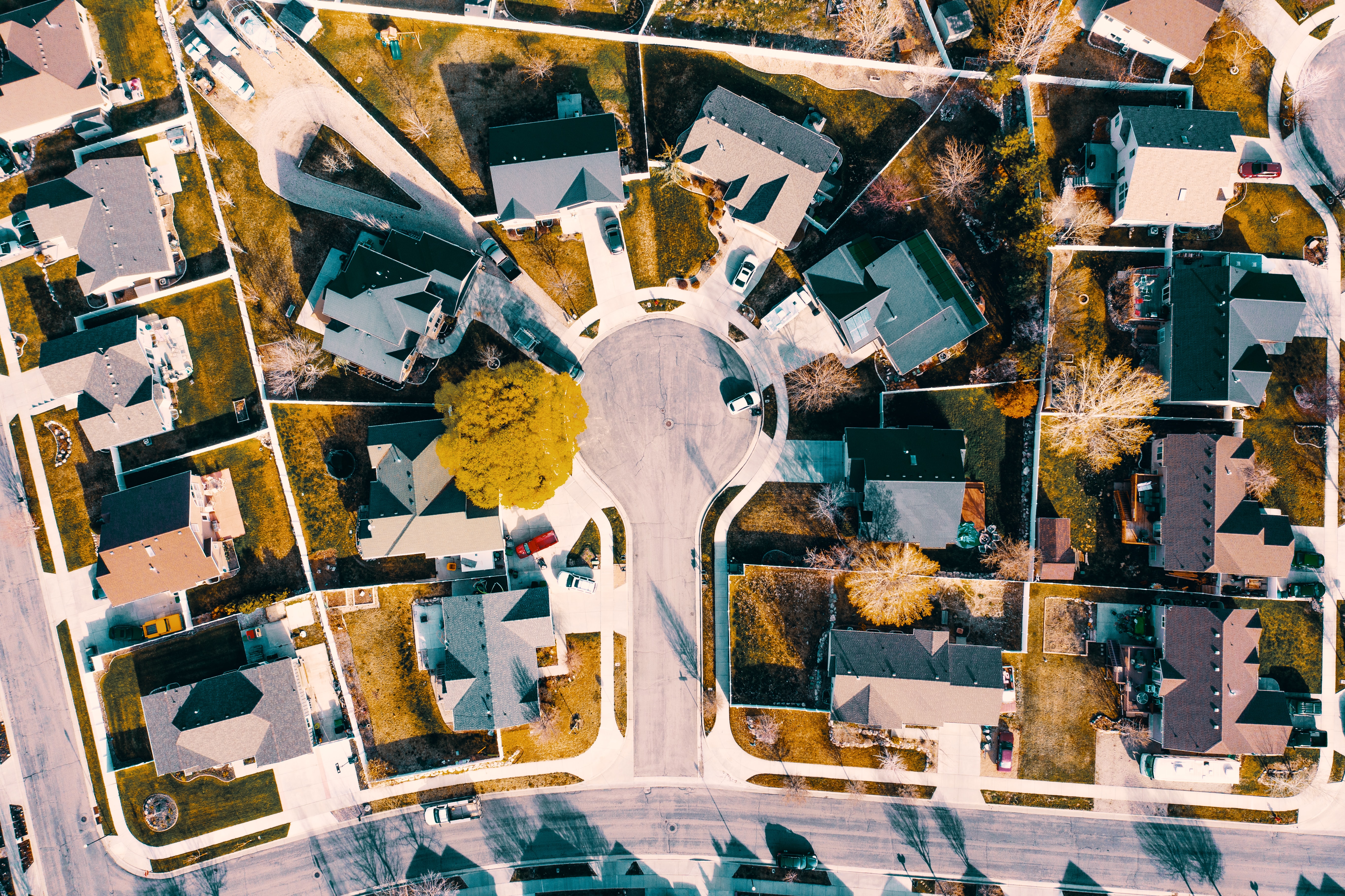 Choosing a roof that's best suited to your home and one that fits your design demands isn't as hard as it may seem. Sure, it may not be as easy as opening up a catalog and saying, "I want that one!" and a beautiful new roof appears out of thin air. Although, that would be pretty cool. But the decision doesn't have to be overly time-consuming or mentally taxing either.
Think of it as an accessory. Who doesn't love to buy a new pair of sunglasses? Or that watch that you've been eyeing for months? Just like these things, your roof is your home's accessory, and investing in a great one doesn't have to be stressful or inconvenient.
For the past 28 years, RoofCrafters has been helping homeowners choose their home's latest accessories with ease. It's so painless that you'll even want to buy a second home for the sole purpose of installing another roof. Okay, okay, maybe not. We promise you, though, that the process is a breeze.
When it comes time to choose the best type of roofing for your home, there are a few different factors involved. So, we've written this article to help guide you through the decision-making process. Here, you'll learn about the 5 types of residential roofing materials available for installation and the unique qualities of each of them in order to help you decide the very best fit.
Which Type of Roofing Will Be Best for My Home?
There are 5 different types of residential roofing systems that the experts at RoofCrafters install. They're known as:
Flat and Low Slope
Each of these roofs serves a different purpose for different homes and people. Someone who chooses shingles may like the many types of style choices, just as someone who chooses metal may have a preference for the way the rain sounds when it comes down on their roof.
Although preferences are extremely important to someone who's about to dish out some serious cash on a new roof installation, the structural needs of the home are at the forefront of the decision-making process.
The same person who wants a metal roof may not be able to invest in that material because of its weight, and the person who wants shingles may have a home that's better suited for wood and slate roofing. It all comes down to what the contractor advises to do after the initial inspection. Now that we know there's more to it than just choosing a design, let's get into the 5 different types of roofing.
Flat and Low Slope Roofing
A flat roof is almost flat or slightly pitched, unlike other traditional roofing structures that are usually sloped. What's great about this roofing system is that these roofing structures do an amazing job of keeping out the heat and are pretty easy to build.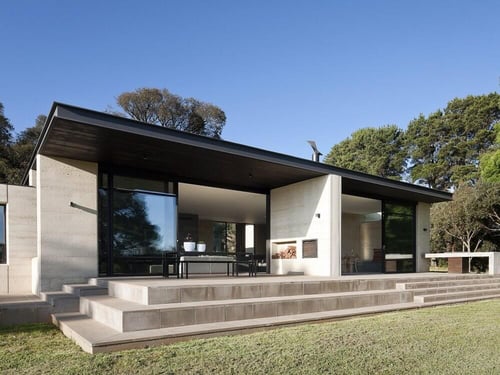 Typically, any roof that has less than 10 degrees of slope is considered flat. They are self-adhering, which means no nail penetrations are needed. The granulated surface of flat roofs does not need additional coatings over the years to maintain the surface of your roof unless there has been major storm damage.
Flat and low-slope roofing offers 3 different materials. These are known as:
Single-Ply Roofing.

Regarding flat roofing materials, single-ply roofing membranes are one of the most popular options as they are lightweight, cost-effective, and allow fast-track construction. The three most common types of single-ply low-slope roof membranes are EPDM, PVC, and TPO.

Modified Bitumen Roofing.

Another common material for residential low-slope systems is modified bitumen that combines hot asphalt with plastic and rubber additives. This material is then layered between sheets of fiberglass or polyester. The total lifespan of this flat roof material depends largely on the number of layers installed.

Built-Up Roofing.

Built-up roofs are a popular option that is made up of alternating layers of roofing felt or fiberglass and asphalt that is applied with heat. These layers combine seamlessly to build a durable and sturdy roofing system.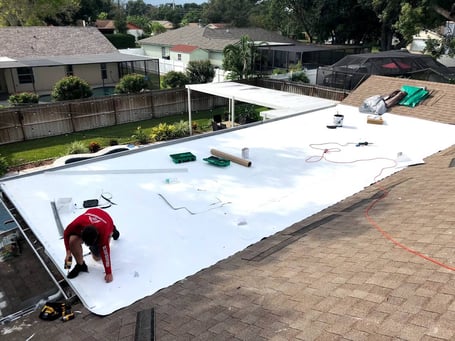 Flat and low slope roofing offers some amazing benefits to its homeowner. It's relatively inexpensive compared to other roofing systems which will save you more cash in the long run. Not to mention, the installation, as well as maintenance, is well within budget.
They're fairly convenient to install, so that means you'll get a great-looking roof in a short amount of time. Post-installation, you'll see that you have a considerable amount of additional storage space. This space can be used for things like HVAC units, solar panels, water supply, or even a roof garden. Flat and low-slope roofing is a fantastic option that every homeowner should consider.
Shingles
Asphalt shingles are a type of waterproof roofing material. Its relatively inexpensive cost in addition to its longevity and durability makes it the most popular type of roofing in North America.
Asphalt shingles come in numerous styles and colors and would be the perfect addition to any home. These shingles are made up of a base mat on the bottom, a layer of waterproof asphalt in the middle, and ceramic granules on top. The granules are what provide these shingles with the many different colors that you can choose from to fit the vision you have for your home.
There are three different types of asphalt shingles that you can choose from. These are known as:
Three-Tab Shingles.

Three-tab shingles are the most basic form of shingles and get their name from the way they are cut and installed. They are made out of a single layer of asphalt and then cut into strips. They are also the lightest type of shingle, therefore they are far more affordable than architectural and designer shingles.




Architectural Shingles.

This is the most common type of asphalt shingle roof. During the manufacturing process, the base mats are given two or more layers to create a multi-dimensional appearance on your roof. Because of these extra layers and weight added, architectural shingles are particularly durable. There are two different grades of architectural shingles you can choose from, and these are known as regular and upgraded.




Designer Shingles.

Designer shingles are also referred to as luxury shingles and are the highest quality type of asphalt shingles on the market. These shingles stand out due to their high level of functionality and their beautiful appearance, they add to your home.
Each of these shingles performs a different function depending on what look or purpose you may want your roof to serve.
Tile Roofing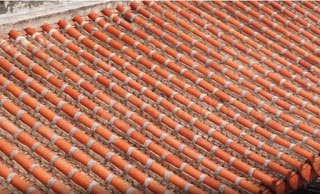 Tile roofing is distinctive, beautiful, and sustainable, which makes it the roofing material of choice for residential properties. The rustic and classic look it offers to a property has been highly valued for a very long time. With the addition of a wide variety of shapes, profiles, and colors for endless decorative possibilities, tiles have remained a classic roofing option.
Tile roofs are incredibly versatile and durable, making them not only a stylish option but one that will keep you and your family safe, too. The storm resistance on this material is incredible, which is important for those living in regions with extreme weather conditions.
Wood and Slate Roofing
If you're looking for a rustic aesthetic, a wooden roof might be an excellent option for you. Due to their rarity, wooden roofs make your home stand out. Although RoofCrafters doesn't install this type of roof very often, they're beautiful nonetheless with many different perks.
Wood and slate roofs are incredibly sustainable and are perfect for those concerned about their carbon footprint. They also save you cash long-term, as they are far more durable than any other type of roof.
Wood is an excellent insulator, so you'll see your electricity bills reduced. Not to mention, the maintenance is incredibly easy and cost-efficient. The wooden materials and shingles are easier to replace than other roofing materials, so if you're ever in need of a roof repair, not to worry. Your repair will go smoothly, and be finished before you know it.
Metal Roofing
A metal roof is composed of metal tiles stitched together which form a seamless design. You have a variety of materials to choose from when you buy a metal roof:
Copper
Tin
Aluminum
Steel
Galvalume
You can customize the look of your home by investing in a metal roof. Available in multiple colors and designs, you can pick exactly how your home looks. You'll stay cool in the summer and warm in the winter, and relish in the fact that your electricity bills have lessened.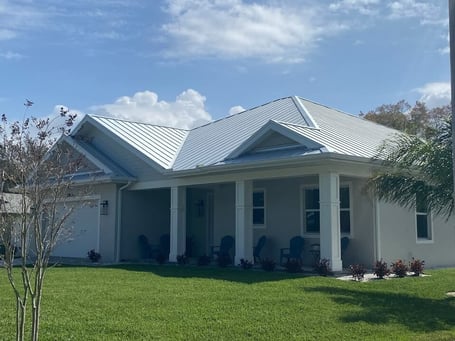 Metal roofs are extremely durable, offering unmatched protection. Metal roofs are strong and highly resistant. Opting for a metal roof protects your house from strong winds, rain, snow, and hail, but also hampers mold growth. As metals are hard materials, they can withstand the harshest weather without taking damage. These roofs are fantastic for homes in regions with extreme weather.
Which Type of Roofing Should I Choose?
Whew, that was a lot of information. As the article says, choosing the roof that's best suited for you and your home is going to depend on many different factors. This article provided you with a bit more clarity on why that is and further explained the different types of residential roofing systems.
Your next step is going to be calling a professional roofing contractor and scheduling an inspection. In the meantime, you should consider all of these choices when deciding which roof is best for your home, and discuss your options with the roofing expert when they arrive.
Whether you're looking for a roofing estimate or need aid in exploring the different types of roofing, RoofCrafters has your back. We're always here to help. While you're here, be sure to check out our pricing page for cost information regarding the materials listed in this article, and see our learning center for the answers to your questions.
My name is Cassie, and I'm the Content Manager here at RoofCrafters. I was born and raised in Chicago, Illinois, and made my way out to Florida post-college graduation. I'm incredibly passionate about writing and creating valuable content that helps others with the collaboration of my marketing team. When I'm not working, I enjoy shopping (a little too much), spending time at the beach, and reading!