What Is a Manufacturer-Backed Shingle Warranty?
February , 2023 | 6 min. read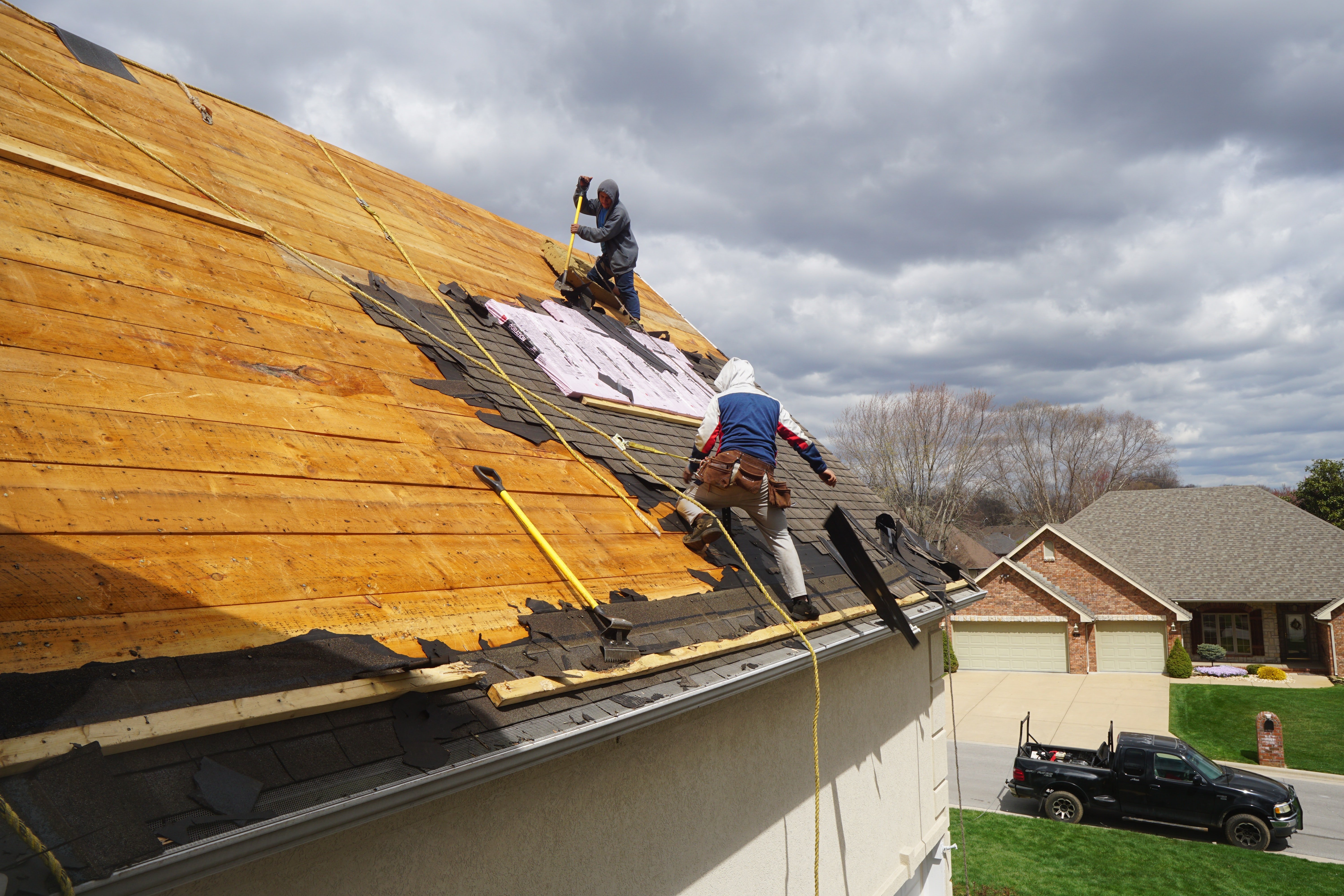 Replacing a roof is expensive. In fact, it's one of the most expensive maintenance items that any homeowner has to deal with if they stay in a home for any length of time. When you're looking to replace your roof, you want to know what you're getting for your money. In many cases, this boils down to the quality of materials, the workmanship, and the warranty. Unless you're keen on reading the fine print on these sorts of things, warranties can be difficult to understand. I mean, there are just so many different kinds!
We get it! Our family here at RoofCrafters is backed by all the leading manufacturers of roofing materials in the United States, and we have been providing homeowners just like you with the longest-lasting warranties available in the roofing industry since 1994, and we know all about the ins and outs of all warranties, including the fan favorite manufacturer-backed shingle warranty.
All of that being said, what exactly is a manufacturer-backed shingle warranty, and what does it mean for you? I'm glad you asked. If you're due for a new roof and you're particular about one of America's favorite materials, the asphalt shingle, you'll want to stick around. By the end of this article, you'll have a better understanding of what roofing warranties are in general, what a manufacturer-backed shingle warranty is and the different types, and understand what a non-prorated roofing warranty is. So, let's get started, shall we?
What is a Roofing Warranty?
The two main warranties available to homeowners installing a new roof are workmanship warranties and manufacturer warranties. A workmanship warranty works like insurance in the sense that it protects your investment from manufacturer defects and shoddy workmanship. Most roofing systems come with several warranties.
A manufacturer's warranty typically covers the shingles and underlayment for 20-50 years. If you purchase a material-only warranty, should the shingles or metal deteriorate before the warranty is up, the manufacturer would be required to replace them. We recommend that you read the fine print, most material-only roofing warranties are prorated after 5 years or 10 years depending on the materials and brand.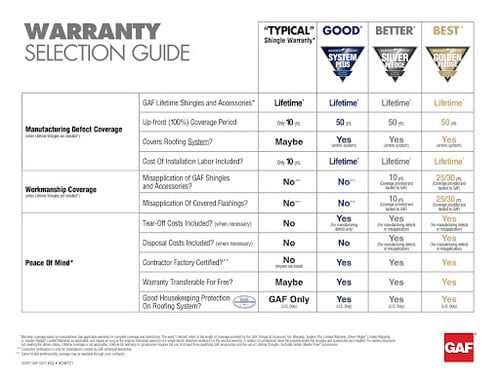 A workmanship warranty has to do with how well the roof system was installed. If your roof were to spring a leak after it was installed, this usually indicates poor workmanship. A labor-only warranty would require the roofing company to fix any leaks for a specified amount of time after it was installed. However, only a full-system warranty covers both labor and material defects.
This type of home roofing warranty typically covers things like shingles, underlayment, and flashings, along with other materials used in the installation of a roof. Full-system warranties cover the full cost of repairing leaks, including labor and material. As a result, this type of warranty is more expensive than either material-only or labor-only warranties. Well worth the peace of mind!
What Are the Different Types of Manufacturer-Backed Material Warranties Available for an Asphalt Shingle Roof?
The asphalt shingle warranty will come directly from the manufacturer that you choose to go with, hence the name "manufacturer-backed shingle warranty". Duh. So, whoever produced the materials you select will own the material warranty. A roofing material warranty will not ever come from the roofing contractor who installs the roof for you. As long as it's under the stated warranty period, the manufacturer has to make any repairs. So, if you've been looking around at shingles and trying to decide what brand of shingles to go with, you're probably even asking yourself, "what does this lifetime warranty really mean for me?"
It all depends on the manufacturer. It also depends on the roofing contractor that you choose to install that particular shingle manufacturer's materials on your home. Most manufacturers' lifetime warranties cover the replacement of the shingles only, should they become defective, lose their integrity or start to fail before the stated warranty period runs out.
In most cases, the stated warranty period that the shingle manufacturers provide 100% coverage is 10 years. This is called non-prorated warranty coverage. They do not cover poor workmanship under their standard material warranty. Say your roofer installs the shingles wrong, the manufacturer's material warranty does not cover the roofing contractor's faulty workmanship.
What Is a Non-Prorated Roofing Warranty?
The non-prorated portion of the warranty means that the manufacturer will be 100 percent responsible for repairing or replacing the defective materials. That means they'll cover 100% of the materials and labor for any defective shingles for the 10-year period. After the 10 years is up the warranty changes to a prorated warranty. A prorated portion of a lifetime warranty is calculated from the 10-year mark. This means that the manufacturer will only be responsible for the materials that become defective, they will not be responsible for any labor.
The materials will be prorated depending on how many years of life you got out of the shingles. It is calculated based on 50 years. For example, if you get 25 years of life, the manufacturer would prorate the warranty which means they owe you the other 25 years of materials . 25 years of material life that you should have got from their shingles. However, there is a way to avoid having this short 10-year non-prorated period.
Hire a local roofing company that's certified by one of these top manufacturers. These roofing contractors can provide you with a 50-year non-prorated warranty on the same lifetime shingles. This is how the top shingle manufacturers promote and reward local roofing contractors doing great work in the community. These local roofing contractors are required to keep all insurance policies. All licenses have to be kept up to date. They also must be in good standing paying their supply bills. Committed to providing their roofing installers with further training on a yearly basis. It's a win-win, you get a longer non-prorated warranty period and these roofing contractors are usually more experienced and better trained.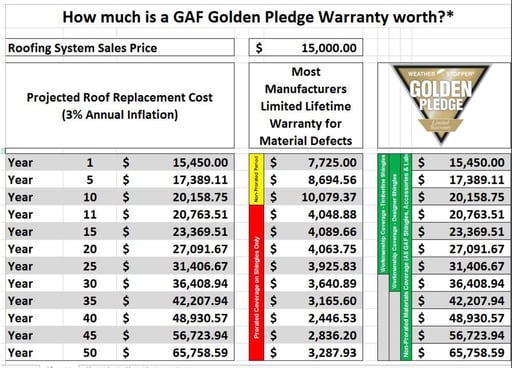 The top two shingle manufacturers both have a workmanship warranty that'll cover any leaks or faulty workmanship for 25 years. You can see GAF's warranties here and CertainTeed's warranties here. Both have a 25-year workmanship warranty. CertainTeed's is called a SureStart 5 Star Warranty and GAF's is called a Golden Pledge Warranty.
Is a Manufacturer-Backed Warranty the Right Choice for Me?
If you're in the market for a budget-friendly, yet aesthetically pleasing asphalt shingle roof, it's important to consider a manufacturer-backed warranty. As previously mentioned, while asphalt shingles are incredibly durable and a smart option for any homeowner, like all good things in this life, nothing can last forever. So, it's important to be diligent and make sure your roofing materials are covered by the manufacturer should you need any repairs during the warranty period.
If you're considering asphalt shingles for your upcoming roof replacement, get in touch with local roofing companies in your area and learn about the types of warranties they offer. They'll also be able to aid you with any questions or concerns you may have about the difference in their pricing, and will break down the process for you so that you can better understand what your roofing project will entail. That being said, it's necessary to acquire several different roofing estimates before choosing the company that's the best fit for your roofing needs.
If you're struggling to find the best contractor for the job, be sure to download "The Top 10 Most Critical Questions You Want to Ask Your Potential Roofing Contractor". This checklist includes several different prompts to ask your roofer to prepare you to hold the company accountable for its quality of work and services when it comes to your upcoming roofing project. In the meantime, check out our article, "What Is a Lifetime Asphalt Shingle Roof Warranty?" for a closer look at lifetime roofing warranties on your material of choice.
My name is Cassie, and I'm the Content Manager here at RoofCrafters. I was born and raised in Chicago, Illinois, and made my way out to Florida post-college graduation in 2021. I'm incredibly passionate about writing and creating valuable content with the collaboration of my marketing team. When I'm not working, I enjoy shopping (a little too much), spending time at the beach, and reading!