Everything You Need to Know About CertainTeed Landmark Shingles
December , 2022 | 6 min. read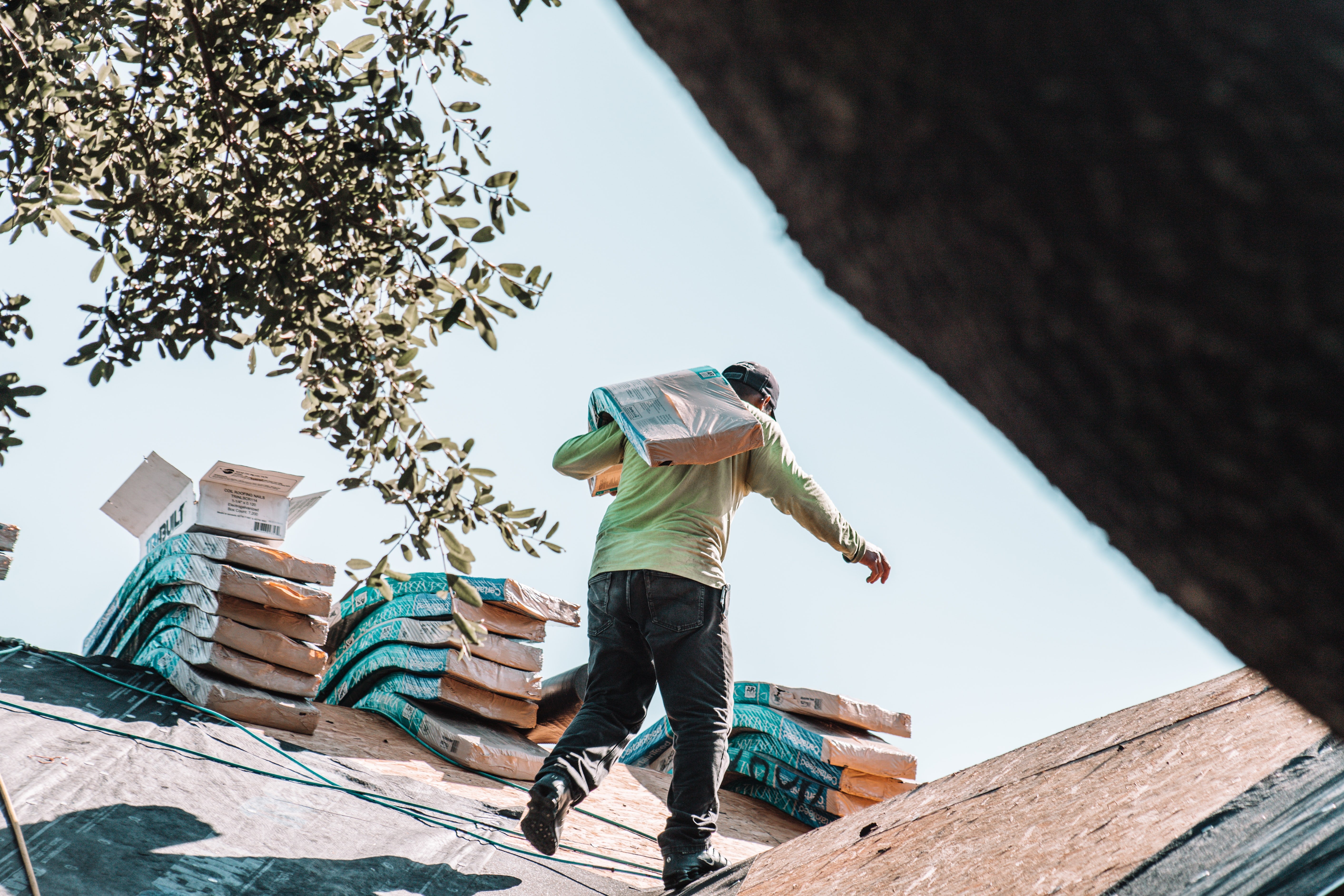 Is it getting close to time to replace the shingles on your roof?
Scouring the internet trying to figure out which brand of shingle is right for your upcoming roof replacement? It can get a little overwhelming huh?
A roof replacement is a big deal. It's one of the most important decisions you'll have to make when it comes to a home improvement project. One that you'll literally get to live under for a long time and one that you'll want to make the best decision possible.
We get it.
Our family at RoofCrafters has helped thousands of homeowners with their roof replacements. We've done so by educating them on the different material options available. We've been doing roof replacements for 3 decades. So we understand what the leading shingle brands such as CertainTeed have to offer. Now we want to share this information with you.
In this article, we're going to cover the advantages and disadvantages of the CertainTeed Landmark shingle. By the end of the article, you'll know everything you need to know about the CertainTeed Landmark shingles. And hopefully, you can make a well-informed decision about your upcoming roof replacement project.
Let's dive right in.
The Disadvantages of the CertainTeed Landmark Shingles
The CertainTeed Landmark shingle is one of the top shingles available but just like anything else, it has some disadvantages. It wouldn't be fair not to share those too. So we want to start by reviewing those with you. That way you have a clear understanding before making any decisions that you have to live with for a long time.
Here are 4 disadvantages:
Algae growth
Premature blistering
Nothing unique about the Landmarks
Hiring a CertainTeed Select Contractor
Algae Growth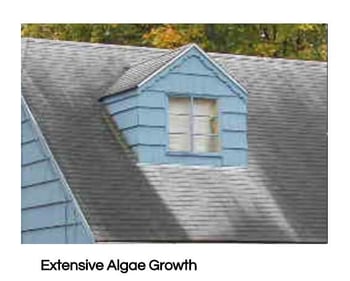 CertainTeed Landmark shingles do come with a 10-year StreakFighter warranty. And Certainteed will honor any claims against black streak(algae) for up to 10 years. However, after 10 years, algae or black streaks may start to form. Having any significant tree coverage or even being located close to a treeline will almost guarantee that you'll have some black streaks. Going with lighter colors increases the chance of you noticing the black streaks.
Premature Blistering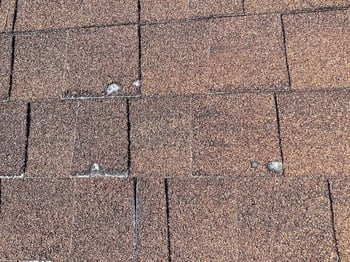 Like any other product that has a complex manufacturing process such as asphalt shingles. Sometimes there are chances of defects. Premature blistering on the CertainTeed Landmark shingles may occur. It's not often but it is something that we've seen over the years. It typically is a result of how they package the shingles. When the shingles stick together and we have to pull them apart to install them.
Landmark Shingles are Basic
In the '80s going with an architectural shingle created a wow factor. They became super popular in the '90s. Fast forward to current times and we now have builders putting them on track homes. They've become the standard. Everybody has them.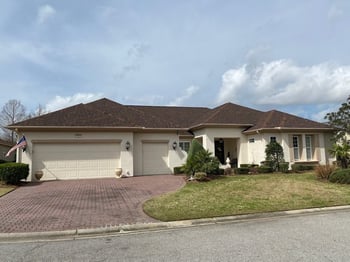 Very few homes have 3-tab shingles anymore. So there not unique anymore, they won't give you a one-of-a-kind look. If you're looking to add a wow factor to your home or add some love through curb appeal, this shingle will most likely look just like all your neighbors.
Hiring A CertainTeed Select Contractor
In order to get the maximum warranty protection you'll need to locate and hire a Certainteed Select Contractor. Hiring a CertainTeed Select contractor has to be listed as a disadvantage.
CertainTeed factory-trained contractors are required to do yearly training. That way they stay up to date on the latest codes and installation techniques. They're also required to install the roofs to meet strict requirements from Certainteed. In doing so, you'll receive the longest warranty available, the 5-Star SureStart Plus Warranty. However, there is some additional cost associated with having the highest protection. We feel it has to be listed as a disadvantage being that it'll cost a little more than a roof without a manufacturer-backed warranty.
Now that you learned the disadvantages of the Landmark shingle. Let's discuss some of the many advantages if you decide to choose the CertainTeed Landmark.
The Advantages of the CertainTeed Landmark Shingle
The advantages of going with the Certainteed Landmark shingles. Since there are many good shingles on the market. And they do have similar advantages, we'll point out a few of the advantages that separate the Landmark shingles from comparable brands.
3 advantages of the Landmark shingles:
CertainTeed is a Proven Company
Many colors to choose from
The 5-Star Warranty
Certainteed Is a Proven Company
CertainTeed was founded in 1904 as General Roofing Manufacturing Company. Today, CertainTeed is North America's leading brand of exterior and interior building products. Including roofing, siding, fence, decking, railing, trim, insulation, gypsum, and ceilings.
CertainTeed has helped shape the building products industry for more than 110 years. Through the responsible development of innovative and sustainable building products. CertainTeed has more than 6,300 employees. They have more than 60 manufacturing facilities throughout the United States and Canada.
Their name was derived and changed in 1917 from their slogan.
"Quality made certain, Satisfaction Guaranteed"
CertainTeed LandMark Shingle Colors
Along with Certainteed's longevity and stellar reputation in the building material industry. They have a wide selection of options available. One of the many reasons our clients choose to go with the Landmark shingle is they offer a wide range of colors. Colors that aren't available with some of the other leading brands.
Your roof is going to be on your home for a long time. So choosing a color that fits your style and preference should be high on the list of priorities when deciding on the right shingle. The Landmark shingle has the largest selection of colors. Many of the brands have the same colors. But, the LandMark shingle has colors that the other manufacturers do not produce, making them a sure choice if you need a certain color. (pun intended)
The CertainTeed SureStart 5-Star Warranty
A roof replacement is an expensive home improvement project. Having guaranteed protection against any leaks for 25 years is a big deal. This warranty backed by CertainTeed ensures your roof won't leak for 25 years. And that your materials will last for a lifetime with 50 years being non-prorated. That will remove any stress or anxiety you may have about the materials not lasting. Or the contractors who install the shingles going out of business and not honoring the workmanship warranty. As CertainTeed will own the warranty and make certain that you are protected.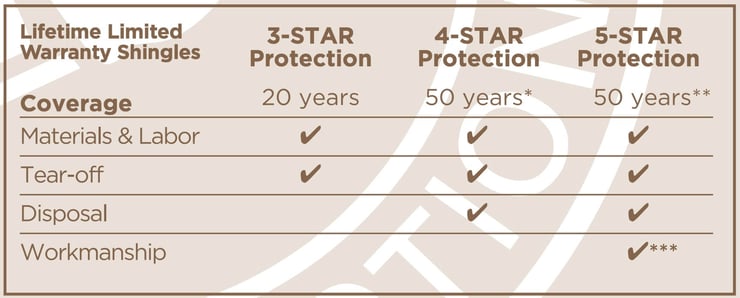 You'll also have a higher wind warranty using the Landmark shingle and choosing the 5-Star Warranty. Your CertainTeed Select Contractor will use all Certainteed components. Including the CertainTeed SwiftStart starter shingles that'll increase the wind warranty from a standard 110 mph to 130 mph.
Hiring a CertainTeed Select Contractor
Now that you've learned the disadvantages and advantages of Landmark shingles. Are you ready to find a CertainTeed Select Contractor in your area? Head on over to the CertainTeed website and enter your zip code and you'll get a list of contractors nearest you.
If you live in one of our many service areas. In the South Carolina, Georgia, or Florida markets. And you'd like to save time. RoofCrafters is a CertainTeed Select Contractor. We've installed Landmark shingles on thousands of homes over the 30 years in business. We would be happy to come out and discuss the many options available for your upcoming roof replacement needs.
At RoofCrafters, our mission is to provide job opportunities for others to thrive and grow while making a meaningful impact within our communities.