Which Asphalt Shingle Has the Best Wind Warranty?
January , 2023 | 5 min. read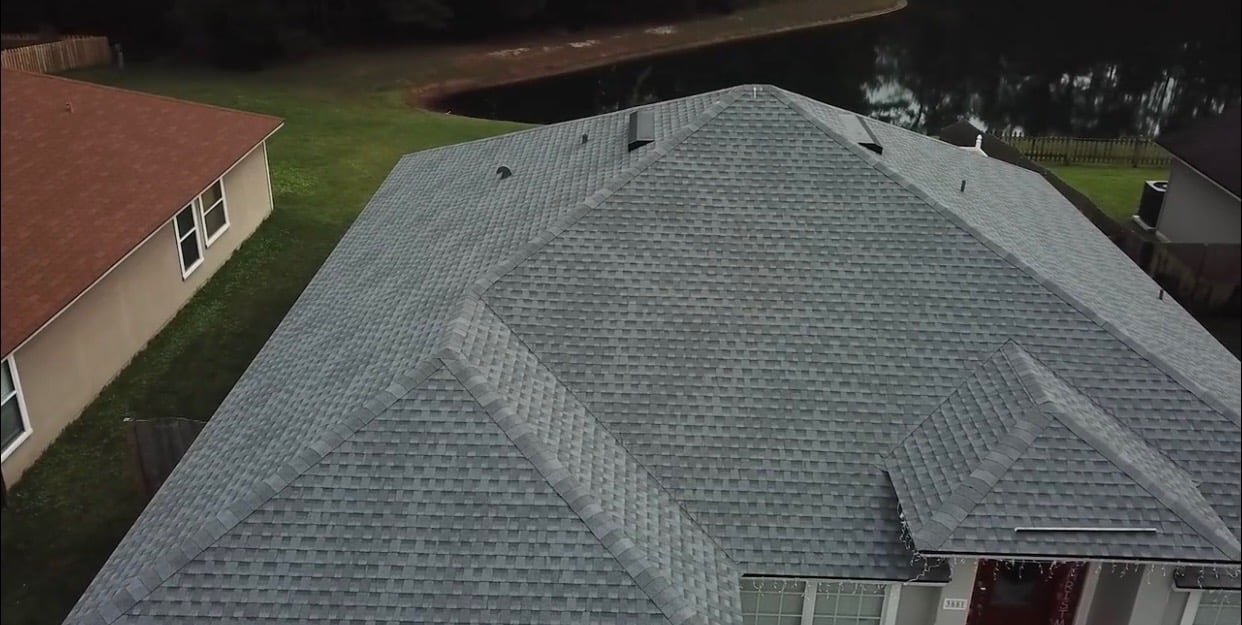 Do you live in an area prone to high winds?
Worried about the shingles blowing off in a storm?
If you answered yes to either question and are looking to learn about wind warranties for asphalt shingles you've come to the right place.
A roof that can withstand the high winds from mother nature is important. Having shingles blow off and water leak inside your home during a storm is one of the worst experiences you can go through as a homeowner.
We get it.
RoofCrafters has helped thousands of homeowners over the years. We understand the importance of having a roof that can withstand high winds after seeing the destruction that happens during a hurricane. We've helped homeowners in Florida, Georgia, and South Carolina who've lost shingles during a hurricane. We've heard many stories from our clients stuck in their homes with water leaking in for hours!
We've also seen roofs that didn't suffer damage during those same storms.
Now we want to help you by sharing that information, so in this article, we'll answer the following questions:
Which shingle has the best wind protection?
Why is the shingle better than the rest?
What wind warranty do you receive with this shingle?
And hopefully, by the end, you'll be the most educated homeowner around! And you can teach all your neighbors, friends, and family, "which asphalt shingles have the best wind protection?"
Let's dive right in.
Which Asphalt Shingle Has the Best Wind Protection?
With an unlimited maximum wind speed for a period of 15 years. The GAF Timberline HDZ shingle is the industry's leading asphalt shingle in wind protection. GAF does require that the shingle have 4 nails and you must use 4 of their other qualifying products. You'll need those products to do a complete roof system anyway. For reference, the closest brands have shingles that are guaranteed for wind speeds of 110 mph. And they also offer 130 mph with special installation instructions.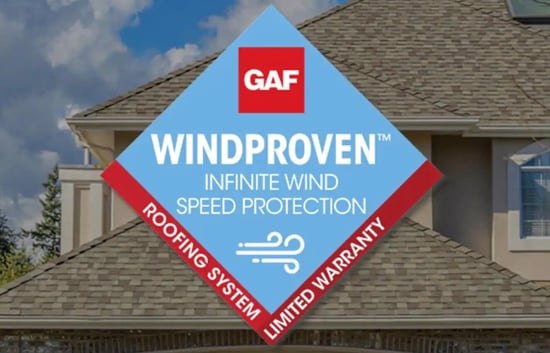 Infinite wind speed protection! If you are asking yourself why or how that is possible, we'll explain in this next section.
Why Does GAF Timberline HDZ Shingle Have the Best Wind Protection?
It's actually quite simple. GAF decided to re-engineer its most popular shingle line, the Timberline HD shingle. The old Timberline HD(high definition) was laminated together using a sealant. GAF found that this created problems. The biggest issue was it only gave the installers a narrow area for nail placement. The nail placement was critical as it penetrated both sections of the shingle helping keep it from coming apart. So if the installers didn't have perfect nail placement the shingle could separate.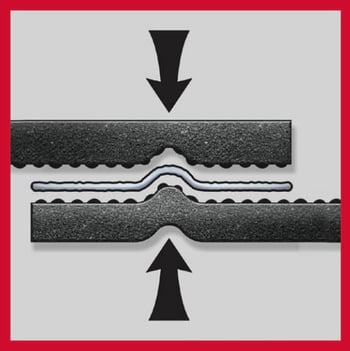 GAF developed the LayerLock Technology. The new HDZ shingles are mechanically fastened. So now the upper and lower part of the shingle can't separate. This solved the issue of the shingle separating. And by doing so also widen the nail zone. This is a win-win. The shingles will not delaminate and the installers have a wider area for nail placement.
But wait…there's more! Ok, that definitely was supposed to sound like one of those cheesy info commercials. Lol, anyway back to these HDZ shingles. GAF also created a new sealant that gets added during the manufacturing process. It's called Dura-Grip technology. It's a modified bitumen sealant. It helps seal shingle the shingles together. Just below the wider nail zone. Yep, you guessed it. The bottom of the wider nail zone is also used to hold the shingles together. Once the Dura-Grip sealant heats up, the new HDZ shingles bond together. Let us tell you, we've tried to pull them apart and it's nearly impossible. This is why they won't blow off.
The GAF Windproven Limited Warranty
The GAF WindProven Limited Warranty will provide you with an unlimited wind speed warranty for 15 years. Yes, meaning no maximum wind speed. Could be 200 MPH and GAF still guarantees you they won't blow off or they will replace them. That's strong, right? Now, you'll need to have the GAF HDZ shingles and a combination of 4 GAF accessories. Here are the 4 components required to qualify for this warranty:
GAF Starter Strip Shingles
GAF Roof Deck Protection
GAF Ridge Cap Shingles
And either one of these 2 products
GAF Attic Ventilation
GAF Leak Barrier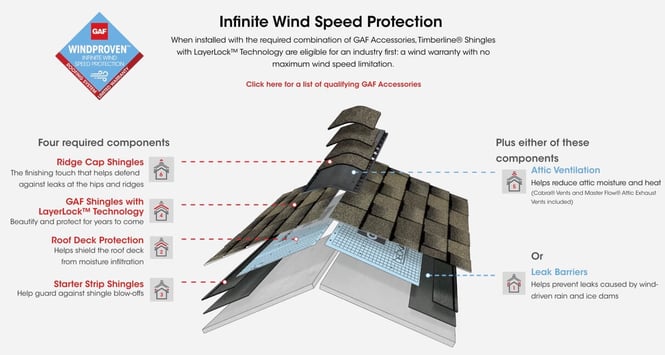 And of course, you must install the GAF Timberline HDZ shingles along with one of each of the 4 GAF accessories. By doing so your roof will qualify for the industries leading warranty. The GAF WindProven Limited Warranty.
Is Getting the Best Wind Protection Right for You?
If you're looking for the shingle with the best wind protection. There is no doubt the GAF Timberline HDZ shingle provides the greatest protection from the wind. And if you're still not sure what shingle is right for you after learning about the HDZ shingles. We'd recommend you check out all about metal roofs.
Our family here at RoofCrafters has been helping homeowners for 30 years. We've done so by helping educate them so they can make the best decisions when it comes to protecting their homes. If you'd like more information check out our many recourses in our roofing learning center.
At RoofCrafters, our mission is to provide job opportunities for others to thrive and grow while making a meaningful impact within our communities.