What Are the Benefits of Hiring a GAF Master Elite Contractor?
April , 2023 | 7 min. read
By Kevin Mills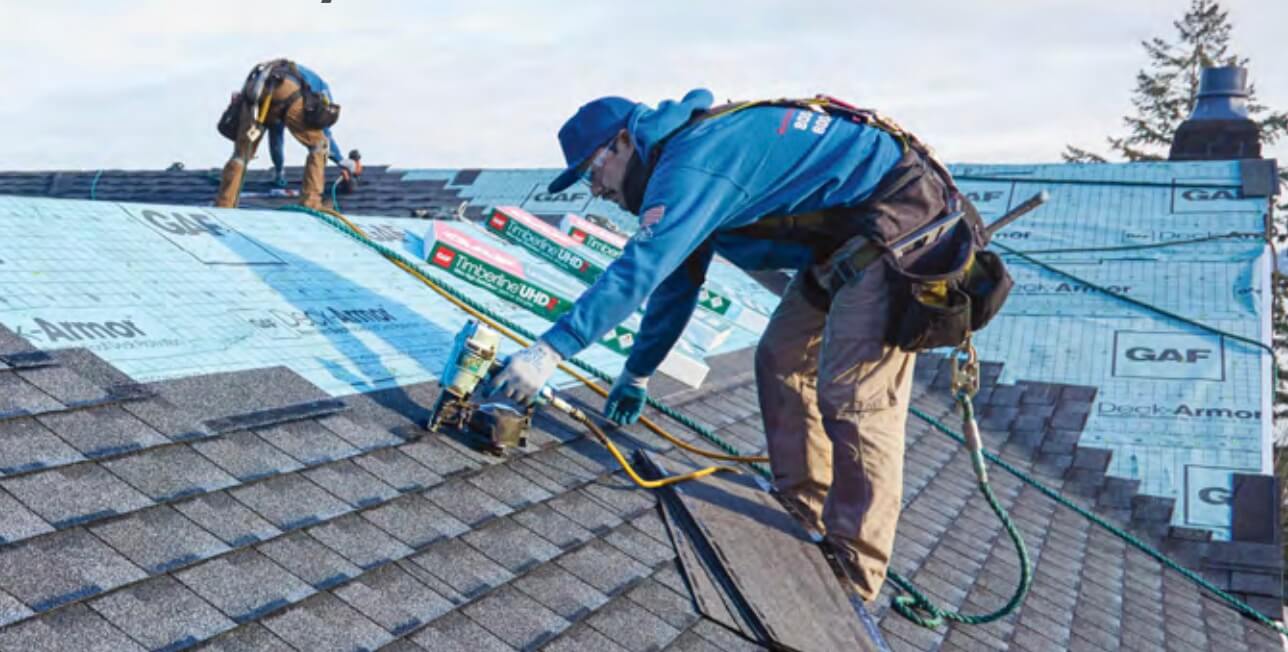 When it comes to choosing the right company to complete your next roofing project, the multitude of options available can be daunting. To most homeowners, the professional, expertly trained contractors can be pricey, and it can be hard to work your schedule around their availability. Whereas Cousin Jimmy and the Tank-Top Crew claim that they can complete your project at not only a cheaper price but at your earliest convenience. Who do you choose?
While the prices your cousin offers you may seem alluring at first, his crew's shoddy workmanship and shady behavior will make you rethink your decision in an instant. Not to mention, there's a huge possibility that you'll be paying for expensive repairs down the road to fix Jimmy's work, while your wallet and your conscience will both be crying out for help.
At RoofCrafters, we're a part of the 2% of roofers invited to become GAF Master Elite Contractors and part of that privilege allows us the experience to spot subpar workmanship when we see it and help the homeowners who were victims of the Cousin Jimmys of the world.
So, what does it mean to be a Master Elite Contractor, and why is it important? That's a great question, and I plan to answer that for you in this article. By the time we conclude, you'll understand what a GAF Master Elite Contractor is, and the benefits of hiring one for your next roofing project.
Let's jump right in!
What Is a GAF Master Elite Contractor?
A GAF Master Elite Contractor is the opposite of Cousin Jimmy or any of his tanktop-wearing friends. First and foremost, GAF is an acronym that stands for General Aniline & Film. GAF is the leading manufacturer of roofing and waterproofing technologies in the US. 1 in every 4 homes in the United States is protected by a GAF warranty, so they're a pretty big deal.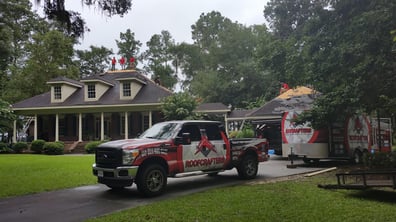 To become a Master Elite Contractor, you must first be awarded a Master Elite Certification. The certification is gifted on the completion of their Master Elite Certification Program.
This award is one of the most prestigious and sought-after certifications in the roofing industry, as only 2% of all roofing contractors in the U.S. have met Master Elite qualifications
This program provides ongoing training to expertly chosen roofing contractors, assuring homeowners that their roofing projects will be completed to the highest of standards. Choosing a GAF Master Elite Contractor to complete your roof repair or installation will ensure that you'll be working with a highly trained professional, who will finish your project to the highest of standards.
What Are the Benefits of Hiring a GAF Master Elite Contractor?
Choosing to hire a GAF master elite contractor for your roofing project will benefit you in several different ways, some of which include:
Exceptional workmanship
High-quality roofing materials
Follows current roofing trends
Superior warranties
Exceptional Workmanship
As I've previously mentioned, only 2% of all roofing contractors in North America are certified GAF Master Elite. That means that the vast majority of contractors, a jarring 98%, are either non-professional or medium-professional at best. In simpler terms, Cousin Jimmies. This means that these contractors are not held to professional standards, so their workmanship could range anywhere from downright scary, to wildly unacceptable.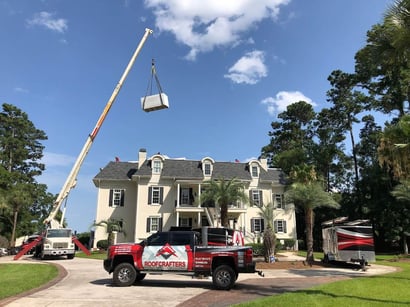 Luckily, when you hire a GAF Master Elite Contractor, you're guaranteed exceptional, professional, and timely workmanship. You can rest assured that your contractor will be a reliable individual who rises to the occasion and completes your project to GAF standards.
Along with exceptional workmanship comes excellent customer service. Ensuring that the company you choose to hire provides you with comfort and care is not a standard for every company, but it is for GAF Master Elite Contractors. Outstanding technical training combined with after-sale customer care services cannot be beaten.
High-Quality Roofing Materials
Because GAF is the leading manufacturer of roofing and waterproofing technologies in the United States, it goes without saying that by choosing a GAF Master Elite contractor, you'll be guaranteed to have access to the highest quality roofing materials on the market. Top styles and colors that will enhance your home's curb appeal.
Besides quality materials, GAF offers top-of-the-line roofing products, too. These impressive options include:
Leak barriers
Hip and ridge cap shingles
Starter strip shingles
Roof deck protection
Ductwork
Fiber-cement siding
Ornamental iron
Roll roofing
Roof and wall nail base insulation
Roofing Trends
In the same way, fashion trends come and go, recycling every few decades, and roofs tend to follow a similar path. A mansard-style roof that was popular in the '80s won't necessarily be popular in 2023. Whereas gable roofs that are commonly seen today could be considered obsolete by the time 2060 rolls around.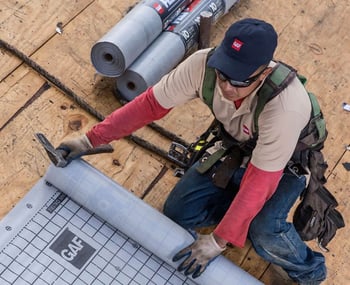 To ensure that your roofing style options, techniques, and technologies are up to date, it's essential to choose a GAF Master Elite Contractor for your next project. Because Master Elite contractors undergo continuous training, their techniques and options are always up to speed on the current trends and latest developments in the roofing industry.
Superior Warranties
Firstly, what is a warranty? No two warranties are written alike. A workmanship warranty works like insurance because it protects your investment from manufacturer defects and shoddy workmanship. Most roofing systems come with several different warranty options.
A manufacturer-backed warranty typically covers both the roofing materials (shingles or metal) and underlayment for 20-50 years. If you purchase a material-only warranty, should the shingles or metal deteriorate before the warranty is up, the manufacturer would be required to replace them. We recommend that you read the fine print, most material-only roofing warranties are prorated after 5 years or 10 years depending on the materials and brand.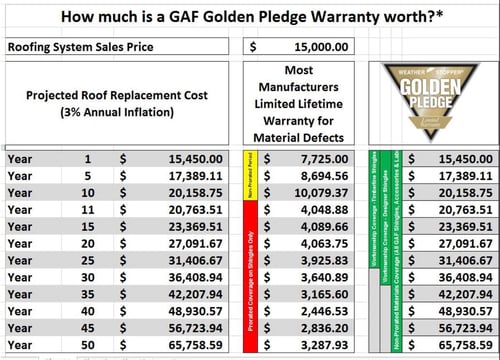 GAF Master Elite contractors can offer homeowners the GAF Pledge Limited Warranty, which is one of the best warranties available in the roofing industry. It covers your roofing material for 50 years and a workmanship period of up to 25 years.
Should I Hire a GAF Master Elite Contractor for My Next Roofing Project?
Yes! When it comes down to receiving the best quality workmanship, customer service, materials, and warranties, it's certainly worth investing in a GAF Master Elite Contractor. While I'm sure there are contractors out there that can do a great job repairing or replacing the roof that isn't GAF Elite, if you want the best of the best, you know what to do. Head on over to GAF's Find a Contractor page where you can browse through the Master Elite Contractors in your area.
It's that simple. Once you've located a few local GAF Master Elite Contractors to complete your roofing project, be sure to download our "Top 10 Most Critical Questions You Want to Ask Your Potential Roofing Contractor". With this checklist, you can pinpoint which roofer you feel most comfortable completing the job.
RoofCrafters is a GAF Master Elite Contractor, and we're available for all of your residential and commercial needs. If you're ready to schedule an inspection, drop us a line on our contact page and one of our representatives will schedule your appointment at your earliest convenience. Be sure to check out our learning center to learn more about the services we offer.
My name is Kevin Mills, and I am the lead estimator for RoofCrafters' Tampa division. I'm originally from Michigan, and I enjoy hunting, fishing, and spending any free time outdoors. What I'm most passionate about, though, is helping business owners and homeowners alike achieve their roofing goals, all while providing a seamless customer journey.