What is the Cost of a CertainTeed Landmark Shingle?
December , 2022 | 6 min. read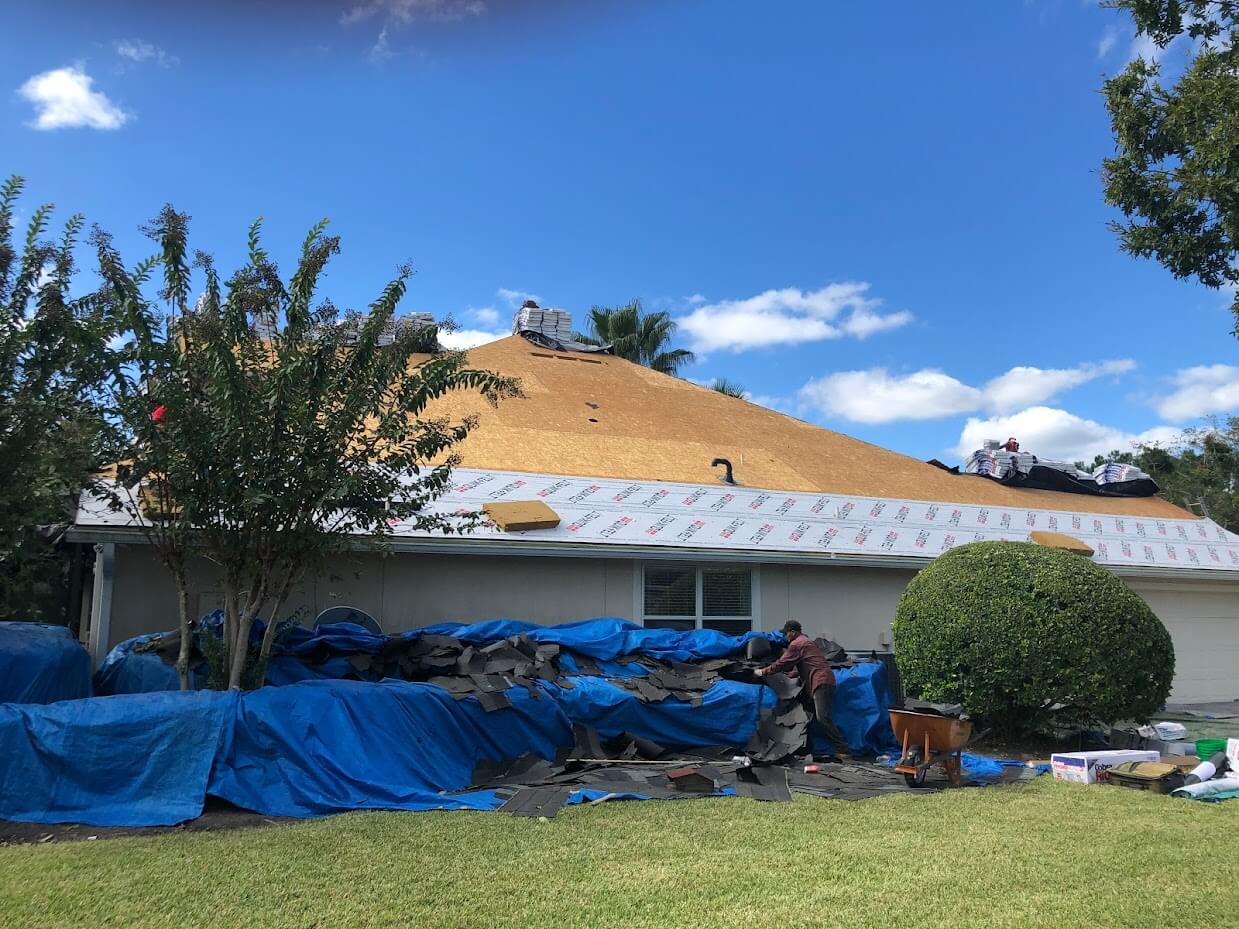 Has the time come to bury your old shingles?
It's finally time to put them to rest and you've decided to move forward with planning to get a full roof replacement. Let me guess, you're scouring the web looking to get a budget right?
And not just any budget but one that includes installing the Certainteed Landmark shingles.
A good choice in an architectural shingle. Well if any part of this is true, you're in the right spot.
RoofCrafters has been helping homeowners plan and budget for roof replacements since George Washington was president. Well, not quite that long but you get the point. We've been around for a while and now we want to share our 30 years of experience with you.
In this article you'll learn:
The 3 main factors that impact the cost of a shingle roof replacement
The benefits of hiring a CertainTeed Select Shingle Master
The cost of the CertainTeed Landmark Shingle with 3 different levels of warranty
And hopefully, by the end of this article, you'll have all the important information needed to plan and budget for your upcoming roof replacement project.
Let's dive right in.
3 Factors That Impact the Cost of Your Roof Replacement
Of all the many factors that go into calculating the cost of a shingle roof replacement. We've found that the following 3 factors will almost always impact the cost. Without knowing all of the factors it's difficult to provide you an exact cost
Here are the 3 main factors used to determine the cost:
Type of materials
Size of the roof
The slope of the roof
CertainTeed Landmark Shingles
The type of materials you decide to use on your home will be one of the biggest factors that'll impact the cost of your project. CertainTeed's Landmark shingles are close in cost when compared to the other brands similiar shingle style. And just like any of the other brands, the CertainTeed Landmark has advantages that the other shingle brands don't offer.
The Size of the Roof
The cost of labor to tear off and install the shingles is calculated by the overall size of your roof. Roofer refers to the size of a project in square feet. For example, a home with 2000 square feet of living space under the roof would need approximately 28 squares of roofing. This is calculated by multiplying a pitch factor or the slope of your roof.
We typically determine this one of two ways:
Field measure onsite
Order a satellite report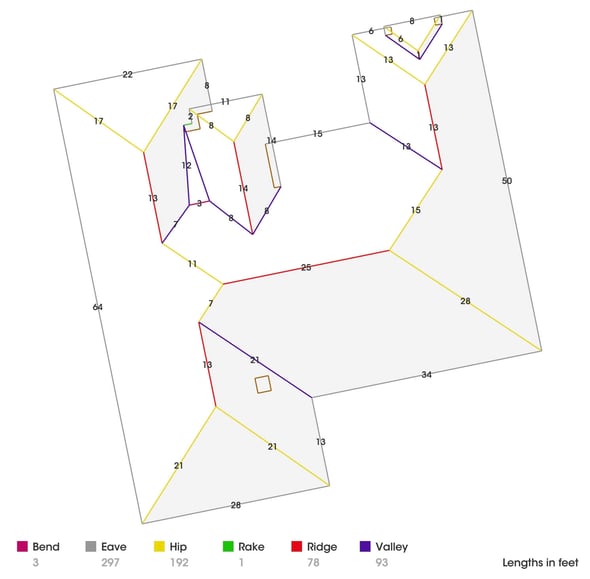 Roof measurements generated from a satelitte report
Your roofer should know how to use both methods. Because often time heavy tree coverage will not allow a satellite report. Both methods are useful to know to calculate an exact cost and accurate.
The Slope of the Roof
What is the slope of a roof? The slope of your roof is how many inches of rise the roof has for every foot. The greater the number of rises the steeper the roof will be. A roof with a steep slope will cost more because it's dangerous. Roofers must slow down so they don't get injured while performing the work. Slower install times will increase the cost of the labor, impacting the cost of a project.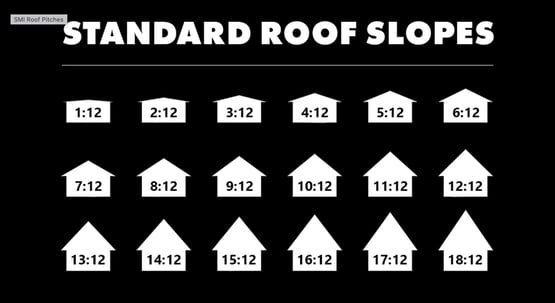 Less dangerous roof slopes range between 4:12 and 7:12 for shingles installation
Now that you know the 3 factors that'll impact the cost, let's discuss the benefits of choosing a CertainTeed Select Shingle Master.
What are the Advantages of Hiring a CertainTeed Select Shingle Master?
Hiring a CertainTeed Select Shingle Master can benefit you in several ways. Some of these will include:
Guaranteed workmanship

High-quality roofing system (not just shingles)

Longevity and experience

Manufacturer-backed warranties
It's important to choose a CertainTeed Select Shingle Master for your next roofing project. Here's why. CertainTeed credentialed contractors undergo continuous training. They're required to stay up to date on the latest installation techniques. They'll ensure that the shingle installation and components are installed up to date. They're knowledgeable on all the current trends and latest developments in the roofing industry. You'll get the best protection in manufacturer warranties.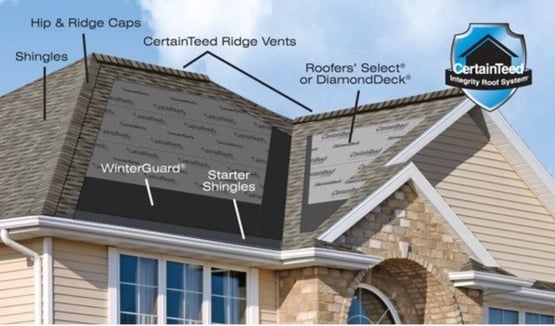 Certainteed Select Shingle Masters can offer homeowners the 5-Star SureStart PLUS Warranty. Which is a top-tier warranty in the roofing industry. It covers your roofing material for a lifetime. 50 years of non-prorated coverage, which means you'll have 100% coverage on materials for 50 years. And it also provides a workmanship period of 25 years.
What's the Cost of the Certainteed Landmark Shingle?
CertainTeed offers 3 levels of manufacturer-backed protection. They have a 3-Star Warranty, 4-Star, and industry-leading 5-Star Warranty. The cost of your Landmark shingle roof system will vary depending on which level of protection you feel most comfortable going with. The overall difficulty of the roofing project and the total size of the roof. Along with all the other factors that it takes to calculate the exact cost of a complete roofing system.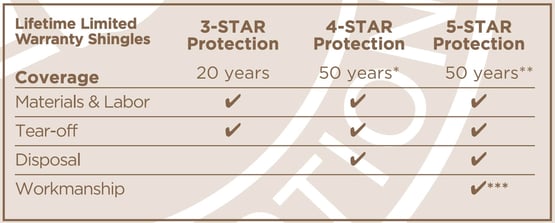 Most homeowners can expect to pay somewhere between $14,900 and $23,100 for a CertainTeed Landmark shingle roofing system. That's on a home with a standard roofline, the roof has a moderate slope with a few hips and valleys. Also, that is providing Certainteed's top warranty, the SureStart PLUS 5-Star Warranty.
Here's the average cost for the CertainTeed Landmark shingles. With providing you the manufacturer-backed warranties:
CertainTeed Landmark with 5-Star protection, the average price of $14,900 to $23,100


CertainTeed Landmark with 4-Star protection, the average price of $13,500 to $21,300


CertainTeed Landmark with 3-Star protection, the average price of $12,700 to $20,400
Now that you've learned the average cost of the CertainTeed Landmark shingles. You can also check out our pricing calculator. Where you can enter a couple of measurements to get a better idea of the estimated cost for your home.
Ready to Hire a CertainTeed Select Shingle Master Contractor?
The question is...Is it worth it to you to get top-quality workmanship, customer service, high-quality materials, and the best warranties? If you said yes, it's certainly worth investing in a CertainTeed Select Shingle Master. And if you said no, we're sure there are other contractors out there that can do a great job replacing your roof that isn't Certainteed credentialed. But if you want guaranteed protection for your investment in a Landmark shingle roof. You'll want to hire a Select Shingle Master and choose the 5-Star protection.
If you are ready to hire a contractor now and would like to save yourself time. RoofCrafters serves the South Carolina, Georgia, and Florida markets. We're one of Certainteed's Select Shingle Masters. If you're ready to schedule an inspection, click schedule an inspection below. One of our friendly representatives will schedule your appointment today. You can also check out other resources in our learning center to learn more about all things roofing related.
At RoofCrafters, our mission is to provide job opportunities for others to thrive and grow while making a meaningful impact within our communities.