All About Asphalt Shingle Roofs
March , 2022 | 8 min. read
By Mitch Owens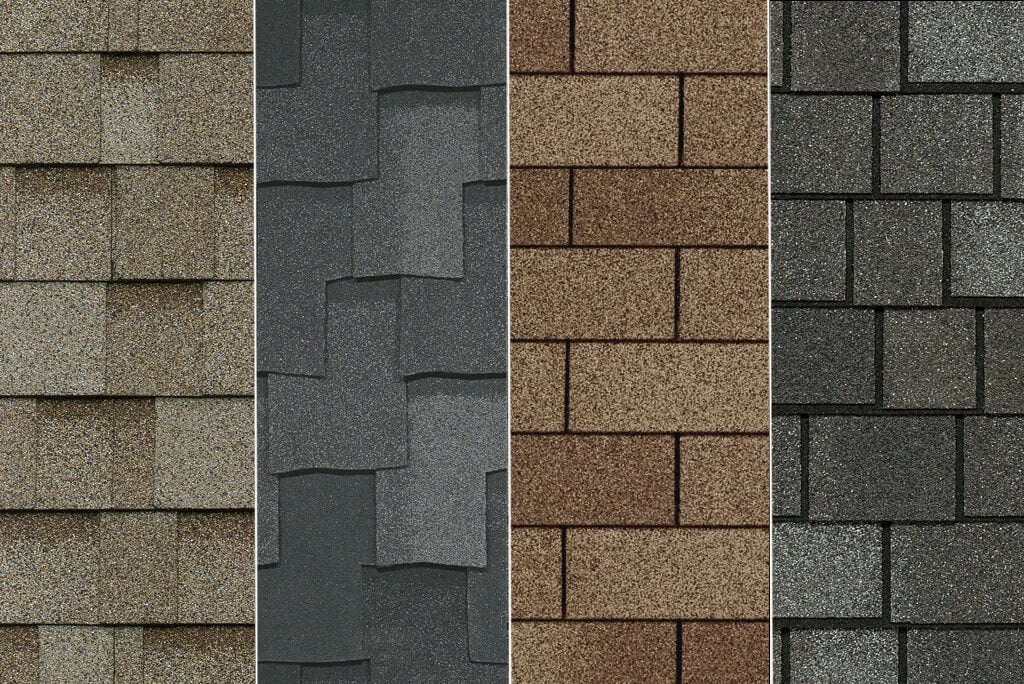 While you're sitting on the beach sipping on a frozen piña colada and feeling the sand between your toes and the sunshine on your warm skin, what are you thinking about? Perhaps how great your flight from Wisconsin to Florida was, or what outfit you'll wear to brunch tomorrow. It's safe to assume that you aren't thinking about the damage being done to the roof on your vacation home from today's incredibly high UV rays.
Believe it or not, our beloved sunshine state does have its flaws. While asphalt shingles come with warranties of up to 50 years, their lifespan in Florida and regions spanning across the southern border are drastically shorter. RoofCrafters has seen firsthand that extreme heat, humidity, and rain cause roofing material to loosen or crack, damaging the structural integrity of your roof.
I know, this is a lot to throw at someone on vacation. However, knowledge is power. Now that you know the regional weather damages possibly being done to your cozy beachside cottage, you can take the proper precautions. Remembering to clean your gutters regularly, ventilate the attic, and have your roof inspected by professionals are all small steps you can take to avoid future damage. If you take care of your asphalt shingle roof, it will return the favor.
When properly taken care of, the wonderful thing about asphalt shingle roofs is their longevity. In fact, asphalt shingles are one of the most durable as well as cost-effective roofing materials currently on the market. The weather may be out of your control, but taking those small steps to increase your roof's lifespan will make all the difference.
What Is an Asphalt Shingle Roof?
Now that you know the maintenance involved in your asphalt shingle roof, let's delve into the details. Asphalt shingles are a type of waterproof roofing material. Its relatively inexpensive cost in addition to its longevity and durability makes it the most popular type of roofing in North America.
Asphalt shingles come in numerous styles and colors and would be the perfect addition to any home. These shingles are made up of a base mat on the bottom, a layer of waterproof asphalt in the middle, and ceramic granules on top. The granules are what provide these shingles with the many different colors that you can choose from to fit the vision you have for your home.
There are four different types of asphalt shingles that you can choose from. These are known as three-tab shingles, architectural shingles, upgraded architectural shingles, and designer roof shingles. Each of these shingles performs a different function depending on what look or purpose you may want your roof to serve.
These 4 options may seem overwhelming, but we're here to break them down for you. Let's start first with the 3-tab shingles.
Three-Tab Shingle Roof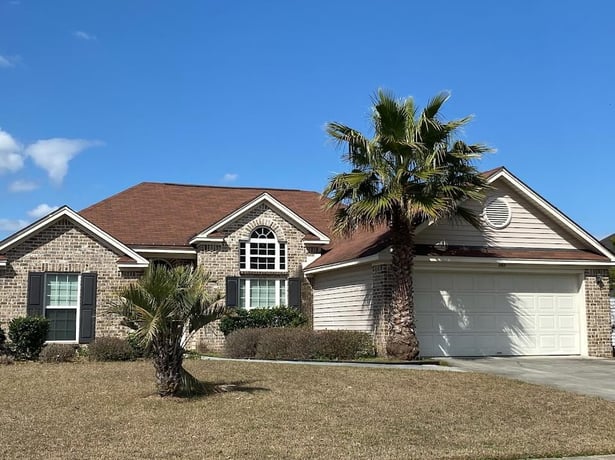 Three-tab shingles are the most basic form of shingle and get their name from the way they are cut and installed. They are made out of a single layer of asphalt and then cut into strips. They are also the lightest type of shingle, therefore they are far more affordable than the architectural and designer shingles. The ballpark cost for three-tab shingles on a 2,000 square foot home is around $7,300-$10,600.
Three-tab shingles are extremely cost-efficient and are a wonderful choice for any homeowner. In the spirit of transparency, there are a few downsides to this type of shingle. Because they are so lightweight, they have the potential to blow off more easily than the other two types, which is not only dangerous but expensive too.
Sadly, three-tab shingles are also limited in their aesthetic options. If you're looking for something more upscale, architectural or designer shingles are a better choice for you. In the short-term aspect, three-tab shingles can be more economically smart for rental properties or budget homes.
Or check out the CertainTeed Roofing 3-tab color chart here.
Architectural Shingle Roof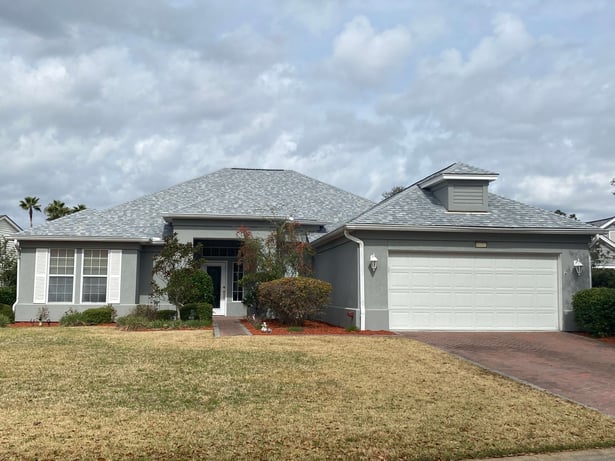 Also known as laminate or dimensional shingles, this is the most common type of asphalt shingle roof. During the manufacturing process, the base mats are given two or more layers to create a multi-dimensional appearance on your roof. Because of these extra layers and weight added, architectural shingles are particularly durable.
There are two different grades of architectural shingles you can choose from, and these are known as regular and upgraded. On a 2,000 square foot home, the regular grade costs in the ballpark range of $11,200-$17,100, and are going to be a little less durable than the upgraded shingles. In fact, these shingles do not meet the wind withstanding requirements in many states.
The upgraded architectural shingles are a bit more popular. They are flashier, giving your home that "pop" you may be interested in, and they are heavier than the regular grade. The ballpark cost of the upgraded shingles is around $13,100-$19,000 on a 2,000 square foot home. Depending on the weather and the region, regular or upgraded architectural shingles are a great choice for any home. View CertainTeed architectural colors here. Or take a look at the GAF Timberline architectural colors here.
Upgraded Architectural Asphalt Shingles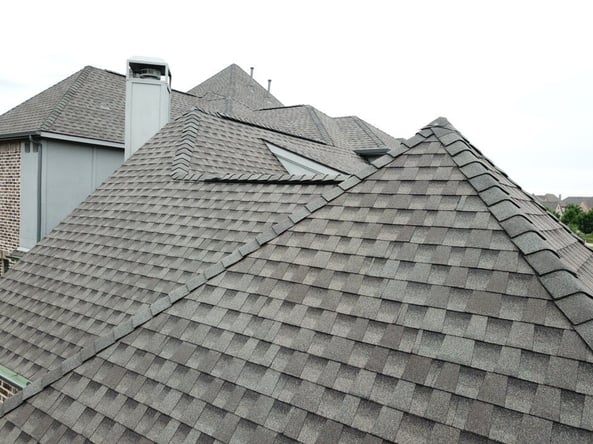 Side by side with its little brother, the 'regular' architectural shingle, there is no comparison. This shingle is much heavier in weight. It is a much thicker shingle, creating more definition and giving your roof more pop and curb appeal. If you don't want a basic shingle roof or the most common shingle roof in the US, then this one just may be the right one for you.
Cost: The upfront investment for these heavier architectural shingles is typically 10 to 15% more than the regular architectural shingles. Average cost $13,100 to $19,000
Aesthetics: The thickness of these shingles creates a very noticeable difference that provides an extra pop from the street.
Lifespan: Created with more asphalt in the shingle, these shingles typically last 25 to 30 years.
Protection: The heavier a product the less likely it is to blow off in a major wind storm. These shingles can weigh as much as 100 lb per square foot more than regular architectural shingles depending on the manufacturer you go with. See CertainTeed colors available.
Designer Shingle Roof
Last but certainly not least are designer shingle roofs. Designer shingles are also referred to as luxury shingles and are the highest quality type of asphalt shingles on the market. These shingles stand out due to not only their high level of functionality but because to the beautiful appearance, they add to your home.
Designer shingles are dimensional, functional, and come in an abundance of colors. These are the shingles for the consumer that takes pride in the curb appeal of their home. Designer shingles on a 2,000 square foot home cost in the ballpark range of $18,500-$22,000, and are the most expensive type of asphalt shingles on the market.
These shingles may be beautiful, but they are also incredibly durable. They are double the weight of three-tab shingles, which means they have extra strength against impact and tears. This is ideal for homes in hurricane, tornado, and extreme weather-prone regions. See the designer shingle styles and colors here.
Will Asphalt Shingles Be a Good Addition to My Home?
Asphalt shingles are a great addition to any home as they are budget-friendly and reliable. They come in a wide variety of shapes, colors, and sizes all tailored to your needs and wants for your home. If you've got a specific idea or a unique design in mind, asphalt shingles are the way to go.
Although asphalt shingles are one of many durable roofing materials available, they aren't the most durable roofing material on the market. There are many more options available such as a standing seam metal roof that are preferable to withstand extreme weather conditions.
If you currently live in the southern United States, or the next time you come down south to visit your cozy beachside cottage, take a look at your roof and consider its needs. If it's upgrading your asphalt shingles to a more weather-resistant grade, or deciding it's time to choose a different roofing material, RoofCrafters has you covered.
Whether you're looking for a roofing estimate, needing aid in exploring the different types of asphalt shingles, or just have a few questions, drop us a line on our contact page. One of our friendly representatives will reach out to you as soon as possible. In the meantime, feel free to browse the extensive resources available to you in our learning center.
My name is Mitch, and I have over 10 years of roofing experience. I enjoy my career in the service industry because I love helping others take care of their homes and businesses. With over 10 years in the roofing industry, my success comes from my honesty and integrity during my roof inspections. I do my best to listen to the needs of my clients and strive to provide an awesome client experience.