Everything You Need to Know About Designer Shingles
November , 2022 | 6 min. read
By Macie LaCau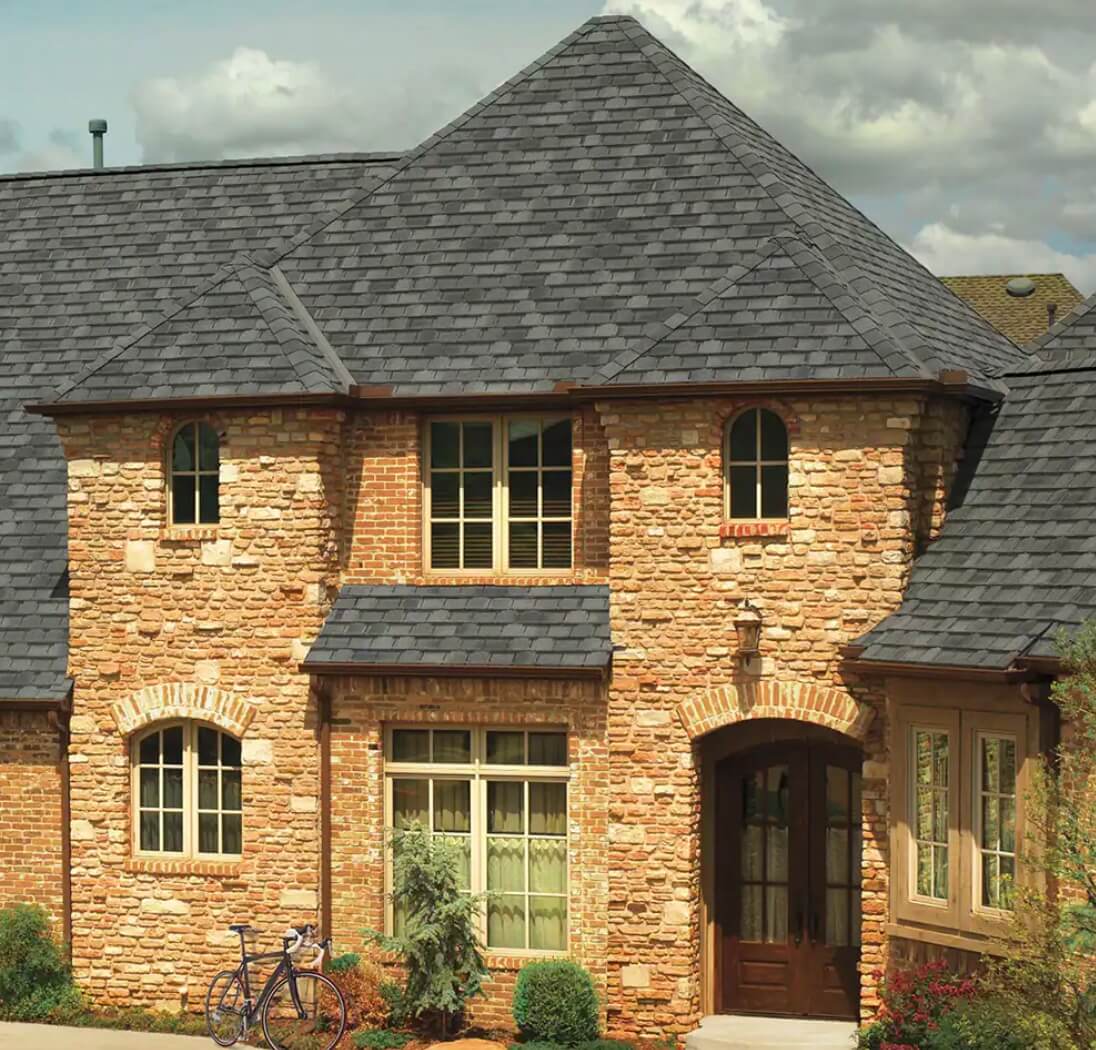 Are you someone who likes indulging in the finer things? From clothes to furniture to appliances, do you feel satisfied when knowing you own the best of the best? A Louis Vuitton pair of shoes, a rare car that drives like a dream- you get the picture.
You may be wondering why I'm even asking you this. You're here to learn about roof shingles, right? What can be so special about them, and how are they relevant to your extravagant taste? Well, if you're a fan of luxury, there's a shingle type that can match your desire for things that are on the lavish side. You may not even be looking for something necessarily stunning, but more so for a shingle that's at the top of the list when it comes to longevity. If this sounds like you, you're in for a treat.
Here at RoofCrafters, we've been installing designer shingles for three decades. We're equipped with every detail you need to know when it comes to selecting the shingle that's right for you. In this article, we'll go over all of the essential information about designer shingles, from what they look like to how much they cost. Let's dive in!
What Are Designer Shingles?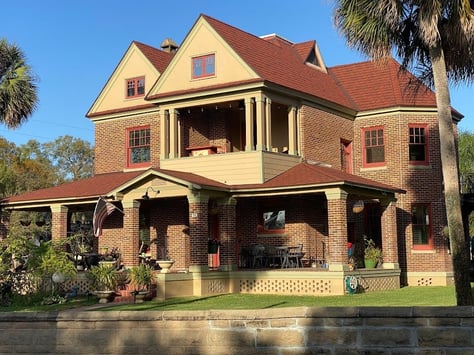 When choosing an asphalt shingle, many homeowners select architectural shingles for their affordability. However, others want their roof to truly stand out from the rest, and that's where designer shingles take the stage.
Designer shingles are the "premium" option of asphalt shingles. As we mentioned earlier, they're the best of the best and can add a pop of luxury to your home. Because of this, here are a few things that make designer shingles stand out from other types of shingles.
The first thing you may notice about designer shingles is their size. They're thicker, larger, and more durable than their counterparts- 3-tab and architectural shingles. They additionally come in other unique design options. The cut, size, and thickness will all play a part in the distinctive look of your home.
Speaking of distinct, how could you not notice the unique look of a designer roof? This type of shingle looks like slate tiles and is usually made to replicate the look of a slate roof, designer shingles to stand out from their competitors.
When investing in the stunning artistry that designer shingles represent, you'll also pay more for them. We'll get into that later on in the article, though. For now, let's paint an image of what types of homes designer shingles may be suited for and how they'll potentially look on yours!
How Will Designer Shingles Look On My Home?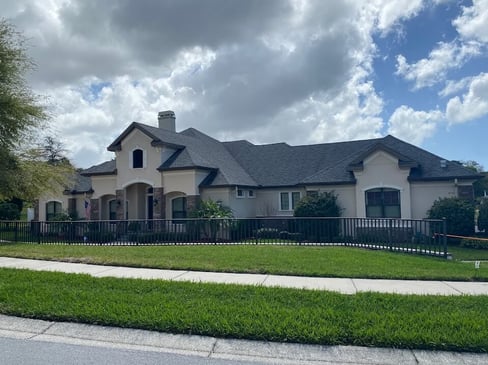 Curb appeal is estimated to account for about 17% of the value of a home. With a variety of styles and colors to choose from, picking out shingles can be surprisingly exciting. Remember, designer shingles are thicker and have a distinct and textured appearance. Their thickness and blended shadow bands give off the appearance of slate, enhancing the uniqueness of any home.
Choosing a style of shingle that fits the architectural design of your home is essential. Durability and longevity are also crucial, but the aesthetic presence of your home should also be taken into consideration.
What type of home design do you have? That's the first question you want to ask yourself when thinking of how designer shingles will look on it. Contemporary or Victorian homes exude elegance, and a designer shingle may be the finishing touch to make them look even more stunning to the eye.
However, some homes may not fit the criteria for designer shingles. Getting in touch with a trusted, local roofer is the next step once you get a shingle type you want to go for in mind. They'll assess your home and let you know if designer shingles are a fit for you.
How Much Do Designer Shingles Cost?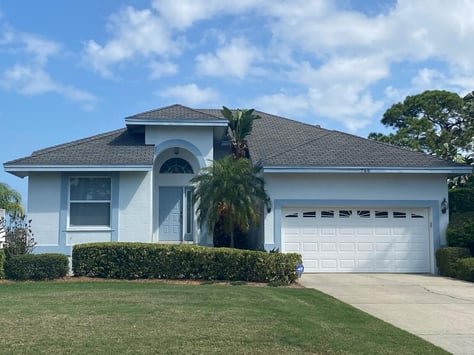 You've seen a different answer in every article you've looked at, right? Well, honestly, none of them are wrong. Many factors go into the price of getting almost anything installed on your roof, and shingles are no exception.
Square footage, specific materials, and labor all go into the cost of getting new shingles put on. Labor includes the complexity of your particular roofing situation. If your roofer has to bring in additional safety equipment for potentially hazardous conditions, you will likely have to spend more. That's standard for every roofing contractor. Even the geographical location where you live plays a part in costs: a higher standard of living and higher prices to pay.
Generally speaking, the cost of getting CertainTeed designer shingles installed is around $4 to $6 per square foot. For a 2,000-square-foot roof, you could look at about $8,000 to $12,000, compared to $6,000 to $9,000 for traditional roofing shingles.
This doesn't include the removal of old shingles, which can cost $1 to $4 extra per square foot. Don't quote us on this, though. Remember, what you'll pay may be different than what various resources suggest because your home is unique! Always make sure you call the roofing professional of your choosing to help break down the costs of getting new shingles installed for you.
Will Designer Shingles Be the Perfect Addition to My Home?
They absolutely can be! Designer shingles add a glimmer of luxury to many homes, making them a fantastic choice for all kinds of homeowners. If you're looking for a long-lasting and high-quality roof with noticeable curb appeal, designer shingles could be an option for you. The easiest way to find out is by getting in contact with a professional roofer. They'll inspect your roof and let you know what's possible for your home.
But, before hiring just anyone to repair your roof, make sure to find a roofing company that you know you can trust. Of course, it's convenient to hire the first person you come across, but you'll get much more bang for your buck and a better overall experience with a highly qualified professional.
Now that you officially know all about designer shingles, what's next? If you have questions or are ready to speak to an expert, RoofCrafters will assist you. We recommend taking a look at "2022 | The Cost of a New Roof with the Top 7 Roofing Materials" to help you get an idea of what your options are as far as materials and pricing go. Remember- we've been in the roofing industry for almost thirty years, so we have a ton of useful resources you can look through. To brush up on your shingle education, head over to our learning center.
Look, at RoofCrafters, we get that making decisions about your roof may not be the most exciting thing you can think of. On top of that, we know that spending your spare time searching the internet for answers isn't at the top of the list when it comes to fun pastimes. That's why we want you to know that there are dedicated professionals who can help you! To get in touch with our welcoming representatives, make your way over to our contact page. Whether you're looking for more information on designer shingles or anything else, we have you covered.
I'm a native Georgian who spends my days nurturing my passions and embracing the quiet life. With a penchant for taking the road less traveled, I love discovering new ideas, rooting for the underdog, and taking the long way home. I enjoy spending time with family and friends, writing, and homesteading.