What is the Cost to Shingle a Roof in St Augustine, FL?
May , 2023 | 14 min. read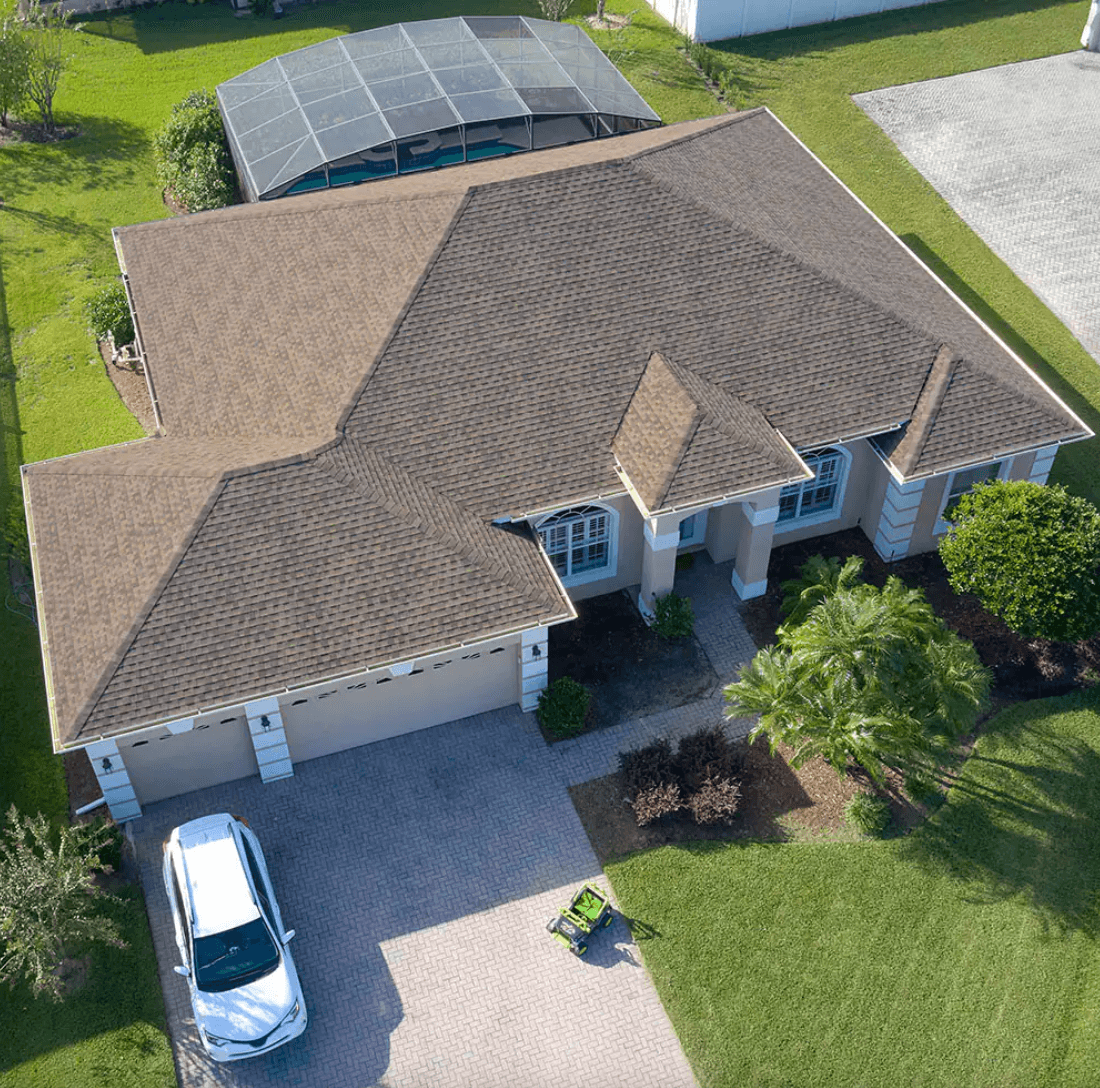 Would you agree that cost is one of the most important factors when getting the news that you need to replace the shingles on your house?
If you are like most homeowners, you don't really have any idea of what a shingle roof will cost you. So, what do we do? We start googling the cost of a roof, right?
We get it. Because even a small shingle roof can be a large investment. And most of us need to budget for a large home improvement project like a roof replacement.
And from what we can see, roofers in St Augustine don't want to list their prices for a roof replacement online.
No worries, we've got you covered.
Our family at RoofCrafters has been around for 3 decades. We've helped thousands of residents in Florida get a new shingle roof on their homes. So, we can honestly say, we know a thing or two about the cost of installing shingles in St Augustine, Florida.
Whether you decide to work with our family or choose another contractor. We still want to be a part of helping you get the best roof possible for your home. And that starts here.
So in this article, we're going to cover:
3 things to consider when picking a shingle

The other components that'll impact the price

The 4 types of shingles available

The average cost of a new roof with those 4 shingles
And hopefully, by the end, you'll be better prepared for your upcoming roofing project in St Augustine!
Let's dive right in.
3 Things to Consider When Selecting Your Shingle
Do they fit my budget?

How long will they last?

What type of maintenance will be required?
1. The Cost of the Shingles
Are you searching for the least expensive roofing materials? Asphalt shingles are the most economically priced materials for any home or business. The ease of installation, combined with the 4 different grades of shingles make them appealing and a popular option for any roof replacement. You can expect to pay between $7,300 and $29,100 for a new shingle roof in St Augustine, Florida.
Depending on which brand of shingles you choose, the warranty level you prefer, the size of the roof, and the overall difficulty of the project.
2. The Expected Lifespan of Asphalt Roof Shingles
3-Tab asphalt shingles can be expected to last 12 to 15 years

Architectural asphalt shingles can be expected to last 18 to 25 years

Upgraded architectural asphalt shingles can be expected to last 25 to 30 years

Designer asphalt shingles can be expected to last 30 to 40 years
Shingles come with manufacturers' warranties that are pre-determined by each manufacturer. The expected lifespan provided above is based on the actual lifespans. Lifespans we've seen over the past 30 years in the roofing industry.
3. Roof Maintenance Will Prolong the Expected Lifespan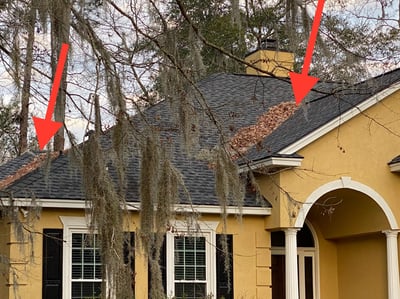 Having roof maintenance done can extend the life of the shingle. Done twice or even once per year will help prevent premature roof failure. Preventative maintenance is important. Keeping the leaves and debris off the roof. Checking your roof accessories, such as pipe penetrations and flashings to make sure they're properly sealed.
Roof maintenance can prevent the most common roof leaks and prolong the life of your shingles.
The Components Included in a Roof Replacement
Every house has different components that'll be needed to install a new shingle roof. Here is a list of the most common items that'll be used for a reroofing project.
Wood decking

Underlayment (Organic and synthetic roof underlayment)

Ice and water shield

Eave drip flashing (roof drip edge flashing)

Pipe vent flashing

Mechanical vent flashings

Roof-to-wall, chimney, or skylight flashing

Ventilation (ridge vents, off-ridge vents, power fans)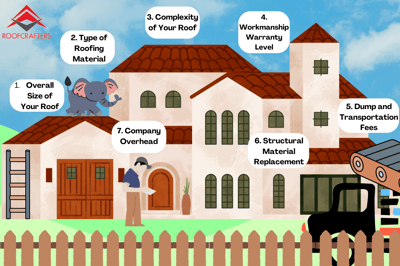 One of the first steps to getting a new shingle roof is deciding which asphalt shingle is right for you. Understanding the cost of the different types of shingles will help you better decide which one is right for you.
Let's cover the 4 types or styles of shingles you have to choose from.
The 4 Types of Asphalt Shingles
The 4 types of asphalt shingles that you have to choose from are:
3-tab shingles

Architectural shingles

Upgraded architectural shingles

Designer shingles
With 4 types of shingles to choose from, you're sure to find one that you'll like. Maybe it's a certain roof style, the perfect color, or a pattern that you want. Because different manufacturers make different colors. Many times our clients pick the shingle brand based on the colors that are available.
Below we're going to show you images of the 4 styles. We will also provide the average cost of each of those shingles installed on houses.
The Cost to Install 3-Tab Shingles in St Augustine
3-tab asphalt shingles are the least expensive shingles. The least popular too. Because 3-tab shingles are widely used on new construction homes and investment properties. They're often even referred to as builder-grade shingles. We've all come to learn that most builders use the cheapest products, right?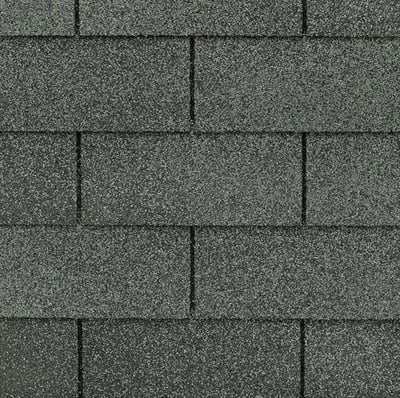 3-tabs can be a great option for a roofing project if you have a tight budget. They're the least expensive of the shingles. Keep in mind, that they'll also provide the least amount of wind protection. They'll also need to be replaced more often than the other shingles.
Aesthetics: They lay flat and provide a flat slate shingle look.
Lifespan: Typically lasts 12-15 years depending on weather conditions.
Protection: 3-tabs are the lightest of the asphalt shingles. Rated for 60 mph wind, they provide the least wind protection and during a major wind event, the 3-tab shingles are at a greater risk to blow off in a severe Florida storm.
For a 3-tab shingle an average size home in St Augustine, Florida. The average cost is $7,300 to $10,600
View: GAF 3-tab colors here.
View: CertainTeed colors here.
The Cost of an Architectural Shingle Roof in St Augustine
Architectural asphalt shingles are also known as dimensional shingles. The most popular roof installed on homes in St Augustine. They're heavier than the 3-tab shingles. Being heavier, they'll provide you with a higher wind rating than the lighter 3-tab shingle roof.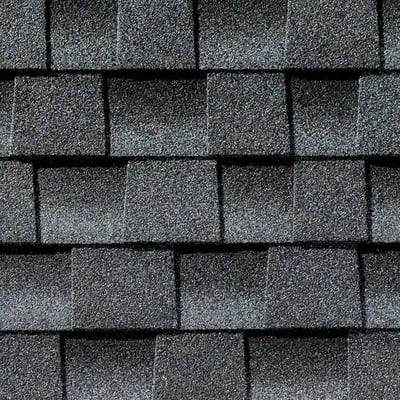 Architectural shingles are also referred to as laminated or dimensional shingles. Because during the production of the shingle, the manufacturer laminates shingle parts together. This laminated part creates depth or provides the roof with dimension.
Fun fact, this shingle was first designed to look like real wood shingles. These roofs are also the most popular shingles installed on homes in the St Augustine Area.
Aesthetics: These shingles provide a dimensional look that will provide more curb appeal
Lifespan: Most architectural roofs last 17 to 25 years with proper roof ventilation. Why proper ventilation matters
Protection: High wind ratings. With the correct installation methods, they can provide wind coverage up to 130 mph depending on which manufacturer you go with. GAF has 15 years of Unlimited Wind Protection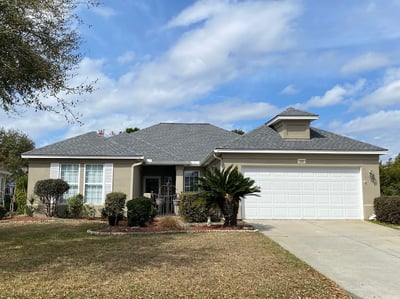 For an architectural shingle on a Florida home with a 2-car garage and a standard hip roof. The average cost is $11,200 to $17,100
View: GAF Architectural colors here.
View: CertainTeed shingle colors here.
Cost for a Roof Replacement with Upgraded Architectural Shingles
Upgraded architectural shingles provide you with the same economic ease as any asphalt shingle. The major difference is the curb appeal. The upgraded architectural shingle is much thicker than the regular architectural shingle. They weigh as much as 100 pounds per square foot more than the architectural shingle.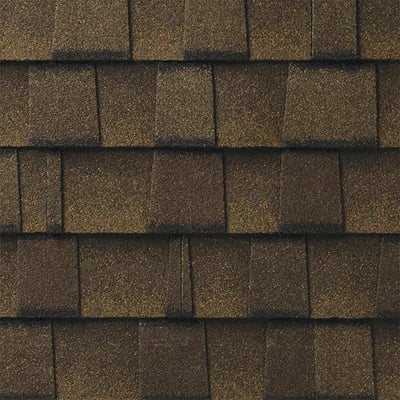 More weight and a thicker shingle will give your roof more excellent definition. This creates a deeper 3-dimensional look. The added pop will boost your home's curb appeal. If that's what you are looking to accomplish. This may be a good choice for you.
Aesthetics: The thickness of these shingles creates a noticeable difference. This provides your home with added curb appeal.
Lifespan: Created with more asphalt in the shingle, these shingles typically last 25 to 30 years.
Protection: The heavier a product the less likely it is to blow off in a major wind storm. These shingles can weigh as much as 100 lb per square foot more than regular shingles depending on the manufacturer you decide to go with.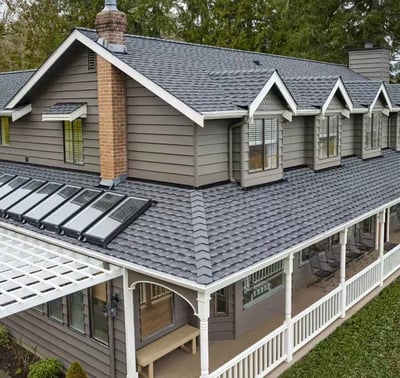 For an upgraded architectural shingle roof on a 2-story home in St Augustine. For a more complex roof with dormers, skylights, and chimneys. The average cost is $13,100 to $19,000
View: GAF Upgraded Architectural colors here.
View: CertainTeed Upgraded colors options here.
The Average Cost of Installing Designer Shingles in St Augustine, FL
Designer shingles are sometimes referred to as luxury shingles. Designer or luxury shingles are specially designed to simulate natural products. Products such as real slate or natural wood shingles. They're by far the heaviest of the asphalt shingles.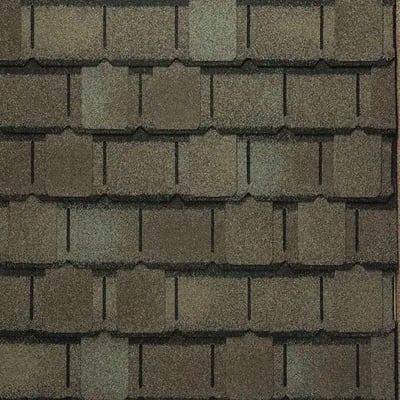 Designer shingles will add tremendous aesthetic value to almost any home. They create amazing curb appeal with their unique one-of-a-kind designs. If you want your home to stand out from the rest, this may be the right style of shingle for your home.
Aesthetics: These shingles are specifically manufactured to provide the most curb appeal.
Lifespan: You can expect these shingles to last 30 to 40 years
Protection: Designer shingles are the heaviest of the shingle family. With the proper installation, they provide unmatched wind and protection from storms.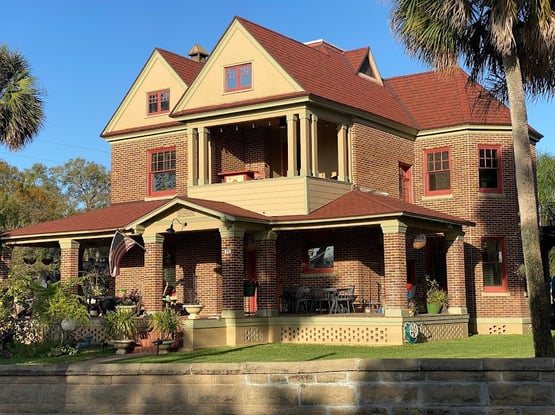 For a designer shingle roof on a 2-story historic home in St Augustine. Has a wrap-around porch. Complex roof, with a chimney, walls, and several valleys. The average cost is $18,300 to $29,100
View: GAF designer styles and colors here.
View: CertainTeed's styles and colors here.
Get a Checklist to Help Hire a Great Roofing Contractor in St Augustine Florida
Now that you have a fair idea of what a new shingle roof will run you in St Augustine, FL. Keep in mind that these are average costs. And without us knowing all of the factors used to determine the actual cost of a shingle roof tear-off we can't give you an exact price. We'd also recommend that you try our pricing calculator to get a budget for your roof replacement. It's free.
Our family here at RoofCrafters wants to be a part of helping educate all the residents in the communities we serve. By providing you with all the important information, hopefully, you'll feel confident every step of the way on your roof replacement journey.
It's a big investment and an important one at that. So, we have also put together a hiring checklist. It has some frequently asked questions along with the answers. Hopefully, this will help you feel more secure interviewing potential contractors and making a great hiring decision.
At RoofCrafters, our mission is to provide job opportunities for others to thrive and grow while making a meaningful impact within our communities.