Roof Repair vs. Replacement: Which Option Is Right for You?
April , 2023 | 7 min. read
By Kevin Mills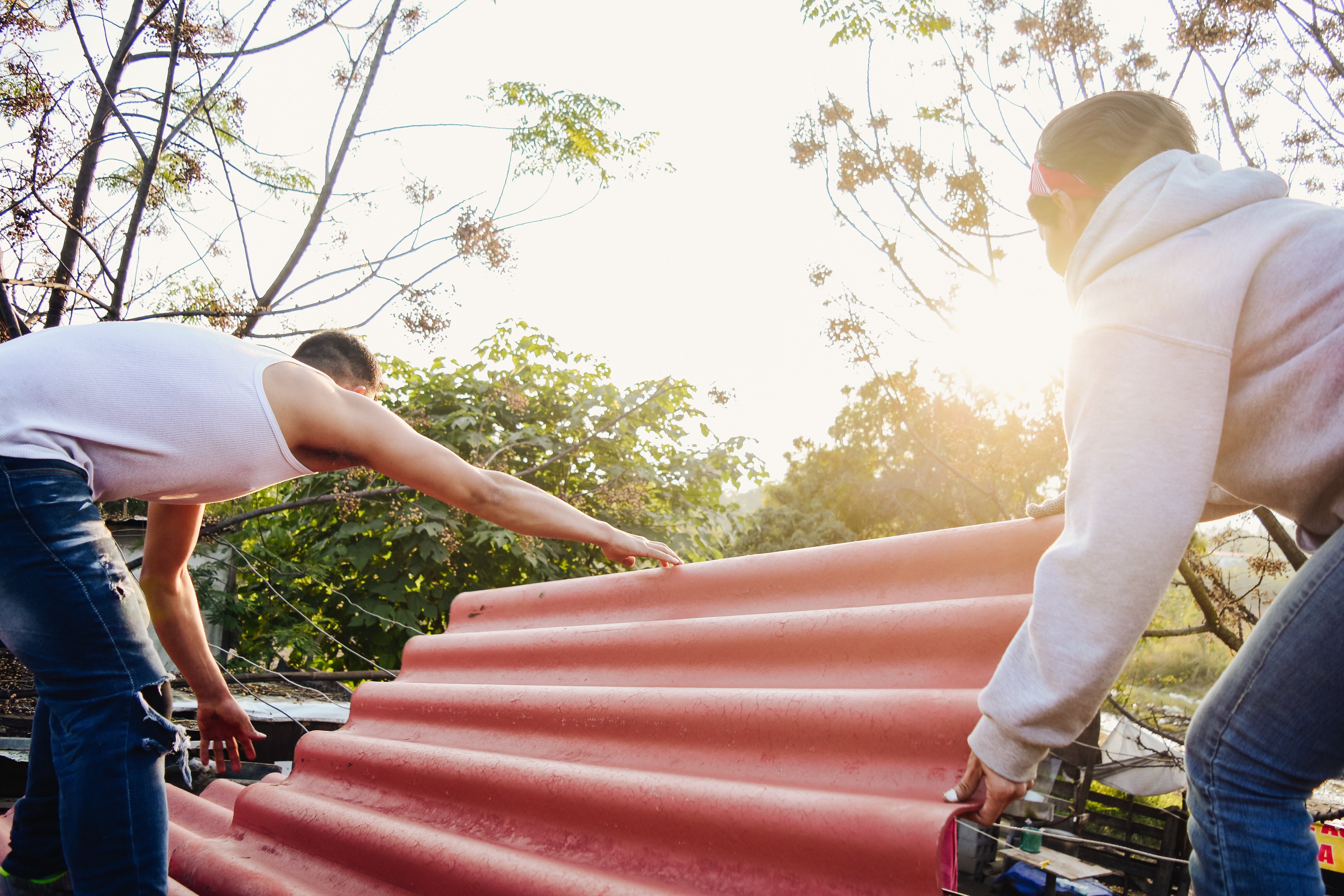 Roof replacement or roof repair? This is a question many homeowners just like you end up asking their roofing contractor after they've completed the inspection of the damaged area. The answer can depend on multiple factors, such as your budget on hand, the extent of the damage, and the condition and age of the existing roofing materials on your home.
Figuring out which one to pick isn't as easy as picking out fruit from your local grocery store. It requires some thought, careful planning, research, and faith in your contractor.
We get it. And your contractor of choice needs to be able to make a great repair and provide you with a warranty against any future leaks to the area that they will be repairing. This last part is the most important thing when it comes to protecting your home and your money.
RoofCrafters has been repairing and replacing roofs for nearly 3 decades now, and we know good and well that if we can not give you a good warranty for the repair then we will not offer that as a solution. Luckily, there is a way to lighten your burden. Read ahead to find out some of the pros and cons of roof replacements and roof repairs.
Roof Repairs Pros and Cons
Roof repairs are ideal if you have spotted the issue before it has had the chance to grow into a bigger problem. Often an easy solution is found in a roof repair, if it is caught early enough, it is almost always better for you. Also, if your existing roofing materials have plenty of life left in them and you have a leak, in most cases we would only recommend doing a repair to fix the leak, along with any other maintenance issues we see that may cause you a problem in the near future.
That way, when we leave your home, we will be confident that you will have a good roof to protect you and your home. Let's break down some of the pros and cons of roof replacements to help make it easier for you to make the important decision:
The Pros
Low cost – a roof repair is less expensive than a roof replacement. If you are on a low or fixed budget, then this option is great to stop a roof leak or repair any damaged materials.
Takes less time – you can get your roof repaired in just a matter of days. The mess created is also sure to be minimal, making the cleanup process effortless, which reduces the cost.
Functionality is great – a roof repair is a perfect way to improve the durability and longevity of your roof. It helps add a few years to your roof and prevent expensive leak repairs later on.
Easy way to improve aesthetics – A roof repair is a quick way to make your roof come back to life without having to spend too much.
The Cons
Higher per square costs – since the area being repaired is smaller, the cost per square is going to be more expensive. Because we typically have to tie into an older roof when we do repairs, the repair work has to be done slower.
Finding the perfect replacement parts – may be difficult especially when it comes to the shingles. Getting the right match can be a tough task given that your home or property has aged, making it difficult to match your color.
High chance of undetected damage – since the entire roof isn't being replaced, there may be a possibility of other areas that are failing that you have not noticed yet.. Thus, leaving you with no other choice but to call in the contractor for additional repairs later on when the damage surfaces.
Roof Replacements Pros and Cons
Roof replacements can be full or partial, depending on the extent of the damage. Sometimes only partial roof replacements are needed due to roof storm damage.
Here are some of the pros and cons:
The Pros
High return on investment – you are sure to get rid of any undetected damage and problems with a roof replacement.

Improves the look of your home – it's like getting a brand new makeover for your home. The number of options out here today is plenty. You can pick the latest and most trending design, color, and style that will surely add curb appeal to your home.

Increases value of your property – if you end up selling your home or property soon, the roof replacement is sure to pull up the value of the property.

Easy to find a reliable contractor – professional contractors and service providers for roof replacements are easily accessible and available. They're certified and can get on board right away.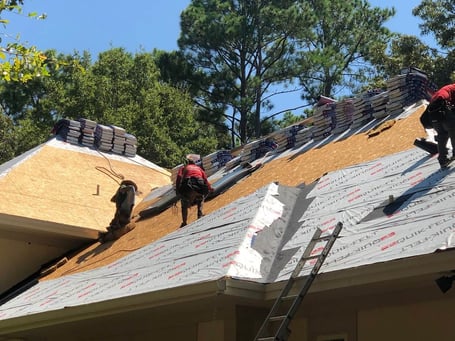 The Cons
Takes more time – roof replacements can take up to 14 days to plan, get permits, and schedule and If you have an upcoming event, then you might have to delay your plans till the roof has been replaced.

The noise and fallout can be disturbing – the constant banging for a long period can be distressing for people living in the home. Especially if you have elderly people, children, and pets. The added stress of having to consider relocating to a temporary location, for the time being, can be

Can be costly – roof replacements can be quite heavy on the pocket. This is because of the costs of labor, materials, and time spent on getting the project completed professionally and efficiently.
Which One Is the Right Fit for You?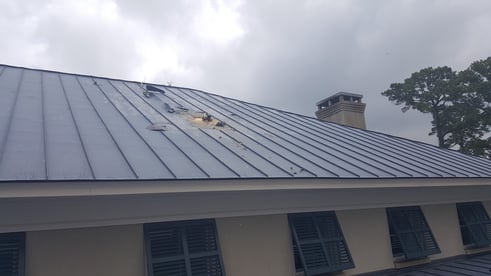 While roof repairs are a quick fix and temporary solution to a leak, a roof replacement can go a long way if there is substantial damage. It's also worth noting that frequent leaks may indicate that a roof replacement is the best option after all.
A roof replacement is sure to be a viable and sustainable option. It's often advised by experts to be the right investment, giving you peace of mind and a solid leak-proof roof for a longer period of time.
In addition, roof replacements today are done using the latest techniques, tools, and equipment, making them of better quality than the ones done previously. Bringing the entire look of the home to life with a roof replacement is a common solution for many homeowners just like you.
Not sure? Take the repair or replace quiz.
The Key Roof Replacement Vs Roof Repair Takeaway
With all the pros and cons on your list now, you can make an informed decision about which option to go for. For the optimal choice, get in touch with your local roofing contractor and have them inspect your entire roof. They have the right experience and knowledge when it comes to roof repairs and replacements, thus being qualified to help you make a well-informed decision.
If however, you wish to go for the option that is the opposite of what they advise, you can always communicate your concerns and requirements to them. A professional roofing contractor will be skilled to help you fit the right option into your budget, right away. If you're struggling to find the best contractor for the job, be sure to download "The Top 10 Most Critical Questions You Want to Ask Your Potential Roofing Contractor".
This checklist includes several different prompts to ask your roofer to prepare you to hold the company accountable for its quality of work and services when it comes to your roof repair or replacement. In the meantime, continue learning about your roofing project with our article, "How Much Does It Cost to Fix a Leaky Roof?"
And if you are ready to move forward with your inspection click the button below to get started.
My name is Kevin Mills, and I am the lead estimator for RoofCrafters' Tampa division. I'm originally from Michigan, and I enjoy hunting, fishing, and spending any free time outdoors. What I'm most passionate about, though, is helping business owners and homeowners alike achieve their roofing goals, all while providing a seamless customer journey.