9 Step Process to Getting A Roof Replacement
March , 2022 | 7 min. read
By Mitch Owens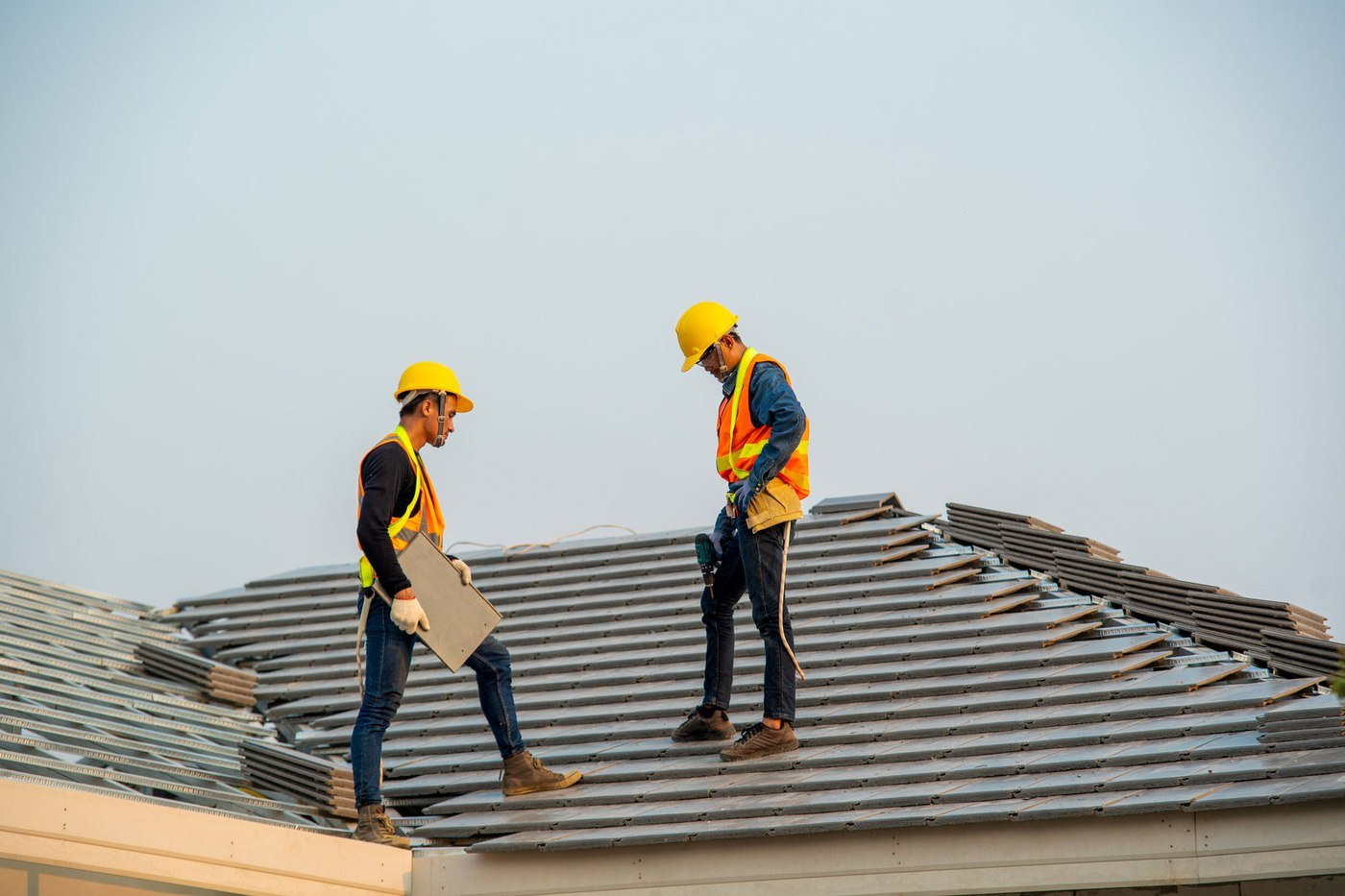 The roof replacement process can be exhausting. It feels like you have to speak with a million different people, then comes the inspection, then comes money talk, then comes decision-making. It's a lot. Especially if you just aren't clear on what to expect, which can add some unnecessary confusion and stress.
Whew, take a deep breath, because the hard part is over. As the homeowner, you've done a fantastic job getting your roof replacement process jumpstarted. You can leave the rest up to the professionals. At RoofCrafters, we've been replacing roofs for over 29 years, and we can assure you that this process will be as tranquil as possible. Well, as tranquil as roof work can be, anyway.
Seriously though, we're glad you're here to learn about the roof replacement process with us. Whether you're anticipating an upcoming project, or you're thinking about scheduling one, you can expect it to be completed in 9 steps. These steps include obtaining permits and setting up the worksite, conducting a roof tear-off, installing your new roof, clean up, and inspection. Let's jump right in!
9-Step Process to Getting Your Roof Replacement Done
We know your roof is a large investment, and a high-quality properly installed new roof is going to last you a long time and give you peace of mind for many years to come. Look, It's no secret that many contractors in the roofing industry cut corners or rush through the installation process. They just don't pay attention to the many important details and specific roof installation techniques that are required to have a high-quality installation.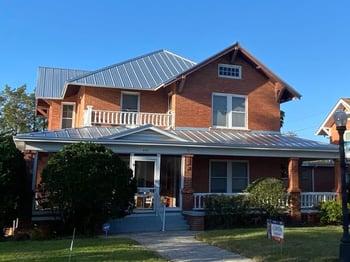 The day your roof installation begins is the most important day. It must be installed correctly to last. The exact roof replacement process may vary from contractor to contractor, but you will find that reputable roofing contractors follow a very similar process.
1. Acquiring All Required Permits Before Starting
The first step in your roof replacement process is to have all the required permits from your state and local building departments. This may also include any special homeowner association or architectural review board permits. Some community HOA's and ARB's regulate the type of roofing materials allowed, as well as the colors you are able to select.
The permit process is in place to let your contractors know of any specific material and installation requirements that are needed for your particular geographic area. You don't want to have a new roof installed only to find out later that the material type or color is not allowed in your community. Having all permits in place assures you and your contractor this won't happen.
2. Getting Things Moved to Set Up the Job Site
The first thing your contractor will do when they arrive is set up your job site. This is done by moving items that could potentially get damaged such as outdoor furniture, grills, and pottery plants. Your contractor will also ask you to move any vehicles out of your garage or driveway that you will need access to while the roof replacement is being completed. This will keep your vehicles from getting damaged and give you access to them, should you need to leave your home for any reason during the project.
3. Setting Up Safety and Protection for Your Property
One of the most important jobs your contractor has to do is make sure you and everyone on your property are safe. This requires setting your job site up with the right equipment.
First, the most important thing is to make sure no one gets injured on your property. Next is to make sure your property does not get destroyed during the tear-off process. The crew has the right safety equipment for your roofing project, along with the proper set up of barricades and tarps to ensure that the job site stays safe during the tear-off process.
4. Tearing Off Your Old Roof
During the tear-off portion of the project, the roofing crew will use special tools designed to pry up the old roofing materials. The two most common tools that are used are spades and pitchforks.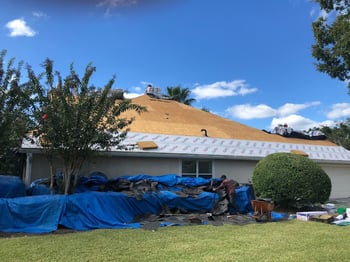 The crew will go over your existing roof with one of these tools and remove all of the old materials section-by-section to prepare the decking for your new roof installation. The tear-off will also include removing the old components such as metal eave drip, underlayment, pipe boot flashing, and any metal or plastic vents that may be on the old roof.
5. New Roof Materials Are Delivered
Your contractor will schedule the new roof material to be delivered the day your roof replacement starts. Coordinating the new materials to be delivered once the old roof has been torn off will keep your contractor from loading new material on your old roof that will have to be moved again to tear the old roof off.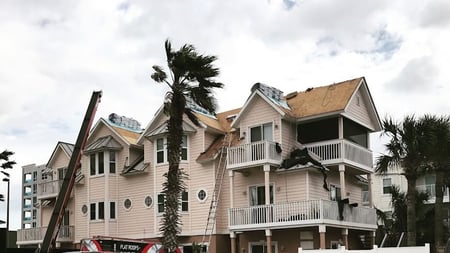 This requires a little more effort and communication with the local supply house but saves both time and money down the line. Depending on your roof type and the complexity, your contractor may choose to ground set the materials if it makes your roof replacement process run more smoothly.
6. New Roof Gets Installed
After the old roof is torn off and your new roof materials are delivered, your contractor will begin to install your new roof system. To ensure you get a high-quality installation, they will follow all state and local building codes, as well as the roofing manufacturers' installation requirements.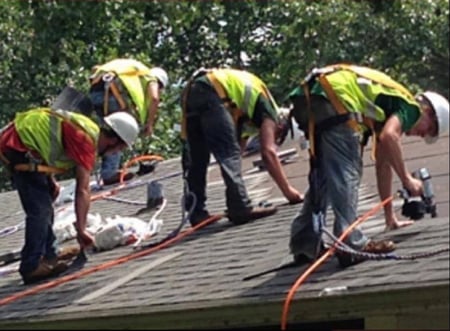 The roof will be installed section by section with all the roofing components that make up the entire roof system being installed in their correct order. Having both experienced installers and using quality materials will ensure that you get the most lifespan from your new roof replacement.
7. Cleaning Up After the Roof Replacement
After your new roof is installed your contractor will start the final clean-up. They will begin by cleaning all the debris from the new roof and gutters. Once the roof and gutters are clean, they will start cleaning the ground. You can expect this to take an hour or so depending on the size of your home.
The crew will remove all the tarps and pick up all the roofing debris from around your home and in your landscaping. Once all the debris is removed the crew will run magnets to pick up the loose nails around the perimeter of your home. This usually needs to be done 3 or 4 times to get the nails up.
8. Dump Haul
To get a new roof replacement, the old roof will typically need to be torn off. Most roofing materials that are removed will need to be taken to special construction dumps that are designed to handle all the different materials used in the roofing products, such as the petroleum in asphalt shingles.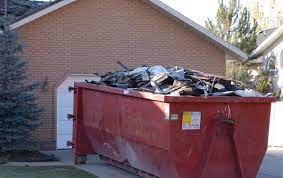 Depending on the type of materials that will be torn off, in some cases, materials can be recycled which could reduce the cost of your roof replacement. Either way, to get rid of the old materials, they need to be handled by labor to be put into dump containers and then transported by a CDL class driver. After the job site is completely clean, your contractor will remove the dump container and clean up around where it was positioned on your property.
9. Inspecting the Quality of Workmanship
After your roof has been installed and the property cleaned up, your contractor will have a quality control person or supervisor come out and do a complete walk-through to double-check for quality. They will get on the roof and inspect the installation to make sure that you will be left with the highest quality workmanship possible for the materials you invested in. By double-checking the areas that are most prone to leaks such as chimneys, skylights, pipes, vents, and all roof-to-wall details. No matter who you hire, a contractor that double-checks their own work is sure to have fewer issues from installation mistakes and leave you with the best installation possible.
Ready to Start your roof Replacement Project?
Now that you're a guru on all things roof replacement, you should be feeling pretty comfortable and confident with your upcoming project. You know what to expect in 9 easy steps, and you get to sit back and watch it all come together. Not so bad after all, right?
If you're just starting out the process, you're probably getting ready to find and hire a local roofing contractor. To locate a great local roofing contractor that's the best fit for you, RoofCrafters has provided a checklist of questions to ask your local roofing contractor, along with the right answers that you need to get back when you meet with these roofing contractors.
If you are in the South Carolina, Georgia, or Florida area, Schedule Your Inspection Here to begin your roof replacement journey. If you'd like to learn more about your roof replacement, we recommend you check out our roof replacement guide.
My name is Mitch, and I have over 10 years of roofing experience. I enjoy my career because I take pride in helping others care for their homes and businesses. I am the best in the business because of my honesty and integrity. I listen to the needs of my clients and deliver a seamless customer experience, always.