Everything You Need to Know About Timberline Solar Shingles
September , 2022 | 12 min. read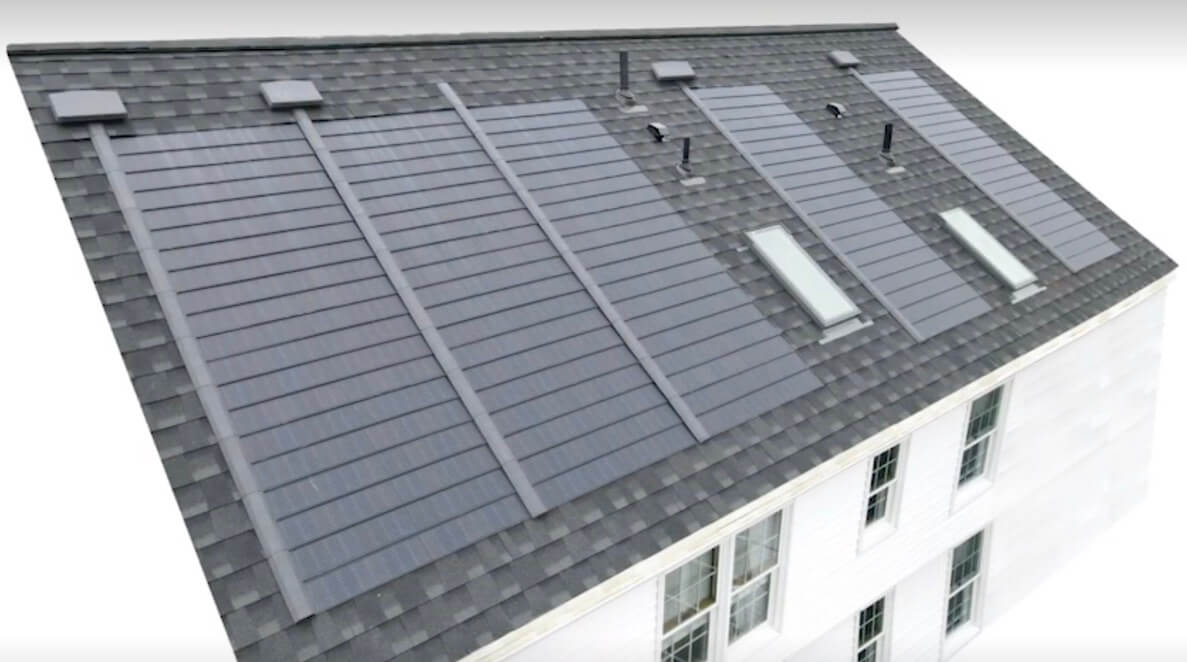 Is It time for you to replace your roof?
If you have ever thought about solar and are in the market for a new roof, now would be the time to consider if solar is right for you.
Using your roof to produce enough solar energy to power your house may be a great idea and a wise investment.
But the truth is, everyone isn't able to afford to invest in solar shingles. That's why it's important to know all the important factors about the new Timberline Solar Energy Singles from GAF Energy. Before deciding if it's right for your house.
Our family at RoofCrafters Roofing has been helping homeowners make their roof replacement decisions for 29 years. Because of this, we'll help you determine if the Timberline Solar Energy Shingle roof will be a smart investment and fit your budget.
In this article you'll learn:
The Timberline Solar colors, installation, and affordability

Timberline Solar vs. rack-mounted panels

Financial incentives available for solar shingles

5 factors that impact the cost of solar shingles

The average cost of a Timberline Solar Energy Shingle roof

The benefits of producing solar energy
By the end of the article, hopefully, you'll have all the answers you need to decide if the Timberline solar shingles from GAF will be a wise investment for you.
GAF Timberline Solar Energy Shingle - (colors, installation, & affordability)
It was important for GAF to get their certified contractors on board with installing the new integrated solar shingles. They admitted they needed to make 3 things happen while developing the new solar shingles. Their factory-certified contractors agreed to the solar shingles needing to meet these 3 requirements: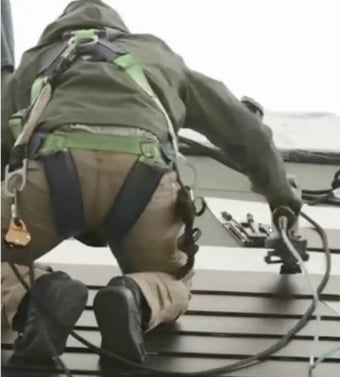 Be affordable to consumers with competitive pricing




Be easy to install and service




Be better looking than the other products on the market
Here's where we currently stand on these 3 requirements.
Are solar shingles affordable?
Solar Energy Industries Association or SEIA reports the national average price of solar is $2.94 per watt for solar panels. For a 5kw system that would equate to $11,000.
GAF's solar energy shingle is coming in at around 2.50 per watt. This can vary depending on all the different factors that go into a roof replacement.
Ease of installation
The average time from start to completion doesn't change much when installing solar shingles. An average size house can be done in 1 to 3 days depending on the complexity of the roof.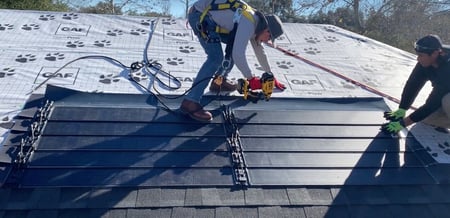 Adding and installing the solar shingle will not change the amount of time needed to complete the roof installation. Because the new solar shingles are installed by nailing them to the decking. Adding and installing the solar shingle will not change the amount of time needed to complete your roof installation in most cases. However, the electrical work will be done after the roof is completed.
Timberline Solar shingle colors
GAF has launched the Timberline Solar Energy Shingles using 4 of their most popular Timberline HDZ shingle colors. Colors shown below, Charcoal, Birchwood, Pewter Grey, and Weathered Wood are your 4 color choices.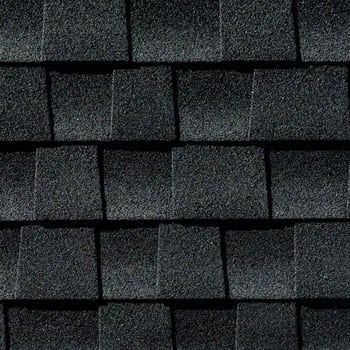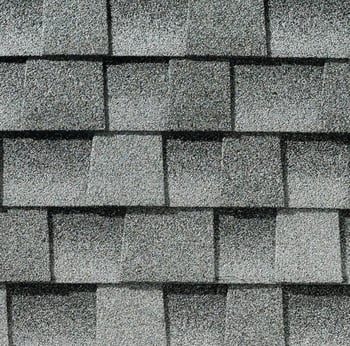 Color: Charcoal Color: Birchwood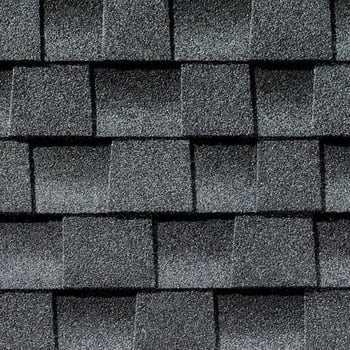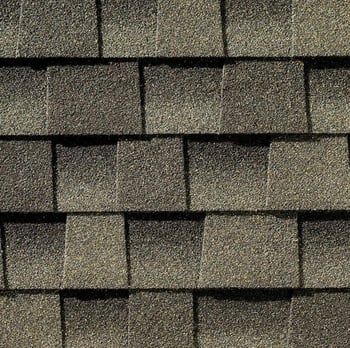 Color: Pewter Grey Color: Weathered Wood
And with that, we'll leave the last one up to you. Is it better looking than the other products on the market?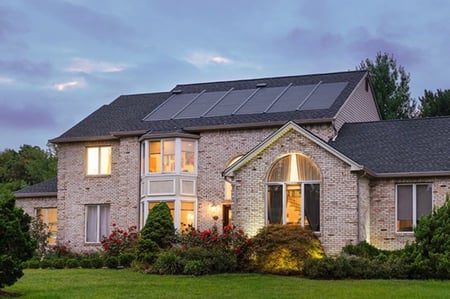 GAF Timberline solar shingles vs. rack-mounted solar panels
The average cost of an asphalt shingle roof replacement is between $11,200 and $17,100. If your roof doesn't need to be replaced and you are wanting to go solar, a traditional rack-installed solar system may be the best option for you. Again this is considering you are looking to recoup your investment as quickly as possible.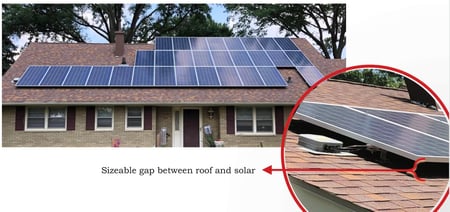 But, most people agree that traditional rack-mounted panels being installed on a roof are not aesthetically pleasing. They are mounted above the roof leaving gaps. Debris and wildlife infestation can get trapped in these gaps. They don't provide curb appeal.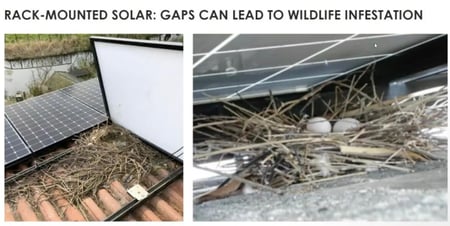 With traditional solar panels, you'll have 2 or even 3 installers. The roofer, the solar installer, and the electrician. This means you'll also have separate warranties. Separate material warranties for the roof, the solar system, and the electrical components. You'll also have separate labor or workmanship warranties for the 3 trades.
This has already caused much confusion. When you have a leak, whose fault is it? See where we're going with this? A Timberline solar shingle roof eliminates all this unwanted confusion.

One of the biggest aspects of the integrated solar shingle roof is that you'll need to be in the market for a roof replacement. Again, assuming that your return on investment is important. The Timberline Solar Shingle won't tie into an existing shingle roof system.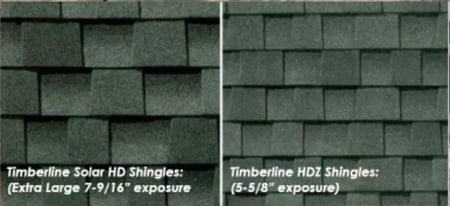 The exposure on the shingles is approximately 2 inches larger than a standard architectural shingle. Making it impossible to add new solar shingles to an existing roof and waterproof it at the same time.
Timberline Solar shingles provide curb appeal
Compared to the bulky rack-mounted panels. Because the solar shingle lays flat against the underlayment and decking. They are low profile and the arrays are installed in square and rectangle columns making them uniform. They look like glass skylights and are much more aesthetically pleasing than rack-mounted panels.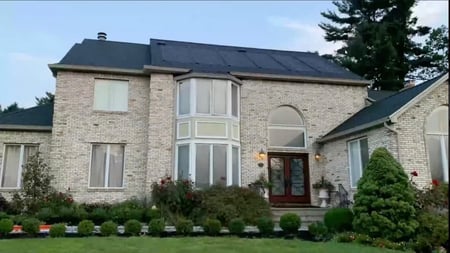 If you don't need a new roof, traditional solar panels will be your best option to get the fastest return on the investment.
If you need a new roof and you are concerned about the look of the solar on your home. Well, the Timberline Solar Energy Shingle may be the best option for you.
Let's dive deeper into investing in GAF's solar roof by discussing the incentives.
Financial Incentives available for Timberline Solar Shingles
Financial incentives take many forms. The incentives available to you are often what help reduce the initial investment. Making it much easier to get a return on the investment in a shorter time.
Here is a list of the most popular solar incentives: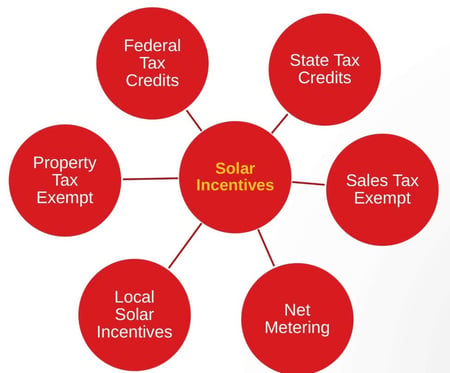 Federal Solar Tax Credit (increased to 30%)

State Tax Credits

Net Metering

Local Solar Incentives

Sales Tax Exempt

Property Tax Exempt

Production Incentives

Cash Incentives
These incentives can help reduce the investment and in many cases offset the cost of the roof.
Thus making the two home improvement projects in one an easy decision.
5 factors that'll impact the cost of a Timberline Solar Shingle Roof
It would be impossible for us to give you an exact price without knowing all of the many factors used to calculate the costs. The 5 main factors that'll impact the costs to produce solar energy are going to be: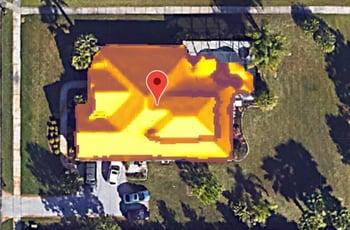 The square footage of your roof.

The average annual electricity consumption.

The amount of sun-facing slopes on your roof.

The complexity of your roof replacement project.

The incentives available for going solar.
What is the cost of a Timberline Solar Shingle roof?
As you can see, many factors will impact the cost of a new solar roof installation. It would be nearly impossible for us to provide you with an exact cost without knowing these factors. So to be fair, we will provide you with the average cost of a Timberline Solar roof installed on a fairly simple roof of a 2000 to 2500 square foot house. A home that needs a system to produce 7 KW of electricity.
You can expect the average cost of a complete solar roof system to be between $35,000 and $40,000. That's before deducting any incentives previously mentioned. The 30% federal tax incentive alone would reduce the average cost to between $25,000 and $29,000.
Keep in mind, that the average price we're providing is for a complete solar roof system. Including a complete roof replacement. This includes installing the new Timberline Solar asphalt shingles. And installing the new Timberline Energy Shingles. Factoring in enough solar shingles to produce 7 KW of electricity. Two home improvement projects in one.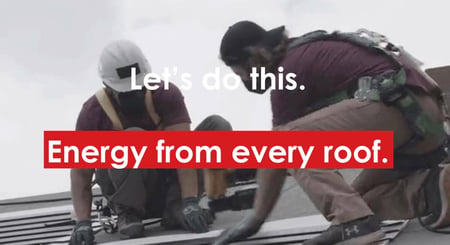 If you are concerned about the rising cost of electricity. Producing your clean energy and decreasing your reliance on the utility company may be worth looking into right?
Let's go over some of the other benefits of the integrated solar shingle roof.
The benefits to go with the Timberline Solar roof
Here's a list of what we believe are the top benefits of going with the new GAF Timberline Solar Energy Shingle.
Substantially reduce your monthly energy bill

Offset the cost of your roof replacement with the electrical savings

Foster energy independence

Increase the

value of the home

of your home by as much as 4%

Reduce greenhouse emissions and your carbon footprint through clean energy production.
Well, by now you know the most affordable time to go with a new solar shingle is when you need a new roof. With the Timberline Solar Shingles, you can easily turn two major home improvement projects into one. You'll offset the cost of the roof with your utility savings. If your financing and your electric bill is equal to or less than the solar roof payment, it's the quickest way to get a return on your investment.
Ready to hire a roofing contractor to install your Timberline Solar Energy Shingles?
Now that you have an idea of what the cost will be to turn your roof into an energy-producing asset. You're probably ready to speak to a contractor to start the process. But remember the numbers we provided are only an average cost. The final price will be determined after your local GAF Master Elite Contractor performs an onsite inspection.
Our family here at RoofCrafters Roofing has helped thousands of families over the past 3 decades. Not only by providing high-quality materials and 25-year workmanship warranties. But we've also helped by educating them about the roofing industry. And by guiding them to make the best decisions for protecting their families for many years to come.
If you believe that we'll be a great fit for your roofing or solar needs and would like us to come out to see if a solar roof is right for you submit your info below.
At RoofCrafters, our mission is to provide job opportunities for others to thrive and grow while making a meaningful impact within our communities.