Roof Repair or Replacement: Making the Right Decision for Your Savannah Home
June , 2023 | 7 min. read
By Mitch Owens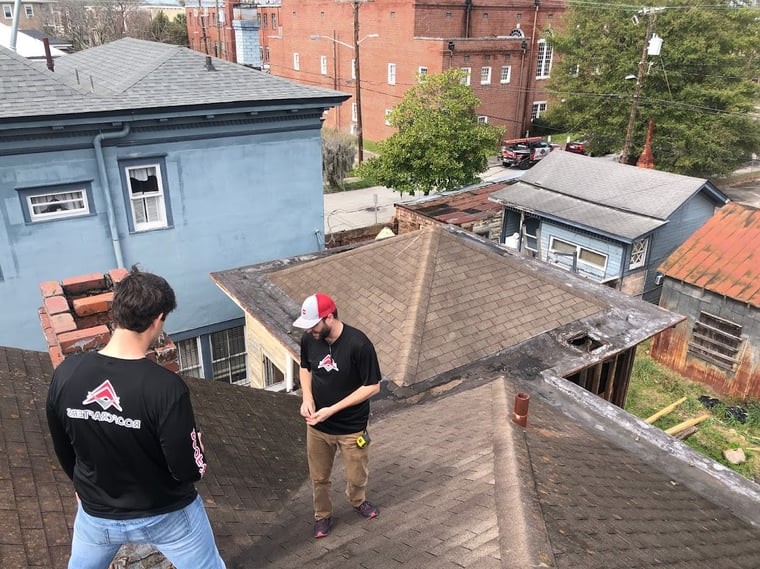 Picture this: You're in the coastal regions of Georgia, soaking in the beauty of Savannah. Your home, nestled in this charming area, relies on its roof to shield it from the elements. But what happens when your roof starts to leak? The dilemma arises: is a simple repair enough, or do you need a complete roof replacement?
At RoofCrafters, we understand the importance of making the right decision for your home. With over 30 years of experience serving the Greater Savannah Area, we're here to guide you through the process. Let's take this journey together and explore the factors that will help you determine whether a repair will suffice or if a new roof is necessary.
We also put together a short video below if you'd prefer to watch it instead of reading:
The Importance of a Professional Roof Inspection in Savannah
When it comes to your roof, it's crucial to rely on the expertise of a professional roofing contractor. In Savannah's unique coastal environment, a comprehensive roof inspection is vital. Our skilled estimator will climb up to inspect your roof's condition, examining the shingles, flashing, gutters, and more. We'll uncover any hidden issues and provide you with a thorough understanding of our findings. Then we'll review the pros and cons of repairing vs. replacing your roof.
Detecting Common Roof Issues in Coastal Georgia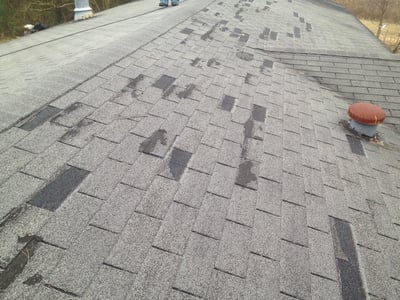 Living in coastal Georgia comes with its set of challenges for your roof. High humidity, frequent rainfall, and exposure to saltwater can take a toll. Our experts are familiar with the common roof issues in this region. From wind damage caused by Savannah's strong summer gusts or algae and moss growth in the humid climate. We'll address these concerns during the roof inspection. We'll ensure that your roof is ready to withstand the unique demands of coastal Georgia.
Evaluating the Age and Condition of Your Roof in Chatham County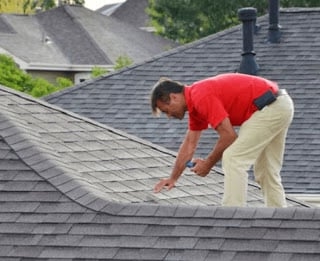 The age and condition of your roof are significant factors in determining whether to repair or replace it. Our estimator will assess the age of your roof and compare it to its expected lifespan. We'll look for visible signs of damage, such as cracked or missing shingles, sagging sections, or water stains on the ceiling. Structural integrity is also a key consideration. Based on our evaluation, we'll provide expert advice on the necessary repairs or replacements.
Extent and Severity of Damage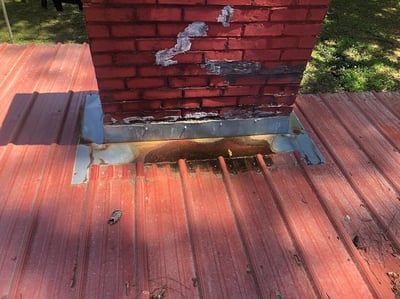 When it comes to roof issues, the extent and severity of the damage play a crucial role in decision-making. Minor issues, like a few damaged shingles or localized leaks, can often be addressed with a roof repair. Yet, widespread damage compromising the entire roofing system may need a full replacement. We'll guide you toward the most appropriate course of action.
Age and Lifespan of Your Roof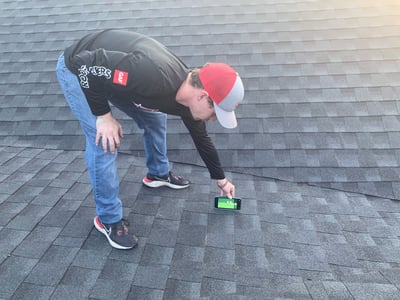 Considering the age and lifespan of your roof is essential in determining the best solution. If your roof is newer and has not reached its expected lifespan, repairs may be a suitable option. The only way to determine this is by climbing on your roof and doing a thorough roof inspection. But if your roof is nearing or has exceeded its lifespan, frequent repairs will likely become an ongoing expense. A roof replacement may be a more cost-effective choice, providing a fresh, durable roofing system that will last for years to come.
Cost Comparison: Repair vs. Replacement in the Greater Savannah Area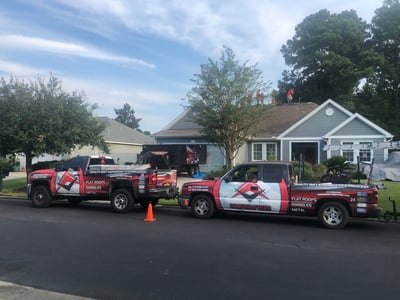 We understand that cost is a significant factor in your decision-making process. While repairs may seem more budget-friendly, frequent repairs can add up over time. We'll provide detailed cost estimates for both repair and replacement options. We'll also take into account your specific roofing requirements and the local market conditions. We'll help you weigh the long-term costs and benefits to ensure you make a well-informed decision.
Roof Repair: Addressing Isolated Issues in Savannah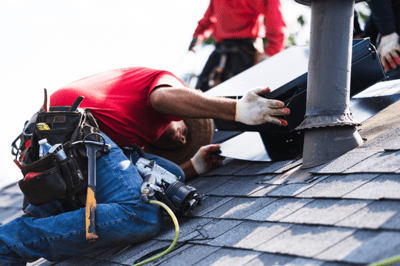 For minor issues like damaged or missing shingles, or a pipe leaking, a targeted roof repair can often solve the problem. Our professional roofers will identify the root cause of the issues and address them at the source. By addressing isolated roof leak issues, you can prevent further damage and maintain the functionality of your roof. The key to leak repairs is the existing roof needs to have 3 to 5 years of useful life remaining in them. Doing a repair instead of replacing your roof can save you money and buy you time.
Roof Replacement: Enhancing Performance and Longevity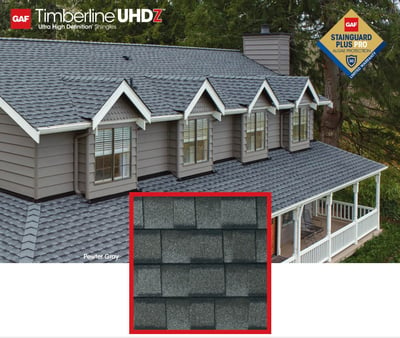 When your roof has extensive damage, has reached the end of its lifespan, or no longer meets your needs, a roof replacement is the way to go. Our roof replacement service involves removing the existing roof and installing a new roofing system.
This provides an opportunity to enhance the performance and longevity of your roof. This will help ensure optimal protection for your home. With a wide range of roofing materials and styles available, we'll help you choose the perfect option for your style and budget.
Importance of Working with an Experienced Roofer in Savannah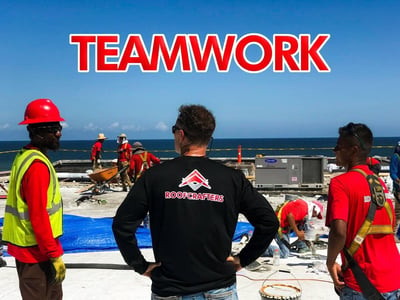 When it comes to your roof, you need the expertise of an experienced roofing contractor. With RoofCrafters, you'll have peace of mind knowing that our team has been trained by the top manufacturers. We'll provide professional service and adhere to industry standards and regulations. We have the necessary knowledge and experience to handle various roofing projects, ensuring your roof is in safe hands.
Choosing a Trusted Roofer in Chatham County: Tips and Considerations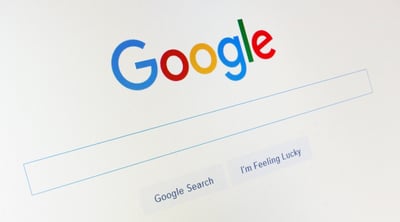 Selecting a trusted roofer in Chatham County requires careful consideration. Look for reputable local roofing companies with certifications and positive customer reviews. Ask for references and examples of their previous work to ensure their expertise aligns with your roofing needs. Taking the time to find a trusted roofer will ensure your roofing project is in the hands of professionals
Requesting Roofing Quotes and Comparing Services in the Greater Savannah Area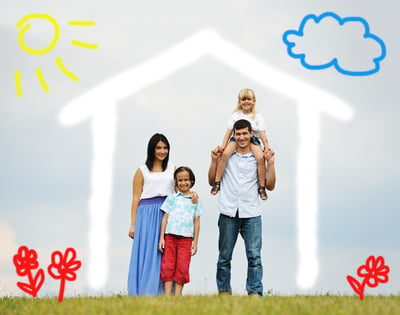 Before making a decision, it's essential to get a least 2 to 3 quotes. This will allow you to compare services from different roofing companies in the Greater Savannah Area. We encourage you to consider not only the price but also the quality of materials and warranties. More important pay attention to the character of the employees who you interact with from the company. By comparing services and character traits, you can make a better-informed decision. You'll choose the roofing contractor that best meets your needs and budget.
In conclusion, whether your Savannah home needs roof repairs or a complete replacement, RoofCrafters is here to help. With 30 years of experience serving the community, we have the expertise and knowledge to handle your roofing needs. Contact us for an inspection, and let us ensure the safety, longevity, and value of your Savannah home.
My name is Mitch, and I have over 10 years of roofing experience. I enjoy my career in the service industry because I love helping others take care of their homes and businesses. With over 10 years in the roofing industry, my success comes from my honesty and integrity during my roof inspections. I do my best to listen to the needs of my clients and strive to provide an awesome client experience.