How the Pleasant Family Revitalized Their Roof With RoofCrafters
January , 2023 | 7 min. read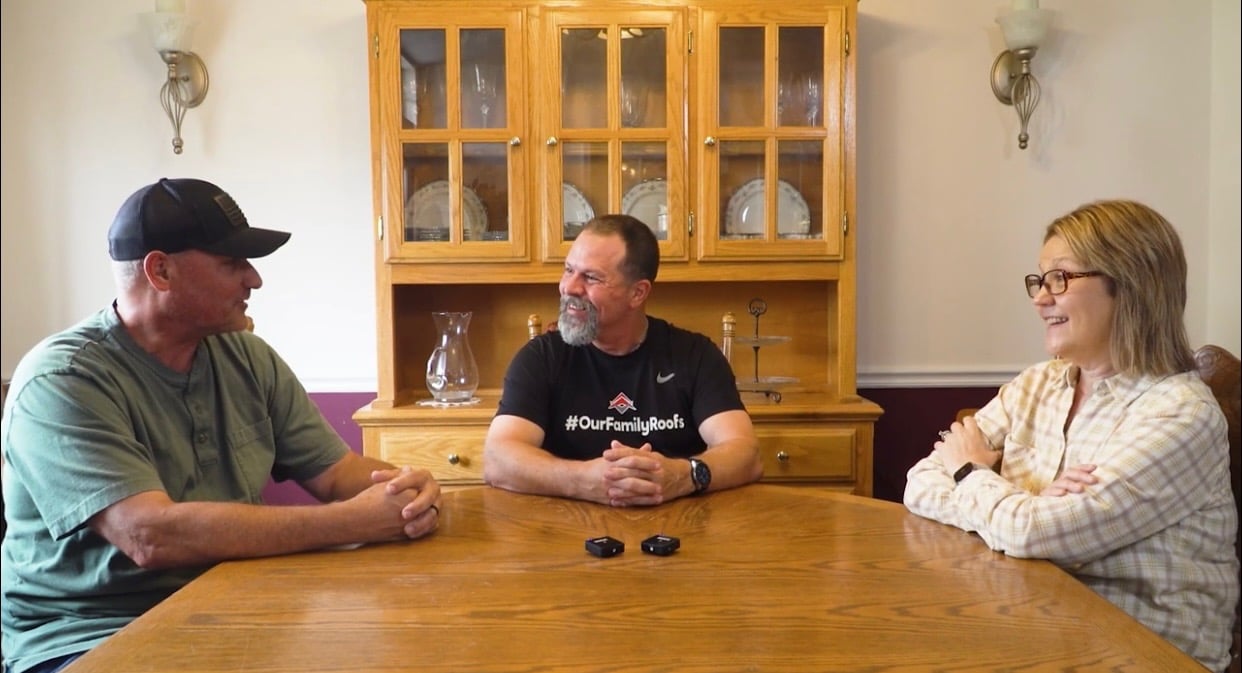 Your home is the single most important investment you've ever made. It's where you've watched your children grow up, hosted the annual family Christmas party, and the place you've made enough memories to last you two lifetimes. Throughout all of these years, you've taken care of your home, and it has taken care of you right back. You may have let your grass grow out a little bit too long that one summer, but I'm not judging.
To Jacksonville homeowners, parents, and grandparents Paul and Renee Pleasant, this all rings true. Their home has been their pride and joy since it was built in 2003, only recently, they discovered a few pesky leaks. They're prime examples that no matter how expensive your roof was, or how diligently you've taken care of it over the years, wear and tear that causes roof leaks are one of those things in life that are inevitable. If you're currently watching water drip into a bucket inside your home, you're not alone - just ask Paul or Renee!
Now, you've got a problem to fix, and time isn't necessarily on your side. Roof leaks have a way of sneaking up on you and showing their damage once things have gotten pretty serious. Not to mention how expensive the damage to the roof can cost you.
RoofCrafters has been repairing and replacing roofs for nearly 3 decades and we know how tricky and oftentimes disheartening discovering a leak can be, especially when you've taken such great care of your roof over the years. There's a time to be sentimental though, and Paul and Renee knew it wasn't now. Instead of cowering to its agitation, the Pleasants decided to look their roof leak in the face and kick it to the curb.
Paul and Renee Pleasant Had an Unpleasant Problem
Jacksonville natives Paul and Renee are nothing short of the perfect homeowners. Since 2003, their home has been filled with children, grandchildren, music, great food, and enough love to fill 500 football fields twice. Paul Pleasant decided to retire after spending many years serving in the United States Navy, and his wife, Dr. Renee, works as a leadership coach guiding her clients to achieve personal and professional growth. They're the mother and father to two beautiful daughters and have recently become proud grandparents. Their lives for the past few years have seemingly been perfect, or so they thought.
What the Pleasant family didn't realize is that during their memory-making-goal-achievement era, a few vexing roof leaks were brewing beneath their shingles - and yes, the theatrics are necessary here. When the Pleasant's home was built the same year that 50 Cent's single "In Da Club" was Billboard Song of the Year, the roof that was installed was builder grade. Essentially, the roof they received was pre-built and mass-produced. It wasn't carefully crafted to perfectly fit the needs and aesthetics of their home, but a roof is a roof, and this one did its job.
The Solution: Total Roof Replacement
It's no secret that pre-built and mass-produced products aren't crafted with love, for lack of a better word. This means that by the time April 5th, 2022 rolled around, the Pleasant's roof required some serious TLC. They knew it was time for at least a roof repair, but while they vetted roofing contractors to inspect the condition of their roof, it became clear that there were multiple soft spots, several small leaks, misplaced shingles with granules washing off, and worst of all, the plywood in the roof deck needed to be replaced. Eventually, they opted for a complete roof replacement to help preserve the health and longevity of their home.
Step 1: Vetting Roofing Contractors
Finding the contractor that's best suited for the needs of the roof as well as the homeowner is no easy task. It's sort of like choosing a new handbag: the Prada Nylon Re-Edition 2000's Mini-Bag is cuter than the Louis Vuitton OnTheGo tote, only it's less functional, and doesn't hold as many accessories. Everyone knows though, that the most tried and true, beautiful, and functional purse is the Hermès Birkin. Finding the contractor that can complete the project to the homeowner's standards while simultaneously providing updates, along with care and compassion for the residents can be a process. In other words, finding your Birkin can have its difficulties.
It's important to speak with multiple roofing professionals and meet in person with just as many and answer any questions or concerns you may have. The Pleasants did just that and took to Angi's List to find recommended contractors in their area. They considered two roofing companies before finding RoofCrafters, and sadly never actually heard back from said companies. However, David called the Pleasants back the same day, and they easily decided that the best man for the job was David Toth, RoofCrafters' lead estimator and roofing extraordinaire to boot. In this scenario, David was their Birkin.
Step 2: Hiring RoofCrafters' Lead Estimator, David Toth
Before hiring David as the lead estimator for their roof replacement, Paul and Renee realized they had already met in person. Renee was attending a ribbon-cutting ceremony at the Jacksonville Chamber of Commerce and got to know David after he gave a quick speech. Renee knew she and her husband were searching for a roofer, and decided to exchange contact information with David. Throughout the weeks of Paul and Renee receiving different quotes from different companies, they got in touch with David and the rest was history.
When asked about the initial inspection with David, Renee didn't hesitate to share her positive feedback:
---
"David instantly connected with my husband, Paul. He was honest before, during, and after the inspection and provided us with multiple different options. He wasn't salesman-y; there was no pressure. He approached the situation quickly and professionally without any tactics."
---
After David completed his inspection on April 5th, 2022, Renee and Paul were notified of the problems on their hands, what their needs were, and were provided with three options that fit their budget. David also pointed out that financing is an option, and then left the decision up to the Pleasant family. Renee and Paul took some time to decide on their material and roof system choices and ultimately decided to finance their roof replacement and install architectural shingles with a 50-year warranty.
Step 3: Investing in a Total Roof Replacement
Now that Renee and Paul decided on the best fit for their new and improved roofing system, it was time to get started. Most people have a preconceived notion of what a roofing project entails, and it usually has to do with concerns about the noise level, a disrespectful work crew, and being kept out of the loop. Hey, we hear you. It's a scary thing to trust complete and total strangers to work on your precious home. Even Paul and Renee had their reservations as any homeowner would, but after spending time with lead estimator David, any worry or doubt had dissolved, and all that remained was the excitement of receiving their new roof.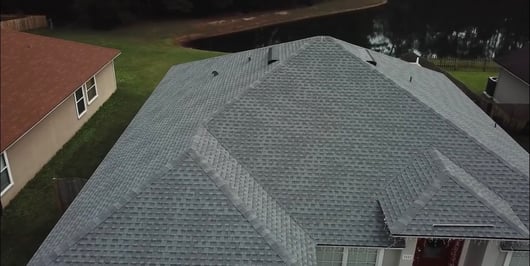 To reiterate, David secured The Pleasant's lead on March 31st, conducted his initial inspection on April 5th, completed the replacement with the field supervisor and crew in one day on April 18th, and closed before May 20th, 2022. In less than a month, and $16,829.24 later, RoofCrafters was able to alleviate The Pleasant family of their pressing roofing problems and provide them with their dream roof. I'd say that's quite the accomplishment, folks! Helping homeowners attain the roof they want and rightfully deserve is such an honor, which is why we make sure the entire process is as seamless and stress-free as possible. Renee can attest to this principle:
---
"Every one of the workers here was so respectful and polite, and they treated us as if our home was a family member's home. They were phenomenal, and were sure to explain everything to me from start to finish."
---
Renee was home for the entirety of the roof replacement, and if there was ever a doubt, question, comment, or concern, field supervisor Eric Randall or a member of the RoofCrafters crew treated her with kindness and consideration. Renee was kept in the loop throughout her project and claims that the RoofCrafters crew left the Pleasant's property better than they found it with extensive clean-up and intensive curb appeal if you know what I mean.
The Payoff of the RoofCrafters Experience
All in all, Renee and Paul believe that the payoff of their experience with RoofCrafters was priceless. When asked if their ultimate roofing goals were reached, Renee happily exclaimed:
---
"Our goals were 100% exceeded. Aesthetically, our home was night and day. I mean, the curb appeal alone is amazing."
---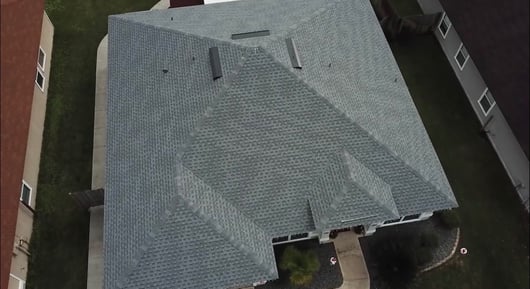 Renee and Paul Pleasant are now the proud owners of a RoofCrafters roof, and they have been given the ultimate gift: peace of mind. No more dealing with leaks, mold, and pests. No more peeling paint or cracked ceilings. No more brittle shingles and granule loss. Instead, they now have a beautiful new roof to be proud of, and a safer home to play in with their grandchildren.
The Pleasant family has invested time and money in their new roof, and eventually, that time and money will be given back to them in the future. Not only will their new roof last them for decades to come, but their expenditure will payoff too by alleviating the need for preventable repairs down the road.
At RoofCrafters, we believe that time is the fundamental currency of life, and if you feel like you're missing out on time with your family and friends because of roof leaks, cracks, or mold, it would be an honor to lend a helping hand in getting that time back. We believe that a beautiful roof in prime working condition is not a luxury, but instead a necessity that every person and family is entitled to. So, don't waste any more of your precious time, and schedule an inspection with RoofCrafters, today.
My name is Cassie, and I'm the Content Manager here at RoofCrafters. I was born and raised in Chicago, Illinois, and made my way out to Florida post-college graduation. I'm incredibly passionate about writing and creating valuable content that helps others with the collaboration of my marketing team. When I'm not working, I enjoy shopping (a little too much), spending time at the beach, and reading!