What is the Best Metal Roofing and the Average Cost?
March , 2023 | 11 min. read
By Joe Martinez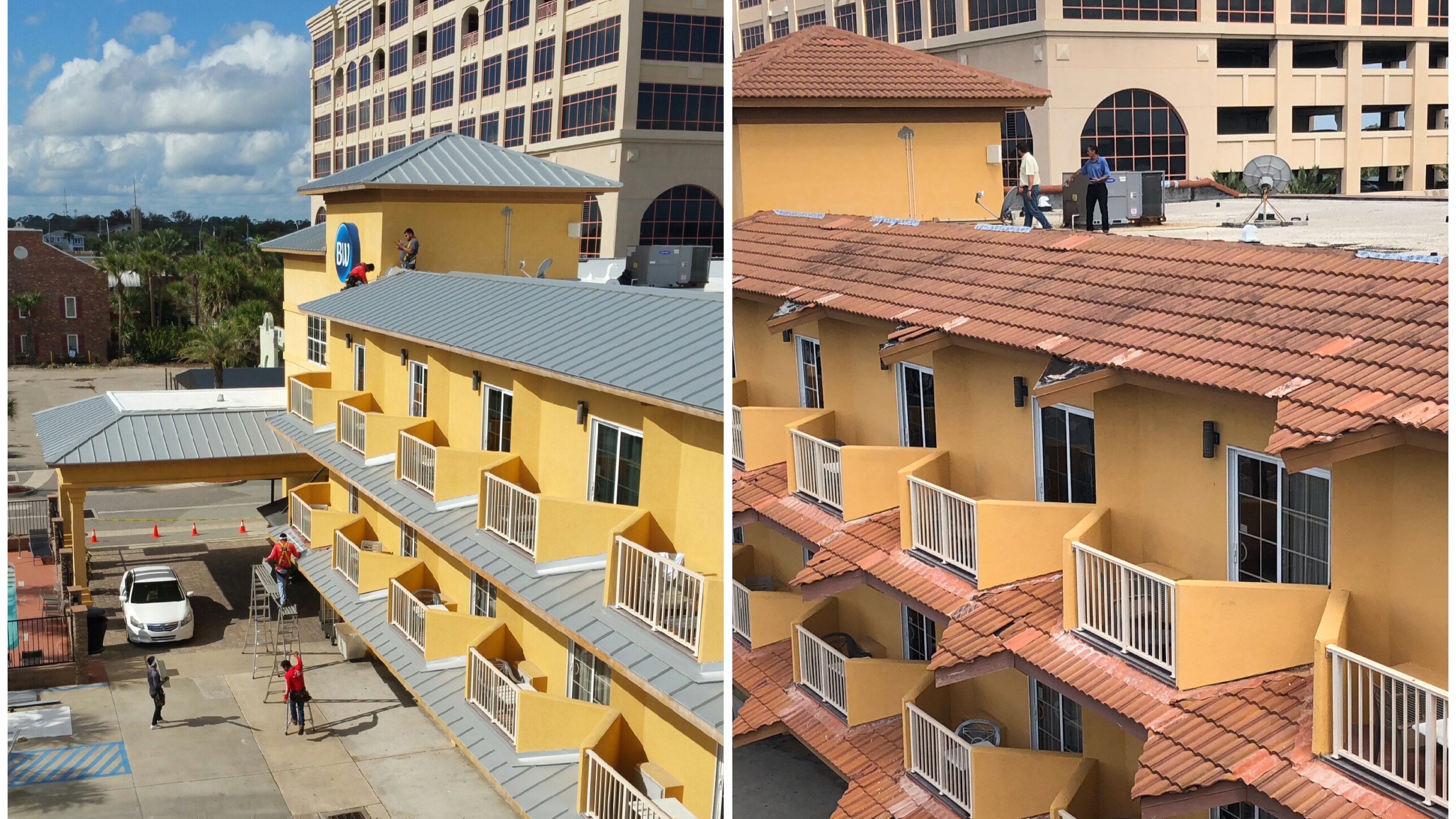 Are you in the market for a metal roof?
Looking to get a budget for your upcoming roof replacement or a new construction project?
Learning the best metals and the average cost is great to maximize your metal roof investment.
And if you're like most homeowners you're also wondering how much more of an investment is it than shingles.
Typically it's about ⅔ of what an asphalt shingle roof would run you. For example, if your shingle roof is $20,000 then a metal roof would run around $60,000 depending on which type of metal roof system you choose. Of course, it could be more or it could be less depending on the type of metal and complexity of the project.
With all the different metal options we understand that there is a lot of information and it can be overwhelming.
So our family here at RoofCrafters wants to help you by sharing our 30 years of experience installing metal roofs for clients in South Carolina, Georgia, and Florida. Most of them came to us asking these same exact questions.
So, in this article, we are going to cover the top 7 types of metal and the average cost. And hopefully, by the end of this article, you'll have the information you need to make a well-informed decision about your metal roof investment.
Let's get started!
Average Cost of the Top 7 Metal Roofing Types
The type of metal you select will be one of the main factors that go into determining the final cost of your new metal roof investment. Of course, there will be several other factors used to determine the final cost. The 3 main factors are:
The materials you choose
The square footage
The complexity of the project or steepness of your roof
The metals listed below all have unique qualities. They're chosen depending on the overall performance needs required for specific geographical areas, as well as, the overall lifespan that you desire. Some metal roofing will last longer in certain climates or geographical regions. It's important to choose the right one to get the most years out of your investment.
Top 7 Types of Metal used for Roofing and Average Cost
Copper metal roof - average cost is 22.33 to 31.18 per square foot


Lead metal roof - average cost is 19.78 to 28.51 per square foot


Zinc metal roof - average cost is 18.63 to 26.97 per square foot


Terne metal roof - average cost is 17.25 to 24.43 per square foot


Aluminum metal roof - average cost is 13.92 to 19.77 per square foot


Steel metal roof - average cost is 9.52 to 18.90 per square foot


Galvalume metal roof - average cost is 8.22 to 17.89 per square foot


Copper Metal Roofs
Copper is one of the true lifetime metal roof options. Being one of the rarest types of metal used for roofing. Combined with its non-corrosive or rust-free qualities. Makes copper one of the most expensive metal materials used for roofing.
Copper was historically used on government buildings, financial institutions, and places of worship. The oldest copper roof on record was installed on the Christ Church in 1727, Copper Adds Elegance to North American Historic Landmarks - That was almost before Jesus! Right? lol
Copper is a soft metal making it easy to work with. Because of its workability and the beauty of the copper aging or turning patina. It's been one of the most prestigious metal roofs of our time.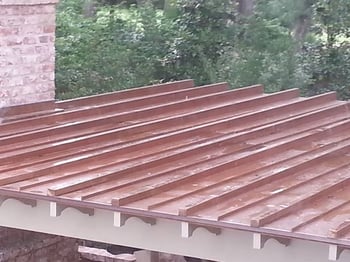 Having a copper roof installed on your home is like owning a Gulfstream private jet or a Rolls Royce. It's the best of the best. And yes, it's expensive, I'd even add if you have a tight budget and need to ask, "how much is this roof going to cost?" this may not be the right metal option for you.
An average cost of a 3000 square foot home with a 16 oz copper mechanical locking standing seam roof would range between 150k to 200k depending on the exact size and complexity of the roof.
Lead Metal Roofing
Lead roofing is another one of the top materials used on special and unique roofing projects. Most lead roofs have either a copper or zinc base with a lead-coated finish. This helps to cut down on the overall weight without losing its insulating features.
Lead can be molded to shape and fit special roof designs. It is most commonly used on low slopes or flat roof areas. It provides a weathered silver finish and withstands all the UV rays from the sun and is a non-corrosive material. Because of this, lead is one of the longest-lasting metal materials available for roofing projects.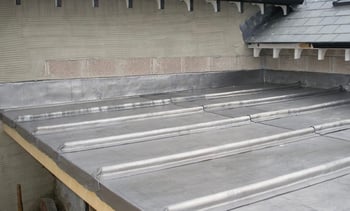 Lead is most commonly used on commercial buildings and performs extremely well around harsh saltwater weather conditions. If you live on or near saltwater then you know just how harsh the saltwater can be, it destroys most materials in little to no time at all.
Again, have your checkbook ready.
An average cost of a 3000-square-foot home with a lead roof system would range between 124k to 186k depending on the exact square footage and difficulty of the roof.
Zinc Standing Seam Metal Roofing
Zinc metal roofing is most commonly used in standing seam metal roof installations. It is most popular in the European market but has become a very popular roof system here in the United States. Rheinzink based in Germany is the World's leading producer of zinc roofing.
It is a non-corrosive material, meaning it doesn't or won't rust, it is also fire-resistant and fungus-proof. Zinc is also a very flexible material that makes it easy to form and flash very difficult areas on your roof.
With the proper installation and underlayment, a Zinc roof system will last up to 100 years.
When it patinas it turns to a beautiful natural silver-gray color.
An average cost of a 3000 square foot home with a zinc standing seam roof would range between 125k to 169k depending on the exact size and complexity of the project.
Terne Metal or "tin roofing"
Terne metal is commonly referred to as tin. Terne is actually an old English word for tin or "the metal." A tin roof has a steel base or core coated with a tin alloy finish. This roof is not as popular as the previously mentioned metal because it does require maintenance. Once the tin alloy coating wears off it will need to be coated to protect the steel from the weather elements or it will rust.
However, because of the cost saving on the materials, it was used often in the United States in the late 1800s and early 1900s. Most older cities still have homes and businesses with the original tin roofs intact. And as long as the owners of these properties continue to do the maintenance they will be around for many years to come.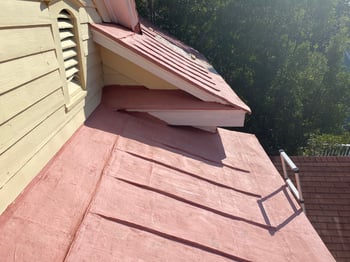 Tin roofs require the same initial labor cost to install, but as I mentioned, they require a good bit of roof maintenance and upkeep.
An average cost of a 3000 square foot home with a Tin metal standing seam roof would range between 110k to 156k depending on the exact size and complexity of the roof.
Now that we've covered what we'd consider "the estate" metal roof types. Let's discuss the most popular metal roofs installed on homes and businesses today.

3 Common Metal Roofs Used on Residential Homes
The 3 metal roof materials that are most commonly installed on homes and businesses in the US over the past 30+ years are:
Aluminum
Steel
Galvalume
These 3 metal roofs are the most economical and cost-effective. They also offer a wide range of aesthetic looks, longevity, and price ranges.
Aluminum, steel, and galvalume metal roofing are available in a standing seam panel, shingle-style profile, or screw-down panel.
Aluminum Metal Roofing
Aluminum is one of the most natural energy-efficient metal roof materials out there. It is highly reflective, fire-resistant, and non-corrosive. So, if you live on or near the ocean or saltwater this is a great choice of metal roofing material because it will not rust.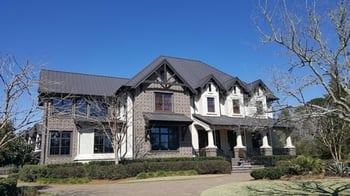 Aluminum metal comes in different thicknesses. For roofing, we use a .032, .040, or .050 thickness. The higher the number the thicker the metal. Thicknesses of .032 and .040 are most commonly used on roofs. And .050 is mostly used on industrial or commercial properties.
Aluminum also comes in a mill finish or a painted finish. Mill finish will provide you with a raw metal look and it will oxidize into a naturally beautiful raw metal finish. Aluminum also comes in a wide variety of paint colors. Most of the paint finishes come with a 40-year paint warranty with some manufacturers offering a 45-year paint finish warranty.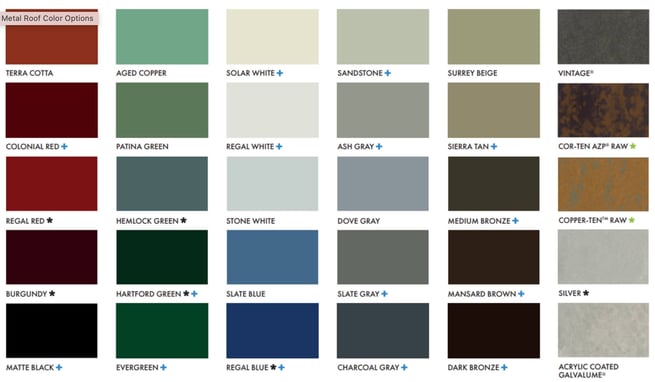 Standing seam aluminum metal roofs require a very high skill set to get a properly installed roof. It'll last you 75+ years if the workmanship is done right. Because aluminum is a softer material it makes it easier for an installer to fabricate the flashings and custom metal work needed to get a great finished roof.
An average cost of a 2000-square-foot home with an aluminum standing seam roof would range between 41k to 63k depending on the exact size and complexity of the roof.
Steal Metal Roofing
Steel roofing is the most popular material used for metal roofing products. Steel metal is galvanized steel that is hot dipped or coated in a zinc coating. Steel is less costly and can be as effective and efficient as the other available metal roofing.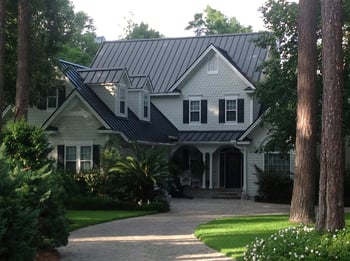 The steel most commonly used for roofing comes in 24 gauge, 26 gauge, and 29 gauge. Don't be fooled, unlike aluminum, the lower the number the thicker the steel metal roofing will be. 24 gauge is most popular for residential applications.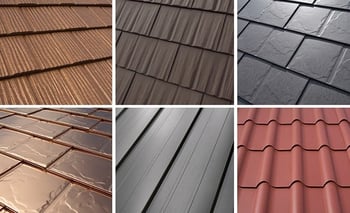 4 of the most common steel roofing profile that is used on homes or for commercial metal roofing projects:
Standing seam metal panels (12"-18" wide panels)


Interlocking steel shingles (slate or shake look)


5-V crimp metal roofing (2-foot wide panels


Maxi-rib or multi-rib panels (3-foot wide panels)
Because steel is a corrosive metal it requires a paint finish. Paint finish warranties range from 20 years to 45 years depending on the thickness, type of panel, and the manufacturer of the materials.
Steel metal roofing is very cost-effective and offers a wider range of prices depending on which profile you choose, the thickness of the metal, and the paint warranty. This is a great option if you are looking for the perfect color metal roof.
An average cost of a 2000 square-foot home with a painted finish steel standing seam roof would range between 35k to 54k depending on the exact size and complexity of the roof.
Galvalume Metal Roofing
Galvalume metal is also a metal that has a steel core and is coated with aluminum to prevent corrosion. Galvalume is much like steel roofing and comes in the same thicknesses, 24 gauge, 26 gauge, or 29 gauge. It is also available in all 4 of the panel profiles. 24 gauge galvalume is the most popular for residential installations.
The difference with galvalume is that it comes as a mill-finish metal product. This makes it slightly less expensive. It's easier to work with because the painted materials can get scratched during installation if not handled carefully. It's also a great option to use around the ocean or if you live anywhere near saltwater with high winds that produce a salt spray.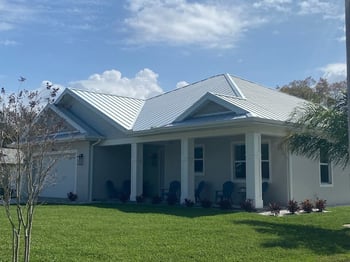 An average cost of a 2000-square-foot home with a galvalume metal roof would range between 33k to 52k depending on which thickness of metal, the profile you select, and the exact size and complexity of the roof.
So now that you know the different types of metal, the 3 most popular metals, and their average cost. You may be asking, "Which metal roof is right for you?"
Which Type of Metal Roof is Right for You?
When deciding which metal roofing to choose for your home or business. We'd encourage you to consider these factors: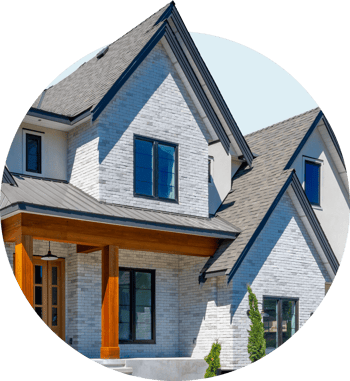 Longevity


Durability


Wind Resistance


Maintenance


Tree coverage


Energy efficiency


Desired Curb Appeal
If your home or commercial property is in the Florida, Georgia, or South Carolina area. And if you'd like to discuss metal options with one of our professional metal estimators at RoofCrafters please click the schedule inspection button below. Also, feel free to browse our roofing learning center and check out the other roofing resources we have available to help guide you along your roof replacement journey.
At RoofCrafters, our mission is to provide job opportunities for others to thrive and grow while making a meaningful impact within our communities.