Your Top 7 Roof Replacement Questions Answered
January , 2023 | 8 min. read
By Mitch Owens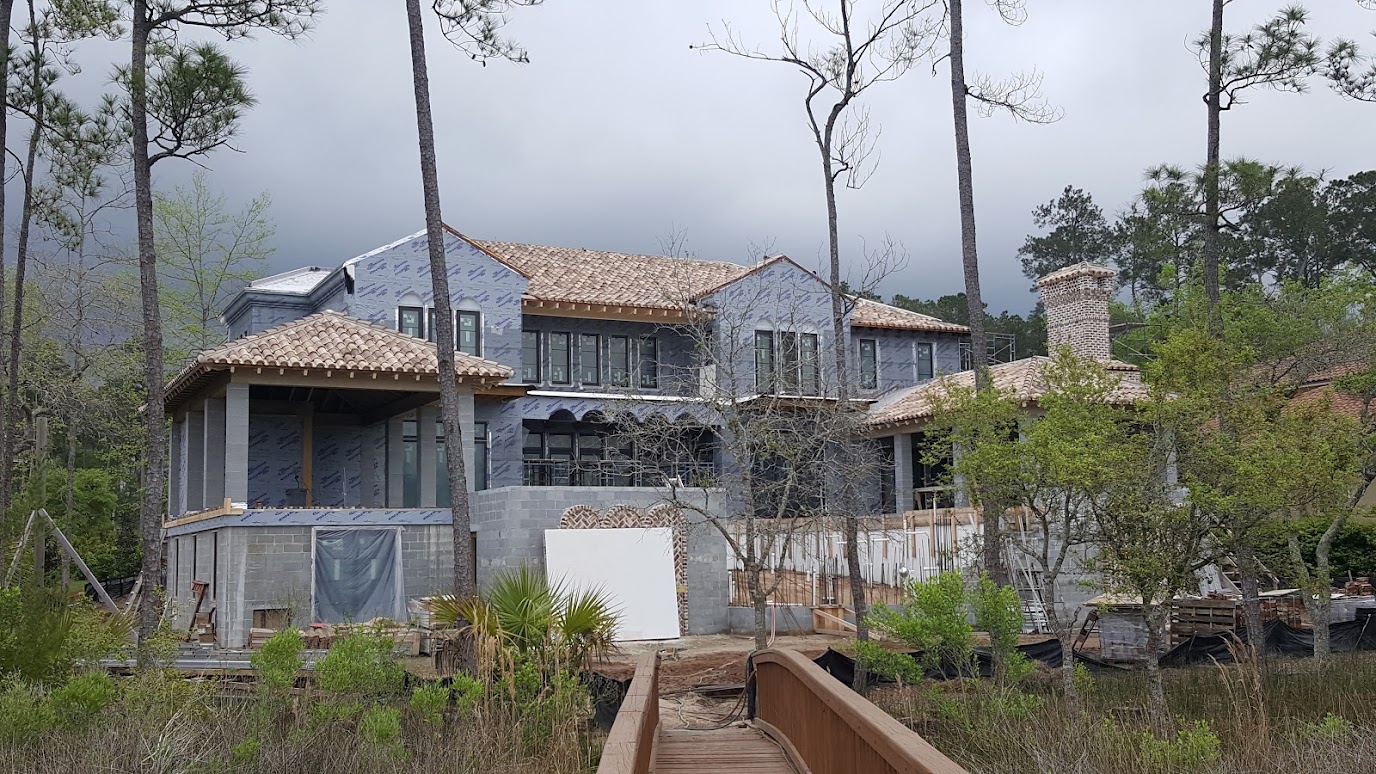 Questions- we all have them. When making decisions that involve money, we're sure you want all the answers before making any final decisions (who doesn't?) Roof replacements involve a lengthy research process of weighing out benefits and drawbacks and you'll definitely have thoughts that could use some acknowledgment. Luckily, there are several top roof replacement questions roofers are asked daily, and we've compiled them just for you!
Here at RoofCrafters, we've conducted roof replacements on Georgia, South Carolina, and Florida homes for almost three decades. During our nearly thirty years of dedicated service, we've answered vital questions from homeowners like you that can help influence a final selection when it comes time to replace your roof.
This article goes down the list of the most common questions roofers are asked by homeowners, providing answers to them in detail. By the time you finish reading, you'll know you won't have to worry about searching the web to find resources that may or may not give you a helpful answer. It's all right here!
The Top 7 Questions Asked Before a Roof Replacement
Every homeowner should be in the loop about the roof replacement process. Though the right roofer will ensure your experience is as easy and painless as possible, there are still a few questions you should think about answering before you get your project started.
What is the Cost of

a

Roof Replacement?
The cost of replacing your roof varies depending on several factors, but here are the top three to pay attention to.
Your Selected Roof Material

Total Square Footage of Your Roof Area

Your Roofs Complexity
Your chosen material will play a vital role in how much you'll pay for your roof replacement. Asphalt shingles are among the most cost-effective options, and because of this, they're popular among homeowners.
Generally speaking, if your home is relatively simple, with two straight sides and no skylights or valleys, you'll pay less for your roof replacement. You're looking at a higher price point for a more complex home with valleys, a chimney, and/or skylights.
We can only give you an approximate cost for your roof replacement if we know the details, but we can give you an estimate for now. Most homeowners can expect the cost of their new roof to average between around $11,200 to $19,200. This price is based on a common three to four-bedroom home with a standard two-car garage.
Will My Insurance Company Pay for My Roof Replacement?
It may, depending on why it needs replacing. The main point of having homeowner's insurance is to cover damage and losses to your property if something unexpected happens, like a fire. That also includes storm damage caused by harsh weather, such as hailstorms, snowstorms, tornadoes, and thunderstorms, which all lead to various types of damage.
Depending on the extent of your proven damages, some insurance companies will either pay for a total replacement or opt for repairs. Getting a professional roofer involved will help determine whether the damage is critical enough to justify a roof replacement insurance claim.
In addition to your roof, the weather can damage your gutters and flashings. During a strong windstorm, the gutters can potentially blow off the home. Flashings are designed to protect the roof's structure, but harsh winds can pull it off, leaving your home vulnerable to the world. In these cases, your homeowner's insurance may also cover this type of damage.
Can I Go Over My Old Roof?
Yes, it's possible, but under specific circumstances. If you live below the "Mason-Dixon line," which is the Southeastern region of the United States, most shingle manufacturers will NOT warranty new shingles if installed over old ones. But, if you live in the Northeastern US and your roof has reached the end of its life, it is possible.
You may also be a candidate for this type of roof installation if the granules on your shingles are wearing off but have yet to begin curling. Easily enough, you could receive this type of roof replacement if you want to change your exterior without spending too much time and money on a brand-spanking-new roof. There are pros and cons of going over your old roof, and a great licensed roofing contractor will ensure you know what they are before you make a final choice.
What's Included in My Roof Replacement?
To be honest, a lot goes into a roof replacement. When you go for a total replacement, your roof is completely replaced. It's a different process than reroofing, which includes laying a new layer of shingles on top of your old ones.
The process begins with an initial tear-off. From there, your roofer will perform a decking inspection to ensure no roof damage exists. Once your contractor gives your decking inspection a pass, they'll go ahead and start installing the underlayment, drip edge, and flashing.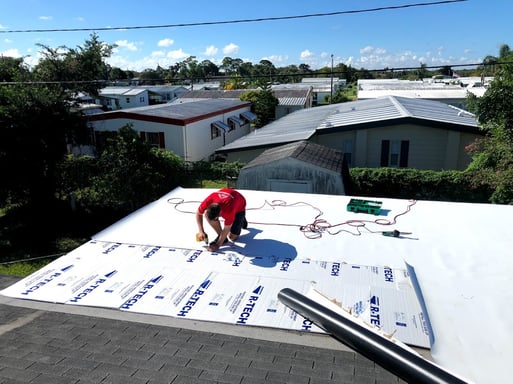 After that's completed, you're ready for the fun part- shingle and vent installation! After everything undergoes inspection, your roof materials will be delivered, so your roofer can install your new roofing system.
Will A Roof Replacement Damage My Property?
Roof replacements are no walk-in-the-park. The tools, resources, and space needed to complete a roofing project can spark anxiety in many homeowners (which is normal, by the way!)
We want to stress the importance of finding a qualified roofing contractor to complete the job. Of course, accidents happen, no matter how skilled a worker may be. Great roofers don't earn that title by being perfect all the time. However, you're much less likely to see damage if you pick a roofing professional at the top of their game.
You can also talk with your roofer about a few things to help minimize damage. During the tear-off process, you can request tarping around your landscape. Keep in mind that you also want worker vehicles and supplies parked on paved areas. Please communicate with your roofer to let them know you want this done. Clearing and covering your attic and clearing up your patio and deck also help ensure you see as minor damage as possible from your roof replacement.
Should I Be Present for My Roof Replacement?
Homeowners have different preferences regarding the safety and well-being of their living spaces, and because of this, some may opt to stay home during their roof replacement. Whether you do this or not is entirely up to you. If you have noise sensitivities or family members/pets that do, leaving your home while construction is undergoing is a smart idea.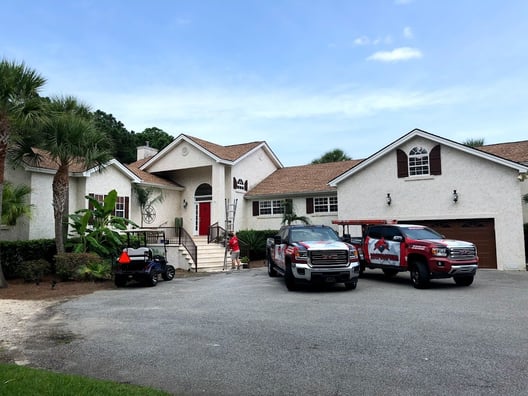 When you're leaving your home, however, take extra caution for debris that may fall off your roof. Roofers cannot see over the edge of the house when they're working, so keep this in mind. If you want to stay home, have a plan of where to park your cars. As mentioned, roofers usually park their vehicles and place materials on the driveway.
When Should I Replace My Roof?
When it comes to roof replacement, timing is everything. Even though an average asphalt shingle roof can last up to 20 years, the lifespan of your roof depends on your climate, quality of installation, and materials used. If you live in a region like the southeast, where scorching and humid temperatures and storms can take a toll on your roof, you must inspect your roof after each major storm to ensure it's in the best shape.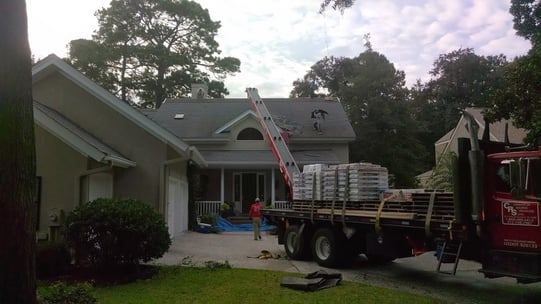 Spring is a steady time of the year for roofing companies. The weather is relatively fair in most places- not too hot or cold. This poses no problem for the roof replacement, and if you're planning on a new roof, this would be a wonderful time.
Summer and fall are also optimal for roof replacements, but they're busy seasons for roofers. You may get a better deal if you have your roof replaced during spring, and prices tend to be higher during peak seasons.
Winter isn't ideal for reasons we're sure you already know. Snow and ice create dangerous conditions for roofers trying to complete work. Blistering cold temps can also harden roofing materials, making them brittle.
Am I Ready for A Roof Replacement?
Hopefully! Even though finding a new roof entails a lot of work, we hope this article eased some of your worries. If you're ready to talk to an expert, RoofCrafters is more than happy to assist you. Feel free also to check out our comprehensive roofer checklist to help you determine the best contractor for your project.
At RoofCrafters, we want you to know that there are dedicated professionals who can help make your roofing project your best yet! If you want to get in touch with one of our excellent representatives, make your way over to our contact page.
My name is Mitch, and I have over 10 years of roofing experience. I enjoy my career in the service industry because I love helping others take care of their homes and businesses. With over 10 years in the roofing industry, my success comes from my honesty and integrity during my roof inspections. I do my best to listen to the needs of my clients and strive to provide an awesome client experience.