Asphalt Shingles: The Steps To a Complete Roof Replacement
March , 2023 | 7 min. read
By Joe Martinez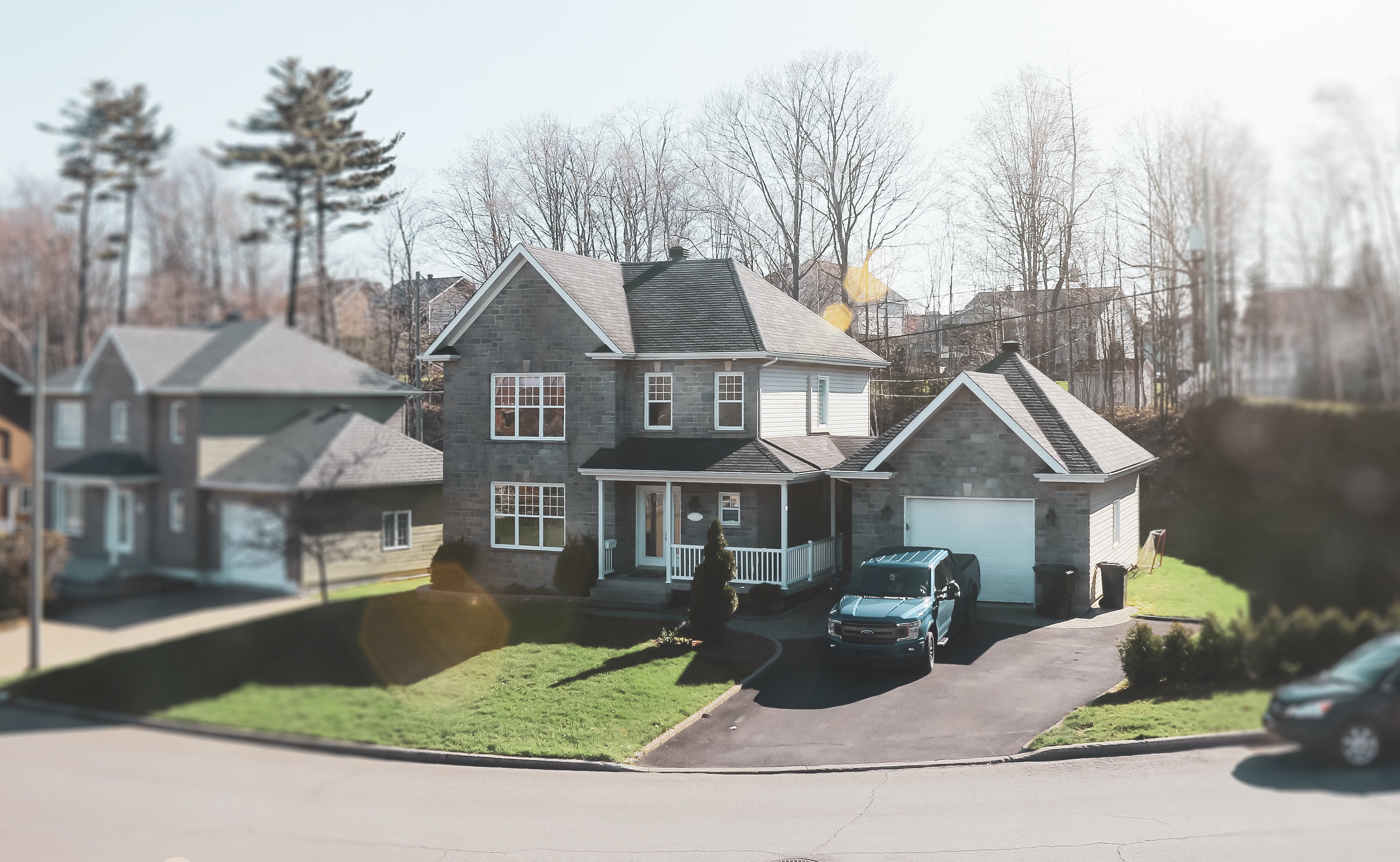 It's safe to assume that no homeowner wants to hear that they need a complete roof replacement. I mean, where's the fun in that? It's not rewarding the same way getting your kitchen renovated is, or even buying new carpeting for your bedrooms, but sometimes it's necessary. Every homeowner will be told they need their roof replaced at some point or another.
A beautiful new shingle roof can be rewarding though if you let it. The reason most people refuse to believe so is because of the stress surrounding roof replacements, and fear of the unknown. Where do you start? What all needs to be replaced? Is this going to cost me an arm and a leg?
At RoofCrafters, we hear your concerns. We've been replacing roofs since 1994, so we've heard a thing or two about the qualms homeowners have surrounding replacing their roofs. With all of this experience under our belts, we have the knowledge to provide homeowners everywhere with the peace of mind that roof replacements aren't so bad after all.
If you're reading this article, you're probably considering having your roof replaced shortly, but have some anxiety because you're unsure of what the entire process entails. Rest assured that you're in the right place because, in this article, you'll learn about all of the components that will be included in your shingle roof replacement project. Let's get started
What Is Included In the Shingle Roof Replacement Process?
We won't downplay it; a lot goes into having your shingle roof replaced. When you opt for a complete roof replacement, every component of your roof gets completely replaced. It's a far different process from re-roofing, which simply involves laying a new layer of shingles on top of your old shingles.
Instead, with a complete replacement, every layer of your roof, including materials you didn't even know your roof had, is torn off, inspected, and replaced. We'll explain how the process works, beginning with the initial tear-off.
Tear-Off
When you decide to get a new roof, your contractor will first conduct a roof tear-off. During this process, they will go over your roof and remove the shingles section-by-section to prepare for your new roof.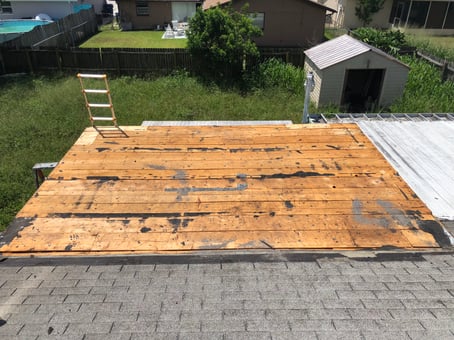 Tearing off your old roof is a much better option than re-roofing, or going over your old roof with newer materials. There are many great benefits included in a roof tear-off, including:
Quality. You'll be getting the best of the best. Your contractor will strip your roof and be able to see and repair high-risk areas. After that, new flashings can be installed, which will ensure that your home is watertight for years to come.
Longevity. A tear-off roofing job will last you many years. Brand new roofs trap much less heat than a roof with multiple layers, in turn giving you extra years. Extra heat causes shingles to curl and break down much more quickly, so a roof tear-off is often your best bet if you've had multiple roof repairs over the years.
Value. If you're thinking about selling your home any time soon, a brand-new roof can add to your home's resale value. Roofs are major selling points, making roof tear-off an excellent option.
After the initial tear-off, your contractor will be able to get a better look inside the structural components of your roof, detect any damages, and decide if your decking needs to be updated or replaced.
Decking Inspection
To understand why your decking needs to be inspected, you need to know what it is, and why it's there! The decking of your roof is like armor for the rest of your home. It adds a significant layer of protection and is the heart of all structural support for your roof.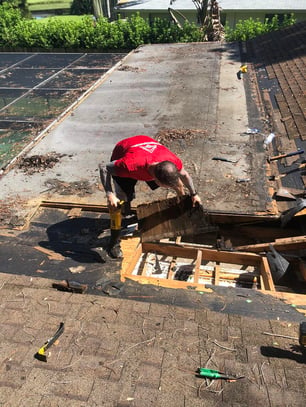 Decking typically consists of several flat boards that are attached to the trusses or joists. Think of these as the skeletal system of your roof. Every skeleton needs its muscle tissues and skin, right? Gross, but yes. In the same manner, the skeletal-like-decking provides a surface for your shingles to thrive and do their job, as well as something to which the underlayment and other materials can be attached to.
As you can see, the decking is pretty important. So, the reason its inspection is such a big part of the replacement process is that any damages, even minor ones will affect the structural integrity of your entire roof. It's extremely important the decking is in great condition and can withstand a new roof. If it's rotted, damaged, or compromised in any way, your contractor should advise you to replace it as well.
Underlayment, Drip Edge, and Flashing Installation
Once your contractor has given your decking a passing inspection, they'll go ahead and get started on installing the underlayment, drip edge, and flashing. It goes a little something like this: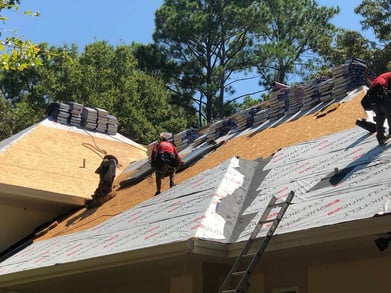 Underlayment. The underlayment is a rather crucial layer that is placed in between the decking and the shingles. This component acts as a waterproof layer for your roof and is attached directly to the roof deck. The underlayment is your new roof's raincoat.
Drip Edge. The drip edge is a thin, metal piece that is installed around the perimeter of your roof. The drip edge directs rainwater away from your roof and keeps it from entering the layers of the shingles and structure. The drip edge is your new roof's umbrella.

Flashing. The flashing, like the drip edge, is a thin steel component that is used to direct runoff water away from the more vulnerable areas of the roof, like skylights or chimneys. The flashing is your new roof's stormwater system.
Shingles and Vents Installed
Now, it's finally time for the fun part: your shingles are ready to be placed! After the old roof is torn off, your decking is inspected, and your underlayment, drip edge, and flashing are installed, your new roof materials will be delivered and your contractor will begin to install your new roof system.
The shingles will be installed section by section with all the roofing components that make up the entire roof system being installed in their correct order. During this process, your roofing ventilation system will also be installed. While your roof must be water-tight, you don't want it to be air-tight. Your attic needs to be able to breathe just like you and me, and it inhales and exhales through your roof.
Some of the different options of ventilation systems available to you include:
Ridge vents. These types of vents are installed on the peak of a roof. They help to provide continuous and uniform exhaust ventilation at the highest portion of the attic and are designed to help resist heavy and wind-driven rain.
Off-ridge vents. Off-ridge vents are not only UV-resistant, but they're a static system as well. This type of system is suitable for installation on sloped roofs.
Gable vents. Gable vents are usually installed on the exterior wall of your attic, and unlike the other venting systems, they're meant to be seen. They add an architectural element to your home and create the proper air circulation needed.
Mechanical vents. As the example of the whirlybird that was mentioned above, mechanical vents use the power of the wind to help remove excess heat and moisture from your attic.


Your contractor will help you to decide which type of ventilation system is ultimately going to be best for you and your home.
Clean-Up
After your new roof is installed your contractor will start the final clean-up. They will begin by cleaning all the debris from the new roof and gutters. Once the roof and gutters are clean, they will start cleaning the ground. You can expect this to take an hour or so depending on the size of your home.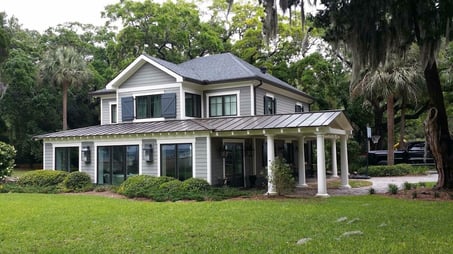 The crew will remove all the tarps and pick up all the roofing debris from around your home and in your landscaping. Once all the debris is removed the crew will run magnets to pick up the loose nails around the perimeter of your home. This usually needs to be done 3 or 4 times to make sure all of the metal scraps and nails have been removed from your property.
Are You Ready for a Shingle Roof Replacement?
Now that you're a guru on all-things-shingle-roof-replacement, you should be feeling pretty comfortable and confident with your upcoming project. You know what to expect in 5 simple steps, and you get to sit back and watch it all come together. Not so bad after all, right? It's not as fun as buying that new sofa, but hey, all in due time.
If you're just starting the process, you're probably getting ready to find and hire a local roofing contractor. To locate a great local roofing contractor that's the best fit for you, RoofCrafters has provided a checklist of questions to ask your local roofing contractor, along with the right answers that you need to get back when you meet with these roofing contractors.
If you are in the South Carolina, Georgia, or Florida area, drop us a line on our contact page to begin your roof replacement journey. If you'd like to learn more about your roof replacement, we recommend you read out next article, "How Much Does a New Roof Cost?" so that you can be better educated on the costs associated with your soon-to-be new roof.
At RoofCrafters, our mission is to provide job opportunities for others to thrive and grow while making a meaningful impact within our communities.