What's the Best Time of Year for a Roof Replacement?
February , 2023 | 6 min. read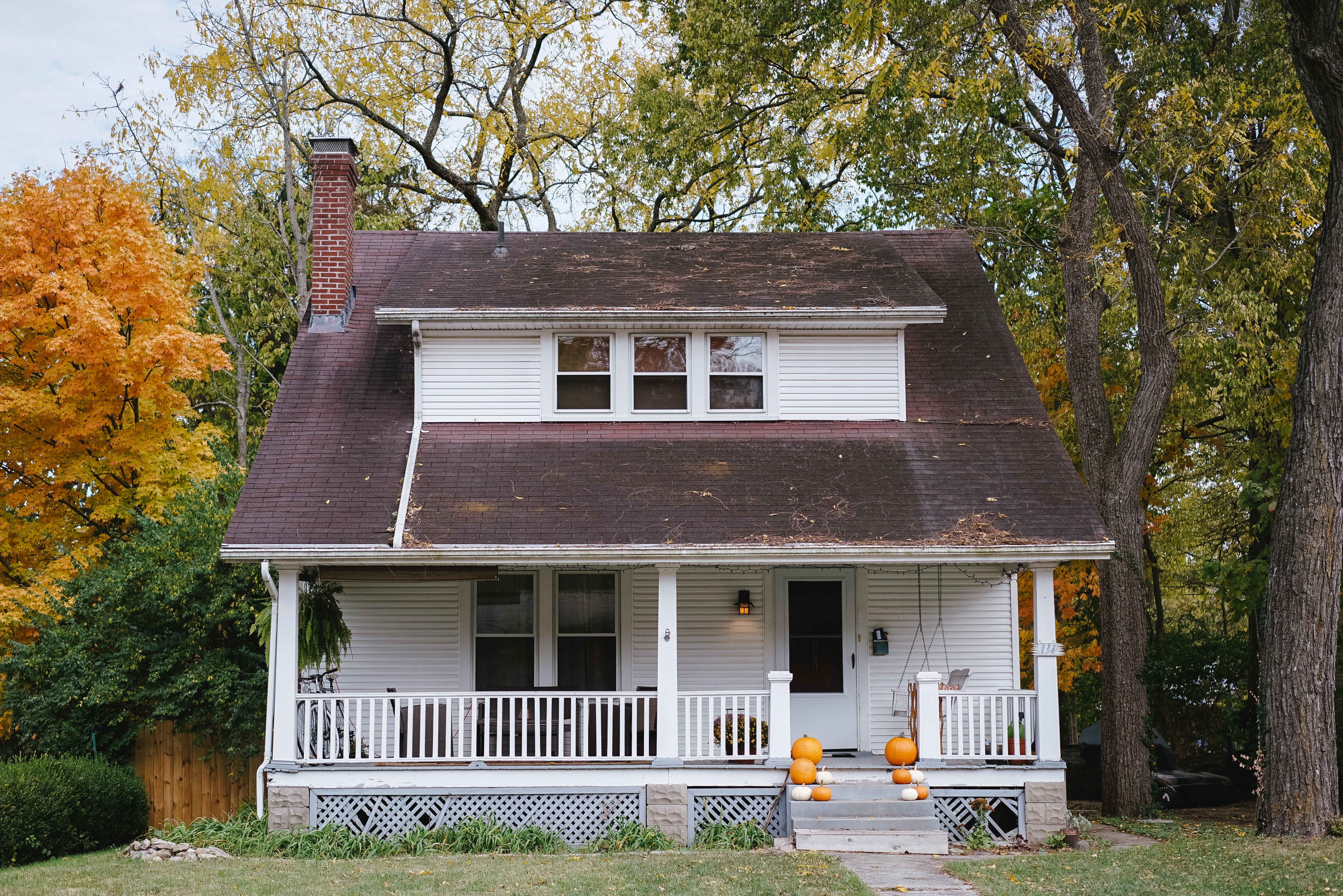 To many Americans, a roof replacement is a laborious and expensive project. Oftentimes, we feel that it's so tedious and costly that we forget that replacing our roofs is one of the most important parts of being a homeowner. Not to mention the expenses, but really, who has the time for a roof replacement?
At RoofCrafters, your concerns resonate with us and will not be overlooked. Just like you, we're caring homeowners who eventually need roof replacements, too. Even as experts we understand that most of the time, a project like this is not convenient nor cheap, which is why we strive for excellence and will do everything in our power to make the transition from your outdated roof to your new roof as painless as possible. So, when is the best time to replace your roof?
Most roofing contractors work all year long to install and repair roofs. A great roofing company can guarantee the same quality of work no matter what season. However, the weather and temperature at the time of a roof replacement can affect how easy the process is, as well as how much the new roof will cost.
To give you a better idea as to when the best time to replace your roof is, we've put together some information that will help you understand how each season affects the workmanship of a roof replacement and when is the most convenient time to replace your roof. In this article, you'll learn why timing is so important when replacing your roof.
Timing Is Everything
Although the average asphalt shingle roof can last up to 20 years, the lifespan of your roof depends on the materials used, the quality of installation, and the climate in your area. If you live in a region like the southeast where extreme temperatures and storm activity can take a toll on your roof, you must inspect your roof after each major storm to make sure it's in top shape.
As your roof approaches the end of its life cycle, you'll start to notice an influx of constant repairs. When your roof is at the end of its lifespan, it's time to think about your roof replacement options, including when is the most convenient time in your schedule, as well as how quickly your roof may need professional attention.
Once you've decided when to proceed, you would want to schedule a time to have the work completed. Although it is possible to replace a roof at any time of year, certain months and seasons are more desirable than others for several reasons.
Spring
Typically, spring is a fairly steady time of the year for roofing companies. The weather is relatively fair in most places. Not too hot, not too cold. This poses no problem for the roof replacement. If you are planning on getting a new roof, this would be a wonderful time.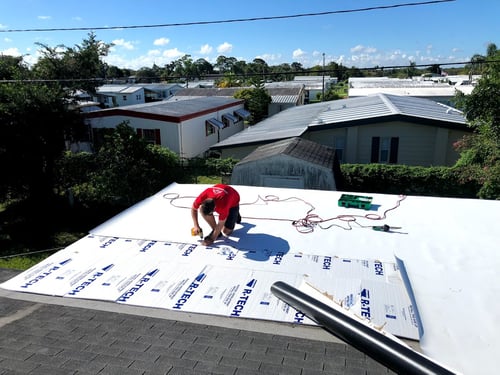 Spring is also considered a slow month for many roofing companies. Meaning, you may be able to get a better deal. Before you schedule your new roof installment, you might want to think about it if the weather in your area is too unpredictable. This season can be very wet and rainy which could prolong the timeframe of your project.
Summer
The beginning of summer is an excellent time for roofing work. The temperature is consistent with some rain here and there, allowing the materials to stay at a comfortable temperature with fewer technical problems. Another advantage of replacing your roof during summer is more extended daylight, which can help complete a roof replacement in just one day.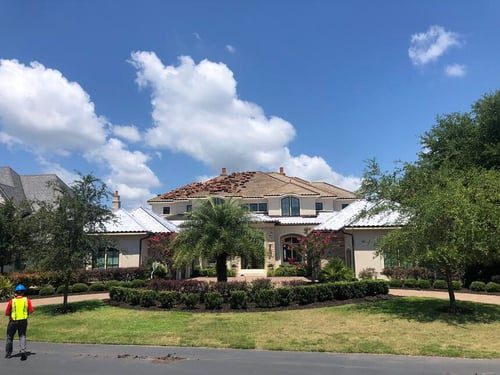 However, in the middle of summer when temperatures are at their peak, roof installment may not be ideal. The high heat and humidity make it unpleasant for roofers and can affect the materials. The heat could soften the asphalt, making them less durable during installations. Another downside is too many people have home improvement projects during summer. As a result, contractors can be very busy which means the prices can increase. If you want to get a roof replacement in the summer, plan ahead of time and book in advance.
Fall
For many roofing companies, fall is probably the best time for a roof replacement. The weather is cooler, consistent, and more stable which allows roofing contractors the opportunity to install your new roof comfortably. Like summer, fall is also a hectic season with many homeowners replacing or repairing their roofs.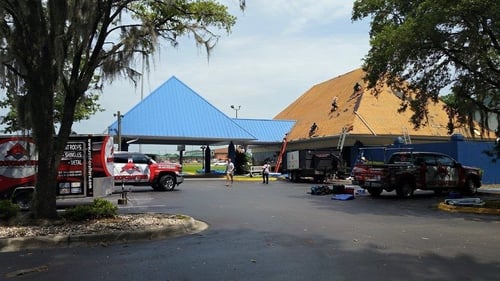 Another advantage is roofers can work a bit longer during the day, which means they will get the work done quicker than in other seasons. The downside is with many homeowners inquiring about roof work, contractors get busy. Similar to summer as well, with the high demand, prices tend to be higher during this season as well. Remember that if you are inquiring about a new roof, you will need to schedule your fall roof replacement very early on to ensure that your contractor can fit you in.
Winter
When you think about the best time to do a roof replacement, winter is not the ideal season for obvious reasons. The weather can be harsh depending on your area. Aside from possible snow and ice accumulation, the blistering cold temperatures can harden the roofing materials and make them brittle.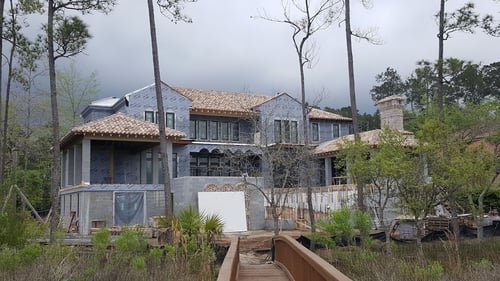 Your shingles may crack during installation, and some tools don't work as well in cold temperatures. In the winter season, sealants may not be applied effectively, and shingles will take much longer to adhere to each other than they would during warmer seasons.
For tiles and other more reliable materials, replacements can be carried out in winter. RoofCrafters is based in the southeast where winter weather remains mild for the most part. Carrying out a roof replacement in the winter season wouldn't be an issue for you or us. However, roofing contractors are often in high demand for emergency repairs during this time. If you need a sudden roof replacement, contact us as soon as possible.
What Time of Year Should I Replace My Roof?
Regardless of the season, the best time to get a roof replacement is as soon as you need it. Whether you wait until it's an emergency, or you're interested in changing up the look of your home, you should choose the time of year which works best for you. Drop RoofCrafters a line on our contact page, and we'd be happy to assist you.
We understand that a roof replacement is a big decision to make, and you may have a few questions. If you need more information before you can decide when is the best time for you to replace your roof, feel free to check out the extensive resources located in our learning center. We recommend reading "Preparing For a Roof Replacement", so you can be ahead of the game in time for your next project.
My name is Anthony, and I am the lead estimator of RoofCrafters' Georgia/South Carolina division. The roof is the most important part of a structure, and people count on that to protect themselves and their families. That is one of the many reasons why I love my job and enjoy coming to work every day. The continuous training, honesty, and providing the customer with the Roofcrafters experience is what makes me the best in the business.