Can I Install a Metal Roof on My Lanai?
November , 2022 | 7 min. read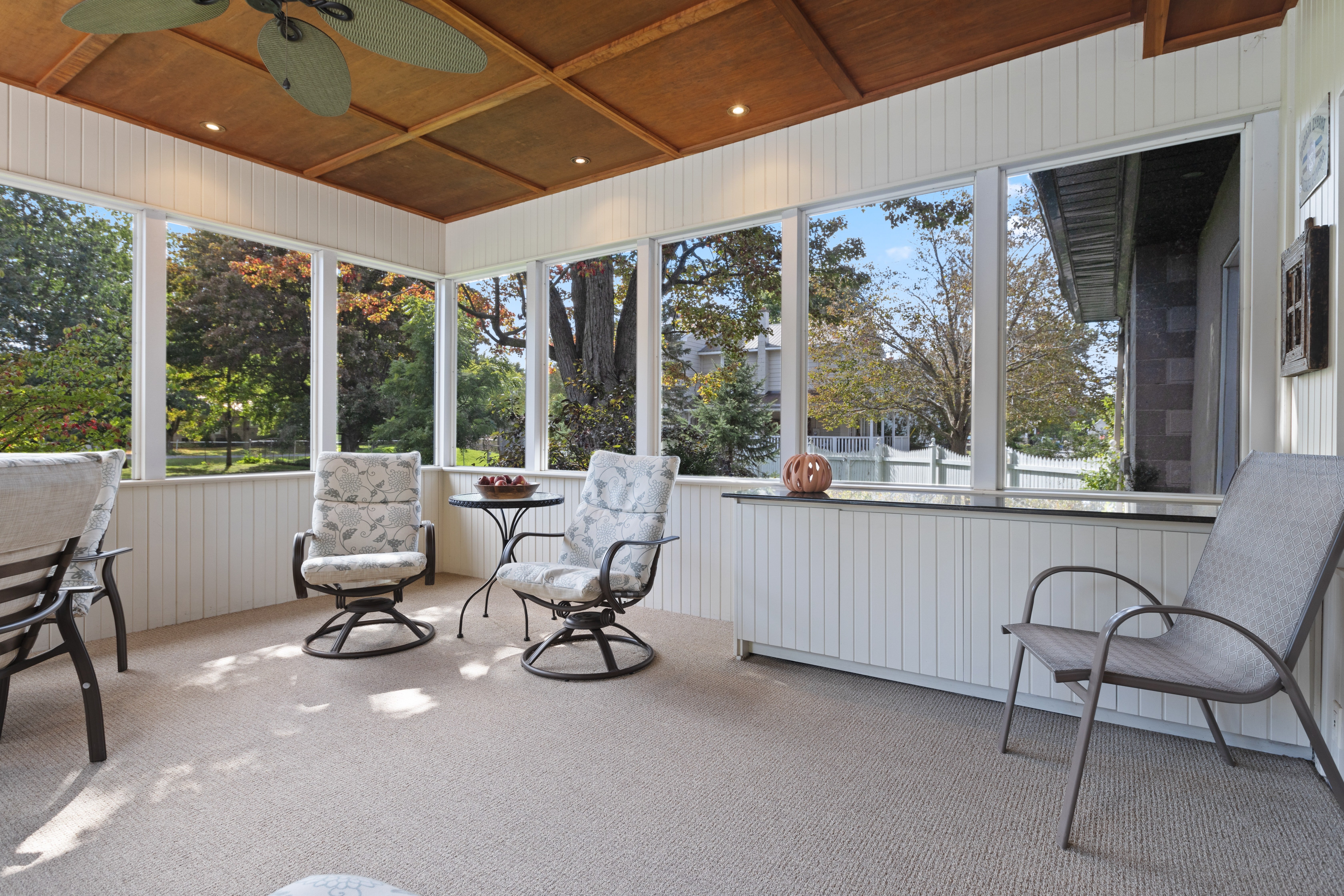 To us Floridians, lanais are a staple for every homeowner. I mean, who wouldn't want a tropical oasis just a few steps away from their home? They're customizable, aesthetically pleasing, and a great place to get away from the kids. Kidding. Although you can convert your lanai into an adult-only zone, this attached living space is great for all ages. It's a place to hang out, eat, and even sleep if you so desire, and is a beloved space for all tropical tenants.
Whether you've bought a home with a lanai already built, or you're curious about what goes into building your own, RoofCrafters has you covered. We've been assisting homeowners like you with their lanai desires for nearly 30 years now, and one of the most popular questions we get asked is, "can I install a metal roof on my lanai?"
It's a great question, indeed. Metal roofs are chic, and add a sleek look to any lanai. You can install a metal roof to your lanai, and you'll find out more in this article. Along with that, you'll learn what exactly a lanai is, and other popular types of roofing materials folks choose for their very own home paradise. So, let's get started!
What is a Lanai?
A lanai, pronounced luh · nai, is a traditional structure most commonly seen and used in Hawaii. Hawaii has influenced the entirety of the U.S. with many different beautiful and unique architectural components, especially when it comes to the popular lanai. This area is a private space that's attached to the outside of your home, and usually features an open wall that's either screened in or covered with windows. Most homeowners use this area as a second living room with furniture, tables, and even ceiling fans.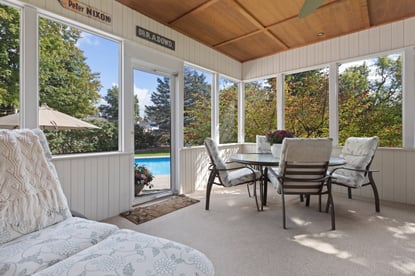 If you're picturing a sort of sun-soaked living room, where watching the sun rise and set is unbeatable, you're right on track! Let it be known though, that a lanai is different from a porch or patio. While it's covered like a porch and can act as a patio, it's more of an extension of your home. Just like a porch or patio though, the lanai is found on the ground level of your home.
Can I Install a Metal Roof on My Lanai?
So, can you install a metal roof on your lanai? Absolutely! The metal that's most commonly used for this purpose is aluminum panels. Aluminum is lightweight, but also durable, so it's the perfect choice for this area. Aluminum doesn't rust like other metals, nor rot like wood, so you can be sure your lanai will be built to last. Another great thing about aluminum is its wind resistance. Us Floridians know all too well that sometimes, tropical storms and hurricanes can get the best of us. However, if you choose an aluminum roof for your lanai, you can trust that it won't budge in unfavorable weather conditions.
Aluminum is easy to maintain, too. The whole point of installing a lanai is for maximum relaxation, right? The last thing you want to do is add an addition to your home that requires even more maintenance than your current roof. While you'll still need to tend to your lanai's maintenance needs as you do with the roof on your home, aluminum is a bit different. With each passing year, it will continue to look fabulous without any extra or unnecessary work from you. As long as you keep up with your regular maintenance routine, there's no need for special care.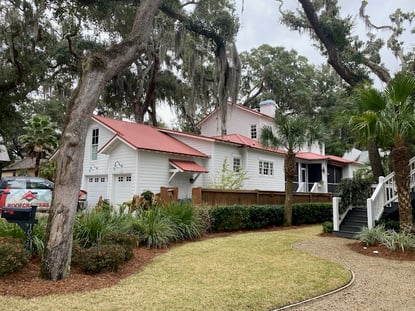 Now, if you're an AC aficionado like myself, you may be wondering, "why would anyone want to sit outside in the Florida heat?" That's a fair question, especially when your living room you keep at a brisk 68 degrees is a hop, skip, and a jump away. You're right, the tropical climate in Florida can be harsh, and more often than not, the heat is intense most months of the year. The wonderful thing about aluminum roof panels is that they can be insulated.
The exterior of these panels works to repeal the heat and harmful UV rays from the sun, while the insulation keeps your lanai cool as a cucumber. As you can see, this energy-efficient option helps to keep your sunroom stay cool with not only less effort, but at a lesser cost, too, so you'll be helping the environment while helping yourself. Aluminum is recyclable, and it's known as one of the most environmentally friendly materials on the market.
What Other Materials are Most Commonly Used for Lanais?

There are many different roofing options available to choose from for your lanai, however, besides aluminum or steel, the most common materials used for this purpose tend to be:

Modified Bitumen Lanai

Modified Bitumen
Modified Bitumen, or Modbit, is a popular commercial roofing material, however, some homeowners opt to use it on their flat roof lanais because of the many benefits it brings. It's made up of a membrane that consists of several layers of bitumen (asphalt), fiberglass, and rubber-based polymeric binders. These layers then get fused together to create the final product, which is a single-ply system that's easy to install, and durable against natural forces.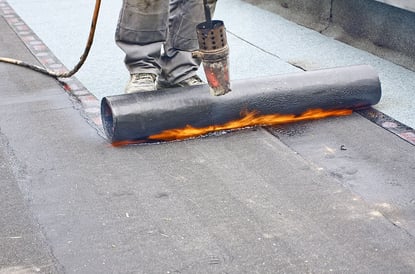 So, what does it look like? Modbit usually comes in sections 3 feet long, which makes rolling them out on the roof and heating with a torch for adherence a breeze for roofing professionals. Fun fact, if you've ever heard of "torch down roofing", that's where this term derives from. Of course, there are other ways to adhere Modbit to the substrate, but torch heating is the method that's most commonly used. Some benefits of choosing Modbit for your lanai include:
Environmental friendliness

Durability

Versatility

Easy installation

Simple repairs
TPO
TPO is an acronym for thermoplastic polyolefin (see why the roofing industry shortened that?) and is a single-ply membrane that's used most commonly in commercial roofing, but just like Modbit, there are instances where residential roofing will use it too, such as for a lanai!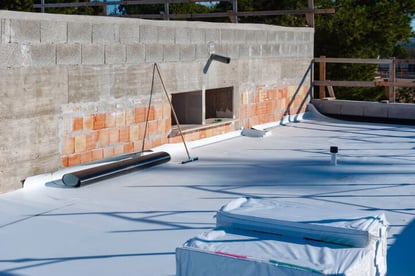 TPO is white, so it does a great job of reflecting heat as opposed to absorbing it. This will keep your lanai area cool in temperature. TPO will remind you of how important regular maintenance is though because as you know, white roofs become dirtier a lot quicker than other colors. Some benefits of choosing TPO for your lanai include:
Energy efficiency

Flexibility & durability

Easy maintenance

Simple repairs

Less labor intensive
Should I Install a Metal Roof on My Lanai?
As you now know, installing a metal roof on your lanai is a wonderful choice. Not only will you keep your energy costs down, but you also can relish in simple maintenance, trust the durability of the material, and even consider yourself an eco-friendly individual. It's a win-win-win! Although aluminum is a top-tier choice for your lanai, don't forget to consider modified bitumen and TPO roofing while you're at it. Just like aluminum, they're environmentally friendly and durable to boot in their own ways.
If you're struggling to find the best contractor for your lanai roofing needs, be sure to download "The Top 10 Most Critical Questions You Want to Ask Your Potential Roofing Contractor". This checklist includes several different prompts to ask your roofer to prepare you to hold the company accountable for its quality of work and services when it comes to your lanai roofing service.
RoofCrafters works extensively with aluminum panels, modified bitumen, and TPO roofing, and can offer you the top warranties in the industry. Don't wait any longer, and schedule an inspection of your lanai with one of our expertly trained estimators. In the meantime, feel free to check out the extensive resources located in our learning center. I recommend reading, "Modified Bitumen vs. TPO Roofing" next, so you can delve deeper into the other popular roofing materials mentioned in this article.
My name is Cassie, and I'm the Content Manager here at RoofCrafters. I was born and raised in Chicago, Illinois, and made my way out to Florida post-college graduation. I'm incredibly passionate about writing and creating valuable content that helps others with the collaboration of my marketing team. When I'm not working, I enjoy shopping (a little too much), spending time at the beach, and reading!