Which Type of Metal Roof is Best for Hurricane-Prone Areas?
April , 2023 | 10 min. read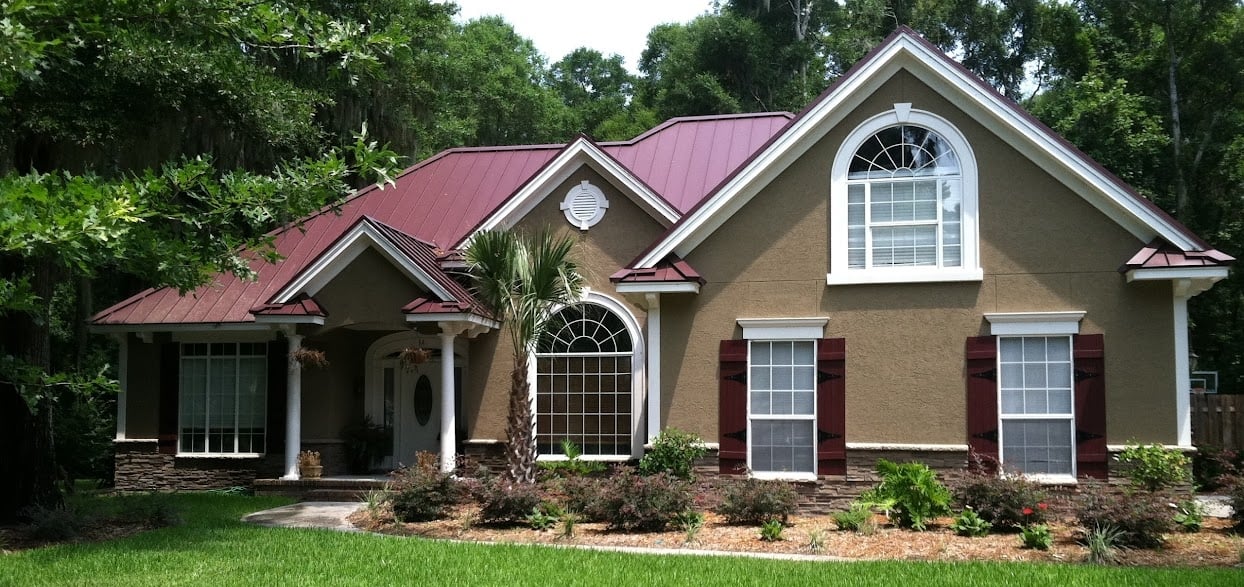 Which type of metal roof is best for hurricane-prone areas?
Do you live along the coast of Florida or maybe further up the coast along the Georgia or South Carolina coastal areas? As you prepare to replace the roof on your home, you may be asking yourself, "Which metal roof is best for hurricane protection?"
Many of our clients have come to us asking this question. And other questions related to getting a roof that'll provide the best protection during a hurricane or major storm event.
No one wants to suffer any water damage inside their home, let alone the major water damage that often occurs during a hurricane if your roof blows off.
We get it.
RoofCrafters Roofing has been installing metal roofs on homes in Florida, Georgia, and South Carolina for 3 decades. During this time we've helped educate homeowners on which metal roofs perform the best, also which roofs to stay away from. By doing so we've been able to protect thousands of families along the coast. Now we want to do the same for you.
In this article, we're going to cover
The 2 primary metal roofing installation methods used on homes

Which type of metal performs the best in saltwater climates

What metal roof is best for hurricane-prone areas
So, by the end of this article, hopefully, you'll be better prepared to make a well-informed decision about choosing the right metal roof for your project.
Let's get started.
Installation Methods for Metal Roofing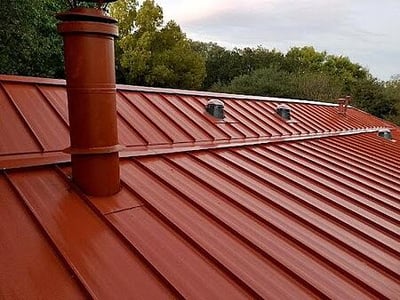 With so many different metal roofing panels available, we're going to start by reviewing the 2 main installation methods. This will help you understand the pros and cons of each of the ways metal roofing is installed. Metal roofing installation methods:
Exposed fastener metal roof system

Concealed fastener metal roof system
Let's review each of these a bit further.
Exposed Fastener Metal Roofing Installation Method
An exposed fastener metal roof or also commonly referred to as a screw-down metal roof. The entire roof depends on rubber washers to keep it from leaking.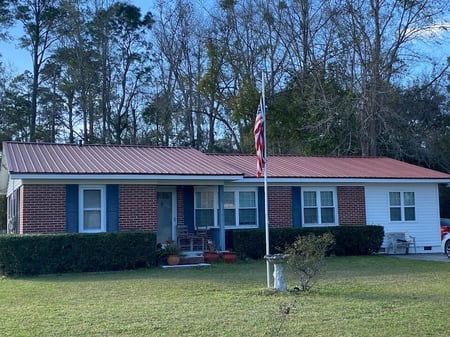 These metal panels are the easiest to install. The panels are put together by overlapping one another and installing a screw with a rubber grommet attached. The rubber grommet is what keeps the roof from leaking. With the thousands of holes that the screws make in the metal panels, grommets are needed. The flashing for this type of installation method is also overlapped and screw-down with the same exposed fasteners.
The most common panel profiles installed on homes using an exposed fastener method are:
Multi-Rib Panel, Maxi-Rib Panel, or Ultra-Rib Panel (all the same profile but called different names by different manufacturers.

5-V Crimp Metal Roofing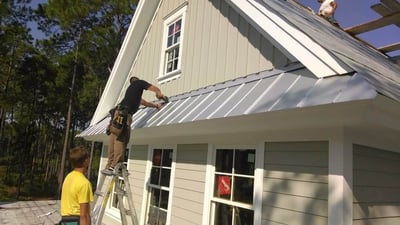 Pros for exposed fastener roof system
The upfront cost - they're the least expensive metal roofing

High wind resistance - they'll stay on as long as the plywood stays on

It's available in 26 galvalume(mill finish) which is ideal for coastal areas

Provides the aesthetic look of a metal roof - most homeowners don't pay attention to all the exposed fasteners from the street.
Cons for exposed fastener roof system
There are thousands of holes in the metal, protected by a rubber grommet

The metal expands and contracts so the screws can back out over time

Requires maintenance at around the 5 to the 10-year mark

Installers are not able to seal the flashings from wind-driven rain

The 29 gauge panels aren't thick enough to provide wind protection along the coast

Most warranties for the steel are voided if you live within 1500 feet of saltwater

All of the painted metal panels are made from steel and will rust along the coastal areas
Now that you know some of the important advantages cost is the main advantage. Screw-down roofs are cheaper. You also know some of the disadvantages, the screws requiring routine maintenance being the one to consider. Preparing to invest more money in the roof down the road to prevent roof leaks is an important factor to consider before making this investment.
Let's discuss the other installation method.
Concealed Fastener Metal Roofing Systems
The concealed fastener installation method is one in which all of the screws are hidden. By hiding the screws under the metal panels and the flashings we're able to do two things: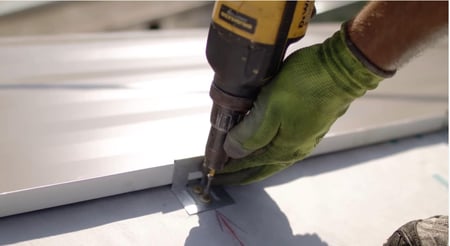 First, we're able to eliminate having a grommet protect the roof from leaking. This will also eliminate the need for recurring maintenance. Tightening loose screws or ones that have backed out after around the 5-year mark.
Second, we're able to install the flashings in a manner that will stop wind-driven rain. Unlike the exposed fastener installation method. By concealing the screws we're able to seal all the flashing details. With the concealed fastener method we're able to install the roof to make it watertight.
Now that you know that a concealed fastener roof system is the best installation method. Let's discuss the types of metal that perform the best around salt water climates.
Types of Metal Roofing That Perform the Best in Salt Water Environments
Copper


Zinc




Lead




Aluminum




Galvalume
Because copper, zinc, and lead are rare materials, they're also very costly. So we'll be discussing the 2 most commonly used metal roofing materials when your house is close to saltwater. (1500 feet or less) We'll also discuss another option if your home is further than 1500 feet from the saltwater.
Aluminum Metal Roofing
Aluminum is one of the most natural energy-efficient metal roof materials available. It's highly reflective, fire-resistant, and non-corrosive. It comes in many options of paint colors too. So, if you live on or near saltwater this would be a great choice for a metal roofing material because it will not rust.
Aluminum roofing comes in different thicknesses and typically for roofing, we use a .032 or 040 mil thickness. The higher the number the thicker the aluminum. Just so you have a reference, most gutters are made from .027 aluminum. The roofing materials used are quite a bit thicker.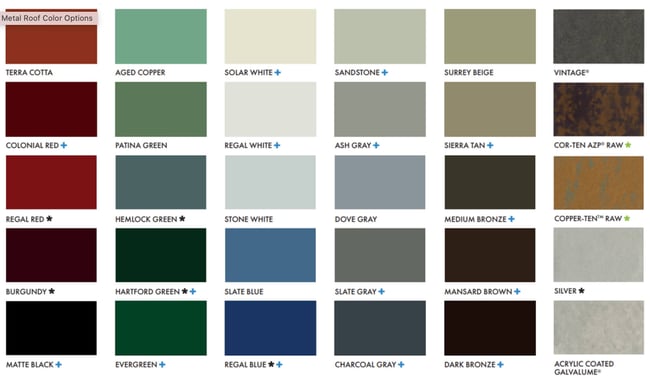 Aluminum comes in a mill finish or with a paint finish. Mill finish will provide you with a raw metal look and it will oxidize into a naturally beautiful raw metal finish. It comes in a wide variety of paint colors. Most of the paint finishes come with a 40-year paint warranty, and some manufacturers offer a 45-year paint finish warranty.
Galvalume Metal Roofing
Galvalume is metal that has a steel core and is coated with aluminum to prevent corrosion. It's also a great option to use anywhere near saltwater. Galvalume will not rust.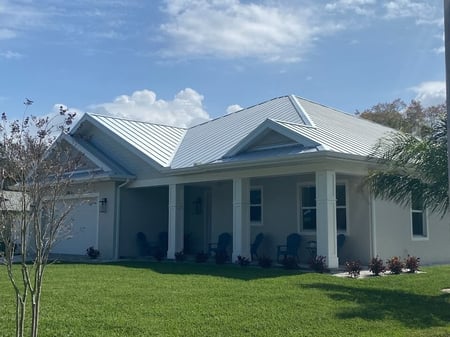 Galvalume is much like steel roofing and comes in the same thicknesses, 24 gauge, 26 gauge, or 29 gauge. It's also available in all 4 of the different panel profiles. Which are standing seam and interlocking metal shingles. (best installation method) And 5-v crimp or multi-rib panels. (exposed fasteners method)
The main difference with galvalume, it only comes in a mill-finish metal. If you want a paint color you must go with an aluminum or steel roof. This makes it less expensive and easier to install. Because the painted metal can get scratched during installation if it's not handled carefully.
Steal Metal Roofing
Steel roofing is the most popular material used for metal roofing. Steel roofing is galvanized steel that is hot-dipped or coated in a zinc coating. Steel is less costly and can be as effective and efficient as other metal roofing materials.
The steel most commonly used for roofing is 24 gauge, 26 gauge, and 29 gauge. Don't be fooled, unlike aluminum, the lower the number the thicker and stronger the steel metal will be.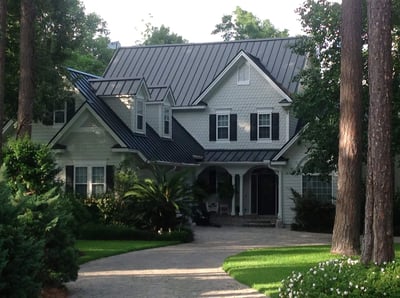 Because steel is a corrosive metal, steel roofing requires a paint finish. Paint finish warranties range from 20 years to 45 years. Depending on the thickness, type of panel, and metal roofing manufacturer you choose.
Steel roofing is often the most cost-effective. It offers a wider range of prices depending on which profile you want, the thickness of the metal, and the paint you choose to go with.
Now that you know the different types of metal materials, let's discuss the best one for hurricane-prone areas.
Best Metal Roofing for Hurricane-Prone Areas
Really there are a few answers to this question:
A standing seam metal roof is by far the best choice for the type of panel. It's the best choice for the type of installation method. Because it doesn't have exposed screws with grommets that'll deteriorate in the grueling sun and saltwater climates.
An aluminum standing seam or galvalume standing seam will absolutely be your best choice if your home is within 1500 feet of saltwater. These metals will not rust. The manufacturer of the steel metal will not provide a warranty on a steel roof that is within 1500 of saltwater. This is due to the sea spray the ocean gives off. The sea spray lands on the steel. And even though it has a paint finish. The cut ends of the metal do not. They will rust.
A painted steel standing seam metal roof will be a great choice if your home is positioned over 1500 feet from the saltwater. And if you are wondering, 1500 feet is about a 10-15 minute walk. So, if you can walk to the ocean in less than that you're too close! Which is very subjective! It's too close for steel but perfect for a beach chair or fishing pole.
Ready to Hire a Metal Roofing Contractor?
Choosing the type of installation and the type of metal is very important when making this large of an investment. However, hiring a professional metal roofing contractor is just as important. There are not as many metal installers as there are shingles installers. And you do not want a shingle roofer practicing on your new metal roof.
Now that you know the best installation methods. You also know the types of metal that'll perform the best around salt water. You're probably ready to have a professional metal roofing contractor come out to perform an onsite inspection.
Our family here at RoofCrafters Roofing has been installing metal roofing for 3 decades. If you are in one of our service areas. And you'd like to save yourself time and worries over finding an expert metal contractor. We'd be glad to help you pick the perfect metal roof for your home.
At RoofCrafters, our mission is to provide job opportunities for others to thrive and grow while making a meaningful impact within our communities.