Modified Bitumen vs. TPO Roofing
October , 2022 | 6 min. read
By David Toth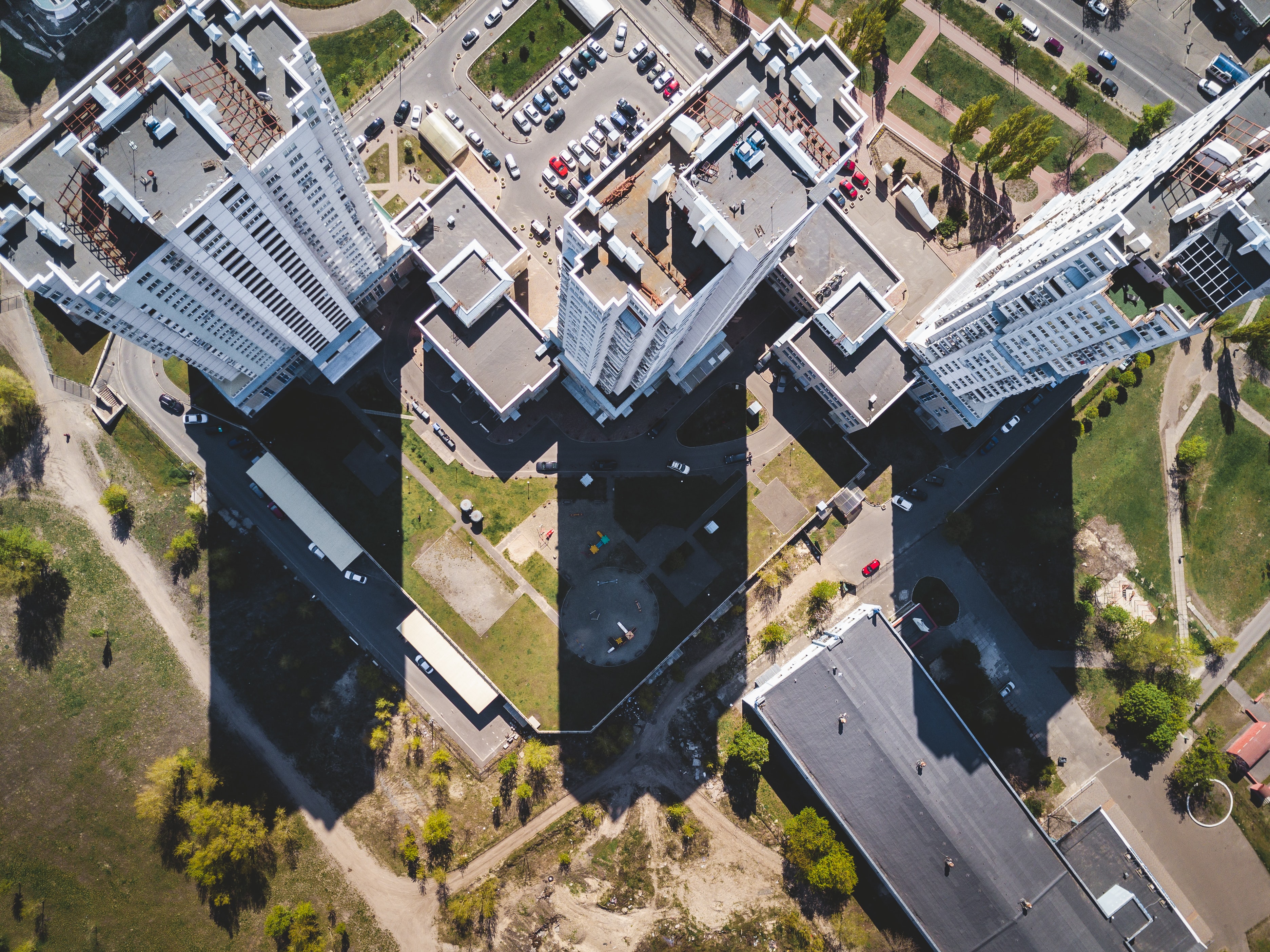 I'll be honest, repairing a flat roof can be tricky. I know what you're thinking: that's so not something you want to hear a roofing contractor say, but it's true! Tricky however doesn't equal impossible in this scenario, especially when it comes to Modified Bitumen, or Modbit, and TPO roofing. All it means is that during your project, your contractor will be providing your roof with a little more tender loving care than usual.
That being said, If you're the proud owner of a Modbit or TPO roof, sorry to say, but you're already at a disadvantage. The water doesn't drain off of your roof as fast as a steep slope roof. For example, let's say you spring a leak. With the roof being flat, the water could be coming in from further away than where the leak is showing up on your ceiling, making it harder to detect and repair, even for the experts. RoofCrafters has been repairing and replacing Modbit and TPO roofs for nearly 3 decades now though, and it's safe to say that we've perfected our installation methods.
We want to make sure commercial property owners are knowledgeable about their roofs before their contractor even shows up. If you're reading this article, it's safe to say you've had a question or 2 raised by your Modbit or TPO roof, and you're wondering what your options are. It's a good thing you're here because, in this article, I'll be explaining what Modbit and TPO roofing is, their pros and cons, and things to consider before choosing the material for your next roof installation. Let's get started!
What is Modified Bitumen Roofing?
Modified Bitumen, or Modbit, is a primarily commercial roofing material that's been used for nearly 50 years now. It's made up of a membrane that consists of several layers of bitumen (asphalt), fiberglass, and rubber-based polymeric binders. These layers then get fused together to create the final product, which is a single-ply system that's easy to install, and durable against natural forces.
So, what does it look like? Modbit usually comes in sections 3 feet long, which makes rolling them out on the roof and heating with a torch for adherence a breeze for roofing professionals. Fun fact, if you've ever heard of "torch down roofing", that's where this term derives from. Of course, there are other ways to adhere Modbit to the substrate, but torch heating is the method that's most commonly used.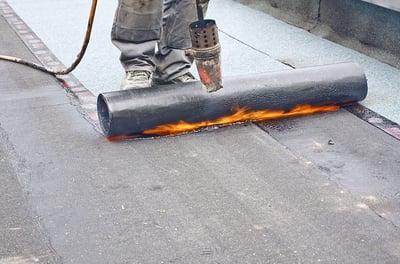 With Modbit, it's crucial that the seams are watertight during the installation process. As the contractor works their magic, they'll finish the process off with either a granular surface or a smooth surface to help your building from harmful UV rays.
Modified Bitumen has a wide range of benefits, making it a popular choice for commercial property owners. These benefits include:
Environmental friendliness

Durability

Versatility

Easy installation

Simple repairs



What is TPO Roofing?
TPO is an acronym for thermoplastic polyolefin (see why the roofing industry shortened that?) and is a single-ply membrane that's used most commonly in commercial roofing, however, there are instances where residential roofing will use it, too.
TPO is white, so it does a great job of reflecting heat as opposed to absorbing it. This will keep your flat roof and commercial area cool in temperature. TPO will remind you of how important regular maintenance is though because as you know, white roofs become dirtier a lot quicker than other colors.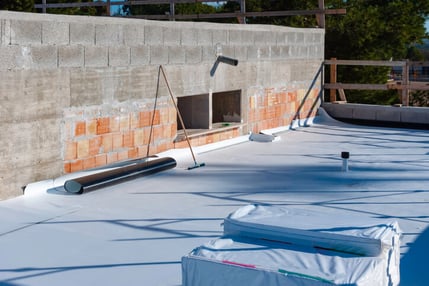 Just as with Modbit, TPO roofing has its own set of benefits, making it a top-tier choice for commercial property owners. These benefits include:
Energy efficiency

Flexible & durable

Simple repairs

Less labor intensive
Modified Bitumen vs. Tpo Roofing
Now that we've discussed what these two roofing systems are all about, let's get into the comparison. While both of these systems are a great choice for any commercial building, which one is the best for you? Take these key points into consideration.
Modified Bitumen
An excellent choice when it comes to moisture protection, however, most require additional drainage systems to work effectively.




The positive results and efficiency of a new Modbit roof are undeniable, but the materials cost more and are more labor-intensive to install.




Modbit has been around for over 50 years and is an incredibly trustworthy option, although some believe that this option is becoming outdated while new technologies continue to develop.




While Modified Bitumen is environmentally friendly in the sense that it can be recycled once it's no longer in use if petroleum and other chemicals are used during the manufacturing process, the "green" aspect of depleted.
Vs.
TPO
While TPO is less expensive than Modbit upfront and costs less to install as well, it does not have the same long-lasting durability.



Unlike Modified Bitumen, TPO roofing systems do not require any extra drainage systems.


TPO is relatively new on the market, but don't let that scare you. In recent years, its come to be one of the most in-demand products in the roofing industry.




Efficient and effective in their construction, TPO is one of the most functional commercial roofing options available.



Should I Choose Modified Bitumen or TPO Roofing?
So, which is the better option for your business? Honestly, there's no right or wrong answer here. Both options are great choices for your commercial roof. It all depends on the specific needs of your building, its shape and size, its location, as well as your preferences, of course.
When it comes to making the final decision between Modbit or TPO, your best bet is to have a qualified roofing contractor perform an inspection of your roof and property. They'll help you make the best decision by sorting through the unique aspects both materials offer, and which one will be most efficient.
If you're struggling to find the best contractor for the job, be sure to download "The Top 10 Most Critical Questions You Want to Ask Your Potential Roofing Contractor". This checklist includes several different prompts to ask your roofer to prepare you to hold the company accountable for its quality of work and services when it comes to your Modbit or TPO roof.
RoofCrafters works extensively with Modified Bitumen and TPO roofing and can offer you the top warranties in the industry. Don't wait any longer, and schedule an inspection with one of our expertly trained estimators. In the meantime, feel free to check out the extensive resources located in our learning center. I recommend reading, "How to Find the Right Roofing Contractor" next, so you can delve deeper into vetting the roofer best suited for your project.
My name is David Toth and I am the lead estimator in North Florida with RoofCrafters Roofing. Originally from New Brunswick, I have called Florida home for the past 47 years. I enjoy cooking along with traveling to different historical areas in Florida when I have free time.