Commercial Flat Roofing Types in Jacksonville, Florida
November , 2022 | 7 min. read
By Kevin Mills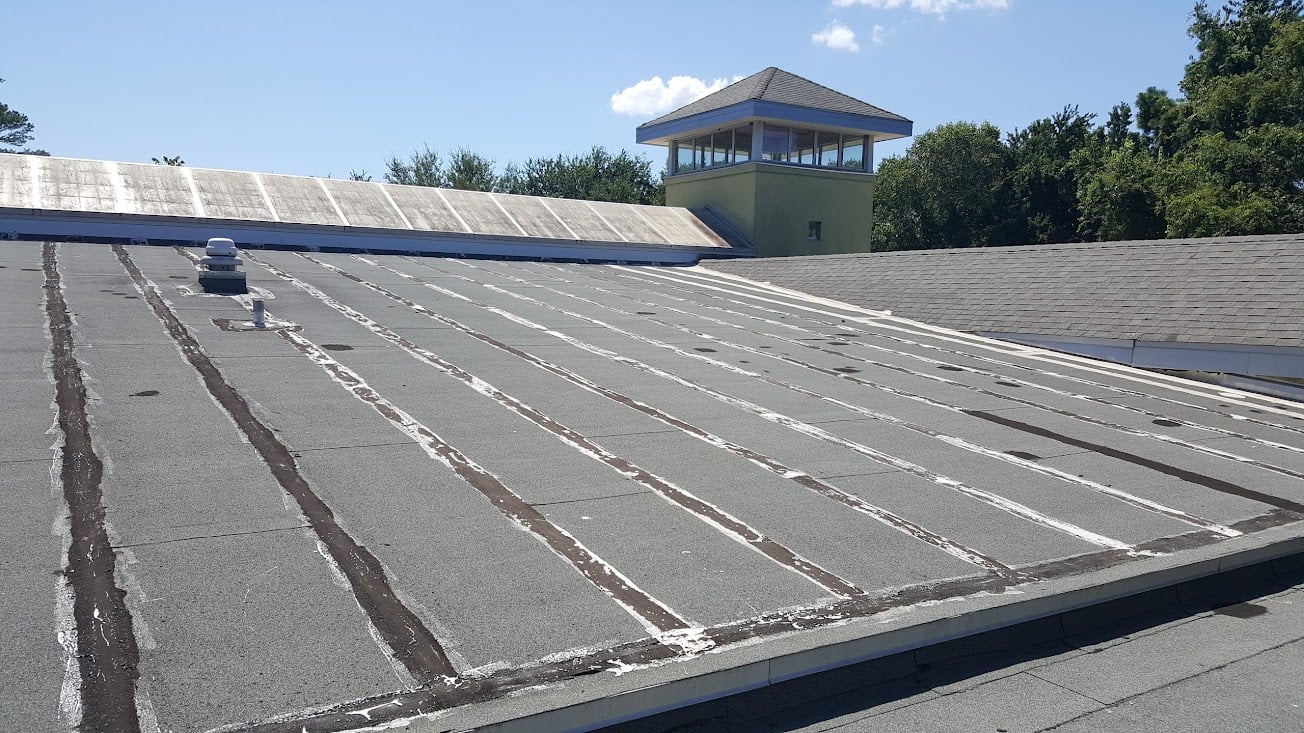 Putting your commercial roofing service needs in the hands of strangers in Jacksonville, Florida can be daunting and may bring up feelings of fear and doubt. Trusting a roofing company with an asset like that can be hard, especially if you're unfamiliar with the specifics of the roofing on your commercial property. Having a contractor show up to your building before a repair or replacement and use terms you don't understand is infuriating. TPO? PVC? Rubber roofing? Huh?
At RoofCrafters, we hear your concerns. Being a business owner is already hard enough, and the last thing you need is a shoddy roofing contractor neglecting to break down the flat roof basics for you. We've been repairing and replacing commercial roofs for nearly 3 decades, and the most common concern we're met with by property owners and managers is a lack of knowledge about their roofs because their previous contractor didn't take the time to educate them.
We want to break that cycle and make sure you're knowledgeable about your commercial flat roof before your contractor even shows up. If you're reading this article, it's safe to say you've had a question or 2 come up about your commercial flat roof in Jacksonville, and you're wondering what your next steps are. It's a good thing you're here because, in this article, I'll be explaining what a commercial flat roof is, and the most popular flat roof materials used in Jacksonville, Florida. Let's get started!
What is a Commercial Flat Roof?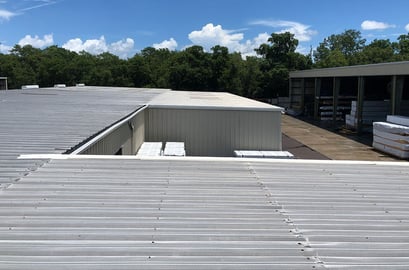 A flat roof is, well, a roof that is flat. We like simple terms in the roofing industry, can you tell? Flat roofs are often referred to as low-slope roofs, too. After all, all roofs should have some sort of pitch for water-draining purposes, even the flat ones. Flat roofs are primarily installed on commercial properties, but homeowners can opt for a flat roof if the structure of their home will allow them to. However, only certain types of roofing materials can be applied to flat roofs. For example, you know those beautiful designer shingles your next-door neighbor just had installed on their home?
If you have a flat roof, this popular luxury material cannot be applied to roof slopes that are less than 17%, or 2 inches of vertical rise for every 12 inches horizontal. Not to mention, it'd look a little silly on any type of flat roof - commercial or residential.
What Flat Roofing Systems are Available in Jacksonville, Florida?
There are several different types of flat roofing systems available for you in Jacksonville, Florida, however, the most popular roofing systems commercial property owners near you have chosen include:
Single-ply roofing (TPO, PVC & EPDM roofing)

Modified bitumen (rubber roofing)

Built-up roof (hot tar roofing)
Single-Ply Roofing
Single-ply roofing is one of the most popular roofing materials used on commercial flat roofs. They come in different thicknesses, and you might even have your local roofing contractor ask you, "do you want a 45-mil or 60-mil roof?"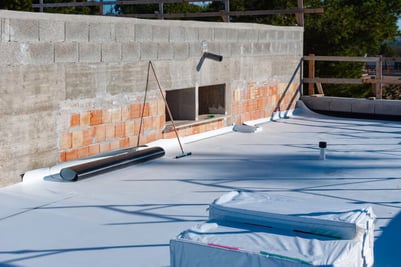 The higher the number, the thicker the product. The thicker the product, the longer the manufacturer warranties the flat roof material. Single-ply TPO and PVC roofs are made up of 3 layers. A base layer, the scrim layer (reinforced woven fiber layer), and thickness over the scrim layer, which is the top layer. This top layer protects the scrim layer from the sun's harmful UV rays.
An EPDM roof typically comes in a 45 or 60-mil thick membrane, too. The difference is that the laps and flashings are glued or taped together instead of welded like TPO or PVC. EPDM is easy to be installed, and can even be crafted without power tools. Although EPDM roofing is not as popular in Jacksonville, Florida as TPO or PVC, it's a great choice for any commercial roof.
Modified Bitumen Roofing
I like to say a Modified bitumen roof is the second generation of flat roofing. Built-up or hot tar is the OG of the flat roofing world, and we will discuss that next. Modified bitumen roofs can be installed with hot tar but the most popular installation methods are without the hot tar. Here are 4 main installation methods:
Hot tar applied

Cold tar applied

Torch applied

Self-adhered
With 4 methods of installation and two primary finishes, smooth and granule surfaces, you may already see where we are going. First, like single-ply roofs, the condition of the top layer is important. Yes, this roof has to be installed with multiple layers. 2 layers are the minimum and it can be more depending on the warranty desired. If the materials on the top layer have passed their useful life, attempting to get a new mod-bit to adhere to an older worn-out mod-bit material will be almost impossible. Once these rubber roofs get old, they expand and contract so much that the new materials used for the repair won't stick to the shifting old rubber roof materials for very long.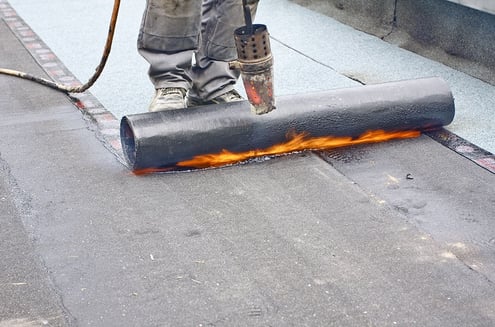 Because modified bitumen is an asphalt-based product, the preparation is typically done by cleaning the area and then applying asphalt primer to the area that needs repairing. Next, we would install the new mod-bit patch over the leaking area. This priming process will help to allow the new mod-bit roofing to bond to the older mod-bit roofing that has weathered from the sun. This primer is also required to be applied to any metal flashing that the mod-bit roofing needs to be adhered to.
Built-Up Roofing
When it comes to built-up roofing, there are many variations or layers of materials. Layering the materials is how it got its name, actually. The roof is built-up by layering plies of fiberglass rolls of roofing and hot tar between each layer. And this is only a short explanation of how it gets installed. Oftentimes, the topmost layer is a flood coat of hot asphalt with rocks put in the tar while it is still 450 to 500 degrees. Be sure to note that a hot tar roof with a rock finish makes for a challenging repair in the future, even for an experienced roofer.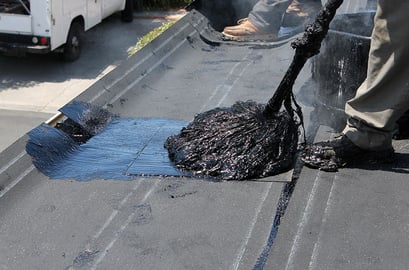 Now, if it has a granule surface cap sheet as a finish layer or an asphalt flood coat, it is a much more manageable repair. Either way, the existing materials that will need to be repaired need to have some useful life left to make a repair that will last any length of time.
Which Commercial Flat Roofing System in Jacksonville, Florida is Best for Me?
When it comes down to it, the type of flat roofing system you choose depends on the location, use, and needs of your building. In this article, you learned about single-ply, modified bitumen, and built-up roofing. All of these systems are a wonderful choice for your commercial roof in Jacksonville, however, your best bet is to get in contact with a professional roofing contractor to complete an inspection on your property and help guide you in the right direction.
If you're struggling to find the best contractor for the job, be sure to download "The Top 10 Most Critical Questions You Want to Ask Your Potential Roofing Contractor". This checklist includes several different prompts to ask your roofer to prepare you to hold the company accountable for its quality of work and services when it comes to your flat roof.
RoofCrafters works extensively with flat roofing and can offer you the top warranties in the industry. Don't wait any longer, and schedule an inspection with one of our expertly trained estimators. In the meantime, feel free to check out the extensive resources located in our learning center. I recommend reading, "How to Find the Right Roofing Contractor" next, so you can delve deeper into vetting the roofer best suited for your project.
My name is Kevin Mills, and I am the lead estimator for RoofCrafters' Tampa division. I'm originally from Michigan, and I enjoy hunting, fishing, and spending any free time outdoors. What I'm most passionate about, though, is helping business owners and homeowners alike achieve their roofing goals, all while providing a seamless customer journey.