What is the Cost of a Metal Roof Replacement?
September , 2022 | 12 min. read
By Joe Martinez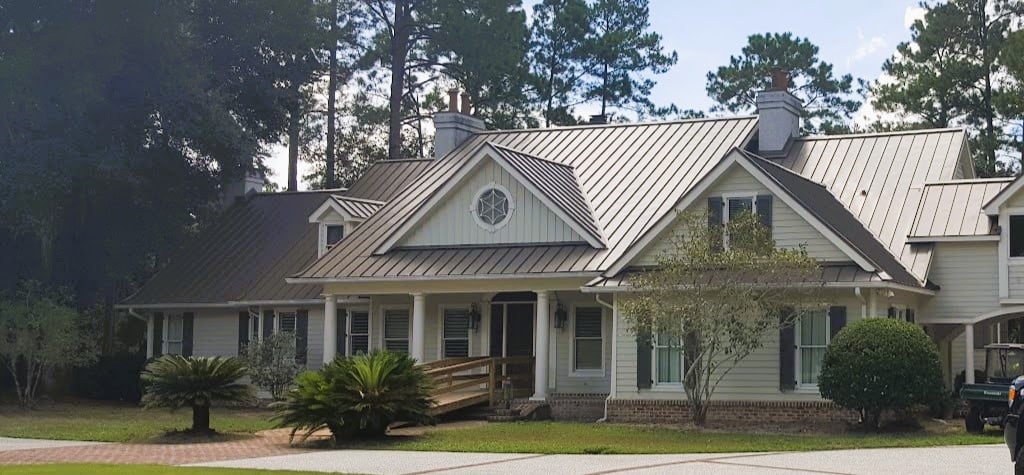 We know that price is one of the most important factors when considering any new home improvement project.
Each year hundreds of homeowners come to us looking for help with their metal roof replacement projects. They all ask us for quotes or estimates and many folks ask us questions about the price within the first few minutes of our conversations.
We get it. A metal roof is a major investment. Everyone wants to know about the cost. You need to be sure you are making the right decision.
Here at RoofCrafters, we've helped thousands of clients over the past 3 decades. We start by helping them understand all the factors that go into choosing the right metal roof. Because it's hard to provide a one-size–fits all information about the cost. Many factors can influence it.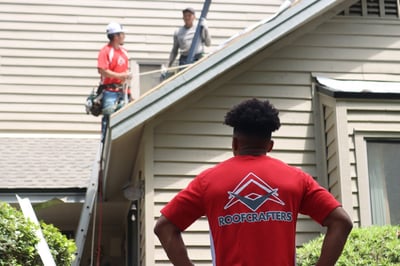 So in this article, we will go over the 3 most popular types of metal used for roof replacements. We'll discuss how to choose the best one for your budget and go over the cost for each of the 3 metal roofs. So that hopefully, by the end of this article, you'll have a better understanding and be secure enough to choose the best metal roof for your upcoming roofing project.
Let's get started!
Getting Your Metal Roof Installed Correctly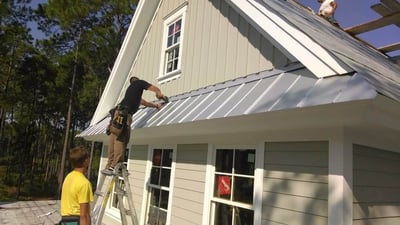 No matter which metal roof you decide to go with, getting it installed correctly is the most critical factor. Metal requires a greater set of skills than shingles. What we've seen over the years is shingle installers taking a stab at installing a metal roof. The reason this doesn't typically end well is that the flashings and the metal components are installed completely differently from that of a shingle roof. So, how we install the components and flashing on shingle roofs doesn't work for a metal roof system.
Keep in mind, hiring a cheap contractor to install a metal roof may cost you more money in the long run. Metal is a bigger investment and with all the factors that go into pricing a metal roof replacement, we don't want you to get a bad metal roofing job going with the cheapest bid.
Which Type of Metal Roof is Right for You?
When deciding which metal roofing to choose for your home or business, start by considering which of these factors are most important for you: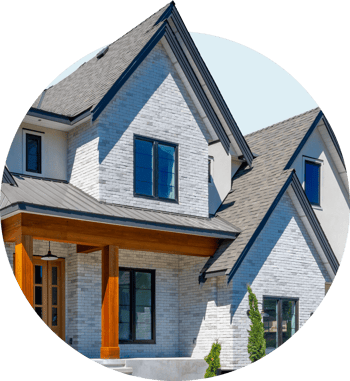 Longevity


Durability


Wind Resistance


Maintenance


Tree coverage


Energy efficiency


Desired curb appeal


The resale value of the property
The 3 Types of Metal Materials Used for Roofing
Economics plays a huge factor in metal roofing. It's a big investment. The 3 metal roof types that have been most popular in the United States over the past 30 years are:
Aluminum


Steel


Galvalume
Of the different types of metal roofing available, the 3 metal roof types mentioned are the most economical. Which means they'll be the most cost-effective. They'll provide you with a wide range of curb appeal and different price points. There are other metal roofing materials available at higher price ranges if you are looking for higher-end metal roofing.
Aluminum, steel, and galvalume are available in standing seam panels, a shingle-style profile, or panels with exposed fasteners. (or also called screw-down metal).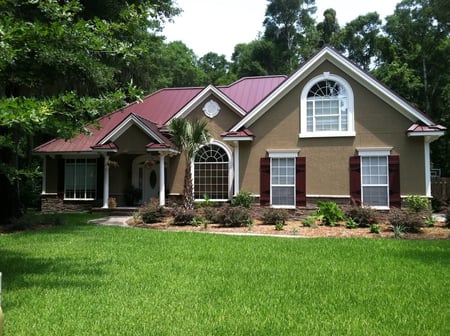 Standing seam metal roofs require a very high skill set to get a properly installed roof system. If the workmanship is done right, they'll last you 75+ years.
Shingle-style profiles offer great curb appeal and longevity. They also require a higher skill set to install the components and flashings correctly. A properly installed metal shingle roof can last over 50 years.
An exposed fastener or sometimes it's referred to as a screw-down metal roof is the least expensive of the metal types that are available. They require the least skill set of the different styles of metal. They'll also require maintenance at around the 5-year range.
Aluminum Metal Roofing Cost
Aluminum is one of the most naturally energy-efficient metal roof materials. It is highly reflective, fire-resistant, and non-corrosive. Because it will not rust, If you live near the ocean or saltwater this is a great choice of metal material.
Aluminum metal comes in different thicknesses. The higher the number the thicker the aluminum will be. Your location and style of roof will determine which thickness of aluminum is the best option for you. Typically for roofing, we use a 032, 040, or 050 thickness.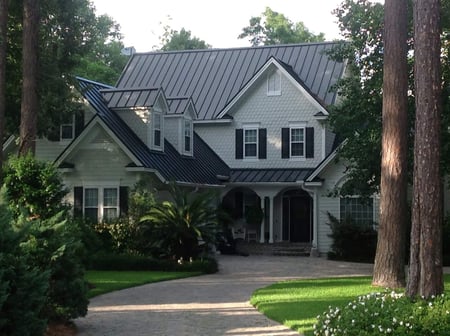 Aluminum also comes in a mill finish or a painted finish. Mill finish will provide you with a raw metal look and oxidize into a naturally raw metal finish. Aluminum also comes in a wide variety of painted finished colors. Most of the paint finishes come with a 40-year paint warranty with some manufacturers offering a 45-year paint finish warranty.
The average price for aluminum metal roofing is between $13.50 and $19.50 per square foot.
Steel Metal Roof Cost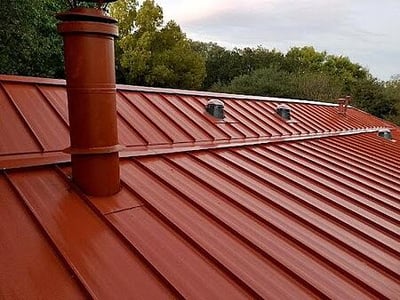 Steel roofing is the most popular type of material used for metal roofing. Steel metal is galvanized steel that is hot dipped or coated in a zinc coating. Steel is less costly and can be as effective and efficient as other metal materials. That is if you are not close to saltwater environments.
The steel commonly used for roofing comes in 24 gauge, 26 gauge, and 29 gauge. But don't get fooled, unlike aluminum, the lower the number the thicker the steel roofing will be.
4 of the most widely installed steel roofing profiles installed on homes or businesses: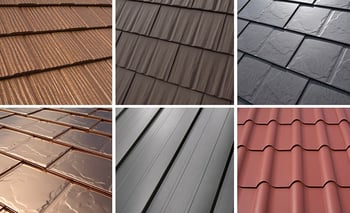 Standing seam metal panels (12"-18" wide panels)


Interlocking steel shingles (slate, tile, or shake look)


5-V crimp metal roofing (2-foot wide screw-down panels)


Maxi-rib or multi-rib panels (3-foot wide screw-down panels)
Because steel is not a non-corrosive metal, these metal roofing materials require a painted finish. Paint finish warranties range from 20 years to 45 years depending on the thickness, type of panel, and the manufacturer of the materials.
Steel metal roofing is very cost-effective. It offers a wider range of prices. Depending on which profile you choose, the thickness of the metal, and the paint warranty the manufacturer offers.
The average price for steel metal roofing is between $10.50 and $19.00 per square foot.
Galvalume Metal Roof C
ost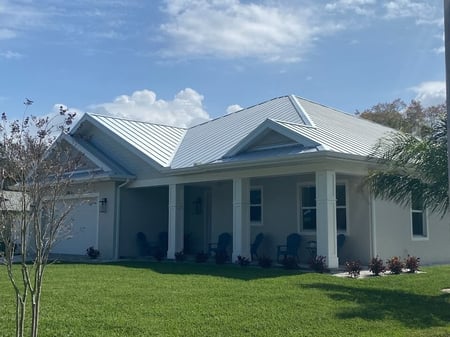 Galvalume metal is also a metal that has a steel core and is coated with aluminum to prevent corrosion. Galvalume is much like steel roofing and comes in the same thicknesses, 24 gauge, 26 gauge, or 29 gauge. It is also available in all 4 of the different panel profiles.
The main difference with galvalume is that it comes as a mill-finished metal product, so it does not get a painted finish. This makes it slightly less expensive. It's easier to work with as the painted materials can get scratched during installation if not handled carefully. It's also a great option to use around the ocean or if you live anywhere near saltwater.
The average price for galvalume metal roofing is between $9.00 and $18.00 per square foot.
Related Article: Common metal roof questions answered.

The Cost to Roof a House With a Screw-Down Metal
A screw-down metal roof is also referred to as an exposed fastener roof, an agricultural panel, a 5-V crimp roof, a maxi-rib, or a multi-rib panel. The screw-down roof is designed to give you the look and feel of a metal roof. But exposed fastener roofing requires less labor to install than a standing seam metal roof system.
Keep in mind, the exposed screws will require some maintenance somewhere between 5 and 10 years.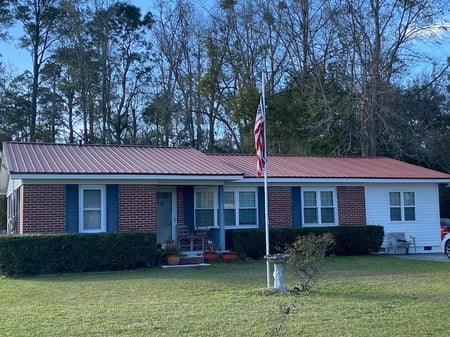 A screw-down metal on a house with 2 straight sides. Without chimneys, skylights, or valleys the average cost is $16,500.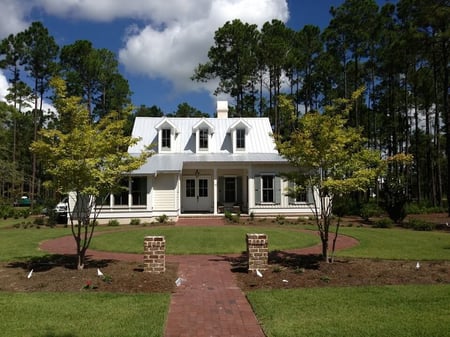 A screw-down metal roof on a house with 2 stories. More complex, with a chimney, dormers, and several valleys, the average cost is $31,700.
View: Screw-down metal roof colors and options here.
The Cost Replace a Roof With a Standing Seam Metal
Unlike the screw-down roof system, there is little to no roof maintenance needed for a standing seam roof system. A standing seam metal roof is one of the best roofs. It may be the top roof option available for any home or business.
And yes, as you can see from the figures below, this roof installation comes with a much higher upfront investment. Because standing seam metal roofing is the highest quality for metal roof systems.
One of the reasons is that superior installation methods require skilled metal roofers. The installation goes much slower than with a screw-down metal roof system. Standing seam installed correctly will provide your property with the highest wind protection.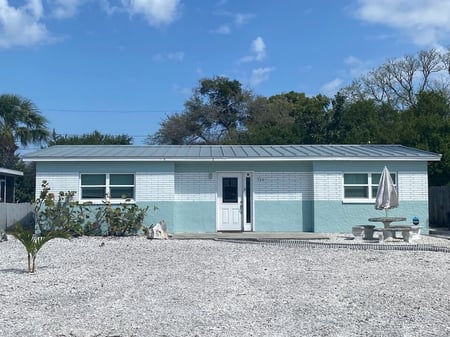 A standing seam metal roof on a house with 2 straight sides. The average cost is $27,500.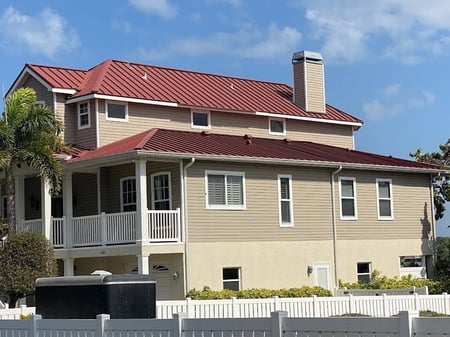 A standing seam metal roof on a house with 2 or 3 stories. More complex, with a chimney, walls, a skylight, and several valleys, the average cost is $42,300.
View the Standing Seam metal roof colors here.
Related Article: Metal Roofing Color Guide: How to Choose the Perfect Shade for Your Home
Hiring an Expert Metal Roof Contractor Near You
Now that you know the 3 most popular types of metal. You should also have a much better idea of what the cost will be for each of those roof systems. You're ready to find a great metal roof contractor to get exact prices. We'll also provide you with a free download below. It's a list of frequently asked questions you can ask when interviewing potential roofers. Along with the answers to those questions so you know what to look for in a roofing partner.
Our family at RoofCrafters has been helping homeowners for over 30 years. By getting top-tier metal roofs in South Carolina, Georgia, and Florida. We have a history of doing things the right way so that you'll have a high-quality metal roof with a warranty. A roof that'll be sure to last you and your family for many years to come. If you live in our service area and you'd like to speak with one of our expert metal roof estimators you can schedule your roof inspection below.
Worried about if you can afford a metal roof, any reputable metal roofer will offer great financing options. You can get the metal you want with a payment that'll fit your budget with one of our financing payment options.
Check out: Can I finance my metal roof project?
At RoofCrafters, our mission is to provide job opportunities for others to thrive and grow while making a meaningful impact within our communities.