Avoiding Pitfalls: What Could Go Wrong During Your Reroof Project
September , 2023 | 5 min. read
By Mitch Owens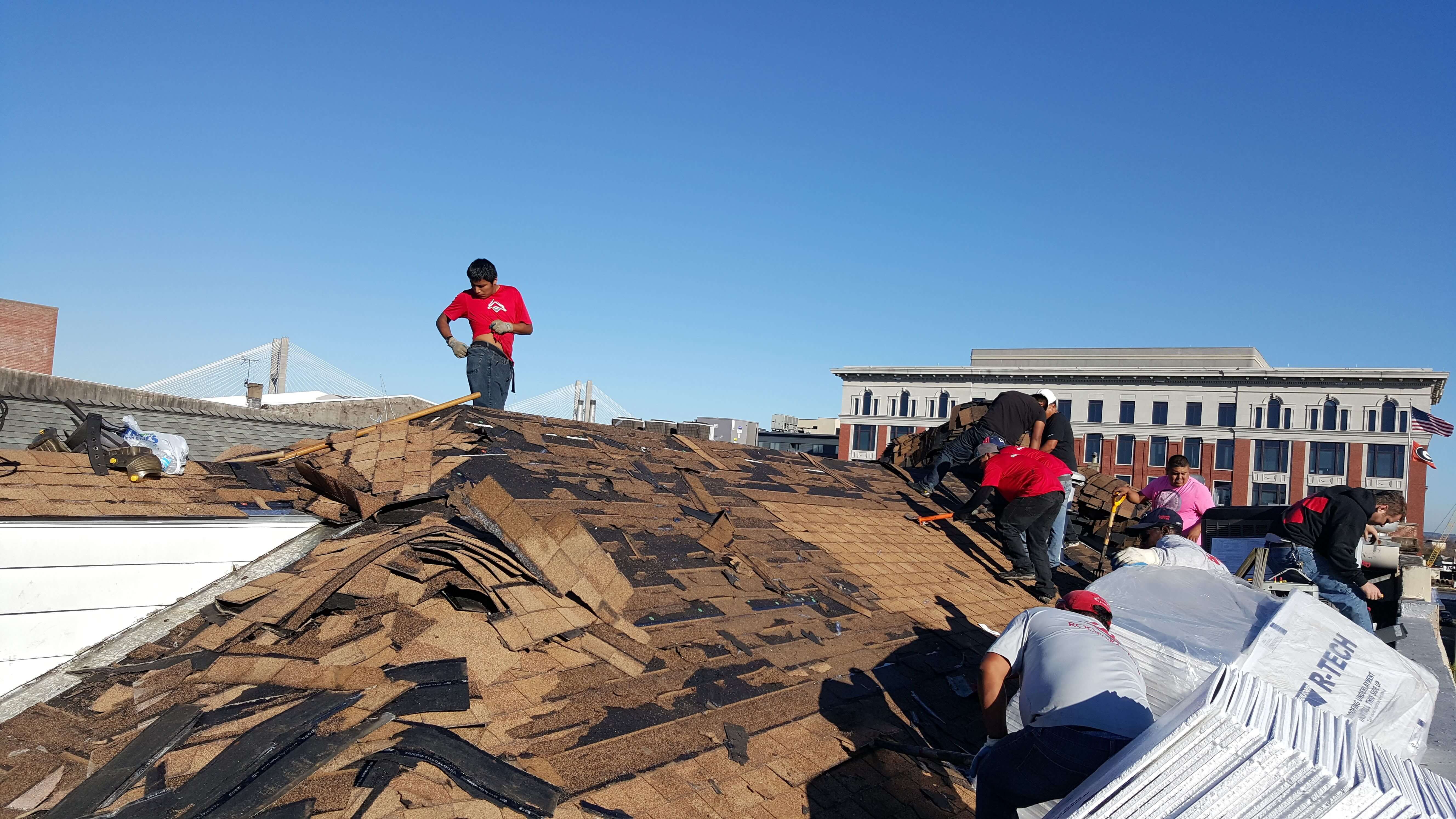 So you've finally decided to take the plunge and reroof your home. Exciting, right? But also, a bit nerve-wracking? You might be wondering, "What could possibly go wrong?" or asking yourself, "Am I prepared for any unexpected surprises?"
We get it—roofing isn't something you mess around with every day, and the stakes are high.
Here at RoofCrafters, we bring three decades of experience to the table, so we've seen it all. And we've all heard that knowledge is power. Especially if we use that knowledge to prepare. That's why we want to share the top 3 things that could go awry during your reroof project and offer expert advice on how to steer clear of them.
In this article, you'll learn about the 3 most common pitfalls of reroofing and how to mitigate risks. By the end, you will have the insights to make your reroof project go smoothly.
Unveiling the Intricacies: What Could Possibly Go Wrong in a Reroofing Project?
Taking on a reroofing project is a big challenge. It's complex and full of variables that experts approach carefully. Roofing involves skilled labor and dealing with factors like the roof's height and slope. And let's not forget that we're talking about the 'crown' of your home, the barrier between you and the elements. So, it's understandable to have concerns.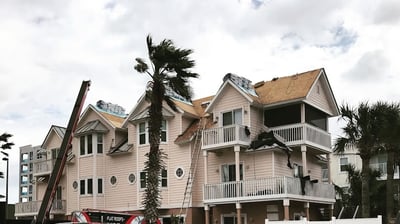 Professional roofers work hard to make the process smooth and safe, but mistakes can happen. Complications can arise at many points due to various moving parts like materials, machinery, and manpower. Let's discuss the first thing that could go awry during your reroofing project and how to mitigate it.
Bracing for the Unexpected: Weather's Impact on Your Reroofing Project
How often is the weatherman or woman right?
Unpredictable weather patterns can wreak havoc on even the most well-planned reroofing projects. When the skies darken and the rain pours, or when gusts of wind sweep across an open roof, the consequences can be more than a minor setback. These conditions not only cause delays but can cause massive interior damage. Roofers must tear the roof off to inspect the wood decking and flashings. A roof that's exposed is vulnerable to water damage.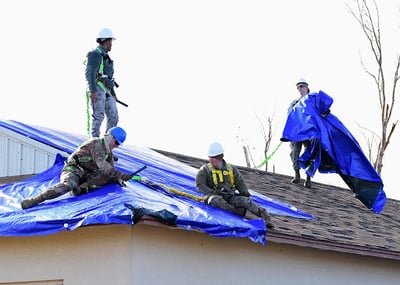 To mitigate such risks, ensure that your roofing contractor is ready for such contingencies. A vital part of this preparedness is having ample, heavy-duty tarps on hand to cover any exposed sections of the roof. This precaution reduces water damage so work can continue when conditions improve.
Unveiling Hidden Secrets: What Lies Beneath Your Old Roof
Once the roofers have torn the old roofing off, you might think the hard part is over. Think again. This is when hidden issues may be revealed, causing problems for your reroofing project. Unexpected issues like rotting wood, broken rafters, or pest problems can cause project delays and higher costs.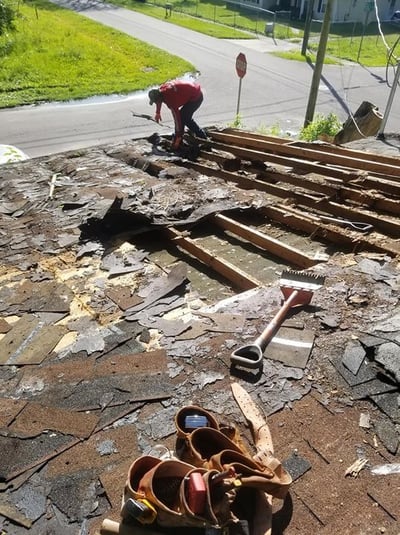 To be ready for such scenarios, it's crucial to have a contingency plan and budget in place. Before starting the project, talk to your contractor about any problems they had before. Be sure to set aside extra money for unexpected problems and have a plan to handle any structural issues that might come up. This proactive approach will save you stress and money in the long run.
Watch Out Below: Navigating the Risks of Property Damage During a Roof Replacement
While we often focus on what's happening above our heads during a reroofing project, it's important to be mindful of what's below. The process of removing old materials and installing new ones can sometimes feel like a hailstorm of risk for your property. Whether it's stray debris wreaking havoc on your manicured lawn. A rogue bundle of shingles takes aim at your AC unit. Or a plummeting tool targeting your window, the possibilities for property damage are very real. Roofing is dangerous.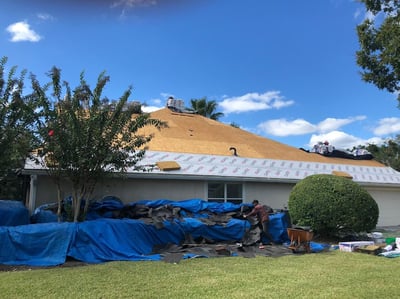 The best way to prepare for these incidents is to discuss them with your contractor before work begins. Make sure they have protocols for property protection, such as the use of tarps or other barriers. Having a plywood barrier over your AC unit is a must. Ask them how they plan to manage and dispose of debris and whether they have insurance to cover potential damages. Being informed and prepared can go a long way in preventing unpleasant surprises.
Securing Peace of Mind: Preparing for and Preventing Reroofing Pitfalls
In this article, you learned about the top 3 possible things that might go wrong during a reroofing project. Use this information to prepare for unexpected situations and talk about them ahead of time with your contractor. You'll be well-armed with the information you need to secure peace of mind and a job well done.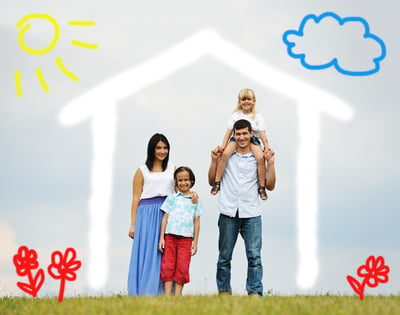 Embarking on a reroofing project is no small feat—it's an investment in the security and value of your property. Even with experts in charge, we must remember that sometimes problems arise. But knowing is half the battle, right?
RoofCrafters has been assisting property owners with roofing projects for more than 30 years. Our mission is to provide top-notch roofing services and educate our clients so they can make informed decisions every step of the way.
My name is Mitch, and I have over 10 years of roofing experience. I enjoy my career in the service industry because I love helping others take care of their homes and businesses. With over 10 years in the roofing industry, my success comes from my honesty and integrity during my roof inspections. I do my best to listen to the needs of my clients and strive to provide an awesome client experience.