The 3 Most Common Metal Roofs Used on Homes
March , 2023 | 6 min. read
By Kevin Mills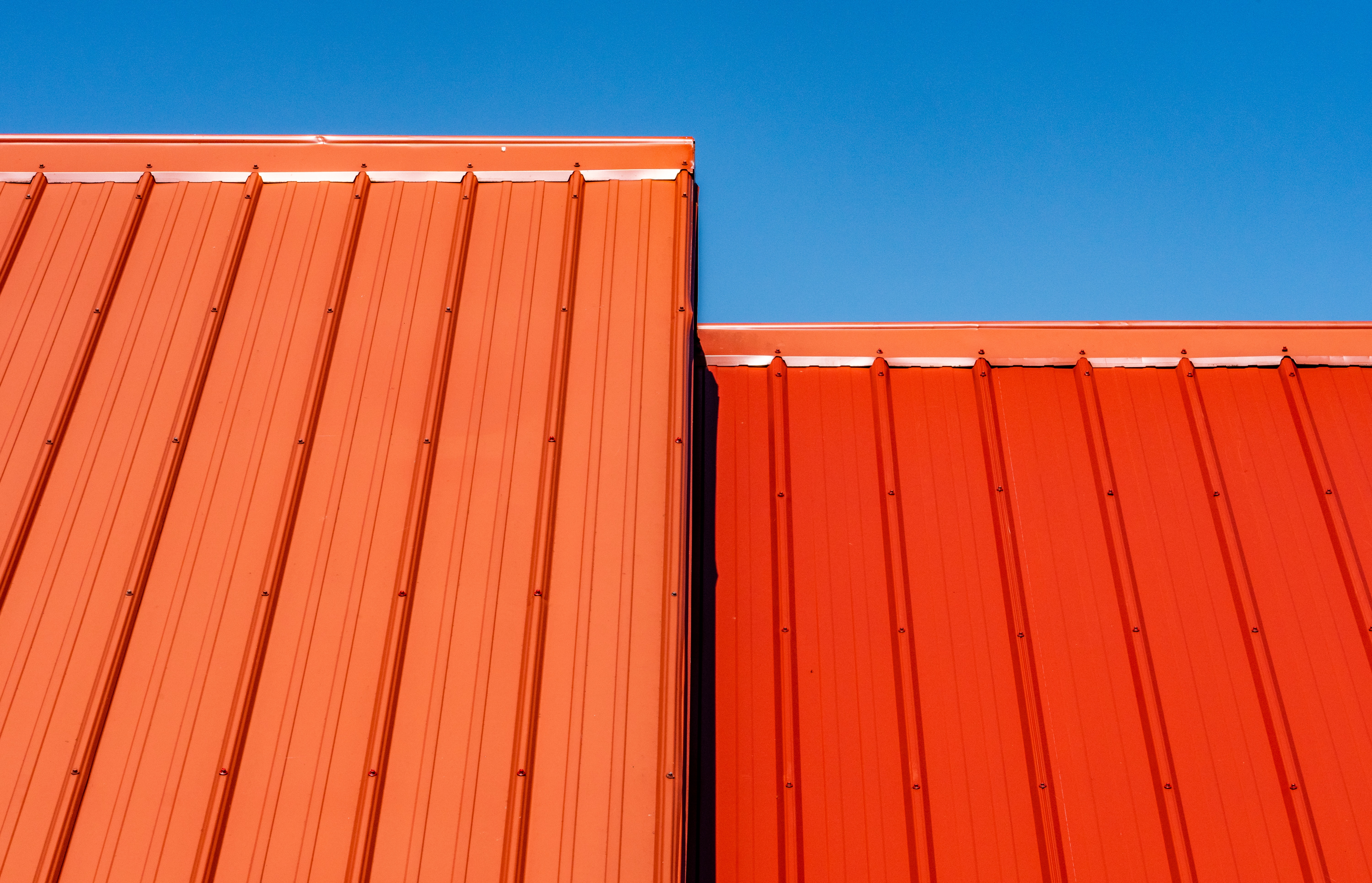 Metal roof options have climbed the ladder over the years. Once used for commercial properties and high-end homes only, they've evolved into a well-loved roofing choice for many types of property owners. In recent years, homeowners have taken certain metal roofing styles and made them their own- and they're stunning!
A metal roof is for the homeowner that likes durability, true longevity, style, and function. Because installation methods for this roof type have decreased in complexity over the years, more and more people can enjoy a good ole, sturdy metal roof on their homes.
We're so glad you stopped by because we have a lot to tell you about the most popular roofing options. RoofCrafters has installed metal roofs for nearly three decades. In our almost thirty years of working with roof types like this one, we've taken notes on which are more common on residential homes.
This article discusses the three most popular metal roofing options for homeowners. We'll go in-depth about each, from how they look to how much they may cost you. By the end, you'll have a better idea if metal roofing is right for you. We're ready to begin if you are!
Three Popular Metal Roof Styles for Homes
Four different metals are presently used in homes around the US: aluminum, steel, galvalume, and copper. Picking the right one for your home comes down to two crucial factors – local conditions and cost. Coastal folks- if you live near the ocean and are concerned about corrosion, aluminum, copper, and zinc roofing options are all resistant to salty air.
Steel Roofing
Steel is the most sought-after material used for metal roofing. This roof type is galvanized steel that is hot-dipped or coated in an outer zinc layer. Steel isn't as heavy on the wallet and can be just as effective and efficient as other comparable metal roofing materials. The steel most commonly used for roofing is 24 gauge, 26 gauge, and 29 gauge. Reminder- unlike aluminum, the lower the number, the thicker the steel metal roofing. Keep that in mind with this one.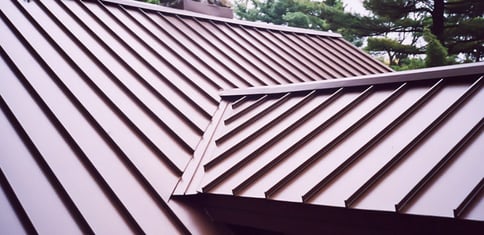 Because steel is a corrosive metal, it requires a paint finish to top it off! Paint finish warranties range from 20 years to about 45 years, depending on the thickness, panel type, and metal roofing manufacturer you choose. Steel roofing can be decently cost-effective. It offers a wide range of prices depending on which profile you want, the metal's thickness, and the paint warranty.
Aluminum Roofing
Aluminum is one of the most natural energy-efficient metal roof materials out there, which is becoming more of a factor new homeowners care about. It is highly reflective (ooh, shiny!), fire-resistant, and non-corrosive. So, if you live in or near salty conditions, this is a fantastic choice for metal roofing material because it will not rust. Aluminum roofing also comes in different thicknesses and typically comes in .032, .040, or .050 mil. The higher the number, the thicker the aluminum roofing. Thicknesses of .032 and .040 are the most popular on residential roofs, so jot that down if you're considering this one.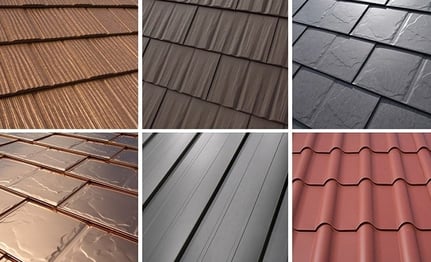 Aluminum comes in a mill finish or with a paint finish. Mill finish will provide you with a raw metal look, and it will oxidize into a naturally beautiful bare metal finish. It comes in a wide variety of paint colors too. Most of the paint finishes come with a 40-year paint warranty, with some manufacturers offering a 45-year paint finish warranty.
Galvalume Roofing
Galvalume is another metal option that contains a steel core and is coated with aluminum to prevent corrosion. Galvalume is very similar to steel roofing and comes in the same thicknesses- 24 gauge, 26 gauge, or 29 gauge. It's also available in all 4 of the different panel profiles, giving you plenty of selections to pick from.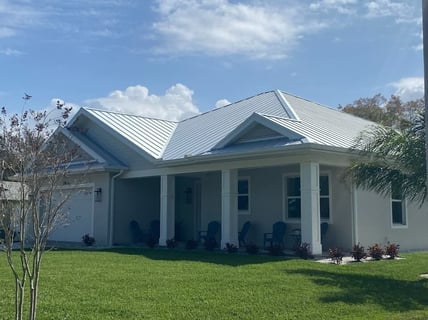 The most significant difference with galvalume is it only comes as a mill-finish metal. If you want a paint color, you must go with an aluminum or steel roof instead of this one. This potential drawback makes it slightly less expensive and a little easier to install. The painted materials can potentially be scratched during installation if not handled carefully. It's also an ideal option to use around saltwater for ocean-drawn folks.
How Much Does Metal Roofing Cost?
The final cost of your metal roof replacement depends on a few different key factors. Every home has different needs, so what you may pay could be vastly different from someone you know. Three essential elements that go into roof costs are:
The type of metal material you pick.

The total square footage of the roof area that needs covering.

The complexity of the roof, such as slope.
The complexity of the roof, such as slope.
It isn't possible for us to give you an exact price of how much your metal roof replacement could cost, so we'll give you a ballpark amount. Most homeowners in the Southeast can expect to pay between $14,500 and $45,000 for a new metal roof. This price is based on a standard three to four- bedroom, two to three-bath home with a two-car garage.
Standing seam metal roofs are one of the best options for homeowners in historical regions of the South, and is top-of-the-line in general. This roof does come with a larger up-front investment, however. A standing seam metal roof ranges in price (let's say you live in Beaufort, SC), from around $27,000 for a simple home to upwards of $43,000 for a more complex one. The price you'll pay depends on your specific location, requirements, and home.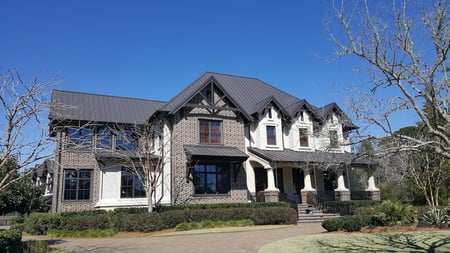 Tip: When determining if a particular style or type of roofing is best for you and your home, it all comes down to your personal preferences and budget! Check out the determining factors that are used to calculate the price of a new roof to understand better how your final cost is determined.
Is Metal Roofing Right for Me?
Metal roof options are an excellent choice for a wide variety of homeowners. We hope you have a little more of an idea of if a metal roof is a choice for you after browsing this article. However, if you're keeping your mind open, there are so many more choices to browse through.
Have you checked out our learning center? It's full of vital information you should know when it comes to roof replacements, along with numerous articles about different styles and types. There's a little something for every reader, so it's a must if you want to brush up on your roofing knowledge or have some extra time. Research is always a great idea, and we can help you with that!
Alright, you've officially added three of the most popular metal roof types to your internal library. If you have any questions or concerns regarding your roof or a project you're considering, RoofCrafters is more than delighted to assist you. Before you get in contact with a roofer, though, feel free to take a quick look at our comprehensive roofer checklist to ensure you know who to look out for when searching for a contractor. To get in touch with one of our helpful RoofCrafters representatives, head on over to our contact page.
My name is Kevin Mills, and I am the lead estimator for RoofCrafters' Tampa division. I'm originally from Michigan, and I enjoy hunting, fishing, and spending any free time outdoors. What I'm most passionate about, though, is helping business owners and homeowners alike achieve their roofing goals, all while providing a seamless customer journey.