What's the Price Tag for a New Metal Roof in Sunny Sarasota, Florida?
September , 2023 | 8 min. read
By Kevin Mills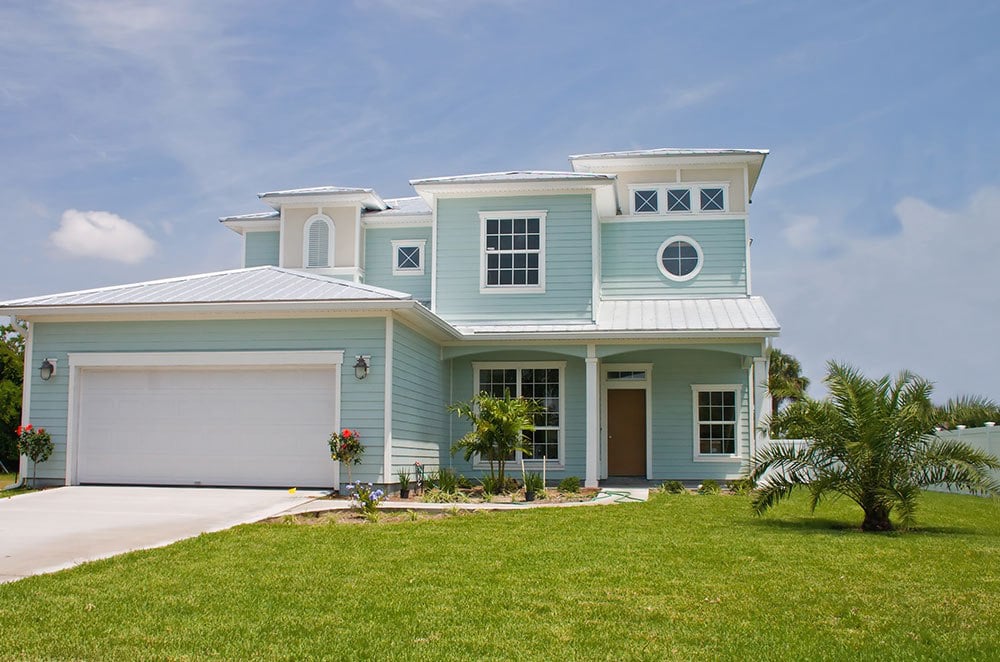 Hey, Sarasota folks! Is the sun shining a little too much on that aging roof of yours? Considering switching to a metal roof but holding your horses because you're unsure about the cost?
We feel you!
Let's be honest. Scouring the interwebs for Sarasota County roofers who openly discuss prices is like finding a needle in a haystack.
Not to worry, RoofCrafters of Sarasota is here to clear the air. We've been roofing homes in Southwest Florida for over three decades. So, we know our metals from our shingles, and we're ready to share all that knowledge with you.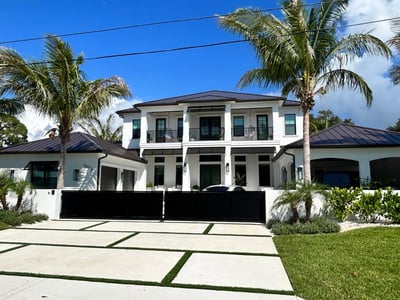 By the end of this read, you'll know exactly what you're looking at when it comes to the cost of a new metal roof in Sarasota. Hopefully, you'll have the answer you're looking for to help make an informed decision about your roof.
Ready to get started?
Three Key Elements That Shape Your Sarasota Metal Roof Cost
Before you dive in, let's look at the three primary aspects that influence the cost. There are other factors that will impact the final price. But these elements come together to create a unique estimate specific to your roof.
Metal Material Type

Roof Area in Square Feet

Architectural Complexity
Let's go deeper.
Delving Into the Key Elements
Choosing the type of metal influences the upfront costs and also its durability and maintenance. Size matters too: the larger the roof, the more you'll spend on materials and labor. A complex roof with many slopes, skylights, or chimneys will also cost more due to the extra skill involved.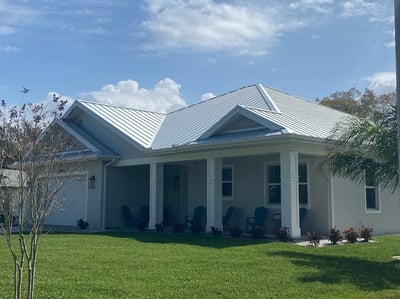 In sunny Sarasota, expect a range between $17,000 to $45,000 for a new metal roof on a typical 3 or 4-bedroom home with a standard 2-car garage.
Sarasota's Top Three Metal Roof Types
In a place as beautiful as Sarasota County, your home deserves a roof that not only protects but also complements your lifestyle. These top three metal roofing types are a hit in the area for some compelling reasons.
Multi-Rib Screw-Down Metal Roof

:

This option is your practical, no-nonsense pick. It provides a large lifespan without burning a hole in your pocket. Ideal for those who want to dip their toes into the metal roofing world without diving all-in financially.
5-V Screw-Down Metal

:

The 5-V brings a bit of local charm. It's not just another functional roof; it's a nod to the coastal, laid-back vibe of Sarasota. While still budget-friendly, it adds a dash of aesthetic appeal that screams Floridian.
Standing Seam Metal Roof

:

This is the cream of the crop, the ultimate metal roofing option. Designed for homeowners who are looking for longevity, durability, and a sleek, modern appearance. Its hidden fasteners and top-notch wind resistance make it a top choice for those who want to invest in the long game.
Why These Three Metal Roof Types Shine in Sarasota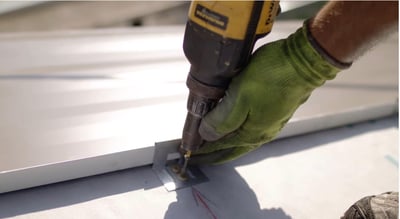 These options meet different needs, but all have the durability and weather resistance of metal roofing. Whether you're on a budget, looking for local flair, or aiming for the pinnacle of roofing luxury, Sarasota's got a metal roof for you.
The Cost of a Multi-Rib Screw-Down Metal Roof in Sarasota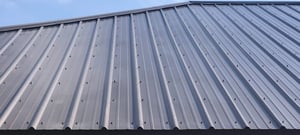 Think of the Multi-Rib as the beach cruiser bike: simple yet reliable. It's the roofing equal of setting up a hammock between two palms—functional, easy-going, and in line with the Sarasota lifestyle. Screw-down roofing is a dependable and inexpensive choice for Southwest Florida's storms.
Financial Overview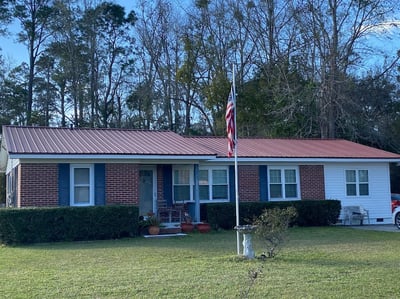 Expect to invest around $18,000 for a simple one-story home with straightforward architecture. For a two-story house or one with a more complex roofline—think skylights, chimneys, or many valleys—the average cost hovers around $31,000.
A Dependable Choice for Sarasota Living
This metal roof is like an old boat; it may not be fancy, but it will protect you for years.
The Screw-Down metal roof is ideal for homeowners who seek a cost-effective but sturdy option. The installation process is straightforward, meaning less labor cost. Material-wise, it's less expensive than its upscale cousins, like the Standing Seam. But don't let the affordability fool you: it's tough and designed to last.
Average Cost for a Basic Home: $18,000
Average Cost for a Complex Home: $31,000
The Financials for 5-V Screw-Down Metal in Sarasota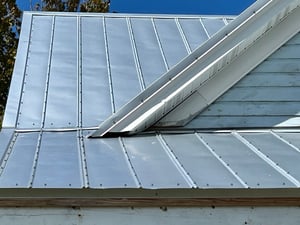 The 5-V metal roof is like your paddleboard—functional with a touch of local flair. The residential roofing in Sarasota County has a classic design and useful features, which locals love. The 5-V roof combines style and function. It is popular for its aesthetic appeal and durability. Like the local mangroves, this roof is sturdy and built to last, with some added flair that captures the eye.
Average Pricing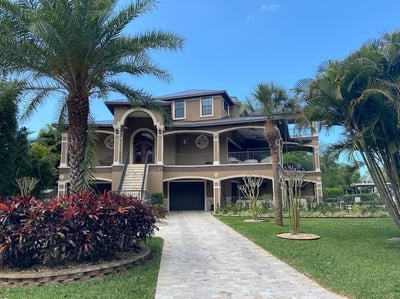 For a basic home with simple architecture, you can expect an average cost of around $20,500. If your home has a more complex design, featuring elements like skylights, chimneys, or intricate valleys, the price can climb to an average of $34,000.
An Upgraded Metal Option
In short, the 5-V metal roof adds local color to your home. It still has the qualities of durability and reliability that metal roofs are known for. It's a step up in style without a steep climb in cost, making it perfect for those looking to invest in a roof that's both functional and fashionable.
Average Cost for a Basic Home: $20,500
Average Cost for a Complex Home: $34,000
The Investment for a Standing Seam Metal Roof in Sarasota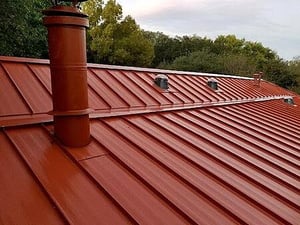 If the Screw-Down metal roof is a beach cruiser and the 5-V is a paddleboard, then the Standing Seam is the luxury yacht of metal roofing options. Premium, top-notch, and with a sense of sophistication that sets it apart. It's like the Longboat Key of roofs: upscale, sleek, and an investment that pays off in both functionality and aesthetic appeal.
Standing Seam Pricing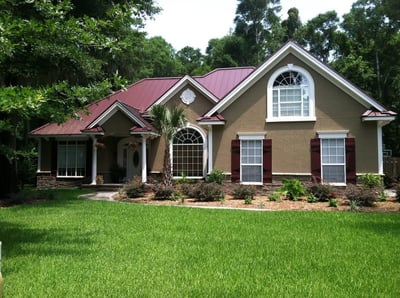 For a basic home, you're looking at an average starting cost of about $29,000. If your home has many levels, steep slopes, or complex details, the average price can be $44,500.
The Luxury Yacht of Roofing: Sophisticated and High-End
In a nutshell, the Standing Seam is the crème de la crème of metal roofing. Although it has a heftier price tag, the benefits are worth it. It's the best option for those who are seeking the ultimate balance between luxury, durability, and performance. Consider it a long-term investment for those who refuse to compromise on quality and protection. Your neighbors will love it too.
Average Cost for a Basic Home: $29,000
Average Cost for a Complex Home: $44,500
What's the Best Metal Choice for Your Sarasota Home?
When deciding on a type, consider longevity, wind resistance, and the shade of your palm trees. Aesthetics and energy efficiency are also key.
RoofCrafters of Sarasota, your trusted partner in Southwest Florida, is all set to guide you through this. Ready to take the next step? Click 'Schedule An Inspection' below to get started now.
Whether you choose us or go elsewhere, we're here to help. Check out our 'Roofing Contractor Checklist' below, it's free!
My name is Kevin Mills, and I am the lead estimator for RoofCrafters' Tampa division. I'm originally from Michigan, and I enjoy hunting, fishing, and spending any free time outdoors. What I'm most passionate about, though, is helping business owners and homeowners alike achieve their roofing goals, all while providing a seamless customer journey.