The Price of a Roof Replacement in Jacksonville: Online Cost Calculator
May , 2023 | 11 min. read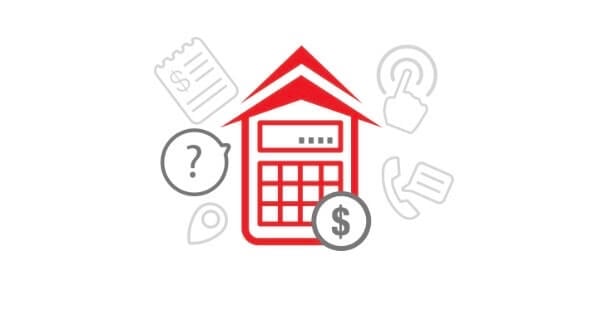 Is it time to replace your roof? Are you worried about how much the roof is going to run you?
Getting a budget online can be frustrating. nobody wants to discuss the elephant on the roof. The costs. Especially in Jacksonville. Many marketing companies offer online roof costs only to try to collect your data to sell to roofing companies. "Spammy"
With a roof replacement being such a large investment. Getting a budget without getting hassled or having a salesperson come out is something our industry needs to get better at.
We get it and because we understand your frustration we've done something about it.
Our family at RoofCrafters has provided roofing services in the Southeast for 3 decades. So we know a thing or two about calculating the price of a roof replacement. Now we want to help the residents in the Jacksonville area by sharing our 30 years of estimating experience.
In this article, we're going to teach you how to use our free online roofing cost calculator. You'll be able to get a budget number for your upcoming roof replacement for free. To be fair. It won't be an exact quote but it'll give you a really good idea of the costs of your upcoming roof replacement.
We're also going to show you how we can save you money on your upcoming roof replacement with our virtual roof estimate option. And hopefully, by the end, you'll have tried our online cost calculator and decided if the virtual estimate is a good option for you. Sound good?
Let's get started!
3 Tips for Using the Online Cost Calculator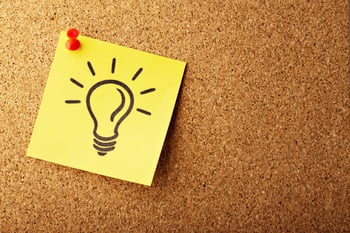 Before going to our online cost calculator there are 3 things you need to know. This will help you get the most accurate results from our free online calculation tool. But first, keep in mind that the cost calculator is a tool to help you get a budget, not an exact roof quote.
The 3 things you'll need to know are:
Does your home in Jacksonville have a simple, standard, or complex roof line?

How to get the square footage of your roof.




What type of roof materials do you want?
How to get the square footage of your roof.
What type of roof materials do you want?
Does Your Home in Jacksonville Have a Simple, Standard, or Complex Roof Line?
The first step to using our online cost calculator is to understand the level of your roof's ease or difficulty. Having an easy roof line will make the labor less expensive for you. While having a steep roof will increase labor costs.
What we've found is there are 3 common roof lines in Jacksonville. Below are the examples we use in our online cost calculator to help you choose which one looks closest to your roof style.
Simple Roof Line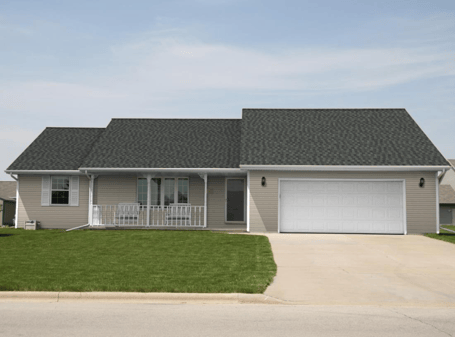 A one or two-story home with a slight roof pitch. These are typically gable-style roofs that go up and over. An easy roof to walk.
Standard Roof Line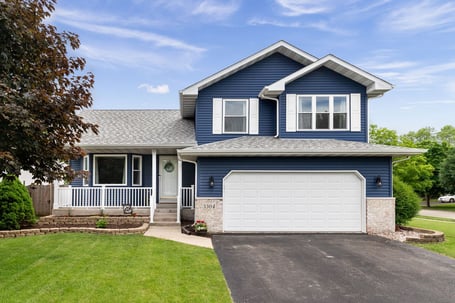 This is one story, two-story home, or split-level home with a few hips and valleys. May have a dormer or walls. Still has a fairly easy roof pitch to walk on and is easily accessible.
Complex Roof Line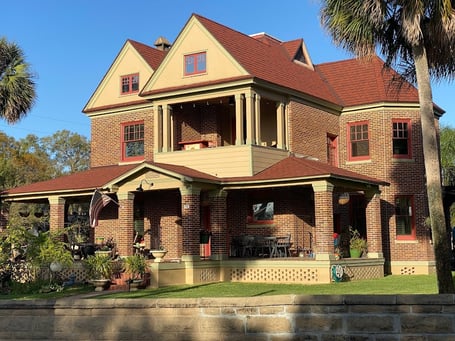 This is a one, two, or three-story home. This roof has a steep pitch with several hips and valleys as well as penetrations such as chimneys, walls, and pipes.
Knowing the ease or difficulty of your upcoming roof replacement is one of the main factors that impact the price of your roof. If you are not sure, pick the one that looks closest to your home's roof.
How to Calculate the Square Footage of Your Roof
Before using our cost calculator, you'll need to know the square footage of your roof. Keep in mind the square footage of your home in Jacksonville does not equal the square footage of your roof.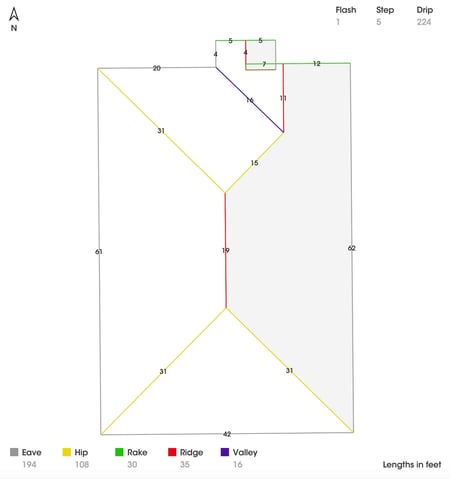 The slope of the roof and the overhang add to the square footage of your roof. To keep this simple what you'll need to do is measure the footprint of your home. (length x width = square footage)
Example: If your home is one story and is 70 feet long by 25 feet wide, your footprint would be 1750 square feet. (the numbers you'll need to know to enter in our calculator too are 70 ft and 25 ft)
Use a tape measure if possible. If you do not have a tape measure, you can step it off by counting the number of steps to get from one side to the other and multiplying that number times 3.
Example: 7 steps x 3 = 21 feet, then 24 steps x 3 = 72 feet. Enter 21 ft for the width then enter 72 feet for the length. The cost calculator will multiply the 21 ft x 72 ft = (entering the 1512 feet for you.)
Knowing the Type of Materials You Want For Your Roof Replacement
Choosing the type of materials for your new roof replacements is one of the most exciting parts of the journey. The most popular types of materials on the market include:
Standing seam metal
Screw-down metal
Spanish tile
Asphalt shingles (3-tab shingles, Architectural, Upgraded architectural & Designer shingles)
Each one of these can create unique aesthetic appeal and add individual style. Thus adding curb appeal and value to your home. But it's important to note that each of these roofing materials will differ in price.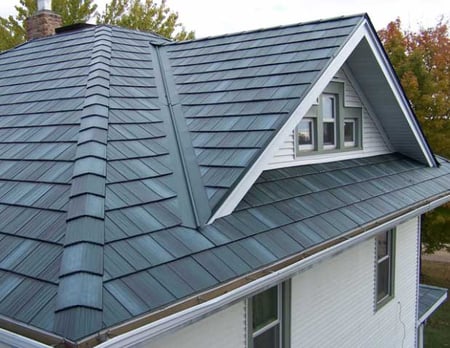 It's also worth noting that these are the most popular types of material and that is why we use them on our pricing calculator. However, there are other roofing materials available for your consideration if you'd like to see other options.
Ready to Use the Free Roof Replacement Cost Calculator?
Now that you know how to tell between a simple, standard complex roof line. You also know how to measure to get the footprint of your home. (length x width) As long as you know the type of materials you want, you're ready to try out the free pricing calculator.
Getting a Virtual Roof Replacement Estimate in Jacksonville
As we mentioned at the beginning of the article, the other option that's available for your convenience is our virtual roof replacement estimate.
You may be asking yourself…
"Can I get a roof replacement estimate without a salesperson coming out to my home?"
Yes, technology combined with experience makes it possible to get a roof estimate without a salesperson coming to your home!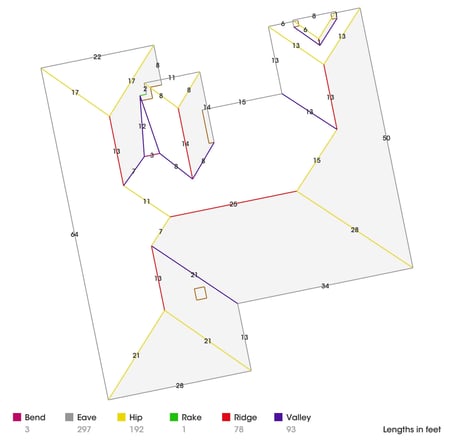 RoofCrafters in Jacksonville now offers virtual roof estimates to homeowners who know they need a roof replacement, not repair, and want to save time and money.
To get a virtual roof estimate, you provide us with the address of your home along with some other important information. We'll then use satellite imagery to get the measurements of your roof and provide you with an estimate.
But first, let's go over the advantages and disadvantages of virtual roof replacement estimates, ok?
Virtual Roof Estimates: Benefits and Advantages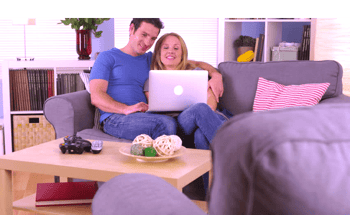 Getting a virtual roof estimate can have a positive impact on the roofing industry and the economy as a whole. It can save time and reduce costs, making roofing services more affordable for you.
Here is a list of the advantages of virtual roof replacement estimates:
Saving time and increasing efficiency: By getting a virtual estimate you save time and we save time. You can free up more time to spend with your family and help increase the time the sales rep can spend with homeowners who need onsite inspections. This increases efficiency and productivity.

Reducing costs: Virtual estimates help save on costs associated with travel. Costs such as employee salary, gas, and vehicle maintenance. These savings are passed on to you in the form of lower prices, making the roofing services more affordable for you.

Boosting technology adoption: Virtual roof estimates rely on advanced technology. Satellite imagery and drones. By adopting these technologies, we stay competitive in the marketplace. This leads to helping decrease the cost of our services.
Convenience: Virtual estimates can be done from the comfort of your own home. Making the entire process more convenient for you. You don't have to take time off work or rearrange your schedule to meet with a salesperson.
Improved accuracy: The use of satellite imagery provides accurate measurements of your roof. This helps ensure that you get an estimate that reflects the actual amount of work required.
Faster turnaround time: Without the need for an on-site inspection. Virtual estimates are done right away. This means that you can get an estimate faster, which can help you decide the timing of your roof replacement.
Better communication: With virtual estimates, we share images and videos of your roof estimate with you. This helps make it easier to understand the scope of the work required. It leads to better communication and better-informed decision-making.
Getting a virtual estimate for a full roof replacement can save you time and money. It can also be more convenient and lead to better communication between you and our family at RoofCrafters.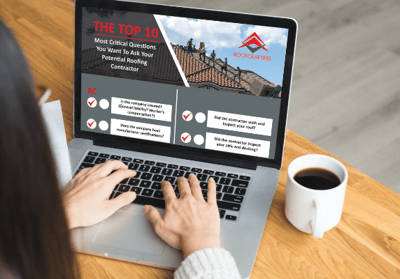 While virtual roof estimates can be convenient and time-saving. There are also some disadvantages to consider. We always recommend looking at the disadvantages of any service before deciding if it's right for you.
Disadvantages of Virtual Roof Estimates: What You Need to Know
While virtual roof estimates do offer many advantages. It wouldn't be fair for us not to discuss the disadvantages of virtual roof estimates with you upfront. Here is a list of the disadvantages:
Limited accuracy: Virtual estimates rely on satellite imagery. If you have heavy tree coverage it may not capture all of the details of your roof. Some roof sections may not be able to be measured and may need a physical onsite inspection.
Limited scope: Virtual estimates are not going to include a full assessment of your roof's condition. They only provide an estimate of the cost of replacing the roof, without identifying other potential issues or areas of concern. So, if you only need a roof leak repaired, you'll need to schedule an inspection.
Technology limitations: Virtual estimates rely on advanced technologies. These technologies may not always be reliable or may be affected by uncontrollable conditions. Such as tree coverage or high winds.
Limited personal interaction: You won't get the benefit of face-to-face interaction with a sales rep. If you love social face-to-face interaction this may not be the best option for you.
Less detailed estimates: Virtual estimates may not be as detailed as in-person estimates. When our roof estimators do an onsite inspection, they go into the attic to look for wood damage or structural issues.
Now that you know the advantages and disadvantages of getting a virtual roof replacement estimate. You may be ready to decide if a virtual estimate is right for you.
Is a Virtual Roof Replacement Estimate Right for You?
It depends!
Do you like the idea of not having to meet a salesperson face-to-face to review all of your options?
Do you like the idea of saving money by reducing the amount of overhead(driving, gas, vehicle, salesperson, etc) required to do an onsite inspection?
If you answered yes to either one or both of these questions, then getting a virtual roof replacement estimate may be a great option for you. To begin your journey take the next step.
If you answered no, then having one of our professional estimators come out may be the best option for you. You can schedule a. traditional face-to-face inspection below.
Over the past 3 decades, our family at RoofCrafters has provided thousands of families with high-quality roof replacements. We've done so by doing one roof at a time! We know what it takes to get the job done right. All our roofs come with manufactured backed warranties for your protection. Let us help protect your family!
At RoofCrafters, our mission is to provide job opportunities for others to thrive and grow while making a meaningful impact within our communities.