How Do I Prepare for a Roof Replacement?
November , 2022 | 6 min. read
By Kevin Mills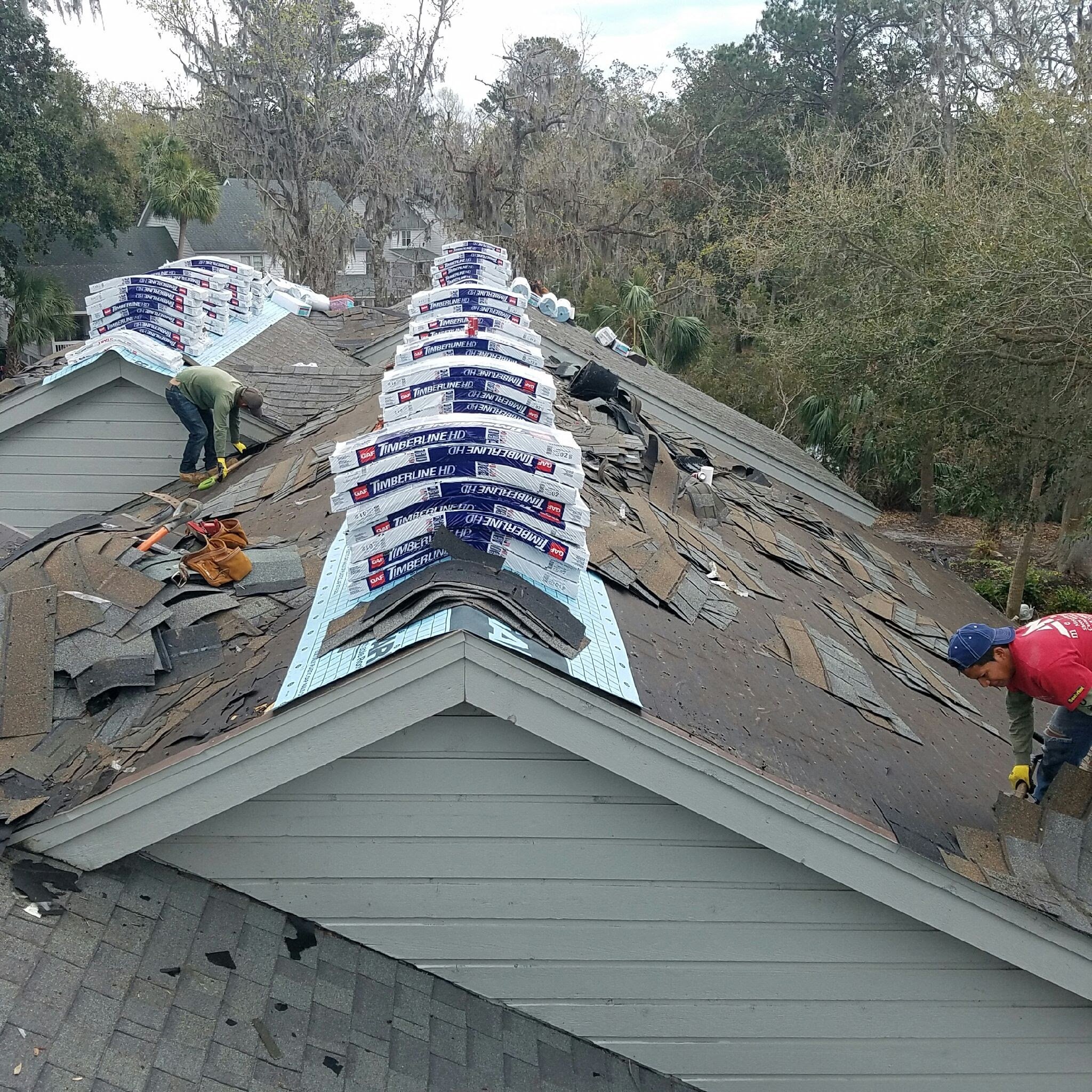 So, you finally decided it was time to replace your roof. No doubt it took quite some time to research, interview roofers, and review your estimates. Now that the hard part is over and you've chosen the best contractor for the job, what now? Once you decide which roofer to work with, there are a few other things you need to do before the crew arrives for work. While a roofing crew has performed the task of stripping and replacing roofs hundreds of times, for most homeowners the process can prove to be disruptive if they aren't prepared.
It's 2022 after all, and many homeowners work from home. Hearing the constant drilling, banging, and other onomatopoeias that may come along with roofing projects can be stressful. Not to mention, what about your prize-winning hydrangeas? Will they be left unbothered throughout the duration of your project?
At RoofCrafters, we've been replacing roofs for homeowners like you for nearly 30 years now, and we promise there haven't been any records of flower stomping. We know that the replacement process is incredibly daunting, which oftentimes causes homeowners to hyperfocus on the things that they have control over, such as their gardens and outdoor furniture.
In fact, your roofer will appreciate your efforts prior to the commencement of your project. So, what can you do to make sure your replacement flows seamlessly not only for yourself but your roofer too? We're glad you asked. To help you make the process less stressful, below you'll find a few things you can do to help make sure your project runs smoothly before it even begins. Let's get started!
Move Your Vehicles onto the Street
The night before the crew is due to arrive, you'd be well advised to move any vehicles you have in the garage or on the driveway to the street. Roofers tend to start early in the morning and the first thing that's going to arrive is a dumpster where the crew will discard the old shingles. Then another truck will arrive with everything that's needed to replace your old roof.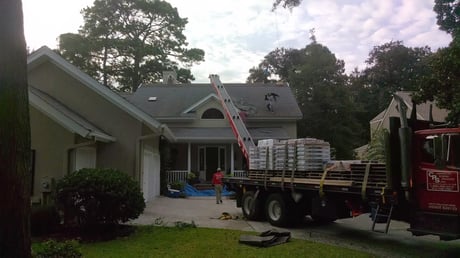 While most roofing crews are conscientious when it comes to minimizing disruptions to your routine, if you park your vehicles in the garage you may find it impossible to get them out until the roofing job is complete. Not to mention the fact that the process may scatter a few roofing nails on your driveway that could puncture a tire. Since the process typically takes 2-3 days, your best bet is to park on the street until the job is finished and your property is cleaned up.
Put Away Yard Amenities
To do their job, roofers need to be able to access your roof from all four cardinal points of the compass. Additionally, some of the supplies needed to replace your roof may need to be stored in your fenced yard for security's sake. The last thing you want is for the roofing crew to trip over toys or furniture. Plus, you probably wouldn't like it if castoff shingles landed on your shiny gas grill. The best thing you can do to help the roofing crew is to create a 15-foot exclusion zone all around your home. This way you won't have to worry about anyone getting hurt or anything getting damaged.
Protect Your Plants, Spotlights, and Sprinklers
While most roofers will place tarps over shrubs and flower beds, it wouldn't hurt to talk to the supervisor about any plants you're concerned about when he or she arrives prior to the arrival of the crew. This way the supervisor can mark the plants before telling the crew before they start stripping your roof. In fact, the walkaround is a good time to express any concerns you have about the process that's about to begin.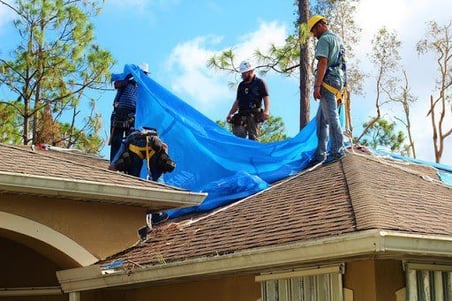 If you have permanently mounted spotlights and/or a buried sprinkler system, you need to point these out to the supervisor as well. He or she will mark them, so the crew won't step on or trip over any of these devices.
Mow Your Yard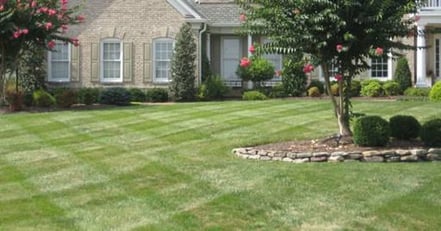 Since part of the roofing process involves cleaning up after the job is done, it makes the crew's job that much easier if the grass in your yard has been freshly mowed. Roof debris and nails are also easier to spot in short grass than they are in tall grass. In order to make sure the roofing crew can thoroughly inspect your property post-project, mowing your yard beforehand will help greatly.
Access Check
Whether you're planning on staying at home while the roofers do their thing or you're planning on being out, it's vital that the crew has access to your yard and electrical outlets. This means you need to make sure gates are unlocked and either the garage is left unlocked or an extension cord is available in both the front and backyard.
Animal Control
If you own dogs, make sure they're kept inside while the roofers work. Not only could an unexpected meeting between a roofer and your dog end badly if your gate is open. Also, you don't want your dog to inadvertently step on any nails lying around in the yard. Your best bet for your pet's safety is to take it out for walks rather than let it out back until the process is done and the yard has been sanitized of debris.
Home Preparation
Even though the roofers won't need access to your entire home, they will be tromping around on the roof. This can cause vibrations that can cause light fixtures to fall from the ceiling or fragile items stored in the attic to tumble over and break. The day before the crew arrives, it would be a good idea to remove light fixtures and remove or tarp fragile items stored in the attic. Last but not least, make sure that anything breakable doesn't touch the outer walls of your home.
Another thing that you want to consider before the roofers arrive is your children. The noise that is inherent with a roof replacement guarantees that infants and tots won't be able to nap and small children could be frightened at all the commotion. If your kids aren't going to be in school, it's better to have them stay with friends or family until the job is completed.
Be Neighborly
If you want to be a good neighbor, it would be a good idea to tell your neighbors about your upcoming roof replacement. This way they won't be disturbed by the noise that will be going on for a couple of days. It also wouldn't hurt to ask their permission for a roofer to enter their yard should a shingle happen to sail over your fence onto their property. This way the process won't be a shock to their system, and you won't tarnish your reputation as a good neighbor.
All in all, any tips you take from this article will be well appreciated by your contractor. However, if you don't have the time or are unable to heed these suggestions, don't worry! Your contractor is expertly trained as well as equipped to handle any sort of situation. At the end of the day, you're paying for a service, so if you'd prefer to sit back and relax, that's okay too.
If you have any questions regarding your upcoming replacement or are interested in scheduling an inspection, drop RoofCrafters a line on our contact page. One of our friendly representatives will reach out to you as soon as possible. In the meantime, learn the stages of your roof replacement process by checking out our article: "The 9-Step Process To Your Roof Replacement".
My name is Kevin Mills, and I am the lead estimator for RoofCrafters' Tampa division. I'm originally from Michigan, and I enjoy hunting, fishing, and spending any free time outdoors. What I'm most passionate about, though, is helping business owners and homeowners alike achieve their roofing goals, all while providing a seamless customer journey.