Top 5 Commercial Roofing Types: Pros and Cons
December , 2022 | 17 min. read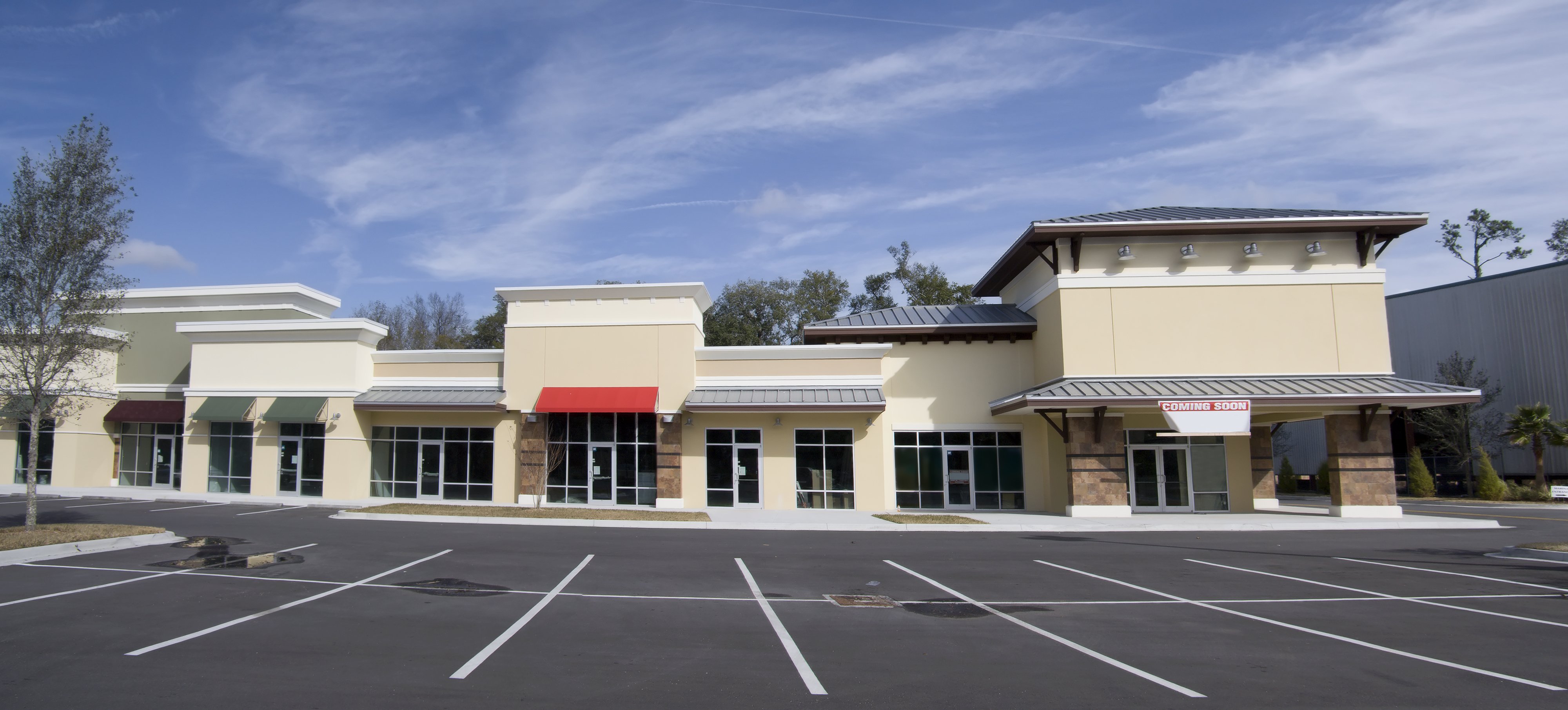 Is the roof on your commercial property getting near the end of its lifespan? With many types of commercial roofing materials on the market, choosing the one that's right for your building can be an overwhelming task. There are several factors that go into determining the right roof type to install on a commercial building, but where do you even start?
At RoofCrafters Roofing, our commercial roof team has been assisting building owners for over 28 years. By helping educate our commercial clients they're able to make well-informed decisions. Whether it's with a new commercial roof installations or a commercial roof leak repair, we're here to help. Now we want to do the same for you.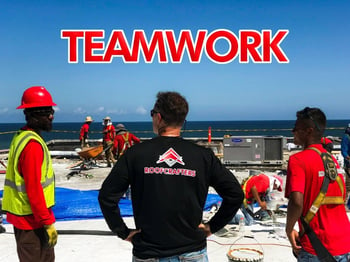 When deciding what type of commercial roofing to install, the first step is performing a commercial roof inspection. Since we won't be inspecting your commercial roof today, the least we can do is share our nearly 3 decades of commercial roofing experience with you.
In this article, we'll cover:
The different types of commercial construction roofs on the market
The 4 factors used to determine the best type of roof for your business
The top 5 commercial roofing types
The advantages and disadvantages of each of those roofs
And hopefully, by the end of the article you'll have a better understanding of the 5 common commercial roofing types. Along with the pros and cons of each. So that you can make a well-informed decision about your next commercial roof investment.
Let's get started!
Types of Commercial Roof Construction
There are 3 main types of roofing construction for commercial buildings.
Flat roof commercial construction
Low slope commercial construction
Steep slope commercial construction
Commercial flat roof construction is common because it allows the engineer and architect more options. Mounting rooftop equipment when there is no space around the property.. With the newer roof systems today, this type of construction requires your local commercial contractor to slope the roof. This is done with insulation to prevent ponding water. Tapered insulation creates positive water drainage but will also provide the building with a better R-value. However, adding tapered insulation will also impact the cost of the project.
Low slope commercial roofing is when the roof has a positive slope to drain the water from the rooftop. The downside of low slope construction is that it's not always good for the materials. For example, a low slope roof that has metal installed is not the best option. It'll result in leakage and maintenance issues that another system would not have on a low slope roof.
A steep slope roof on a commercial property is identical to or very similar to residential construction. The most common construction types on steep slope commercial roofs are gable roofs or hip roofs. These are constructed with metal or wood trusses or can be custom framed with wood 2x framing material.
4 Factors Used to Determine the Type of Commercial Roof to Install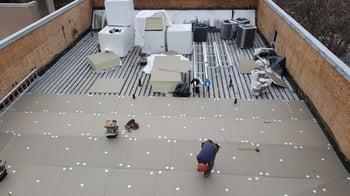 Lifespan desired
Durability
Energy efficiency
Cost
The length of warranty or lifespan that you desire is one of the factors that'll help determine the type of materials to use.
Next is the durability needed, how much equipment is on the roof? So, are mechanical contractors accessing the roof to service rooftop equipment? HVAC units, rooftop vents, or satellite systems. Does your commercial roof get little foot traffic or does it have a lot of this type of foot traffic?
This will help us determine the type and thickness of the commercial roof material that'll be best for your building.
Energy efficiency has been a very hot topic in commercial roofing services over the past several years. Most government roof projects require a minimum energy efficiency rating on the commercial roof system. (minimum R-30)
This is something to consider when replacing a commercial roof, does the roof system need a better R-value. The R-value is the thermal resistance of the roofing type and the insulation under the roofing materials. The higher the R-value the less the heat from the sun's rays will penetrate the roofing into your building.
And the cost.
We've put the cost of your commercial roofing last because to calculate the cost we need to have answers to the other 3 factors
. They'll impact the cost of the project.
Now you know the 4 factors used to determine the type of roof system we'd recommend. So, let's dive into the Top 5 types of commercial roofing advantages and disadvantages
Top 5 Commercial Roof Types
Single-ply roofing (TPO, PVC & EPDM roofing)
Modified Bitumen

(rubber roofing)

Built-up roof

(hot tar roofing)

Metal Roofing

(standing seam & screw down)



Asphalt shingles (upgraded shingles)
Single-ply Roofing (TPO, PVC & EPDM roofing)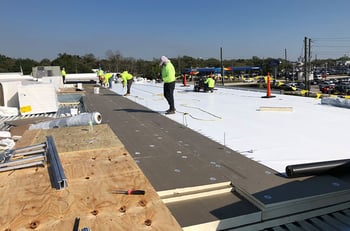 Single-ply roofing is one of the most popular roofing materials used on commercial and residential flat roofs. They come in different thicknesses or you might hear your local roofing contractor ask "do you want a 45 mil or 60 mil roof?"
The higher the number the thicker the product. The thicker the product the longer the manufacturer warranties the flat roof material.
Single-ply
or TPO and PVC roofing
is made
up of 3 layers.
A base layer, the scrim layer(reinforced woven fiber layer), and thickness over the scrim layer, which is the top layer
. This top layer protects the scrim layer from the sun's harmful UV rays.
An EPDM roof comes in a 45 or 60-mil thick membrane.
The difference is the laps and flashings on EPDM
are glued
or seam taped together instead of hot air welded like the TPO or PVC roof systems
..
The advantage of
single-ply
roofing is they come in white which makes them heat-reflective and energy-star rated
.
They're also lightweight, fire-resistant, provide a high wind rating, and are resistant to chemicals
.
All of
which can be important in commercial and industrial roof applications.
Single-ply
roofs are
easily
repairable and to keep maintained.
The disadvantages of
single-ply
roofs are they are not the most
aesthetically
pleasing roofs to look at
.
Also, high foot traffic could pose a threat if contractors are not mindful when performing work on the roof
. Dropping hand tools or screws and walking on them could puncture these roof systems
Modified Bitumen

(rubber roofing)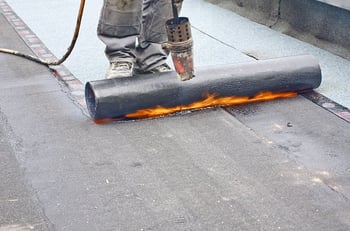 We'd like to say a Modified bitumen roof is the second generation of commercial flat roofing. Built-up or hot tar is the OG of the flat roofing world and we will discuss that next. Mod-bit became popular because unlike the hot tar roof that requires setting up a hot tar kettle. That job alone, heating asphalt onsite to over 500 degrees is a full-time and dangerous job. The roofing industry has slowly been moving away from hot tar roofing. Modified bitumen roofs can be installed with hot tar but the most popular installation methods are without the hot tar.
Here are 4 main installation methods:
Hot tar applied
Cold tar applied
Torch applied
Self-adhered
Self-adhered made modified bitumen roofs much more efficient for commercial roofing applications.
The advantages of Mod-bit roofs are they have multiple layers and having multiple layers can make them more durable. This increased durability can make the mod-bit a better choice for commercial roofs with high foot traffic.
The disadvantage of Mod-bit with multiple layers is the cost. The cost of the materials and labor to install multiple layers is more expensive. Also performing repairs and maintenance on mod-bit roof systems can be more difficult, also increasing the cost.
Built-Up Roof (hot tar roofing)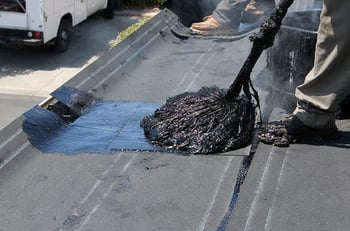 Layering the materials is how it got called a built-up roof. The roof is built-up by layering plies of fiberglass rolls of roofing and hot tar between each layer. And this is only the short explanation of how it gets installed.
The basics of a hot tar roof so to speak. It's asphalt heated up to 500 degrees and then we mop that directly on the roof deck or insulation. Yep, just like you would mop a kitchen floor. And in-between mopping we roll out layers of roofing while it's still hot. Many built-up roofs are done with 4, 5, or 6 layers of roofing.
The top layer is the most important layer when it comes to maintenance. It'll be what determines if it can be repaired and maintained successfully. Oftentimes the top layer is a flood coat of hot asphalt (tar) with rocks put in the tar while it is still 450 to 500 degrees. A hot tar roof with a rock finish makes for a challenging repair for a very experienced roofer. But it can be done if there is useful life left in the flat roof system.
Now, if it has a granule surface cap sheet as a finish layer or an asphalt flood coat, it is much more manageable to maintain and repair. Bottom line, the top layer that'll need to be maintained needs to have useful life left to make any repairs that'll last any length of time.
The advantage of a built up roof system is they last 20-30 years. They're durable, so heavy foot traffic will not damage the roof system.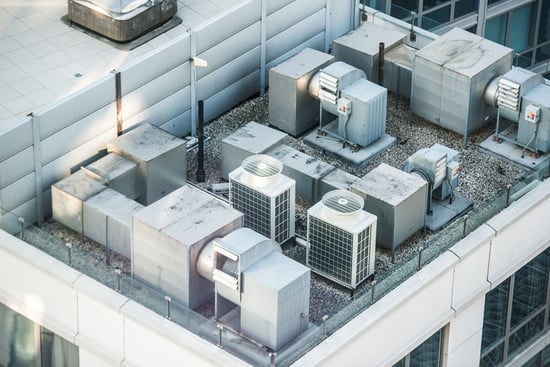 The disadvantage is the cost, having to install multiple layers means we roof the building multiple times to get one roof system. Heating up asphalt and pumping it up on the roof is also a very dangerous job. If your building is a one story and has 10,000 square feet, we'd install a minimum of 30,000 square feet of roofing. To get a good warranty, 40,000 to 50,000 square feet would be installed.

Metal Roofing

(standing seam & screw down)
Metal roofing is another popular roof for commercial buildings.
There are 2 main types of metal roof systems: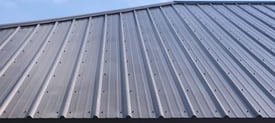 Standing seam metal
Screw-down metal
Standing seam is a concealed fastener metal roof system and screw-down is a metal roof with an exposed fastener through the metal roofing
. Both roof systems have their own advantages and disadvantages.
The advantages of the standing seam are its longevity. A
properly
installed roof will last for 50+ years. They provide a very high wind rating, they don't blow off in wind storms. They look great and add value to a building. The disadvantages are the cost. They cost more because the attachment method takes longer to install. And it requires a much higher skill level to install the flashings for this system.
The advantages of the screw-down roof are they are
economical
and provide curb appeal. The disadvantage is they
require
maintenance within the 5-year mark.
With all the expansion and contraction(thermal movement) that happens with all metal roofs, the exposed screws can and will come loose
.
There are 3 metal roof materials that are commonly installed in businesses in the US over the past 30+ years: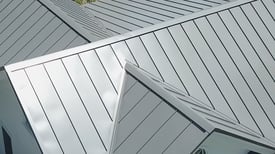 These 3 metal roofs are the most economical and cost-effective. They offer a wide range of aesthetic looks, longevity, and price ranges.
All of these materials are available in a standing seam metal, screw-down, and even a shingle-style profile.
Aluminum Metal Roofing
Aluminum is one of our most natural energy-efficient metal roof materials available. Aluminum metal comes in different thicknesses; typically, we use a .032, .040, or .050 thickness for roofing. The higher the number the thicker the aluminum roofing will be. The .032 and .040 thicknesses are most popular on commercial roofs. Aluminum comes in a mill finish or a painted finish. Mill finish will provide a raw metal look and it'll oxidize into a naturally beautiful raw metal finish.
Aluminum comes in a wide variety of painted finished colors. The paint finishes come with a 40-year paint warranty. Some manufacturers even provide a 45-year paint finish warranty. The longer the paint warranty, the longer the metal will last.
Steel Metal Roof
Steel roofing is the most popular metal roofing material installed on commercial buildings. Steel metal is galvanized steel that is hot dipped or coated in a zinc coating. Steel is less costly and can be as effective and efficient as any of the other metal materials that are available.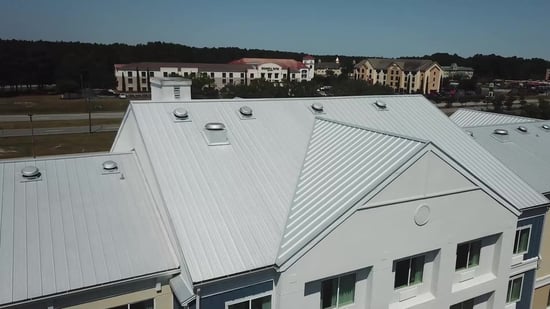 The steel commonly used for roofing comes in 24 gauge, 26 gauge, and 29 gauge. Don't get fooled, unlike aluminum, the lower the number the thicker the steel roofing will be.
4 of the most common steel roofing profile that is installed on commercial properties:
Standing seam metal panels (12"-18" wide panels, concealed fasteners)
Interlocking steel shingles (slate or shake look, concealed fasteners)
5-V crimp metal roofing (2 foot wide panels, exposed fasteners)
R-panels or multi-rib panels (3 foot wide panels, exposed fasteners)
Because steel is not a non-corrosive metal, these metal roofing materials require a painted finish. Paint finish warranties range from 20 years to 45 years depending on the thickness, type of panel, and the manufacturer of the metal.
Steel metal roofing is cost-effective. It offers a wider range of prices depending on which profile you choose, the thickness of the metal, and the paint warranty.
Galvalume Metal Roof
Galvalume metal is also a metal that has a steel core and is coated with aluminum to prevent corrosion.
Galvalume is much like steel roofing and comes in the same thicknesses, 24 gauge, 26 gauge, or 29 gauge. It is also available in all 4 of the different panel profiles.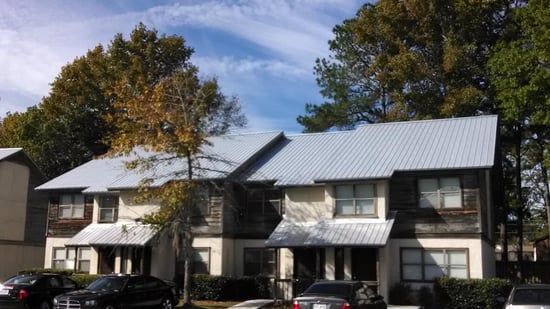 The main difference with galvalume is that it's a mill finish metal product, so it's not available in a painted finish. Which makes it less expensive. It's easier to work with as the painted materials can get scratched during installation if not handled carefully. It's also a great option to use around the ocean or near saltwater.

Asphalt Shingles

(upgraded shingles)
Yes, even though shingles are widely used on residential homes, probably on your home and definitely on mine. Well, asphalt shingles are commonly used on commercial buildings too.
The shingles installed on commercial buildings are not builder-grade shingles. Builder-grade shingles are popular in new construction homes. The reason is that builder-grade shingles provide the least wind protection and need replacing every 10 to 12 years.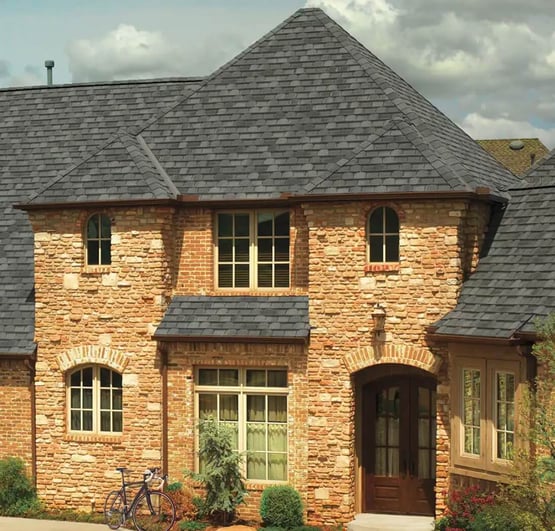 Upgraded shingles or designer shingles are more popular in commercial building construction. The reason is they give you greater wind protection, provide better curb appeal and upgraded shingles can last 25-35 years.
The disadvantage of any shingle is they don't last long. When it is time to replace the roof, it can be a messy project working around your customers or tenants.
Yes, even though shingles are popular on residential houses.
Probably
on your home and definitely on mine. Well, asphalt shingles are often used on commercial buildings too.
The shingles installed on commercial buildings are not basic builder-grade shingles.
The reason is that builder-grade shingles provide the least wind protection and they
require
replacing as early as 10-12 years
. Builder grade shingles are usually used on new construction houses.
Upgraded shingles or designer shingles are more popular on commercial buildings. They provide your building with greater wind protection. They'll provide better curb appeal. And upgraded shingles can last 25-35 years. The disadvantage of shingles, they don't last as long as metal roofing. When it is time to replace the roof, it can be a messy project. Not so good for commercial properties.
What is the Best Type of Roof for Your Commercial Building?
If your commercial building needs a roof replacement or you are considering what type of roof to use on a new construction project here are some things to consider: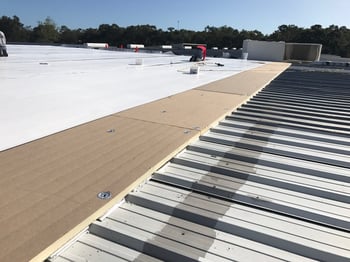 Foot-traffic
Energy efficiency
Exposed to grease, chemicals
Exposed to high winds
Sun exposure
Visibility of the roof
Budget
Longevity
The use of the building and the climate you're located should help determine the right roof for your commercial building.
We want to help you feel comfortable knowing that you have all the information needed to make the best decision on your next commercial roofing project. Check out our other commercial resources in our learning center.
If you'd like assistance with your commercial roof, our commercial estimators at RoofCrafters are here to help. You can schedule your inspection here.
My name is Anthony, and I am the lead estimator of RoofCrafters' Georgia/South Carolina division. The roof is the most important part of a structure, and people count on that to protect themselves and their families. That is one of the many reasons why I love my job and enjoy coming to work every day. The continuous training, honesty, and providing the customer with the Roofcrafters experience is what makes me the best in the business.