Commercial Roofing: TPO and PVC Red Flags
September , 2022 | 6 min. read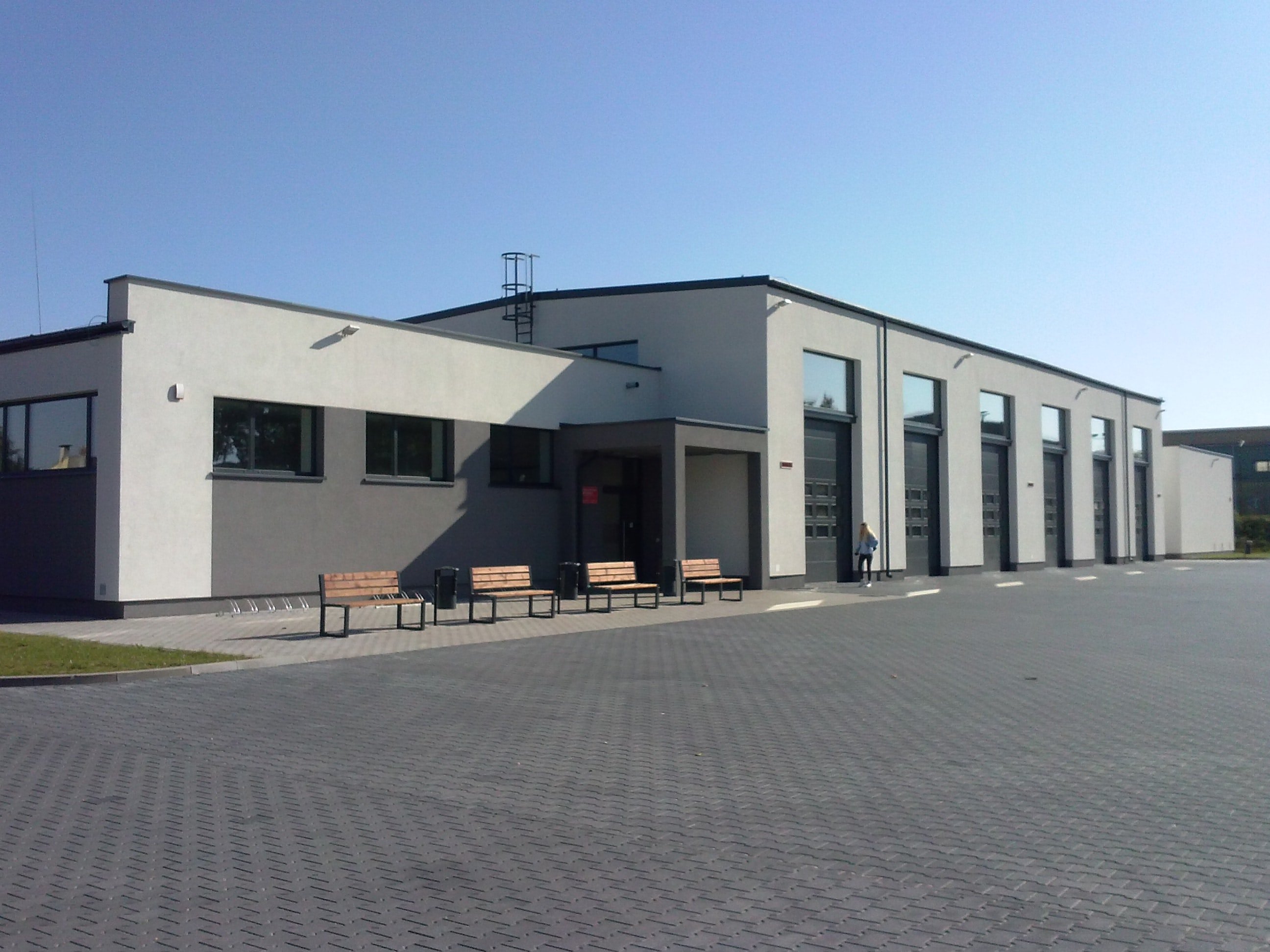 Putting your commercial roofing service needs in the hands of strangers can be daunting, and may bring up feelings of fear and doubt. Your business is your baby, and trusting a roofing company with an asset like that can be hard, especially if you're unfamiliar with the specifics of the roofing on your commercial property. Having a contractor show up to your building before a repair or replacement and blurt out a bunch of jargon you don't understand is infuriating. TPO? PVC? Huh?
At RoofCrafters, we hear your concerns. Being a business owner is already hard enough, and the last thing you need is a shoddy roofing contractor neglecting to break down the basics for you. We've been repairing and replacing commercial roofs for nearly 3 decades, and the most common concern we're met with by property owners and managers is a lack of knowledge about their roofs because their previous contractor didn't take the time to educate them.
We want to break that cycle and make sure you're knowledgeable about your commercial roof before your contractor even shows up. If you're reading this article, it's safe to say you've had a red flag or 2 raised by your TPO or PVC roof, and you're wondering what your next steps are. It's a good thing you're here because, in this article, I'll be explaining what TPO and PVC roofing is, and their most common red flags. Let's get started!
What Are TPO and PVC Roofs?
Before we can delve into the red flags most commonly raised when it comes to TPO and PVC roofs, it's important to understand what these types of roofs are, and what makes them different. So, what is a TPO roof? TPO is an acronym for thermoplastic polyolefin (see why the roofing industry shortened that?) and is a single-ply membrane that's used most commonly in commercial roofing, however, there are instances where residential roofing will use it, too.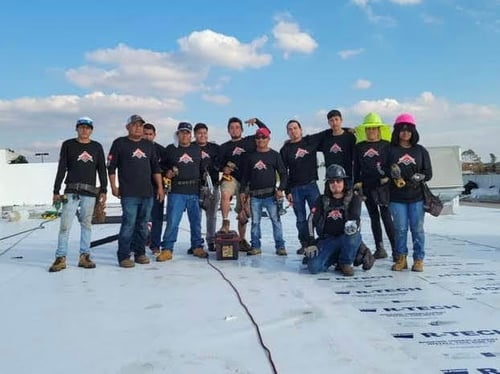 TPO is white, so it does a great job of reflecting heat as opposed to absorbing it. This will keep your flat roof and commercial area cool in temperature. TPO will remind you of how important regular maintenance is though because as you know, white roofs become dirtier a lot quicker than other colors. PVC or polyvinyl chloride is not much different from TPO. It's also a white, heat-reflecting membrane that is used primarily for commercial properties. TPO and PVC both belong to the thermoplastic, single-ply family, but what makes them different is the chemical compositions in their bases.
TPO is made of ethylene propylene rubber and polypropylene, while PVC is composed of ethylene and chlorine. Both TPO and PVC are incredibly durable. TPO can resist mold growth, impact damages, and high level of debris buildup, which is a great choice for strip malls or warehouses. PVC on the other hand has greater chemical resistance, making it the frontrunner when it comes to restaurants, malls with food courts, or any other building with grease traps on the roof.
The Most Common TPO and PVC Red Flags
Although TPO and PVC roofs are different in their chemical makeup, structurally speaking, they're the same. They're both used on low slopes and flat roofs, which means they tend to raise some similar red flags. These red flags include:
Water pooling
Mold
Ceiling moisture
Rot
Improper insulation
Water Pooling
When it comes to flat roofs using TPO and PVC membranes, the number one most common red flag is water pooling. After a big storm or even light rain, if you see pooling water on top of your roof, you'll want to get in contact with a roofer as soon as possible. The excess weight from the water will eventually cause damage to the structure of your roof, not just your roof itself, making this a pricey problem to fix. So, be sure to be diligent about pooling water.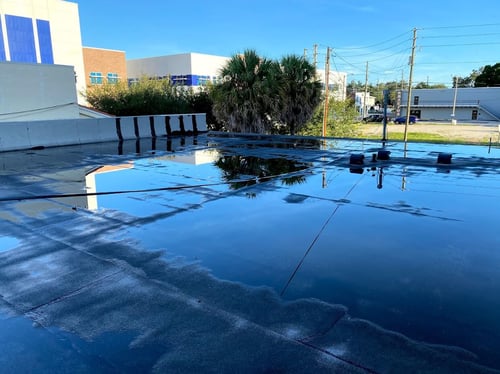 It's also important to note that the location of the water may not always be its source. Water stains near a window won't always mean they came from the window itself, and the condensation near the leaky pipe may not even be the source either. Water is sneaky, and likes to travel the path of least resistance. That being said, if you have a flat roof and are starting to see water inside of your building, there's a good chance it's coming from your roof.
Mold
With moisture inside of your building comes mold and mildew. Mold needs water to grow, and spreads like wildfire when paired with a roofing issue. Its presence behind or even on walls is a major roofing red flag and is a telltale sign that you need professional roofing assistance. Although this problem could be the result of a plumbing problem, most often, water and then mold are entering your walls through your roof.
Ceiling Moisture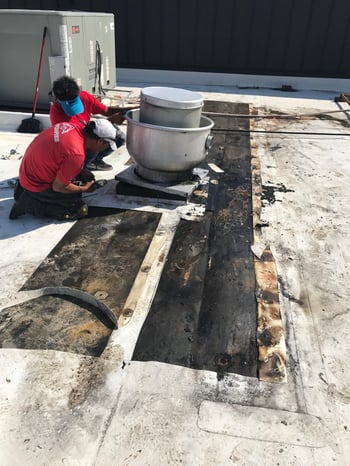 Ceiling moisture is not always a red flag when it comes to TPO and PVC roofing. Oftentimes, condensation on the ceiling could be caused by heat, air conditioning, and other ventilation problems. So, if you see moisture on your ceiling, don't panic. However, if you tend to see moisture frequently on the top floor of your building, it could be caused by a roof leak.
Rot
When water, moisture, and mold come together, what do they make? No, that's not the beginning of a cheesy joke, I promise. These 3 elements combined create rot, which is no joke. Some commercial buildings unused areas with little to no traffic at any given time, so water, moisture, and mold can go unnoticed for quite some time. If you find rot in your building combined with these 3 other factors, there's a high probability that it's coming from your TPO or PVC roof.
Is It Time to Repair Your TPO or PVC Roof?
Now that you're well versed in the red flags and warning signs when it comes to your TPO or PVC roof, you'll be educated when it comes time for a repair or replacement. However, if your commercial property is currently suffering from any of the red flags mentioned above, you must get in contact with a professional roofing contractor immediately.
If you're struggling to find the best contractor for the job, be sure to download "The Top 10 Most Critical Questions You Want to Ask Your Potential Roofing Contractor". This checklist includes several different prompts to ask your roofer to prepare you to hold the company accountable for its quality of work and services when it comes to your TPO or PVC roof.
RoofCrafters works extensively with TPO and PVC roofing and can offer you the top warranties in the industry. Don't wait any longer, and schedule an inspection with one of our expertly trained estimators. In the meantime, feel free to check out the extensive resources located in our learning center. I recommend reading, "How to Find the Right Roofing Contractor" next, so you can delve deeper into vetting the roofer best suited for your project.
My name is Anthony, and I am the lead estimator of RoofCrafters' Georgia/South Carolina division. The roof is the most important part of a structure, and people count on that to protect themselves and their families. That is one of the many reasons why I love my job and enjoy coming to work every day. The continuous training, honesty, and providing the customer with the Roofcrafters experience is what makes me the best in the business.