Roofing Contractor vs Insurance Company: Who Should You Call First?
February , 2023 | 7 min. read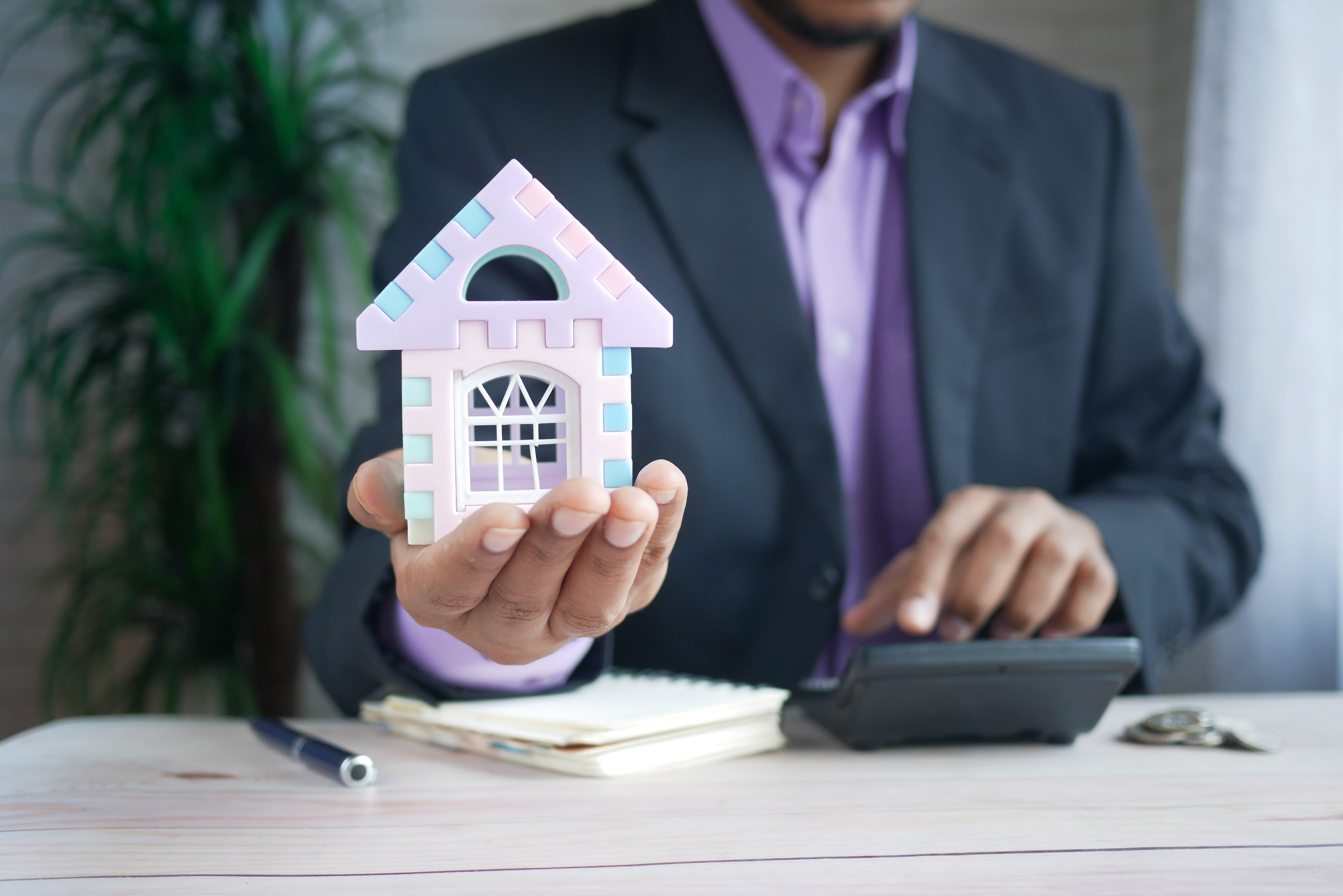 It's a rainy Monday evening, and you've just gotten home from a hectic day at work. As you make your way into your home, your children are screaming, your dog is barking, and your husband has the TV on a little bit too loud. You take a deep breath, set your briefcase down, and tell yourself, I've got this. Your therapy sessions are starting to pay off! Only, as you begin to start cooking dinner, lightning strikes, and suddenly your house shakes. There goes the neighbor's oak tree limb onto your roof. Commence silent eye twitching.
In this situation, it's easy to let panic set in. However, upon inspecting the damage, you realize you just got lucky, and it's not too bad. So, who do you call now? Your roofing contractor? Or your insurance company? At RoofCrafters, we've been helping homeowners in this exact predicament for nearly 30 years, and whether you've got an oak tree limb on your roof or are inquiring about a simple repair, we've got your back.
It can be hard to choose who to call when you're inquiring about a roof repair, so to alleviate any confusion you may have as a homeowner, we've written this piece of content for you. In this article, you'll learn if you should call your contractor or your insurance company first regarding your roof repair, how contacting your roofer first can help with the claims process, and what exactly insurance adjusters will look out for during their assessment of your roof. So, without further ado, let's get started!
Should I Call a Roofer or My Insurance Company First?
So, you've noticed some damage to your roof after a recent storm. Do you call your trusty roofing contractor first? Or your insurance company? In our experience with homeowners, we've found it's often best practice to go ahead and get in touch with your roofing contractor first and give them a chance to inspect the damage. Why? Mainly because your contractor can provide you with a professional and accurate assessment of the damages, and complete a full report on what needs to be repaired before the insurance adjuster arrives. Your roofing contractor has an expertly trained eye to catch certain things that your insurance adjuster may miss.
Also, if the insurance adjuster happens to have any questions about the damage and what the estimated scope of work for the project may be, the contractor and the adjuster can speak directly with one another. This helps eliminate any potential issues that may occur during the adjusters' assessment of the damages, which will ultimately give you more leverage when filing your insurance claim.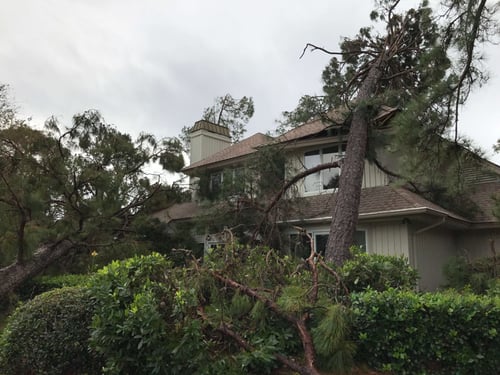 If you've recently suffered damage of any kind to your roof, you're going to want to file a claim with your insurance company. When you file a claim, keep in mind, it starts the entire process. Filing a claim that doesn't meet your deductible will still count against your policy as a claim filed. But, you don't receive any insurance benefits. The insurance company assigns an insurance adjuster and a lot of work happens behind the scene.
When it's time to file the claim, you'll need to have someone come out to make sure it is safe to be in and around the house. Second, you'll need to secure the house. As the policyholder, you must mitigate any further damage to your property. In most cases, this means protecting the home's inside from water intrusion. Here's what happens once the call is made to report that you have storm damage and would like to open a claim:
Your insurance carrier will assign you a field adjuster.

The field adjuster will contact you within 72 hours to confirm a date for an onsite inspection.

The field adjuster will arrive on the confirmed date and perform an onsite inspection

The field adjuster will take measurements, and photos and document all damage.

The field adjuster will then return to their office and write the claim using an estimating program called Xactimate.

The field adjuster will turn the written estimate over to their superior(desk adjuster) for final review.

The desk adjuster will approve or deny the claim based on the photos and recommendations.

Once the claim is approved the desk adjuster will return the Xactimate estimate to the field adjuster.

The field adjuster will then send you the approved Xactimate estimate.
How Does Contacting a Roofer Before Insurance Help With the Claims Process?
Contacting your roofing contractor before your insurance company can help with the claims process. Your roofer of choice will provide you with a fair inspection and advocate for you to the insurance adjuster if need be. You can even have your roofer stick around when you meet with the insurance adjuster. As previously stated, this can open up a direct line of communication between the contractor and the adjuster.
Whether you decide to contact your roofer or your insurance company first, when it comes to the claims process, it's important to be diligent. To make sure your claim doesn't get denied, there are some important steps you need to take which include:
Contacting your contractor and insurance company quickly

Taking photos of any visible damage as soon as you catch it

Understanding your homeowner's insurance policy

Adhering to your roofing warranty

Keeping up with professional bi-yearly roof maintenance
Do Roofing Contractors Know What the Insurance Adjuster Will Assess?
One of the many pros of contacting your roofing contractor before your insurance company assesses the damages done to your roof is the fact that roofing contractors know exactly what your insurance adjuster will assess. The three main things adjusters look out for are:
A poorly installed roof

Visible signs of damage

How old is the roof
Poor Installation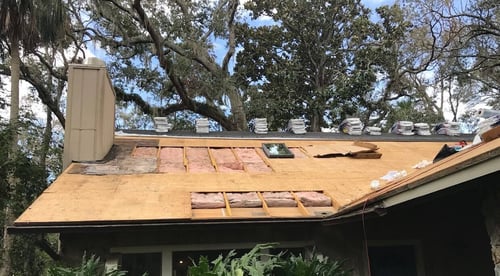 If your roof wasn't installed properly, this could cause issues that could potentially cost your insurance company hundreds, even thousands of dollars in claims. Insurance adjusters are keen on identifying an improper installation, which can work against you if you've suffered storm-related damages. This is one of the reasons it's incredibly important to hire a reputable roofing contractor to complete any roof replacement or repairs; they'll get it right the first time around.
Signs of Damage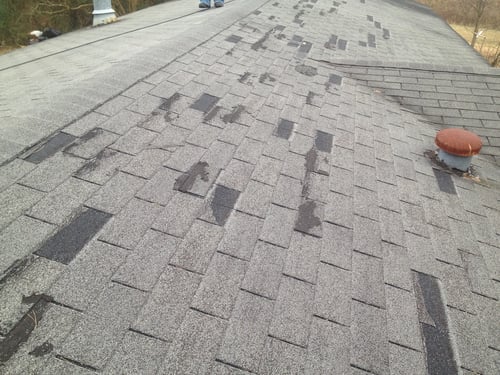 Signs of storm damage are usually evident, while other signs of damage may be difficult to spot. If you've unknowingly sustained roof damage before the storm, the insurance adjuster will be able to tell. This could work against you during the claims process, so it's important to have routine maintenance to catch and repair any damage as soon as possible.
Aged Roof

If your roof is over 10 years old, it can become a liability during severe weather conditions. Aged roofs are more susceptible to damage than newly installed roofs, which is why some insurance companies will choose not to renew your policy. If your company does decide to provide you with coverage, sadly they may use it against you when you file your claim. So, be sure to stay up to date on any recommended repairs or installation efforts.
Call Your Roofing Contractor at the First Sign of Damage
There you have it, folks. When it boils down to who you should contact first after your roof has sustained damage of any kind, the winner is your roofing contractor. It's important to remember that your contractor is better skilled and equipped to handle the initial inspection than your insurance adjuster, and they've likely included necessary line items for a proper repair or replacement within the scope of work that the insurance adjuster wouldn't account for. Either way, it's simple: keep a line of communication open with your roofing contractor as well as your insurance company.
They'll be able to aid you with any questions or concerns you may have about the difference in their pricing, and will break down the process for you so that you can better understand what you'll be paying for. That being said, it's important to acquire several different roofing estimates before choosing the company that's the best fit for your roofing needs.
If you're struggling to find the best contractor for the job, be sure to download "The Top 10 Most Critical Questions You Want to Ask Your Potential Roofing Contractor". This checklist includes several different prompts to ask your roofer to prepare you to hold the company accountable for its quality of work and services when it comes to your upcoming roofing project.
My name is Cassie, and I'm the Content Manager here at RoofCrafters. I was born and raised in Chicago, Illinois, and made my way out to Florida post-college graduation. I'm incredibly passionate about writing and creating valuable content that helps others with the collaboration of my marketing team. When I'm not working, I enjoy shopping (a little too much), spending time at the beach, and reading!