What Is the Average Cost to Tear-Off and Replace a Roof?

Roof tear-offs and replacements can be a pain to deal with, plain and simple. When you're unsure of what a tear-off even is, how much it's going to cost you, and when you need one, it can be difficult to see the urgency or even importance of having one done. Do you always need a tear-off before a replacement? Can you just go over the old roof? Is this going to cost you an arm and a leg? Yeah, it's a lot.
At RoofCrafters, we've been assisting homeowners like you with their own roof tear-off and replacement projects since '94, and the confusion on the process was just as prevalent back then, too. The satisfaction of providing families with a beautiful new roof to protect them is wonderful, don't get us wrong. However, being able to walk you through the process and educate you so that you feel comfortable and knowledgeable throughout the entire duration of your tear-off and replacement is the greatest gift.
If you're reading this article, you're probably considering having your roof replaced, and you're wondering what the average cost to tear off your old one prior to that is going to be. We're glad you're here because in this article you'll learn when a tear-off is necessary, what happens during the tear-off process, the average cost to tear off and replace your roof, and whether or not your insurance can give you a helping hand. Let's get started!
When Should You Tear-Off and Replace Your Roof?
There are certain times when a roof repair simply isn't enough, and you have to consider a replacement. While roof replacements are usually more expensive than repairs, there are some situations where you need to replace the roof to prevent further structural damage and eliminate safety risks.
How Old Is Your Roof?
Like everything else on the planet, your roof also has a limited lifespan. Most roofs have an expected life of around 20 years, and with proper maintenance, you can possibly even get a few more years of life from them. However, roofs face challenging weather conditions throughout their lives and wear out faster than other parts of the house. For this reason, you should replace even a seemingly perfect roof once it's reached the end of its expected life.
While some premium materials, such as metal roofs, have a longer lifespan and can last up to a century with proper maintenance, most shingle roofs last 15–20 years. Most insurance companies offer limited or no coverage at all on roofs older than 20 years because they have a greater tendency to break down or leak.
Have You Had Damage and Frequent Repairs?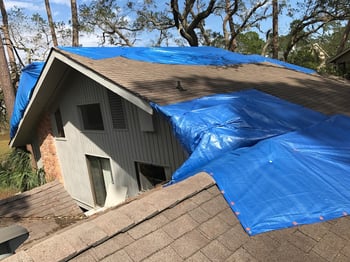 Following a storm, if your roof experiences extensive damage, you should contact a roofing professional as soon as possible.
Often, major damage is more difficult to simply repair, and if multiple layers of the roof are damaged, you can expect widespread issues along the whole roof. In this case, a roof tear-off and replacement is your best bet.
An increased frequency of roof repairs indicates underlying issues in the roof that cannot be fixed. Frequent repairs are frustrating to deal with and also become a money pit.
What Exactly is a Roof Tear-Off?
When you decide to get a new roof, your contractor will first conduct a roof tear-off. They will go over your roof and remove the shingles section-by-section to prepare for a new roof.

Everything that gets replaced will be brand new. Any rotted decking will be removed and replaced, leaks will be repaired, and new flashings will be installed. Not only will a tear-off job last you longer than any repair or overlay, but it will also add significant value to your home. We promise you'll be getting your money's worth.
What is the Average Cost to Tear-off and Replace a Roof?
The cost of replacing your roof varies depending on the type of roof, the material used, and the coverage area. It is important to take into consideration that the steepness or complexity of your roof will increase the average cost, as well as the level of manufacturer warranty.
The average costs to tear off and replace the roof on 5 popular roof types; roofs installed on average size homes are:
3-tab shingle roof average cost
$7,300 – $10,600
Architectural shingle average roof cost
$11,200 – $17,100
Upgraded architectural shingle average roof cost
$13,100 – $19,000
Standing seam metal roof average roof cost
$27,500 – $42,300
Spanish tile roof average roof cost
$33,700 – $69,800
Will Insurance Cover the Tear-Off and Replacement Costs?
If the price range for a tear-off paired with a new roof scares you, then you aren't alone. With insurance, your average cost can be as low as your deductible since most policies cover roof replacements. You are only responsible for the policy deductible if it has damages that qualify. Insurance companies may even discount your policy after replacing your roof, thereby saving you hundreds of dollars every year
Can I Afford My Roof Tear-Off and Replacement?
Before reading this article, you were probably pretty bummed out about smashing open your pretty piggy bank to pay for your roof tear-off. Fear not, as you now know the average costs to tear off and replace your roof, along with what your insurance is willing to pay.
In order to be sure, having a professional contractor break it all down for you will give you the best idea as to what insurance will pay for. RoofCrafters has decades of roofing experience in South Carolina, Georgia, and Florida, and our contractors are eager to help assist you with your roof tear-off and replacement.
If this guide has you feeling a new sense of hope, go ahead and schedule your inspection with RoofCrafters today, and one of our experts will give you an honest inspection to see what your insurance will cover. In the meantime, browse the extensive resources listed in our learning center. We recommend reading, "Roof Tear-Off and Replacement: What Will My Insurance Cover?" so that you can better understand your policies.