What Is the Average Cost to Tear-Off and Replace a Roof?
September , 2022 | 15 min. read
By Joe Martinez

Roof
tear-offs and replacements
can be a pain to deal with, plain and simple. When you're unsure of what a tear-off even is, how much it's going to cost you, and when you need one, it can be difficult to see the urgency or even importance of having one done. Do you always need a tear-off before a replacement? Can you just go over the old roof? Is this going to cost you an arm and a leg? Yeah, it's a lot.
Roof problems are like dominoes, only this game's not quite as fun as when you were a kid. As soon as one problem occurs, you're bound to see a downfall of negative effects. My roof is leaking? Okay, great. I have all the time and money in the world to deal with that, along with my cracked ceiling and rotted shingles. Said no one, ever.
At RoofCrafters, we feel your pain. In our 28 years of roofing experience, we've just about seen it all. Life is busy, and no one has the time to spare on the inconvenience of a roof replacement, let alone spare cash to throw at the problem. Not to mention, where do you even start?
We know this all can be pretty confusing, so we've written you an article to help walk you through the roof tear-off process, and the associated costs. Take this as your guide, where you'll learn what you need to know about the roof tear-off and replacement process. Let's get started!
When Should You Tear Off and Replace Your Roof?
There are certain times when a roof repair simply isn't enough, and you have to consider a replacement. While roof replacements are usually more expensive than repairs, there are some situations where you need to replace the roof to prevent further structural damage and eliminate safety risks.
How Old Is Your Roof?
Like everything else on the planet, your roof also has a limited lifespan. Most roofs have an expected life of around 20 years, and with proper maintenance, you can possibly even get a few more years of life from them. However, roofs face challenging weather conditions throughout their lives and wear out faster than other parts of the house. For this reason, you should replace even a seemingly perfect roof once it's reached the end of its expected life.
While some premium materials, such as metal roofs, have a longer lifespan and can last up to a century with proper maintenance, most shingle roofs last 15–20 years. Most insurance companies offer limited or no coverage at all on roofs older than 20 years because they have a greater tendency to break down or leak.
Have You Had Damage or Frequent Repairs?
Following a storm, if your roof experiences extensive damage, you should contact a roofing professional as soon as possible. Often, major damage is more difficult to simply repair, and if multiple layers of the roof are damaged, you can expect widespread issues along the whole roof. In this case, a roof tear-off and replacement is your best bet. An increased frequency of roof repairs indicates underlying issues in the roof that cannot be fixed. Frequent repairs are frustrating to deal with and also become a money pit.
What Exactly is a Roof Tear-Off?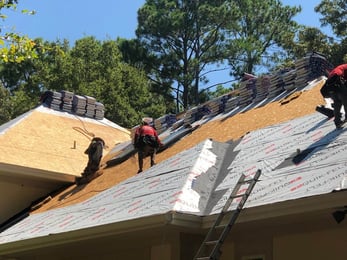 When you decide to get a new roof, your contractor will first conduct a roof tear-off. They will go over your roof and remove the shingles section-by-section to prepare for a new roof. Everything that gets replaced will be brand new. Any rotted decking will be removed and replaced, leaks will be repaired, and new flashings will be installed. Not only will a tear-off job last you longer than any repair or overlay, but it will also add significant value to your home. We promise you'll be getting your money's worth.
3 Things to Consider When Choosing a New Roof
Does it fit my budget?



How long will it last?



What type of maintenance will be required?
1. The Cost of the Roofing Materials
Are you are searching for the least expensive materials? Asphalt shingles are the most economically priced materials for any home or business. The ease of installation, combined with the 4 different grades of shingles make them appealing and a popular option for roofing any home or business. They're several factors that go into determining the cost, however, you can expect to pay between $7,300 and 19,000 for a high-quality asphalt shingle roof.
If you are searching for a longer-lasting roof. One that also provides more durability and protection against high winds and the grueling sun. Then a metal standing seam may be a great roof for your house. The average price for a standing seam 24 gauge steel metal roof is between $27,500 and $42,300.
A Spanish tile roof may be a better fit for your house if you are looking for a specific architectural design with high durability. Tiles are often used in European, Mediterranean, and of course, Spanish-style homes. The average price for a Spanish tile roof is between $33,700 and $69,800.
2. The Expected Lifespan of Shingles, Metal, and Tile Roofs
Asphalt Shingles:
3-Tab asphalt shingles can be expected to last 12 to 15 years
Architectural asphalt shingles can be expected to last 18 to 25 years
Upgraded architectural asphalt shingles can be expected to last 25 to 30 years
Designer asphalt shingles can be expected to last 30 to 40 years
Asphalt shingles come with manufacturers' material warranties that are pre-determined by each of the manufacturers through research and studies. The expected lifespan provided above is based on the actual lifespans. Lifespans we've seen over the past 30 years in the roofing industry.
Metal roofing:
Steel roofing is the most popular type of material used for metal roofing. Steel metal is galvanized steel that is hot dipped or coated in a zinc coating. Steel is less costly and can be as effective and efficient as other metal materials. That is if you are not close to saltwater environments. The steel commonly used for roofing comes in 24 gauge, 26 gauge, and 29 gauge. 24 gauge is the most popular thickness of standing seam panels used for roofing houses.
4 of the most widely installed steel roofing profiles installed on homes or businesses: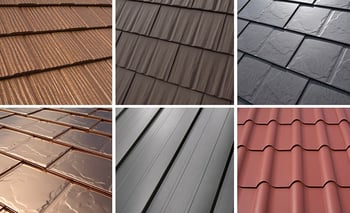 Standing seam metal panels (12"-18" wide panels)


Interlocking steel shingles (slate, tile, or shake look)


5-V crimp metal roofing (2-foot wide screw-down panels)


Maxi-rib or multi-rib panels (3-foot wide screw-down panels)
Because steel is not a non-corrosive metal, these metal roofing materials require a painted finish. Warranties range from 20 years to 45 years depending on the thickness, type of panel, and the manufacturer of the materials.
Steel metal roofing is very cost-effective. It offers a wider range of prices. Depending on which profile you choose, the thickness of the metal, and the paint warranty the manufacturer offers.
Tile Roofing Types: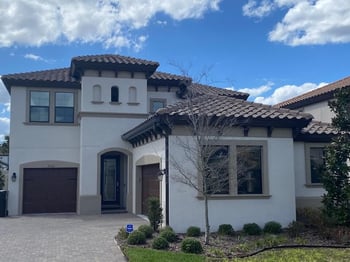 Roof tiles are a wonderful way to customize your home to your taste. However, the different types of roofing tiles tend to vary in appearance, durability, weight, and even budget. Tile roofs can make your home stand out by giving you that Spanish-Style look for those interested in historical architecture, or even providing a more modern flare for those of us who appreciate a more contemporary style.
The different types of roofing tiles available to you are:
Concrete Roof Tiles
Concrete roofing tiles are manufactured and processed by molding a mixture of sand, cement, and water under heat and high pressure. After the initial "baking", an application of a paint-like material to the exposed surface gives it a finished, more polished look. Concrete? On a roof? If you're thinking it may be heavy, almost too heavy, you'd be correct.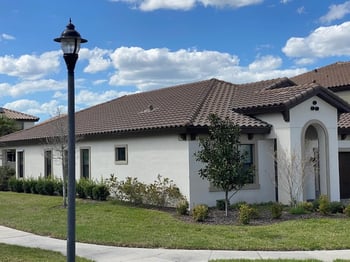 Although concrete tiles have grown in popularity over the past few decades, and are one of the most sought-after roofing materials on the market due to their versatility in color and style options, their weight can make things tricky. If you're interested in a concrete tile roof, it's important to make sure that your home's structure can bare the material, and has been reinforced if not. Concrete tile roofs can last over 50 years.
Clay Roof Tiles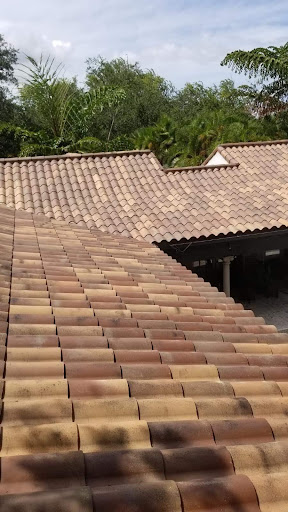 Clay tiles rank as one of the most popular roofing materials in the Southeast. Their durability and strength against the extreme heat and weather conditions prevalent in this region of the United States can't be beaten. On top of these great qualities, clay roofing tiles are rot-resistant, so their lifespan is significantly longer than other roofing materials.
Clay roofing tiles have been around for centuries, so manufacturers have a knack for curating them to the highest quality. Just like concrete tiles, clay tiles are pretty heavy and are prone to breaking if not installed with skill and care. Your roof will need substantial reinforcement to support the extra weight of the clay, so be sure to keep these factors in mind when choosing the best tile roof for your home. Like concrete, clay tiles can last over 50 years.
3. Expected Roof Maintenance
Having roof maintenance done can extend the life of your roof. Done once or twice per year will help prevent premature roof failure. Preventative maintenance is a must. Keeping the leaves and debris off the roof. Checking your pipe penetrations and flashings to ensure they are properly sealed. These simple roof maintenance items will prevent the most common roof leaks and prolong the life of the roof.
What is the Average Cost to Tear-off and Replace a Roof?
The cost of replacing your roof varies depending on the type of roof, the material used, and the coverage area. It is important to take into consideration that the steepness or complexity of your roof will increase the average cost, as well as the level of manufacturer warranty. Those are the main factors, however, there are many other factors needed in order for us to provide an exact price for a roof replacement. So we'll provide you with the average cost here.
The average costs to tear off and replace the roof on 5 popular roof types; roofs installed on average-size homes are:
3-tab shingle roof average cost
$7,300 – $10,600
Architectural shingle average roof cost
$11,200 – $17,100
Upgraded architectural shingle average roof cost
$13,100 – $19,000
Standing seam metal roof average roof cost
$27,500 – $42,300
Spanish tile roof average roof cost
$33,700 – $69,800
Will Insurance Cover the Tear-Off and Replacement Costs?
If the price range for a tear-off paired with a new roof scares you, then you aren't alone. With insurance, your average cost can be as low as your deductible since most policies cover roof replacements. You are only responsible for the policy deductible if it has damages that qualify. Insurance companies may even discount your policy after replacing your roof, thereby saving you hundreds of dollars every year.
Can I Afford My Roof Tear-Off and Replacement?
Before reading this article, you were probably pretty bummed out about smashing open your pretty piggy bank to pay for your roof tear-off. Fear not, as you now know the average costs to tear off and replace your roof, along with what your insurance is willing to pay. Also if you need financing, any reputable roofing company will offer financing to help you get the roof you desire to fit inside your budget.
In order to be sure, having a professional contractor break it all down for you will give you the best idea as to what insurance will pay for. RoofCrafters has decades of roofing experience in South Carolina, Georgia, and Florida, and our contractors are eager to help assist you with your roof tear-off and replacement.
If this guide has you feeling a new sense of hope, go ahead and schedule your inspection with RoofCrafters today, and one of our experts will give you an honest inspection to see what your insurance will cover. In the meantime, browse the extensive resources listed in our learning center. We recommend reading, "Roof Tear-Off and Replacement: What Will My Insurance Cover?" so that you can better understand your policies.
At RoofCrafters, our mission is to provide job opportunities for others to thrive and grow while making a meaningful impact within our communities.