All About TPO Roofing
April , 2023 | 6 min. read
By Kevin Mills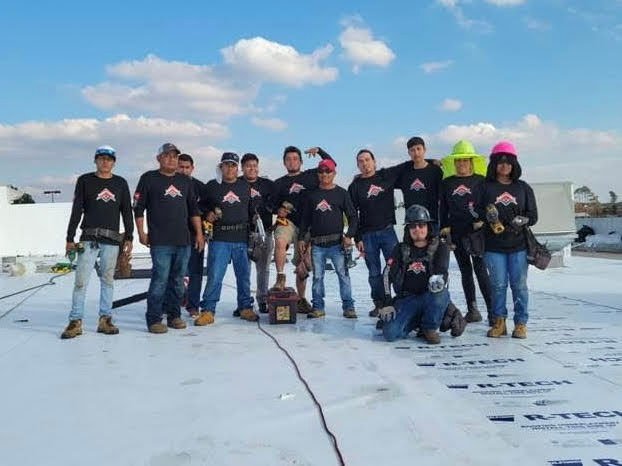 Have you ever seen a building with a stunningly bright white roof? If so, you probably came across TPO. This roofing material is one of the most commonly used today, but even though it's popular, most homeowners couldn't tell you exactly what it is. To some, it may ring a dull bell when mentioned by a roofing contractor, but many have never heard of it or know anything about it.
If you're in the same boat, you've come to the right place. Here at RoofCrafters, we've been providing roofing services for 30 years, helping people understand their options before ultimately deciding which type of roof they want. Because we've been installing roofs for three decades, we know what works best for each individual project.
Everyone wants to choose the finest materials for their home or commercial office, and I'm sure you're no different. Who doesn't want to live in a home or work in a building that feels sturdy, safe, and comfortable? Because there are so many possibilities to choose from, it's easy to lose sight of what's essential. When facing a huge decision like selecting a new roof material, you must ensure you're aware of your options. Even though there are numerous roofing options out there, today we'll dive deep into the world of TPO, a prevalent choice among the public.
By the end of this article, you'll be an expert on what defines TPO roofing and why it's popular so that you can make a well-informed decision about your next roofing investment. Let's get started!
What Is TPO Roofing?
TPO, also known as thermoplastic polyolefin, is a single-ply white membrane that's used in both commercial and residential roofing. When creating the membrane, a hot air welder is used to heat it, turning it into plastic and making it moldable. A roller is then used to fuse the top and bottom membranes together, forming a "watertight" seam. TPO membranes can either be mechanically attached or fully adhered. Mechanically attached membranes are cheaper, while fully adhered are more expensive.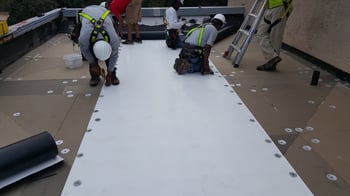 This roofing material reflects heat instead of absorbing it due to having a white membrane. TPO belongs to a broader category of materials consisting of rubber, referred to as "rubber roofing." It contains a blend of rubber and fillers that increase its flexibility and durability.
TPO roofing has grown exponentially in popularity since the 1990's when it was first introduced as an economical alternative to PVC roofing. Part of its popularity stems from its reliable performance as a flat roof system. It's known for being more energy-efficient than PVC, which is another reason why it's in high demand. Since consumers from all around the board have been looking for more eco-friendly additions to their homes, this roofing material has become an immediate choice.
TPO roofing was designed to offer a more environmentally-conscious alternative to PVC and EPDM while also combining the benefits provided by the two. You'll need to know more about what these materials are made of to understand where TPO comes from. So, what is TPO made of?
What is TPO Roofing Made Of?
TPO is a single-ply roofing system, meaning only one sheet of it is installed. This sheet, also known as the membrane, is comprised of three layers:
Thermoplastic polyolefin base layer

Polyester-reinforced fabric center referred to as "skrim"

Thermoplastic polyolefin top layer
Every thermoplastic polyolefin base layer is made of ethylene-propylene rubber and contains fillers like carbon fiber, talc, and fiberglass. The fillers added will depend on several factors, like the manufacturer that makes it. As mentioned above, the fillers add to the flexibility and strength of the TPO.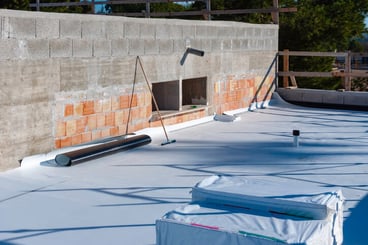 Might I add, TPO roofing contains no harmful chemicals like chlorine, unlike PVC and other options. When TPO was initially introduced, it consisted of a lot more dangerous materials. Today, it's of much better quality, which is more appealing to homeowners.
In the middle lies reinforced polyester, which gives the TPO even more flexibility, allowing the ability to be rolled out onto a roof easily.
The thermoplastic polyolefin top layer is made up of the same materials as the base layer, providing double the protection.
What Are My TPO Roofing Options?
Like other roofing materials, you have options on what you can choose from. A big reason why TPO roofing is a preferred choice for many homeowners is that it offers a range of color options. It doesn't stop there, though. TPO provides curb appeal, is energy-efficient, and has variability in its thickness and width. So, what options do you have?
Touching on color range and thickness, you have a pretty wide variety of design specifications to pick from.
Color Range
TPO was designed to offer design and application options that are suitable for many homeowners. Most associate TPO with white or beige, but they are also available in gray and black.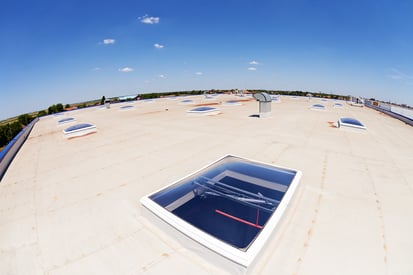 Keep in mind that white TPO will offer more benefits, specifically in terms of energy savings. Just like you were warned against wearing a black shirt in the sun by your parents, the same concept applies here. White surfaces work best to reflect heat away from your home. Though you may want gray or black for aesthetic reasons, know that white will help you save more energy in the long run.
Width and Thickness
Similarly to color options, TPO also offers a range of selections in terms of width and thickness. The options available to you will depend on the manufacturer you choose.
Commercial-grade TPO has a thickness of about 0.080 inches and comes in 3 or 12-foot-wide rolls.

Residential TPO has a thickness of around 0.045 to 0.060 inches and comes in rolls that are about 6.5 feet wide and 100 feet long.
What Types of Homes Are Suitable for TPO Roofing?
TPO roofing is generally best suited for roofs that are flat or low-sloped. It's best to have your home inspected by a licensed roofing contractor to help you determine if your home is suitable for TPO, however.
This roofing material lasts from around 20 to 30 years. Though TPO is popular, it has potential disadvantages that you may want to consider. A great article to refer to is "TPO Vs. PVC: Which Roof is Best for Me?"
Is TPO Roofing Right for Me?
No matter what kind of roof you have in mind, choosing an option that is best suited for your home is crucial. If you're contemplating having TPO roofing installed, we want you to know that you aren't alone in making your decision, and we're here to help make these choices easier for you!
If you feel you're ready to talk to a licensed professional, RoofCrafters is prepared to assist you. You can get in touch with one of our welcoming representatives by visiting our contact page. No matter your questions, we are here to lend a hand to you! Meanwhile, feel free to explore our library of resources available to you in our learning center. If you want to look further into potential roofing options, we strongly suggest checking out "Steep Slope and Low Slope: Which Type of Roofing Material Should I Use on My Home?" It delves more into TPO and other roofing types, helping make your decision-making process a breeze!
My name is Kevin Mills, and I am the lead estimator for RoofCrafters' Tampa division. I'm originally from Michigan, and I enjoy hunting, fishing, and spending any free time outdoors. What I'm most passionate about, though, is helping business owners and homeowners alike achieve their roofing goals, all while providing a seamless customer journey.