What is A Modified Bitumen Roof?
March , 2023 | 6 min. read
By Macie LaCau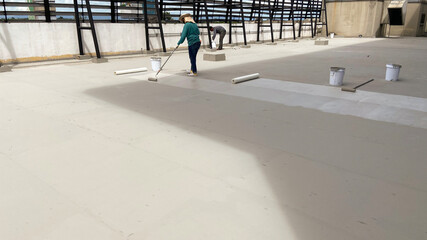 Being the owner of a flat roofing system comes with its very own unique perks and challenges. A modified bitumen, or Modbit, roof is no exception. This roof type signifies very particular needs that have to be considered for it to last for years to come.
It's a must for commercial property owners to be in the know before choosing a roof, so we're glad you landed here. The last thing you need is to pick a roofing system that you ultimately wouldn't have gone with if you knew more about it. To be honest, Modbit isn't the most straightforward roof selection to repair or replace, so being sure it's the right option for you is crucial.
But don't fret- RoofCrafters has repaired and replaced modified bitumen roofing systems for almost thirty years. Over our nearly three decades of dedicated service, we've taken on countless projects that include Modbit roofing and can tell you exactly what to expect from it.
This article covers all the bases on what to consider before going all in on a Modified Bitumen flat roofing system. Even if you think you know all you need to know about a roof selection, doing more research is always a good idea. By the time you finish reading, you'll have more of an idea about whether Modbit is the right pick for your commercial roofing project. Let's dive in!
Modified Bitumen: What You Need to Know
Modified Bitumen, or Modbit, is a primarily commercial roofing material that's been used for nearly 50 years now. Some say it's the second generation of flat roofing! It comprises a membrane consisting of several layers of Bitumen (asphalt), fiberglass, and rubber-based polymeric binders. These layers then get fused together to create the final product, which is a single-ply system that's easy to install and durable against many natural forces. Modified Bitumen roofs can be installed with hot tar, but most choose not to go that route. The four main installation methods are:
Hot Tar

Cold Tar

Torch

Self-adhered
So, what does it look like?
Modbit usually comes in sections 3 feet long, which makes rolling them out on the roof and heating with a torch for adherence a breeze for roofing professionals. Fun fact, if you've ever heard of "torch down roofing," that's where this term derives from.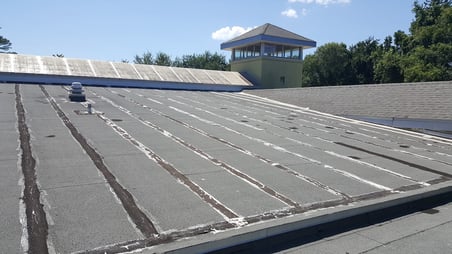 As mentioned, there are other ways to adhere Modbit to the substrate, but torch heating is the most commonly used method.
With Modbit, the seams must be watertight during the installation process. Because modified Bitumen is an asphalt-based product, the preparation is typically done by cleaning the area and then applying asphalt primer to the location that needs repairing. As the contractor does their thing, they'll finish the process off with either a granular surface or a smooth surface to help your building from harmful UV rays.
The Pros of Modified Bitumen Roofing
Modified Bitumen has many benefits, making it a popular choice for commercial property owners. These benefits include:
Environmental Friendliness
Durability
Versatility
Easy Installation
Simple Repairs
Modbit has been around for over 50 years and is an incredibly trustworthy option. However, some believe that this choice is becoming outdated while new technologies continue to develop and grow popular. But it does have its own unique purposes. For example- it is an excellent choice when it comes to moisture protection, but most require additional drainage systems to work effectively. We'll discuss good ole water ponding later on.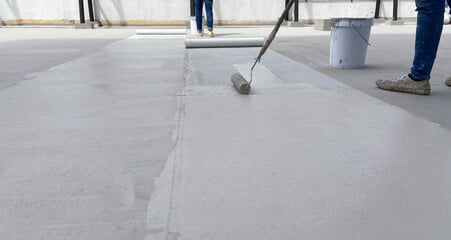 The positive results and efficiency of a new Modbit roof are undeniable, but the materials cost more and are more labor-intensive to install. Because of its noted durability, though, many still go with this option for commercial properties without regret or hesitation.
The Cons of Modified Bitumen Roofing
Every roof type has drawbacks depending on your preferences and needs. That doesn't mean they're an all-around bad choice, though. You'll just have more to consider when it comes to modified Bitumen. A few of the cons are:
Absorbs Heat

More Expensive

Vulnerable to Ponding

Going out of Style
Absorbs Heat
Have you ever been told not to wear black at the beach? The same goes for Modified Bitumen roofing- its dark color absorbs the sun's rays instead of reflecting them off the building, making it hotter. The good thing is that black isn't the only color you can choose from a Modbit roof; white and sienna are also options. The roof will absorb less heat if you decide on a lighter-colored material.
More Expensive
Expenses are one of the most essential parts of the roof selection process, and many shy away from more expensive roofing options to save a few bucks. If you're installing more than one-ply, your roofing system will cost significantly more.
Vulnerable to Ponding
Ponding is a common issue on flat roof systems because they don't have a steep slope that allows water to flow freely. Puddles that develop after rain and thunderstorms pose severe risks to the roof's longevity. Modified Bitumen roofing systems are more at-risk of ponding than most other types.
Going out of Style
Over the past few decades, the roofing industry has slowly moved away from high-heat application methods. Some risks come with the high-heat application, so ensuring your roofer is CERTA trained, and a highly skilled professional is crucial.
Is Modified Bitumen Right for My Commercial Roofing Project?
What do you think? Whether the benefits outweigh this roof type's drawbacks is up to you and your specific roofing needs. Working with a trusted roofer at the top of their game will help you narrow your search even further!
When you're ready to pull the plug on new roof installation, there are superb, professional roofers who are delighted to walk with you as you take your next steps! But remember- not all roofers are going to give you the experience you deserve. Do as much research as possible to find a roofing contractor that's perfect for your commercial roof.
Okay, so you're a semi-pro when it comes to Modified Bitumen roofing. Want to learn more? Check out our learning center to read up on Modbit even more. There's enough information to go around! And once you've decided you're ready to get in touch with a roofer, check out our comprehensive checklist to determine what you should look out for and not settle on. To get in touch with one of our astounding RoofCrafters representatives, head over to our contact page.
I'm a native Georgian who spends my days nurturing my passions and embracing the quiet life. With a penchant for taking the road less traveled, I love discovering new ideas, rooting for the underdog, and taking the long way home. I enjoy spending time with family and friends, writing, and homesteading.