How to Ensure Your Roof Lasts for Decades
January , 2023 | 7 min. read
By Macie LaCau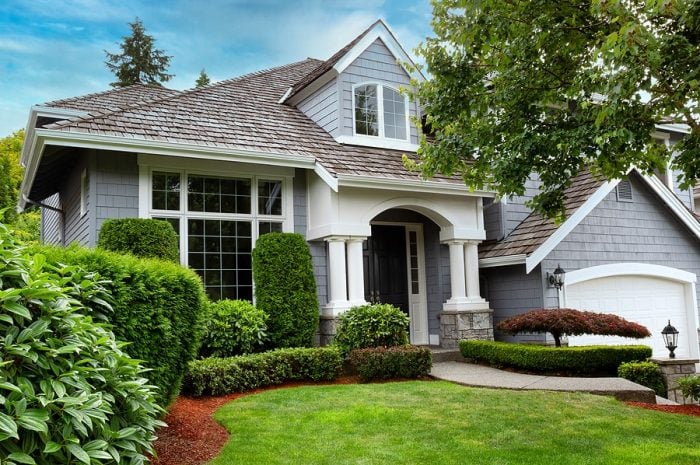 To the average homeowner, roof repairs and replacements are low on the list of priorities when purchasing a new home. The truth is- many people view roofing systems as something that's *just* there- an extension of the rest of the home if you will.
We're here to let you know that your roof is alive and dying to speak with you. Kidding, but it is a lot more essential to the vitality of your home than you think. Just like you regularly wash your face to keep it clean, you must help sustain your roof for it to last for decades. But staying on top of this requires more than just a little maintenance here and there. Don't worry; you don't have to do a ton. You're golden if you have a little extra time on your Saturday evening!
Here at RoofCrafters, we've served every type of roofing system imaginable for almost three decades. Since we've learned what homeowners can do to keep their roofs healthy and stable, it's essential to let you in on what we know.
This article discusses everything you should consider about how to keep your roof lasting for decades. It's a guide that goes far beyond maintenance, which means you won't have to research elsewhere for the answers you need. We have all the details right here! Are you ready to start?
How Can I Make My Roof Last?
Roofing systems can be a bit complicated- I mean, think about it. What you see on the outside only scratches the surface of what a roof is actually made of. If one part of the roof becomes old or damaged, the rest of the system can suffer. Helping your roof last is less taxing than you may think, however.
Prevention is Key
You've likely heard of this term, and it's very accurate regarding your roof. Investing in preventative measures will go a long way for your roof and the entirety of the home. So, what measures should you take for prevention?
1. Trim Tree Limbs
Trees towering over a home are stunning, but some can crack and break over time as they age. If you have a limb or branch hanging over your home, it's vital to remove it. That branch will come down one way or another, even if it takes years. When it does, if you haven't removed it, it'll topple right onto your roof. If you don't want to go through the process of roof replacement just yet, service those limbs.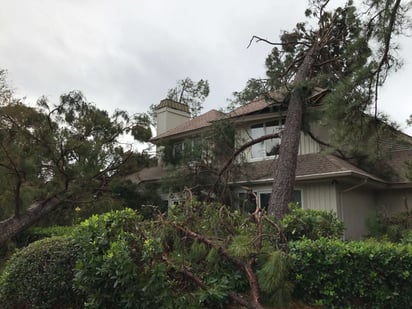 2Attic Insulation
2. Attic Insulation
To prevent moisture build-up, make sure your attic is adequately insulated. When moisture builds up anywhere, who comes to visit? You guessed it- mold and mildew. When those two ravage a home, they eventually call over a friend, which is rot. When all of those petulant disturbances ruin your home, you're in trouble. Not only does this make your home unsafe and unlivable- you could put yourself in danger by staying there. Investing in a ventilation fan isn't a bad idea if your roof is feeling a little humid.
Recurring Maintenance
Regular maintenance is essential for the life of your roofing system. If you're looking to lengthen the life of your precious roof, you'll need to put in a little work.
Trim Your Trees
Is your property heavily wooded? If so, you need to make sure your trees are trimmed when they need it. If limbs and branches are allowed to grow freely, they can rip shingles off your home or cause scouring. To be safe, aim to keep branches ten feet away from your home. If you live in Florida, all it takes is one strong storm to rip those branches off and cause damage to your home.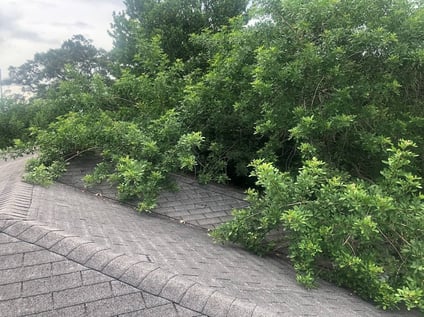 Sweep Debris and Leaves Off Your Roof
Trees don't just hold branches- they also produce leaves. While beautiful, they can still cause issues for your roof. Leaf "litter" can build up in piles on your roof, eventually to the point where they're clogging your gutters or creating standing water. Regularly sweep your roof to prevent warp decking or spawn leaks.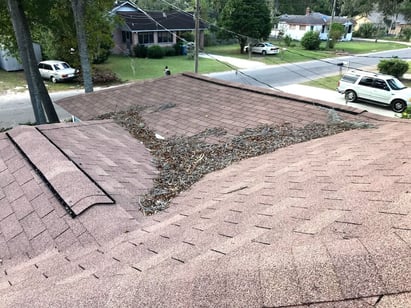 A Quick Look-See
Simply taking a look at your roof can go a long way. Walk the perimeter of your home. What do you see? Are there loose shingles? Hail damage? Does anything look amiss? There's nothing wrong with giving your roof a look-over, and it's encouraged.
Check Your Chimney
Missing mortar or cracked bricks not only cause leaks but can also create roof damage if a brick falls off the chimney. Part of a professional roof inspection should include checking the chimney and chimney cap for signs of wear and tear.
Hire A Professional
It's no secret that not all roofers produce the same quality in their work. While some ensure their clients have the best experience, others couldn't care less. Putting in the research required to find a truly professional roofing contractor is essential. If you go with a sketchy roofer, you could pay for it in more ways than one.
Your Roofer Should:
A professional roofer will always provide you with an itemized estimate that lists what is and isn't included in the job.

A professional roofer will never hesitate to show you their certifications, insurance, and references.

A professional roofer will never ask you to pay for a job upfront.

A professional roofer will never ask you to pull a permit or purchase materials to complete a project.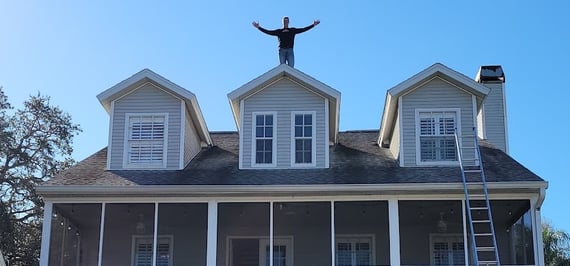 There are numerous ways to spot a roofing scammer. When working with a new roofer, if something feels off, go with your gut. Some questions you may want to ask yourself when you get "that weird feeling" are:
DDid your contractor walk your roof?
Did your contractor walk your roof?

Did your contractor quote you a low price just to inflate it during installation?

Did your roof suddenly spring a leak?

Did your contractor neglect certain repairs?

Is your contractor non-communicative?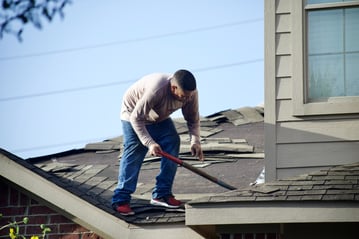 If you answered yes to any of these questions, that can be a huge red flag. While every roofer makes mistakes, some don't mind that they do and keep repeating them again and again. Ensure you find a roofer you can trust before letting anyone up on your roof.
Does Your Roof Need a Little TLC?
It might! Though we completely get that checking up on your roof may be the last thing you think of doing in your time off, it really does make a difference. Adding a few years to the life of your roof can be a huge win, especially if you don't have the money to throw at a roof replacement any time soon. Regular upkeep, roof maintenance, and choosing the right contractor can make all the difference for your home's longevity, and it's so much easier than you think!
At RoofCrafters, we can't stress enough that finding a fantastic, professional roofer is vital when you need a project completed. Though you may think every roofing contractor is the same, that couldn't be farther from the truth. The good news is you don't have to go through the process by yourself. Check out our comprehensive roofer checklist to help you find the perfect one for you. And if you're ready to get in touch with one of our caring representatives, make your way over to our contact page.
I'm a native Georgian who spends my days nurturing my passions and embracing the quiet life. With a penchant for taking the road less traveled, I love discovering new ideas, rooting for the underdog, and taking the long way home. I enjoy spending time with family and friends, writing, and homesteading.