Do I Need a Roof Tear-Off?

Roof problems are like dominoes, only this game's not quite as fun as when you were a kid. As soon as one problem occurs, you're bound to see a downfall of negative effects. My roof is leaking? Okay, great. I have all the time in the world to deal with that, along with my cracked ceiling and rotted shingles.
Said no one, ever.
At RoofCrafters, we feel your pain. In our 28 years of roofing experience, we've just about seen it all. Life is busy, and no one has the time to spare on the inconvenience of a roof replacement, let alone spare cash to throw at the problem. Not to mention, where do you even start?
We know this all can be pretty confusing, so we've written you an article to help walk you through the roof tear-off process. Take this as your guide, where you'll learn what you need to know about the roof tear-off and replacement process.
What Is a Roof Tear-Off?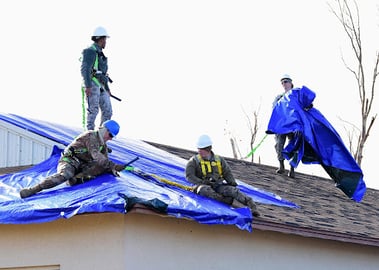 If your roof is approaching its final years, it's time to start considering a roof-tear off. It sounds scarier than it really is, we promise. When you decide to get a new roof, your contractor will first conduct a roof tear-off. During this process, they will go over your roof and remove the shingles section-by-section to prepare for your new roof.
There are many great benefits to a roof tear-off, such as:
Quality.

You'll be getting the best of the best. Your contractor will strip your roof and be able to see and repair high-risk areas. After that, new flashings can be installed, which will ensure that your home is watertight for years to come.

Longevity.

A tear-off roofing job will last you many years. Brand new roofs trap much less heat than a roof with multiple layers, in turn giving you extra years. Extra heat causes shingles to curl and break down much more quickly, so a roof tear-off is often your best bet if you've had multiple roof repairs over the years.

Value. If you're considering selling your home any time soon, or even in the near future, a brand new roof can add to your home's resale value. Roofs are major selling points, making roof tear-off an excellent option.
Total Replacement.

When you go through with a roof tear-off, everything will be as if it were a brand new roof, which has many benefits. If you had any leaks or rotted decking, they'll be gone with your new roof. Rest assured, the finished product will be perfect.
Many homeowners make the mistake of opting for a shingle-over-shingle reroof, as opposed to getting their roof torn off and replaced. While that may seem like a more budget-friendly option in the beginning, down the line, you'll start needing more repairs to fix your old roof than you would if you decided to receive a new roof.
Sadly, there are far more disadvantages to simply repairing your old roof than just replacing the entire system. Just like all things on planet Earth, roofs are not immortal. They, too, have a life cycle. Towards the end of it, that's when more and more problems can begin to occur which is when you'll know it's time for a tear-off.
When Should I Tear-Off and Replace My Roof?
Sometimes, a roof repair simply isn't enough, and you have to consider a total replacement. While roof replacements are usually more expensive than repairs, there are some situations where you need to replace the roof to prevent further structural damage and eliminate safety risks.
Age
Like everything else on the planet, your roof also has a lifespan. Most roofs have an expected life of around 15-20 years. If you keep up with proper maintenance, you can possibly get a few more years of life out of them.
However, roofs face challenging weather conditions throughout their lives and wear out faster than other parts of the house. For this reason, you should replace even a seemingly perfect roof after its expected life.
While some premium materials, such as metal roofs, have a longer lifespan and can last up to a century with proper maintenance, most shingle roofs last 15 – 20 years. Insurance companies offer limited or no coverage on roofs older than 20 years because they have a greater tendency to break down or leak. For this reason, especially, it's extremely important to keep up with your roof replacements.
Damage and Frequent Repairs
Following a storm, if your roof experiences extensive damage, you should contact a roofer to replace it. Often, major damage is more difficult to repair than a replacement, and if multiple layers of the roof are damaged, you can expect widespread issues along the whole roof.
An increased frequency of roof repairs indicates underlying issues in the roof that cannot be fixed. Not only are frequent repairs frustrating to deal with because of the time required, but they also can be a money pit.
How Much Will My Roof Tear-Off Cost?
The cost of tearing off and replacing your roof varies depending on the type of roof, the material used, and the coverage area. Here are the average costs of roof tear-offs and replacements on 5 of the most common roof materials we install on average-sized homes:
3-Tab Shingle Roof


Average cost – $7,300 – $10,600.

Architectural Shingle Roof


Average cost – $11,200 – $17,100.

Upgraded Architectural Shingle Roof


Average cost – $13,100 – $19,000.

Metal Roof


Average cost – $27,500 – $42,300.

Spanish Tile Roof


Average cost – $33,700 – $69,800.
It's important to take into consideration that if the roof is steep or complex it will increase the average cost of work. If the roof is easy to work on, it can be less expensive. This is because steep roofs are more dangerous and difficult to work on, so the cost goes up. Whereas if a roof is easy to stand and walk on, it's safer, thus less expensive.
Should I Tear-Off and Replace My Roof?
That's up to you! There are many excellent roof repair options available to you. If you decide that a roof tear-off is simply not in your budget, a reputable roofing company will work with you to find the best solution for your roofing predicament.
Now that you know all of the important information surrounding the roof tear-off process, you can use that to your advantage when deciding how you'd like to proceed. Whether it's a total roof replacement or some minor repairs to your older roof, RoofCrafters has you covered. To understand the entire roof replacement process, check out our article: "The 9 Step Process to Your Roof Replacement."
If this guide has you feeling a new sense of hope, go ahead and schedule your inspection with RoofCrafters today, and one of our many experts will give you an honest inspection. After that, they will work with you to figure out the best way to proceed.