Commercial Roof Maintenance in Tampa, Florida
May , 2023 | 20 min. read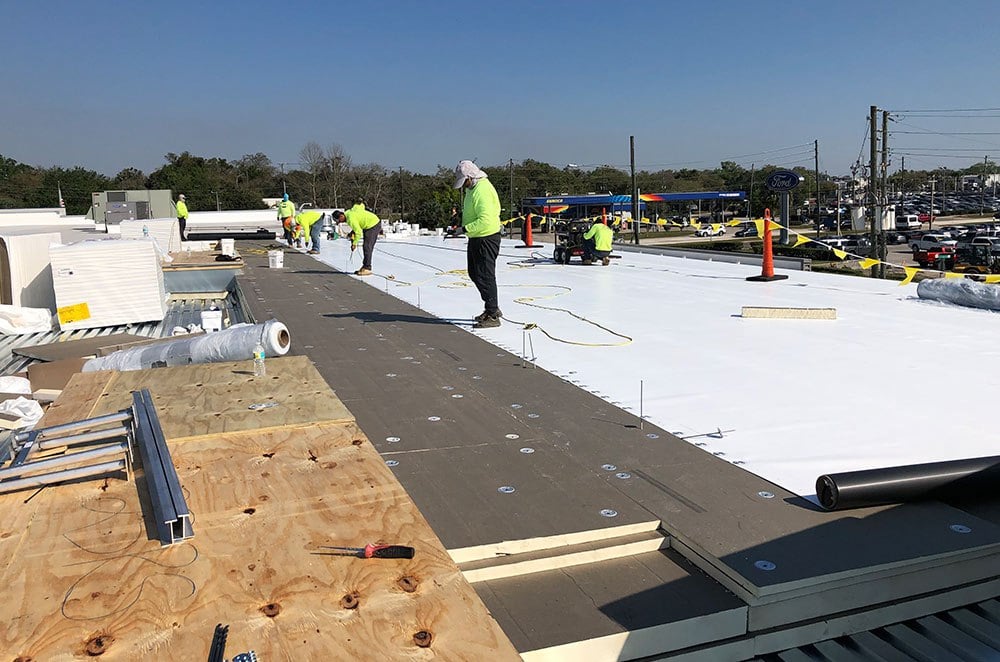 Are you looking for a contractor to perform, "Commercial Roof Maintenance in Tampa, Florida?" Or maybe your roof commercial roof needs some minor repairs to help it get to the ed of its lifespan.
Setting up a roof maintenance plan is a specialized service. It requires extensive knowledge about all aspects of commercial roofing materials. To inspect and perform the maintenance services we need to understand all the different types of commercial roof systems.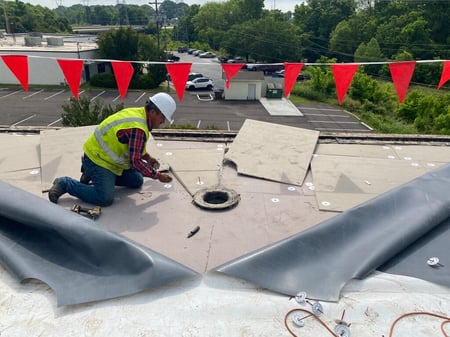 RoofCrafters of Tampa has been servicing commercial managers and building owners for 3 decades. We understand the importance of commercial repairs and maintenance. We're certified by the top flat roofing, low slope roofing, and steep slope roofing manufacturers in the United States. These manufacturers help our team stay up to date with the latest maintenance requirements. So, we can provide you with expert commercial roof maintenance plans to help prolong the life of your existing commercial roof.
In this article, we'll cover:
The 3 different types of commercial roof structures

The 5 common types of commercial roof systems

The maintenance recommendations for each of the 5 roof types
We promise you by the end of this article, you'll have a better understanding of commercial roof maintenance. And hopefully, you be better prepared to make a well-informed decision about how to proceed with your commercial roof maintenance.
Sounds good? Ok, let's dive right in.
The 3 Types of Commercial Roof Structures
There are 3 main types of roof designs used for constructing a commercial building.
Commercial flat roof construction
Low slope commercial construction
Steep slope commercial construction
Commercial Flat Roof Construction
Most common, it allows an engineer or an architect many options. Such as mounting rooftop mechanical equipment and HVAC units. Also, it helps reduce structural requirement that comes with steep-sloped construction.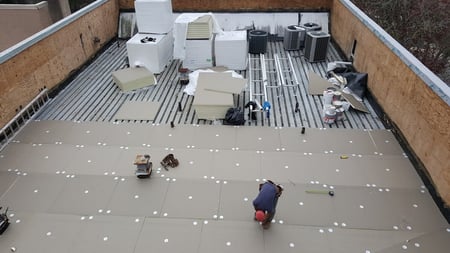 The newer roof systems require a commercial roofing contractor to slope the roof using tapered insulation. This helps to eliminate ponding water on the roof. Tapered insulation also provides the building with a higher R-value. Higher r-value will help make your building more energy-efficient. This tapered insulation is more expensive and will impact the cost of the roofing construction.
Low Slope Commercial Construction
This is a roof the architect has designed the building so the roof has a slope built into the construction.. This slope creates positive drainage and allows the water to run off the rooftop.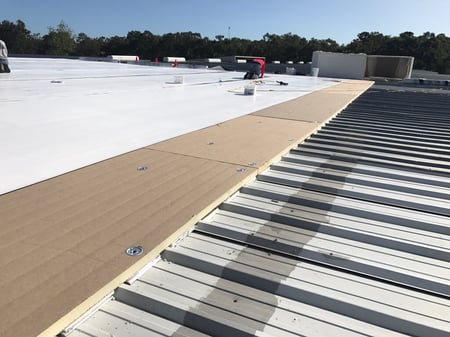 The downside to low slope construction is it's not always a good fit for some commercial roofing materials. For example, a low slope roof that has metal installed has rooftop equipment such as HVAC units or skylights, this is not the best option. Choosing an inferior roofing material will result in early roof leaks. A better roof system would not have as many maintenance issues.
Steep Slope Commercial Construction
This construction is identical to residential construction. The most common construction types on steep slope commercial roofs are gable roofs or hip roofs. Gable and hip roofs on commercial buildings are constructed with metal or wood trusses. They can also be custom framed with wood framing material.
Here are popular roofing materials that get installed on commercial steep slope roofs: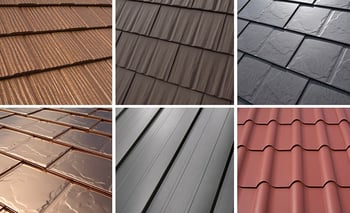 Standing seam metal roofing

Screw-down metal roof systems

Metal shingles

Spanish tile

Asphalt shingles
Now that you know the different types of commercial roof construction, let's go over the 5 top types of commercial roofing products.
Top 5 Commercial Roof Types Installed in Tampa Florida
Single-ply roofing (TPO, PVC & EPDM roofing)
Modified Bitumen (rubber roofing)
Built-up roof (hot tar roofing)
Metal Roofing (standing seam & screw-down panels)
Asphalt shingles

(upgraded shingles)
Single-Ply RoofS:
TPO, PVC & EPDM Roofing
Single-ply roofing is the most popular roofing materials used on commercial flat or low-sloped roofs. Single-ply roofing is available in different thicknesses. This helps provide options to help us meet your budget and roof lifespan needs.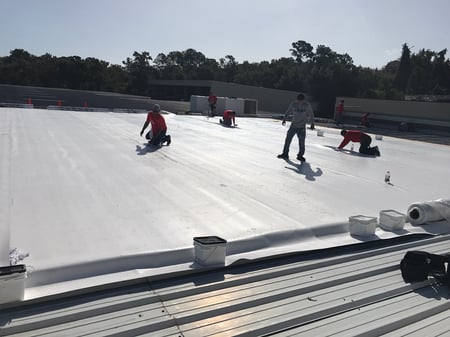 With single-ply roofs, the higher the number, the thicker the product. The thicker the product the longer the manufacturer warranties their single-ply roofing.
Single-ply TPO and PVC roof is made up of 3 layers. A base layer, the scrim layer(reinforced woven fiber layer), and thickness over the scrim layer, which is the top layer. This top layer protects the scrim layer from the sun's harmful UV rays.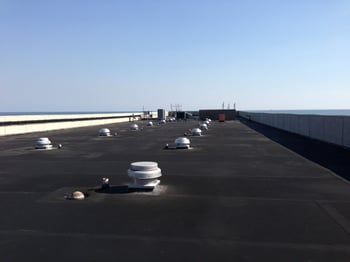 An EPDM roof comes in a 45 or 60-mil thick membrane. The difference is the laps and flashings are glued or seam taped together instead of hot air welded like the TPO or PVC single-ply materials.
Advantages of Single-Ply Roofing
The advantage of single-ply roofing is they come in white. Which makes them heat-reflective and energy-star rated. They're also lightweight, fire-resistant, provide a high wind rating, and are resistant to chemicals. Which can be important in commercial and industrial roof applications. Single-ply roofs are easy to keep maintained and repairable.
Disadvantages of Single-Ply Roofs
The disadvantages of single-ply roofs are they're not the most aesthetically pleasing roofing to look at. High foot traffic could pose a threat. If other contractors are not mindful when performing work on the roof. Dropping hand tools or screws and walking on them could puncture these roof systems.
Modified Bitumen Roofing
We'd say a modified bitumen roof is the second generation of commercial flat roofing. Built-up or hot tar is the OG of the flat roofing world and we'll discuss that in the next section. Modified bitumen became popular because unlike the hot tar roof that requires setting up a tar kettle, mod-bit does not. That job, heating asphalt onsite next to your building, to over 500 degrees is a full-time and extremely dangerous job.
The roofing industry has slowly been moving away from hot tar roofing. Modified bitumen roofs can be installed with hot tar but the most popular installation methods are without the hot tar.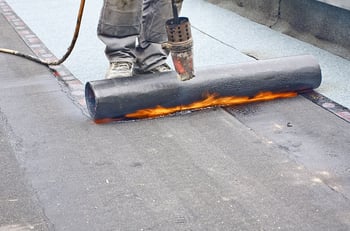 Here are 4 main installation methods.
1. Hot tar applied
2. Cold tar applied
3. Torch applied
4. Self-adhered
Self-adhered has made installing modified bitumen roofs more popular for commercial buildings. Thus, the rise in Mod-Bit popularity has steadily increased.
Advantaged of Modified Bitumen Roofing
The advantages of Mod-bit roofs are they have multiple layers and having multiple layers can make them more durable. This increased durability can make the mod-bit a better choice for commercial roofs with high foot traffic.
Disadvantaged of Modified Bitumen Roofs
The disadvantages of Mod-bit with these multiple layers are the cost of the materials and the labor to install multiple layers is more expensive. Also performing repairs and maintenance on mod-bit roof systems can be more difficult, increasing the cost.
Built-Up Roof or H
ot Tar Roofing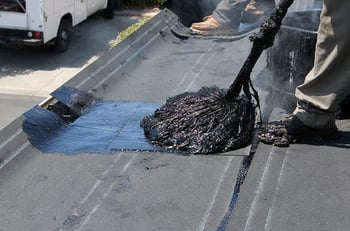 A built-up roof can be your best friend or your worst nightmare. There are many variations or layers of fiberglass roofing materials that make up a built-up roof system.
Layering the materials is how it got its name. The roof is built-up by layering plies of fiberglass roofing. With hot tar mopped between each layer. This is the short explanation of how it gets installed. The "basics" of a hot tar roof.
It's asphalt heated up to 500 degrees. Then we mop it directly on the roof deck or insulation. Yep, just like you'd mop a kitchen floor. And in-between mopping we roll out layers of fiberglass roofing while it's still hot. Many built-up roofs are done with 4, 5, or 6 layers of roofing.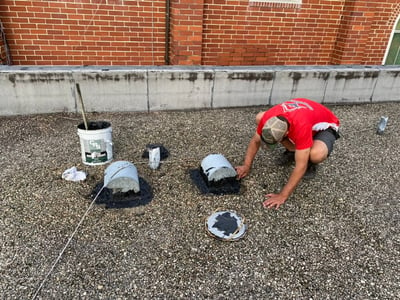 The top layer is the most important layer when it comes to maintenance. It's what determines if it can be maintained or repaired successfully. Oftentimes the top layer is a flood coat of hot asphalt with rocks. The rocks are put in the tar while it is still 450 to 500 degrees. A hot tar roof with a rock finish makes for a challenging repair. Even for a very experienced roofer. But it can be done. If there's useful life left in the flat roof system.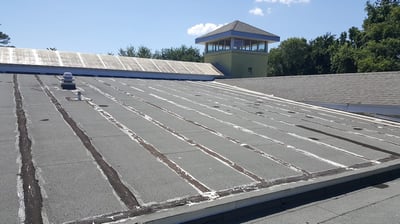 It's more manageable to maintain or repair if it has a granule surface cap sheet or an asphalt flood coat as a top layer. Either way, the existing materials on your roof that needs roof maintenance will need to have some useful life left in them. That is for us to make any repairs that'll last any length of time.
Commercial Metal Roofing:
Standing Seam & Screw-Down
Metal roofing is another popular roof for commercial buildings. There are 3 main types of metal roof systems:
Standing seam
Screw-down
Metal shingles
Standing Seam Metal Roofing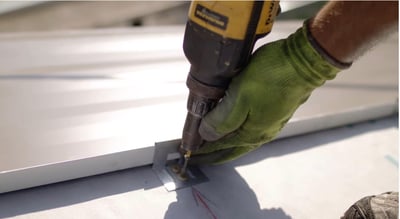 Standing seam is a concealed fastener metal roof system. Its provides the highest protection from extreme weather conditions. It also is the longest lasting commercial roofing and needs the least roof maintenance.
Advantages of Standing Seam Roofing
The advantages of the standing seam are their longevity. Installed correct they'll easily last for 50+ years. They provide the highest wind rating. They don't blow off or leak in severe wind storms. Standing seam metal looks great and adds value to most any commercial property.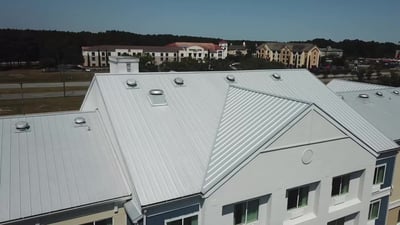 Disadvantages of Standing Seam Metal
The disadvantages of standing seam are they cost more. Because of the attachment method it takes longer to install. Standing Seam also requires a greater skill level to install the flashings correct.
Commercial Screw-Down Roofs
A screw-down is a metal roof with an exposed fastener. Instead of the seam being connected together these roofs overlap each other. Because of the installation method all the fasteners are exposed.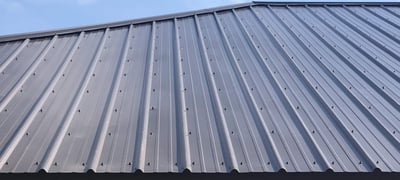 Advantages of Screw-Down Roofs
The advantages of the screw-down roofs are it's budget-friendly because it doesn't require the skill set of the standing seam roof system. It also still provides curb appeal.
Disadvantages of Screw-Down Roofing

The disadvantage is they require maintenance around the 5-8 year mark. All metal roofs expand and contract a lot. The thermal movement causes the exposed screws to come loose. Also the rubber washers on the screws will dry rot over time and the screws will need to be replaced.

Metal shingles

Metal Shingle Roofs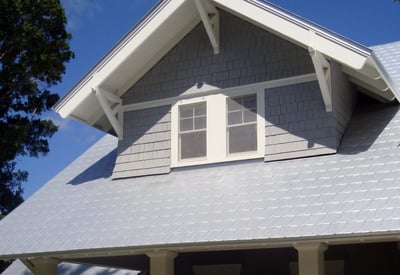 Metal shingles are popular. They can be made to look like real wood shakes, real slate, and real Spanish tile roofing. All of the natural products require more maintenance than the metal shingles do. It's a popular choice for owners in Tampa Bay looking for longevity and to boost curb appeal.
3 Popular Types of Metal Roofing Installed in Tampa
There are 3 types of metal roofing materials that are commonly installed on businesses in Tampa, Florida. There are other metal material options, but the 3 types listed below are cost-effective. They offer a wide range of aesthetic looks, longevity, and price ranges.
Here are the 3 types:
These metals are available in a standing seam or a screw-down profile. They're also available in shingle, slate, wood, and tile metal profiles.
Aluminum Metal Roof
Aluminum is one of our most natural energy-efficient metal roof materials. Aluminum metal comes in different thicknesses. For commercial roofing the .032 or .040 is most common. In some cases the .050 thickness is specified by an engineer. The higher the number the thicker the aluminum roofing will be.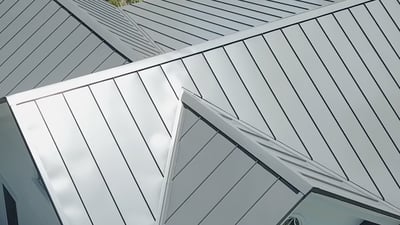 Aluminum comes in a mill finish or a painted finish. Mill finish provides a raw metal look and it'll oxidize into a naturally beautiful raw metal finish. Aluminum comes in a wide variety of painted finished colors too. The paint finishes come with a 40-year paint warranty. Some manufacturers even providing a 45-year paint finish warranty.
Steel Metal Roof
Steel roofing is the most popular metal roofing used for commercial buildings. Steel metal is galvanized steel that's hot dipped or coated in a zinc coating. Steel is less costly and can be just as efficient as any other metal roofing materials.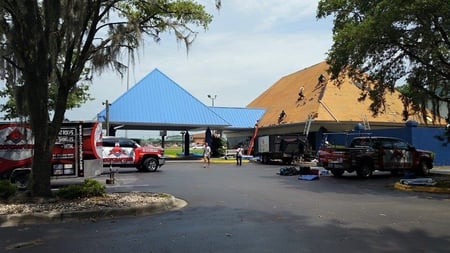 The steel material is very popular for roofing and comes in 24 gauge, 26 gauge, and 29 gauge. Don't get fooled, unlike aluminum, the lower the number the thicker and stronger the steel roofing will be.
4 of the most common steel roofing profile that is used on commercial properties:
Standing seam metal panels (12"-18" wide panels, concealed fasteners)

Interlocking steel shingles (slate or shake look, concealed fasteners)

A 5-V crimp metal roof (2-foot wide panels, exposed fasteners)

R-panels or multi-rib panels (3-foot wide panels, exposed fasteners)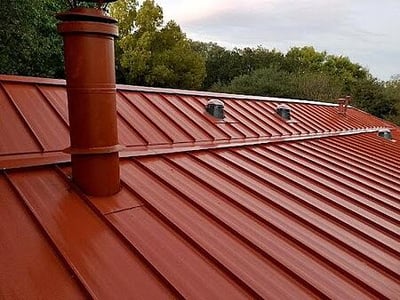 Steel is a corrosive metal and it requires a painted finish. Paint finish warranties range from 20 years to 45 years depending on the thickness, type of panel, and the manufacturer of the metal.
Steel metal roofing is very cost-effective and offers a wider range of prices depending on which profile you choose, the thickness of the metal, and the paint warranty available.
Galvalume Metal Roofing
Galvalume metal roofing is also a metal that has a steel core and is coated with aluminum to prevent corrosion. Galvalume roofing is much like steel roofing and comes in the same thicknesses, 24 gauge, 26 gauge, or 29 gauge. It's also available in all 4 of the different panel profiles.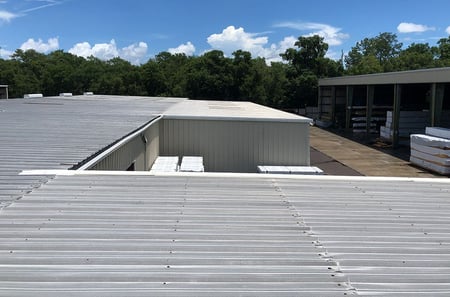 The main difference with galvalume is that it comes as a mill finish metal. It's not available in a painted finish. This makes it slightly less expensive. It's also easier to work with because painted metal can get scratched during installation if not handled carefully. Galvalume is a great option to use around the ocean or near the saltwater.
Asphalt Roofing:
Upgraded & Designer Shingles
Yes, even though shingles are popular on residential houses, there are
definitely on mine
. Well, asphalt shingles are also installed on commercial buildings. Because asphalt shingles are economical.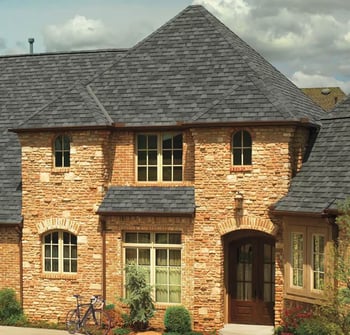 The shingles we install on commercial buildings are not basic builder-grade shingles. The reason for this is that builder-grade shingles provide the least wind protection. They need replacing as early as 10-12 years. Builder-grade shingles also provide the least curb appeal. We mostly see builder-grade shingles on new construction houses.
Upgraded shingles or designer shingles are more popular in commercial buildings.
They provide you with a higher wind protection, enhanced curb appeal. And upgraded shingles can last 25-35 years
.
The disadvantage of shingles is they won't last as long as the metal roofing. And when it is time to replace the roof, it can be messy for a building with commercial use.
Yes, even though shingles are mainly used on residential homes, they are probably on your home and they are definitely on mine. Well, it is not uncommon for asphalt shingles to be installed on commercial buildings too.
The shingles we install on commercial buildings are not the basic builder-grade shingle that is used on new construction homes. The reason for this is that builder-grade shingles provide the least wind protection and they require replacing as early as 10 to 12 years. Builder-grade shingles also provide the least curb appeal.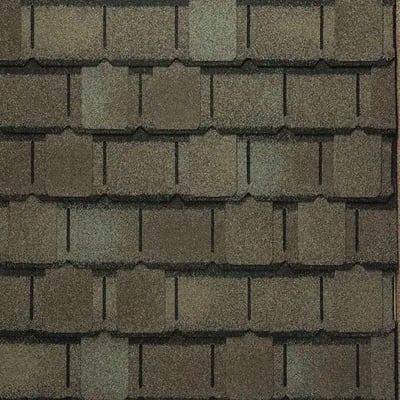 Upgraded shingles, designer or luxury shingles are more popular in commercial buildings. They provide you with greater wind protection, enhanced curb appeal, and upgraded shingles that can last 25 to 35 years.
The disadvantage of shingles is they don't last as long as metal roofing and when it is time to replace the roof, it can be messy for a building with commercial use.
What is the Best Roof Maintenance Plan for Your Commercial building in Tampa?
You have now learned the different types of construction and materials that we use on commercial roofs. The maintenance for each of these different types will vary depending on 3 main factors:
Type of roof construction
Type of roof material
Condition of existing roofing materials
If you have a steep slope roof, performing maintenance one time a year is generally recommended. If the building has gutters or any other special condition it'll increase to 2 times per year.
Depending on the roofing materials, a flat or low slope roof, we generally recommend having maintenance performed 2 to 3 times per year. If the roof has a lot of drains, through-wall scuppers, or rooftop mechanical equipment, we'll recommend 3 to 4 times per year.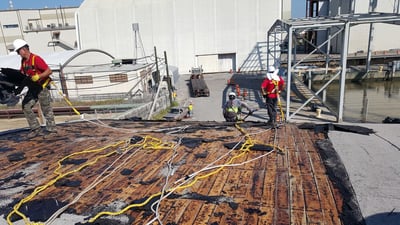 Other things to consider are the age of the existing roofing materials, tree coverage, and foot traffic on the roof. The older a commercial roof gets the more it will expand and contract due to thermal climate changes. Older roofs often need just a little more TLC to get the most out of them.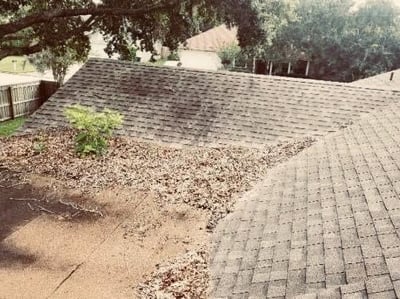 Tree coverage and high foot traffic can impact the performance of your roof. We often see building owners neglect their commercial flat roofing because they don't see the roof. Drains and through-wall scuppers get clogged causing all kinds of roofing issues. And unfortunately, workers that service rooftop mechanical equipment drop tools or screws and then step on them. This is why high foot traffic has to be accounted for when creating a solid maintenance plan for your commercial building.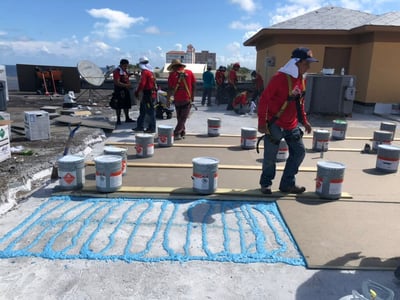 Now that you know more about commercial roofing. Understanding the maintenance should be easier for you.
How Much Does Commercial Roof Maintenance Cost in Tampa?
It depends on the type of commercial building you need roof maintenance on. Here some questions for you to consider:
Is it a steep slope roof with shingles or a metal roof?

Or is it a low slope or a flat roof with a single-ply or modified bitumen roof system?

What is the square footage of the roof?

How many drains, penetrations, or mechanical units is on the roof?

What condition is the existing roofing system in?
On average commercial roof maintenance costs between .15 cents per square foot to .30 cents per square foot. To do roof maintenance on a 20,000-square-foot building. You'd be looking at somewhere between $3,000 and $6,000 depending on the specific factors of the building and the existing condition of the roof system.
Our team at RoofCrafters has been providing commercial roof maintenance in South Carolina, Georgia, and Florida for over 28 years. If you'd like to have one of our professional commercial roof estimators come out. They'll perform a roof inspection and provide you with pictures and a solution for your commercial roof maintenance. Click the button below to get started.
At RoofCrafters, our mission is to provide job opportunities for others to thrive and grow while making a meaningful impact within our communities.